Our average motorcycle accident settlement amount has been $80,000.  I am referring to just the personal injury settlement, not the settlement for the damage to the motorcycle.
In 70% of our motorcycle accident settlements, the liable party had limited bodily injury liability (BIL) insurance, and our client didn't have uninsured motorist insurance.
The most common amounts motorcycle accident settlements that we've had are for $35,000, and $10,000.  Unfortunately, this is because most Florida drivers have low limits of BIL insurance. 
In a minor (less serious) motorcycle accident with no broken bones, eye injuries or spinal compression fracture, our average settlement was $10,000.

$445K Settlement: Motorcycle Rider Hit by Truck in Hialeah (Broken Leg and Finger)
A motorcycle rider was cruising down the street in Hialeah, Miami-Dade County.  He was riding the motorcycle in the photo below.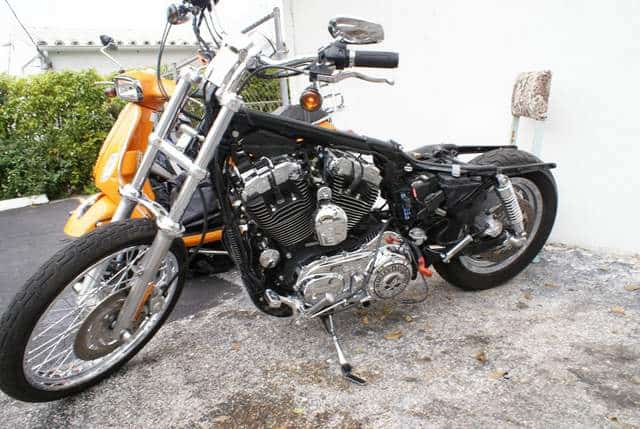 A driver of an 18 wheeler (tractor trailer) was heading straight in the opposite direction.
The truck driver made a left turn, and crashed into the motorcyclist. The motorcycle rider fractured his tibial plateau and finger.  He had surgery on each fracture.
The motorcycle rider got a $445,000 settlement for his injuries.  The total settlement was over 14 times the amount of medical bills that he owed.  We represented him.
Motorcycle Rider Gets $100,000 Payout for Herniated Disc and ED
Our client was a young man who was riding a motorcycle in Wynwood, Miami-Dade County, Florida.  Wynwood is North of Overtown and Downtown Miami, and South of Little Haiti.
A driver of a car crashed into him.  The driver received a ticket for careless driving.
The motorcycle rider was diagnosed with a herniated disc in his lower back, a bruised testicle and erectile dysfunction (ER).
GEICO insured the careless driver.  GEICO hired a radiologist who stated that my client had a meniscus tear in his knee.
We settled at pre-suit mediation for $100,000.
$87,500 Settlement For Motorcyclist's Collarbone Fracture Caused by Construction Debris
A motorcyclist lost control of his bike as he rode over debris which was left in the rode by a construction company in Miami.  He fractured his clavicle, and had surgery to fix it.
We were co-counsel on this case.
Motorcycle Rider Gets $52,000 after Truck Hits Him
Below is a photo of the intersection where the crash happened.
A man driving a pickup truck hit a man riding a scooter.  The scooter had a large horsepower.
In Florida, this scooter is considered a motorcycle. The crash happened in North Miami Beach, Florida.
Miami-Dade Fire Rescue treated the rider on the scene.
The scooter rider injured his eye.  He got physical therapy for his soft tissue injuries.
The scooter rider had slight patella tracking, but did not have a knee fracture.  We settled for $52,000.  I represented the motorcycle/scooter rider.
$50,000 Settlement for Motorcyclist Who Breaks Collarbone; Car Pulls Out in His Path
See a $50,000 settlement where a motorcyclist was forced to lay his motorcycle down when a car turned into his direct path. Here is the settlement check.
Travelers Insurance Company paid the settlement.  The accident happened in Land O Lakes, Pasco County, Florida.
I represented the motorcycle rider.
$35,000 Settlement for Motorcyclist's Shoulder Surgery
Find out how a motorcyclist got a $35,000 settlement after he claimed that a car hit him, and aggravated his pre-existing rotator cuff tear.
He ultimately had shoulder surgery.  The crash happened in Jacksonville, Duval County, Florida.
Progressive and State Farm insured the car's driver and owner.  The total combined BIL insurance available was $35,000.
The motorcycle rider didn't have uninsured motorist coverage available.
Car Hits Scooter Rider; Claimant Gets $35,000 Settlement for Broken Leg (Femur)
A scooter rider got $35,000 after a driver failed to yield the right of way and hit him in Miami Lakes, Florida. He suffered a upper leg (femur) fracture.
The careless driver and owner were insured with GEICO and United Automobile Insurance Company.  They had a combined $35,000 in BIL insurance.
The injured rider was on a big scooter, which is legally treated like a motorcycle.  He didn't qualify for Personal Injury Protection (PIP) since the scooter was so large.
Motorcycle Rider Gets $30,000 Settlement for Herniated Disc and Soft Tissue Injuries
A man was riding his motorcycle.  A car crashed into the back of his motorcycle.  The motorcyclist claimed that the crash causes or aggravated his disc herniation and soft tissue injuries.
Mercury Insurance insured the car's driver.  We worked with attorneys from a different law firm on this case.
$25,000 Settlement After Taxi Hits Moped Rider Causing Arm Injury
For a Miami Beach, Florida scooter/moped rider who was cut off by a taxi. Our client, the scooter rider, had an injury to his shoulder. The insurance company offered $18,000.
I filed a lawsuit and quickly settled the case for $25,000. I was able to reduce my clients hospital bill by 30% or so. The taxi was insured by Ascendant Insurance Company which is located in Hialeah, Florida.
$10,000 Settlement After Car Hit Moped Rider, Causing Injuries
A man was riding his moped in Miami Beach.  A car ran the red light and forced him off of his scooter. He was rushed to the emergency room in Miami Beach, Florida.
The ER diagnosis was a separated shoulder, neck pain, back pain, and abrasions (scrapes) throughout his body.  United Automobile Insurance Company insured car driver.
Click here to see our request for his health insurance provider, Blue Cross Blue Shield, to waive the lien that they alleged that they had a right of subrogation for.
Unfortunately, our client did not have uninsured motorist coverage which would have allowed us to make a claim against his own insurance for an amount above $10,000.
Motorcycle Rider Hit By Car Gets $10,000 for Broken Leg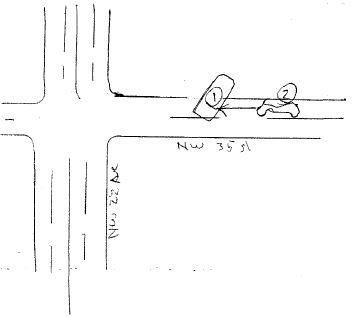 A man was riding a motorcycle in Allapattah, Miami-Dade County, Florida.  (Allapattah is to the North of Little Havana.)
A car T-boned him. He fractured his lower leg bone (tibia).  A rod was inserted into the motorcyclist's leg.
He also lost some of his teeth from the accident. The at fault party was insured with Allstate Insurance.
He had a several day hospital stay. Unfortunately, the at fault driver only had $10,000 in bodily injury insurance. Our client did not have uninsured/undersinsured motorist insurance.  Thus, his recovery was limited to the careless driver's $10,000 settlement.
Family of Motorcyclist Killed in Crash With Lyft Driver Reach Settlement
This isn't my case.  I've created a diagram based on my understanding of this accident and settlement after reading the court file.
A lawsuit claimed that on October 31, 2015 at 5:43 p.m., a Lyft driver was attempting to make a left hand turn from NE 1st Avenue onto NE 36th Street.  A motorcycle was heading west on NE 36 Street.
The lawsuit claimed that they crashed.  The motorcycle rider suffered blunt trauma to his head and torso (upper body).  He was not wearing a helmet.
He was hit with such force that he was ejected from his motorcycle. The motorcyclist was declared dead at Jackson Memorial Hospital's Ryder Trauma Center.
The motorcyclist was survived by his wife, Poliana, who was 8 months pregnant with their first child at the time of the crash.  On November 16, 2015, his wife, as personal representative of his estate sued Lyft and the Lyft driver.
Within 1 year and a half of the lawsuit being filed, the family settled with Lyft and the Lyft driver.
Two-thirds of the settlement went to the surviving wife, and one-third went for the son.
The court said that the minor's settlement proceeds must be used to buy the Florida Pre-Paid College Plan (4 year University Plan).  Below is a portion of the order that says this. 
If you look online, the 4 year Florida prepaid college funds costs about $19,000 for a lump sum payment for a 1 year child.  So we can assume that the minor's portion of the wrongful death settlement was at least $19,000.
Part of Minor's Settlement Must Be Used to Buy a Structured Settlement
The court also said that the remaining portion of the minor' settlement money must be used to purchase a structured settlement, which shall be paid for directly by Lyft and the Lyft driver and/or their insurers.
A structured settlement is a negotiated financial or insurance arrangement through which a claimant agrees to resolve a personal injury tort claim by receiving part or all of a settlement in the form of periodic payments on an agreed schedule, rather than as a lump sum.
The amount of the settlement was confidential.  I think that this was likely a very large settlement.  My reasoning is because this accident caused a relatively young person's death, and he was survived by a minor child and young wife.
Motorcyclist's Family Likely Received a Large Settlement
No amount of money will bring a family member back.  However, jury verdicts (and thus settlements) for a minor child mental pain and suffering and loss of guidance can be over $1 million dollars.  Moreover, Florida appeals courts have approved mental pain and suffering awards for over $1 million dollars for minor children who've lost a parent due to an accident.
Similarly, juries have awarded over $1 million dollars for a spouse's mental pain and suffering after a spouse is killed as a result of an accident.  Moreover, Florida appeals courts have approved mental pain and suffering verdicts of over $1 million dollars for someone whose spouse is killed due to an accident.
Thus, in this claim, the full value of family's mental pain and suffering claim was large.
In the lawsuit, one of Lyft's many defenses was that the motorcyclist wasn't wearing a helmet.
At the time of the accident the Lyft driver was carrying passengers.  Thus, Lyft's insurance likely at most would pay up to $1 million dollars per accident.  This is true regardless of the number of people injured.
This was a tragic accident.  Most family members of a motorcyclist who is killed in a crash will not be able to get fair value for the case.  This is because so many cars in Florida are uninsured or underinsured.
Thus, there often is not enough insurance to pay for the value of a death case.  In addition, most motorcyclist riders don't carry uninsured motorist insurance.
However, things were likely different in this case.  Here, the Lyft vehicle was likely covered with a $1 million dollar liability insurance policy.  My guess is that Lyft's insurer paid this amount to the motorcyclist's family.
Zurich American Insurance Company currently insures Lyft vehicles.  York Risk Services Group handles Lyft auto accident claims.
If You're Driving a Motorcycle With a Temporary Motorcycle License, and You Have a Passenger, Does This Hurt Your Injury Case?
Maybe. In the case of Reagle v Stewart, (4th DCA Florida 2017), Reagle was driving a motorcycle. (This isn't my case.)
Vincent was Reagle's passenger.  At that time, Reagle had a temporary motorcycle license that did not allow him to carry a passenger.
Stewart was also on a motorcycle.  According to Reagle, Stewart revved his engine and tried to race Reagle. Reagle claimed that after pacing the motorcycles for a distance and swerving into Reagle's lane twice, Stewart hit Reagle's motorcycle (upon which Vincent was a passenger).
Reagle survived the accident.  However, he had medical treatment for serious injuries.
The appeals court said that a jury must hear that Reagle's temporary license didn't allow him to carry passengers.
Reagle admitted that carrying a passenger can change the unique dynamics of a motorcycle.  For example, the manner in which the motorcycle is operated.
The court said that relevancy is usually shown when the traffic law which was violated concerns the manner in which an automobile was operated.
Thus, the appeals court found that —in this particular situation— the motorcycle license violation was relevant to the case.
The evidence should have been told to the jury for a determination of whether the violation proximately caused any of the Reagle's injuries.
Carrying a Passenger When Not Allowed by License Hurts Settlement Value
In my opinion, the fact that a jury gets to hear that Reagle wasn't licensed to carry a passenger decreases the full value of Reagle's case for settlement purposes.
This is because a jury may think that perhaps Reagle lost control of the motorcycle because their was a passenger on it.  The jury may also lose trust in Reagle since he knowingly broke the law.  They may be less likely to believe his testimony about how the accident happened.
I expect that Stewart's insurance company lowers any offer based on the fact that the jury gets to hear that Riegel was violating his temporary motorcycle license.
This assumes that Stewart had BIL insurance.  In Florida, it is not required on motorcycles.
In the above example, Riegel had a temporary license that didn't allow him to carry passengers on his motorcycle.  I think the result would be the same if he didn't have a motorcycle license at all.
If a Motorcycle Rider With a Temporary Motorcycle License, and a Passenger, Causes a Crash, Does the Injured Person Have a Better Case?
Maybe. A jury may place more blame on the motorcycle rider for breaking the law.  This may result in a bigger settlement for the injured person.
Did someone's carelessness cause your injury in a Florida motorcycle crash or other type of accident?
I want to represent you!
My Miami injury law firm represents people injured anywhere in Florida.
Call Us Now!
Call us now at (888) 594-3577 to find out for FREE if we can represent you. We answer calls 24 hours a day, 7 days a week, 365 days a year. 
No Fees or Costs if We Do Not Get You Money

We speak Spanish. We invite you to learn more about us.