I'm going to tell you how I was able to get this $300,000 settlement.
How This Car Accident Happened
Ryan was driving an Avis rental car in Clearwater, Pinellas County, Florida. He lived in Georgia, but was in Florida for a business trip.
Another car made a left hand turn and crashed into Ryan's car. The other driver got a ticket for failure to yield the right of way.
The diagram from the crash report is below. Ryan is vehicle #2 in the diagram.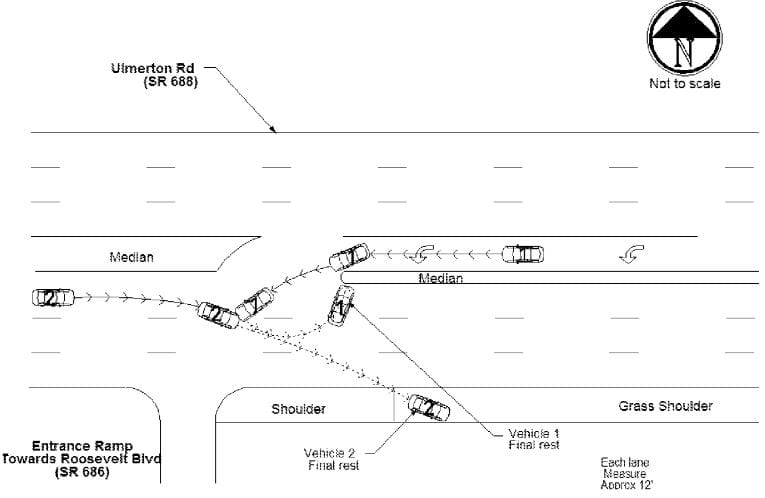 In the diagram above, Ryan was in car #2. The other driver (car #1) got the ticket.
Below, you can see a photo of the damage to the at fault driver's car (#2).
After the crash, Ryan was taken by ambulance to the hospital. He was diagnosed with a lateral tibial plateau fracture. The tibial plateau is the top of the lower leg bone (the tibia).
A lateral tibial plateau fracture is the part of the tibia that is farther from the middle of the body. A medial tibial plateau fracture is the closer to the center of the body.
All things equal, a lateral tibial plateau fracture is worth less than a medial tibial plateau fracture. This is because many doctors will say that you are less likely to need a knee replacement if you have a lateral tibial plateau fracture.
Many doctors will say you are more likely to need a knee replacement if you fracture your medial tibial plateau. This is because more weight is placed on the medial tibial plateau than the lateral tibial plateau.
Ryan was given his own room in the hospital.
The doctor had him continue wearing a neck brace for his neck pain.
His neck pain went away shortly after the accident.
Ryan Had Emergency Surgery to Fix His Broken Leg
At the hospital, Dr. William Lowry performed emergency surgery to repair the fracture. He inserted a plate and screws at the fracture site.
An x-ray of his tibial plateau after the surgery is below.
After the surgery, he couldn't put weight on his injured leg. Thus, he was put in a wheelchair.
Ryan Hired Me While He Was Still in The Hospital
While he was still in the hospital, Ryan got a free consultation from me to see if I could be his lawyer.
We spoke and he hired me shortly thereafter.
Ryan lived 7 hours from the accident scene. He chose to be taken back to Georgia in a private ambulance. The cost was $3,700.
We sent a copy of this bill to the responsible insurance companies, whom I'll talk about in a bit.
Paramedics helped him get out of the wheelchair, and onto a walker, so that he could get onto the private ambulance.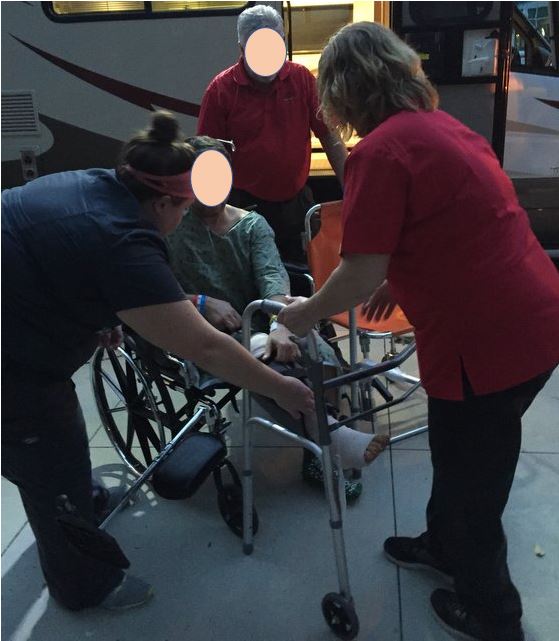 He was in a lying down position for his entire 7 hour ride on a private ambulance back to Georgia.
Careless Driver Had $100k in BIL Insurance
Allstate Insurance Company insured the driver who received a ticket for causing the crash.
I quickly sent Allstate a written request to disclose certain insurance information.
They responded with the following insurance disclosure: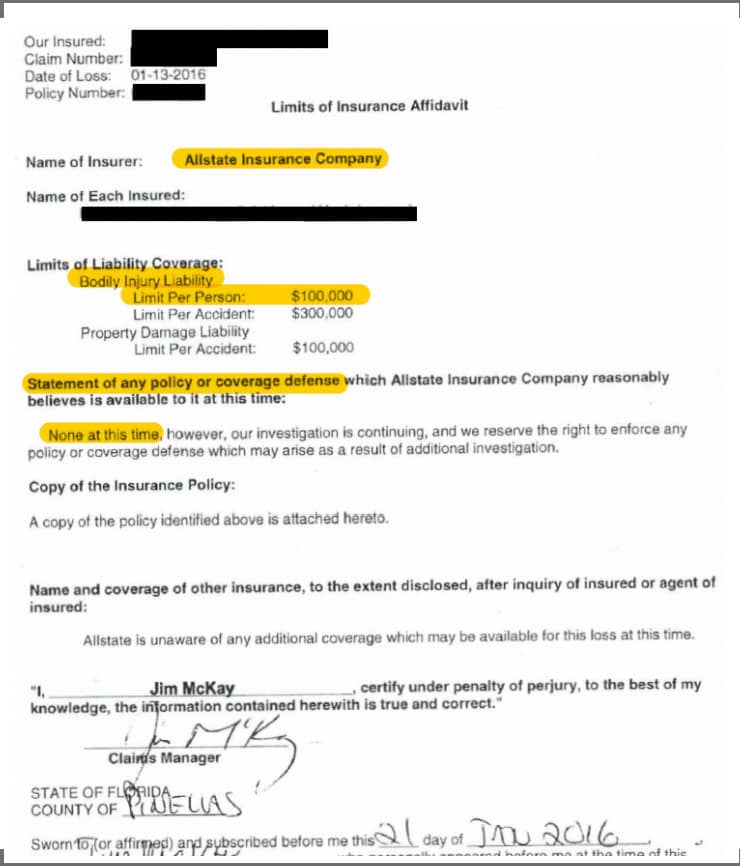 The careless driver had a $100,000 bodily injury liability (BIL) insurance policy.
Within 8 Days of the Crash, Allstate sent a $100,000 Check
The Allstate adjuster was Judy Rubsamen. Within just 8 days of the accident, she sent me a check for her insured's $100,000 limits.
There is no guarantee that the car insurance company for the at fault driver will send you a $100,000 settlement check within 8 days of a car accident.
However, here is my video about when you're most likely to get a $100,000 settlement check within 8 days or less after a car accident:
Ryan developed a rash on his leg after the surgery. The rash did get much better through time.
Here is a picture of the scar and rash about 9 months after the surgery.
His scar and rash continued to improve as time passed. Below is a photo of the rash and scar approximately 13 months after the crash.
He was sent for blood tests to determine if the rash was from the metal hardware that was put inside his leg. During the allergy testing, he had to wear patches on his back.
The final result of the allergy testing was that he wasn't allergic to the hardware in his leg.
Ryan had uninsured motorist (UM) insurance with (Travelers Insurance Company) on his cars in Georgia. The UM insurance claim was initially handled by a Georgia UM adjuster.
Once we sued, the case was transferred to Travelers' claims office in Tampa, Florida. Travelers adjuster Sheila Loughlin handled the underinsured motorist (UIM) insurance claim.
Georgia Law Required Us To Sue the Driver (Florida UIM Law Doesn't Require It)
Even though the crash was in Florida, Ryan's UIM insurance claim was based on Georgia UIM law. Georgia UIM law required us to sue the underinsured driver.
Florida doesn't have a clear law that says whether suing the underinsured driver is required to bring a claim on a Georgia UIM policy. To protect Ryan's rights, I sued the careless driver's estate.
In order to do this, we first made a claim against the careless driver's probate estate. We also helped get the personal representative of the probate estate substituted so that estate wouldn't get closed.
I also sued Travelers to get Ryan's Georgia UM insurance to pay for his injuries from this Florida car crash.
Orthopedic Doctor Says Accident Shortened the Life of the Knee
I paid $300 for a phone conference with the operating surgeon, Dr. Lowry. After the phone conference, I asked if Dr. Lowry would put his opinions in writing. He agreed.
He said that Ryan suffered a:
He said that Ryan sustained a permanent injury to the joint surface of the knee in the lateral compartment. Dr. Lowry said that the crash has definitely shortened the life of the knee.
He said that Ryan will have an earlier onset of arthritis in his knee than had he not had this crash. However, Dr. Lowry wouldn't say when the early arthritis would set in.
(About 6 years prior to this crash, he had arthroscopic surgery on the same knee. Prior to that surgery, he had been having knee pain and swelling for several years.)
Dr. Lowry said that the cost of a knee replacement is approximately $50,000.00, which includes hospitalization, surgeon fees, anesthesiologist fees, radiologist fees and physical therapy.
He couldn't say when Ryan would need a knee replacement. I sent Dr. Lowry's opinions to the Travelers adjuster.
Allstate and Underinsured Motorist Insurance Pays $300,000 to Settle Our Lawsuit
I settled with Allstate for the $100,000 BIL limits.
Travelers was his uninsured motorist insurer.
They paid me $200,000 to settle.
Here is the Travelers Insurance settlement check:
In total, the car accident injury settlement amount was $300,000.
When the insurance companies made the combined $300,000 offer, I estimate that about 97% of the settlement was for pain and suffering:
After my attorneys fees, costs, and paying the workers' compensation lien and medical bills, Ryan got $187,371 in his pocket.
This chart shows the breakdown: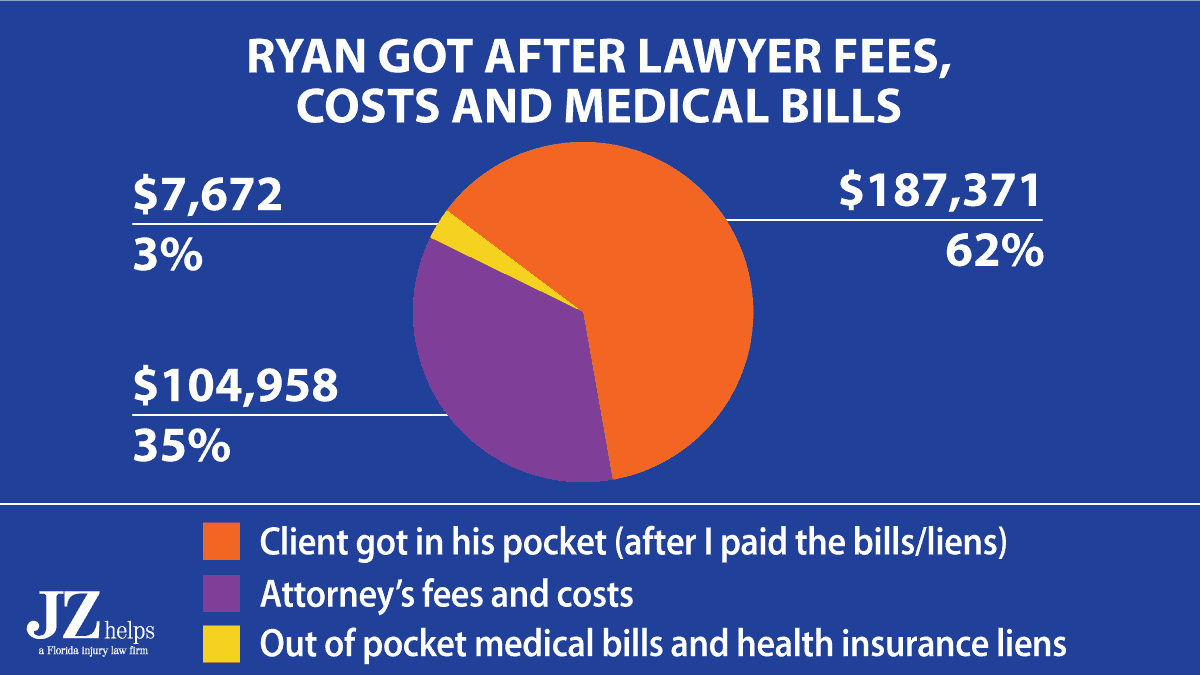 Basically, the $300,000 settlement was 39 times the final out of pocket medical bills and workers' compensation lien.
In other words, the pain and suffering multiplier was 39.
Since Ryan was working at the time of the accident, his workers' compensation carrier paid his medical bills.
Workers comp paid about $85,000 in medical bills.
I was able to get the workers compensation carrier, Sedgwick, to take a little over $13,000 to settle their workers compensation lien.
Casie Bergman was the Sedgwick work comp subrogation adjuster. I told her that, in this car accident case, Florida law required Sedgwick to accept a small fraction to satisfy the workers comp lien.
It required them to reduce their lien by attorney's fees and costs.
Florida law required Sedgwick to treat this personal injury case as one where the claimant didn't get the full value of the case. This was due to their being limited BIL insurance.
Since Claimant Was Driving a Rental Car, He Got $10,000 in PIP Benefits
I then used the Avis rental car's personal injury protection (PIP) insurance to pay $10,000 toward the workers comp lien. Sedgwick handled the PIP claim for Avis.
The Sedgwick PIP adjuster was Michelle Turner.
Workers Comp Paid $85,000 in Bills (Agreed to Take $3,000 to Settle the Lien)
After PIP paid $10,000 towards the workers comp lien, we just had to pay workers comp a little over $3,000 to settle their original $85,000 lien.
Medpay Didn't Pay Because Workers Compensation Paid
I made a claim with Travelers' Medical Payments (Medpay) Coverage on Ryan's personal auto insurance policy. Travelers denied Medpay coverage because Ryan received workers compensation benefits.
Travelers hired attorney Rolando Hermida of Banker Lopez to defend the lawsuit. Allstate used attorney Bradley Powers of Banker Lopez to defend the careless driver's estate.
Ryan wrote the following review:
I hired Justin to help me with my automobile personal injury case. He responded to me right away and he got started protecting my rights.

My case was very complicated involving my severe injury, multi-state involvement, car rental companies, several different insurance companies, workers comp, and probate issues due to the other driver passing away.

Justin and his assistant, Jenny, worked hard the whole way through and, importantly, were always responsive to me, even at night or weekends.

I would highly recommend that you hire JZ Helps to handle your case!
I Want to Represent You if You're Seriously Injured
If you were badly injured in a Florida accident, complete this short form to see if I can represent you. That's the fastest way for me to tell you if I can represent you. We'll respond fast.
If you prefer, you can call us at 888-594-3577 to see if I can represent you. You can call me any day of the year.
We speak Spanish. Learn more about us. Check out my law firm reviews.
I only handle serious injuries.