If you are a pedestrian who was hit by a car, you want to know about settlements. Specifically, you need to know the amounts of similar pedestrian accident settlements. Likewise, attorneys need to be up to date with settlement values.
Why?
Because companies like State Farm, GEICO and Progressive use their past settlement data to make offers in current cases. And yes, they also look at recent jury verdicts in the same county. However, the trend is for insurance companies to put more weight on past their own past settlements.
As it gets closer to trial, an insurance company puts more weight on recent jury verdicts. The insurance company's attorney will run a jury verdict search and report similar verdicts.
Below are some of my settlements where a pedestrian was hit by a car. After I talk about my settlements, I'll share some other attorney's settlements.
You can also learn more about how much your particular injury may be worth in Florida.
$325K Settlement for Pedestrian Hit By Car (Miami, Florida)
Watch this video about this $325,000 payout for a pedestrian hit by a car:
A man traveled (from Europe) to Miami, Florida. He rented a car. He drove the rental car to Coconut Grove.
The pedestrian was attempting to put a parking ticket on the car's dashboard. When doing so, a driver (of another car) hit him.
Here is the accident diagram:
Here is the actual damage to the pedestrian's driver side door.
The pedestrian's lower leg bone (tibia) was fractured from the crash.
Philadelphia Insurance Company insured the driver for up to $100,000.
Philadelphia Insurance quickly paid me the $100,000 BIL insurance limits.
Why did they pay so fast?
Surgery greatly increases the full value of an injury case. Every personal injury lawyer knows that Philadelphia Insurance Company is cheap.
However, for settlement purposes, a broken leg with surgery is worth more than $100,000. At least that what Florida jury verdict research shows.
This is why Philadelphia Insurance Company quickly paid me the $100,000 bodily injury liability limits.
Cases usually settle faster when the injuries are worth more than the insurance coverage.
When my client rented his car through Alamo, he purchased Extended Protection (EP). For this reason, he was entitled to $100,000 in uninsured motorist (UM) insurance. Ace American Insurance Company was the UM insurer.
Again, the pedestrian was putting a parking ticket on his dashboard. Therefore, Florida law considered him to "occupying the vehicle".
Why does this matter?
My client rented a car. He didn't live in the United States. Therefore, if he wasn't occupying a car, Alamo's uninsured motorist insurance would not apply.
However, he was occupying the car.
The great result?
ACE Insurance paid us its $100,000 uninsured motorist (UM) liability coverage. But Ace didn't pay without a fight.
At first, ACE argued that my client wasn't hit by an uninsured car. ACE argued that my client's claim was against the United States government.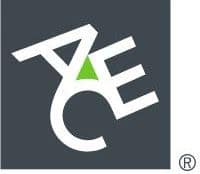 I filed a consumer complaint with Florida' Department of Financial Services. ACE hired an attorney. Finally, ACE paid me the $100,00 policy limits.
But the case wasn't over.
The driver was working for US Customs at the time of this crash.
We tried to settle the case with the United States.
They did not make an offer even after they had supporting documentation. We gave them about six (6) months to make an offer.
Next, we sued the United States. They paid us $125,000 in litigation. The total settlement was for $325,000. This claim was able to get a bigger settlement because he purchased uninsured motorist insurance.
Pedestrian Hit By Car Gets $110K Settlement (Facial Fracture)
A driver of a car hit my client, a pedestrian. It happened in Homestead, Miami-Dade County, Florida.
My client had an orbital fracture, which is a fracture of the bone next to the eye. She had a plate inserted to fix this fracture.
My client was walking in the crosswalk. The car was approaching a green signal.
The accident diagram is below.
The car that hit my client was insured with Imperial Fire & Casualty Insurance Company. The car was insured for up to $10,000 in bodily injury ("BI") liability coverage.
Imperial Fire & Casualty paid us the $10,000 BI liability coverage. Imperial is a National General Company.
Progressive was my client's husband's uninsured motorist (UM) liability insurer.
Progressive paid us $100,000. The total settlement for this case was $110,000. This is just one of our pedestrian accident settlements with Progressive.
Pedestrian Hit By Car Gets $70K Settlement (USAA)
See my case where a pedestrian who was hit by a car settled with USAA for $70,000. I claimed that the car accident caused her 4 bulging discs, a broken leg (tibial plateau fracture).
Additionally, she also suffered a sacrum fracture. A sacral fracture is a break in your sacrum.
The sacrum is a triangle-shaped bone that is found at the bottom of the spine.
Sacrum (with S4 highlighted in yellow)
The pedestrian claimed that accident caused or aggravated her shoulder injury (shoulder impingement) and herniated discs.
Here is MRI image of her herniated discs in her neck.
The settlement paid for the pedestrian's out of pocket medical bills, and pain and suffering. Most of the settlement was for pain and suffering.
$65K Settlement for Pedestrian Hit by Car (Broken Leg)
A man who lived in California was on vacation in Miami Beach. While he was walking in a crosswalk, a car hit him.
Paramedics came to the scene. At the scene, the pedestrian complained of leg pain and other injuries. Paramedics transported the pedestrian to the hospital in an ambulance.
At the hospital, a doctor diagnosed him with a broken lower leg bone (fibula fracture). A photo of his leg is above.
You can see the fibula bone in the image above. He didn't have surgery. GEICO insured the careless driver.
The pedestrian hired me to represent him. GEICO paid $65,000 to settle his personal injury case.
Medicare, AARP (United Healthcare), Farmers Insurance (med pay) paid the bulk of his medical bills. Thus, he had to pay them back from the settlement.
The good news?
When it came time to pay them back from the total settlement, they all reduced their liens by my attorney's fees and costs.
Thus, the total out of pocket medical bills and liens were about $8,000. Therefore, GEICO paid about $57,000 for the pain and suffering part of the pedestrian's accident settlement. 88% of the settlement was for pain and suffering.
$20K Settlement for Pedestrian Hit By Car in Florida (Shoulder Injury)
A man was driving his car in reverse in Miami, Florida. While doing so, he hit a pedestrian. The pedestrian hired Miami car accident lawyer Justin Ziegler.
The pedestrian claimed that the accident caused or aggravated his shoulder injury. Specifically, he had a full thickness torn rotator cuff.
The good news?
He did not have surgery.
Progressive insured the driver of the car. Progressive paid $10,000 to settle the pedestrian's personal injury claim.
The pedestrian owned a car. U.S. Security insured his car. Fortunately, he had uninsured motorist insurance on that policy.
U.S. Security paid us $10,000 to settle the pedestrian's underinsured motorist insurance claim.
What did the combined $20,000 settlement cover?
It paid for pedestrian's out of pocket medical bills. Most of the settlement was for the pedestrian's pain and suffering.
Pedestrian Gets $10K Settlement After Car Runs Over His Foot
Allstate paid $10,000 after a driver ran over a pedestrian's foot. He claimed a soft tissue injury.
The accident happened in Miami Beach, Florida. We represented the pedestrian.
$10K Settlement for Pedestrian Hit By Car (North Miami)
A driver of a car hit our client, a pedestrian. She had leg pain. It happened on private property in a parking lot in North Miami, Dade County, Florida.
The driver received a ticket for improper backing. He was insured with Clarendon National Insurance Company.
The driver of the car was underinsured. Our client did not own a car. She did not live with any resident relatives.
She qualified through the careless driver's PIP coverage.
Clarendon Insurance Group was the US-based property and casualty subsidiary of Hannover Re. Clarendon spun off its ongoing property and casualty business as a separate entity called Praetorian Financial Group.
Praetorian Financial was subsequently acquired by QBE Insurance Group. In Florida QBE companies are:
General Casualty Company of Wisconsin
QBE Insurance Corporation
$8,000 Settlement for Pedestrian Hit By Car (Miami)
Our client said that he was standing in a car dealership parking lot in Miami-Dade County, Florida.. A mini van backed up. It hit him at an idle speed.
Our client's knees buckled and he fell to the ground. He complained of lower back pain.
A few months before the accident, he had knee surgery. Immediately after this accident, he complained of knee pain. He did not have any swelling.
Miami-Dade Fire rescue came to the scene. Our client walked to the ambulance stretcher. He was put on a backboard.
The paramedics put a neck collar on our client. They transported him to Homestead Hospital.

State Farm Insurance insured the driver.
The driver said that he barely hit our client. He said that if contact was made, it was at a very low-speed.
The final diagnosis was:
Uber Quickly Settles Death Case (Pedestrian Hit and Killed by Car)
This is not my case. About 9:58 p.m., on March 18, 2018, an Uber vehicle struck a pedestrian.
In the area of the crash, the northbound Avenue consists of two left-turn lanes, two through lanes, and one bike lane.
The crash occurred before the formation of a right-turn lane. Roadway lighting was present.
Why does roadway lighting matter?
Since the crash happened at night, roadway lighting may help the pedestrian's case. The pedestrian can argue that the Uber driver should have seen her.
Additionally, if the pedestrian had on bright colored clothes, it may help his or her case.
If there was no roadway lighting, it likely lowers the amount of the pedestrian's settlement. This is because the driver will argue that it was difficult (or impossible) to see the pedestrian.
For nighttime accidents, a pedestrian who had on dark clothes has a tougher case. This is because the driver is less likely to have seen (and avoid hitting) the pedestrian.
The Uber driver's car had a video camera. It captured both exterior and interior video.
Let's look at a snapshot of a video that captured the pedestrian. The video shows the pedestrian moments before impact.
Again, the accident happened at nighttime. The pedestrian was wearing a black shirt. You can't see the shirt in the photo.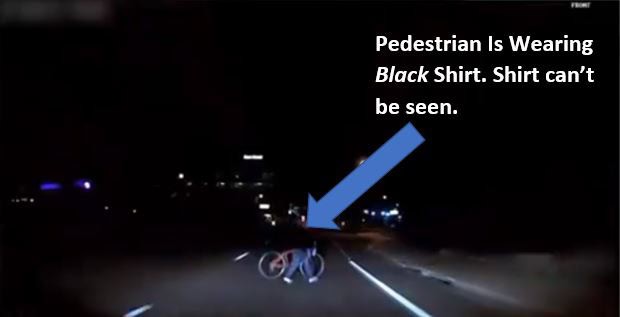 The fact that the pedestrian had on a black shirt lowers the settlement value of her family's wrongful death case. If the pedestrian would've also had black pants on, that would've further lowered the settlement amount.
However, she did have on white sneakers. Moreover, her shoes appeared to have reflectors. Any reflective measures that the pedestrian had increase the value of the wrongful death settlement.
Does Speed Limit Affect the Settlement Amount?
The posted speed limit was 45 mph.
Why is the speed limit important?
Because the higher the speed limit, the tougher it is for the driver to stop in time. Thus, the driver's insurance company is likely to put less blame on the driver. And less blame on the driver equals a smaller settlement for the pedestrian hit by the car.
Therefore, a higher speed limit may result in a smaller settlement.
In contrast, a lower speed increases the value of the pedestrian's case. This is because the pedestrian has a better argument that the car should've stopped in time.
$527K Settlement for Each Child (Of Pedestrian Hit and Killed By Car)
This isn't my case. On May 12, 2011, Guadalupe Carrizales was crossing Judge Winikoff Road near State Road 7 west of Boca Raton, Palm Beach County, Florida. She was taking a morning walk.
A 19 year-old drunk driver struck her.
He allegedly left the accident scene without helping the pedestrian. The pedestrian died. She was survived by four (4) "adult children".
For purposes of Florida's wrongful death law, any child who is 25 or older is considered an "adult child". An adult child can sue for his pain and suffering only if his parent wasn't married when he or she was killed.
If the pedestrian was married when he was killed, the adult child can't make a pain and suffering claim.
GEICO insured the driver.
On May 27, the pedestrian's son, Manuel, as personal representative of the estate, sued the driver and the owner of the car.
Claims were also made against the owner of the car, David Hanzelik, since he owned the car that the Falzini was driving. In Florida, the a car owner is responsible up to $100,000 (in most cases) for injury for the at-fault driver's carelessness.
In addition, he sued the owner under the theory that he shouldn't have let Falzini drive, since he was allegedly drunk.
The adult children claimed that the defendant driver was driving fast and hit their mother. She was allegedly struck by the speeding Infiniti G35 car with such force that she was dismembered.
The driver allegedly left the scene.
The driver was allegedly found at his home, which was many miles from where the accident happened.
The personal representative (PR) claimed that there was proof that the owner of the car was with the driver before the crash and the owner knew that the driver was drunk before he gave him permission to driver his car.
Driver's Blood Alcohol Level Was Above Legal Limit
Toxicology reports allegedly showed that the driver's blood alcohol level was above the legal amount.
GEICO insured the driver with $10,000 in bodily injury liability (BIL) insurance. Allstate insured the car owner with $100,000 in BIL insurance, and a $2 million umbrella insurance policy.
Allstate initially denied coverage on the umbrella policy. That means that they didn't offer any money from the umbrella coverage.
However, Allstate and GEICO paid the full amount of the policies to settle.
The total settlement against the driver and the car owner was for $2,110,000.
Every wrongful death accident is tragic. No amount of money will compensate the adult children for the loss of their mother.
However, the adult children were fortunate that the car owner had a big insurance policy. Most individuals in Florida do not carry anywhere close to $2.1 million in liability coverage.
The date of the settlement against the driver who caused the accident was on was 8/5/11. The settlement with the car owner was around that time. Allstate and GEICO allegedly paid on the day the settlement was reached.
They settled before trial. The personal representative continued the lawsuit against the hotel and bar for allegedly serving the minor driver.
I am not sure how much the pedestrian's medical bills were. I assume that the medical bills were small. This is because the mother died at the accident scene.
The case is Manuel Carrizales, as Personal Representative of the Estate of Guadalupe Carrizales v Ronald Falzini and David Hanzelik, 2K Clevelander d/b/a The Clevelander, and Miller's Alehouse, Inc. d/b/a Boca Alehouse. Case No. 502011 CA 007910 XXXXMB.
If Drunk Driver Hits a Pedestrian, Case is Worth More
Cases where a drunk driver causes an accident are generally worth more than if the driver was sober (not drunk) and just careless.
This is because the adult children can sue the drunk driver for punitive damages. Punitive damages are in addition to compensation for medical bills, and pain and suffering.
I do not know whether the woman was crossing the street in a crosswalk. If the pedestrian was in a crosswalk, then the pedestrian would likely not be at fault.
On the other hand, assume that if the pedestrian was crossing the road but wasn't at a crosswalk. In this case, she would probably be partially at fault.
If she was partially at fault, the insurance company for the owner of the car and drunk driver would reduce the value of the claim. They would reduce it by the pedestrian's percentage of fault.
This verdict shows that an insurance companies may pay $527,750 or more for an adult child's claim for mental pain and suffering.
An Uber Driver Hit Me While I Was a Pedestrian. Can I Get Compensation?
See what types of compensation a pedestrian can get if an Uber driver hits him. Learn which insurance applies, settlement info and much more.
If a Lyft driver hits a pedestrian, the good news is that there will likely be insurance coverage. And possibly gobs of it. However, the amount of coverage depends on if the Lyft driver was engaged in a ride.
If the pedestrian has big injuries, what is the best case scenario?
The best case scenario is that the Lyft driver was engaged in a ride. In this instance, the pedestrian will be entitled to up to $1 million bodily injury liability (BIL) insurance. Of course, the pedestrian must prove the value of his case.
Insurance coverage is just one factor that affects a Lyft accident settlement.
Will the Pedestrian Have to Draw a Diagram of the Accident (If a Lawsuit is Filed)?
Let's assume that a pedestrian is hit by a car. The pedestrian sues the at fault driver.
The at fault driver's attorney can take the pedestrian's statement under oath. This is called a deposition.
During the deposition, the pedestrian cannot be required to draw a diagram that explains how the accident happened. The pedestrian can choose to draw something to help explain his or her testimony. However, he or she cannot be required to create a drawing.
The case that says this is Udkoff v. Hiett 676 So.2d 522 (2nd DCA Florida 1996).
Are Pedestrian Accident Payouts Similar to Motorcycle Accident Settlements?
Yes. Pedestrian accident settlements have similarities to motorcycle accident settlements. The biggest commonality is that in these accidents injuries are often serious. At least more serious than most car accidents.
The seriousness of the pedestrian's injuries is often the driving force that determines the settlement. However, every personal injury case has many factors that affect settlement. Severity of the injury is just one of them.
Do Different Insurance Companies Pay Different Amounts for a Pedestrian Hit By a Car?
In most cases, yes.
Of the major insurers, Progressive and Farmers will likely offer the least as settlement for a pedestrian hit by a car Sadly, Progressive insures Uber in Florida. Despite their funny ads, Farmers and Progressive are terrible.
Of course, Windhaven and United Auto are horrendous. This isn't surprising. Why? Because they are non-standard insurance companies. However, the bigger issue in cases with them is that there won't be enough bodily injury liability insurance to pay for the full case value.
One step above those companies are State Farm, Allstate, Philadelphia Insurance, Infinity, Auto Owner's. Don't get to excited. These insurance companies are still way below average.
GEICO, Travelers, Safeco, Liberty Mutual, CNA are all about average. They will likely offer more than the above companies to settle.
Examples of above average insurance companies are USAA, Zurich (Lyft's insurer), Nationwide. The Hartford has a reputation for paying slightly better than those companies.
Which insurance companies pay the most to settle a pedestrian hit by a car case?
Chubb, Crum & Forster, The Hanover Insurance Group and Scottsdale. These companies are the best at paying for pedestrian car accident cases. They are the least likely to require a lawsuit if liability is clear.
But make no mistake about it. They are still insurance companies. Insurance companies are in the business of making a profit. They want to be as little as possible. Then, their profit is higher.
Did someone's carelessness cause your injury in a Florida car crash or other type of accident?
See Our Settlements
Check out some of the many Florida injury cases that we have settled, including but not limited to car accidents, truck accidents, motorcycle accidents, bike accidents, pedestrian accidents, taxi accidents, drunk driving (DUI) accidents, and much more.
We want to represent you!
Our Miami law firm represents people injured anywhere in Florida in car accidents, truck accidents, slip, trip and falls, motorcycle accidents, bike accidents, drunk driving crashes, pedestrian accidents, taxi accidents, Uber accidents and many other types of accidents.
We want to represent you if you were hurt in an accident in Florida, on a cruise ship or boat. If you live in Florida but were injured in another state we may also be able to represent you.
Call Us Now!
Call us now at (888) 594-3577 to find out for FREE if we can represent you. We answer calls 24 hours a day, 7 days a week, 365 days a year.
No Fees or Costs if We Do Not Get You Money

We speak Spanish. We invite you to learn more about us.