If someone's negligence caused your injury, you may wind up getting an MRI. I'm going to quickly talk about MRIs, and then I'll talk about how they affect the settlement value of your case.
What is Magnetic Resonance Imaging?
Magnetic resonance imaging (MRI) is a test that uses a magnetic field and pulses of radio wave energy to make pictures of organs and structures inside your body.
Why would you get an MRI in a personal injury case?
In several cases, an MRI shows different information about structures in your body that can be viewed with an X-ray, CT scan or ultrasound. An MRI may show issues that can't be seen with other types of imaging methods.
Does Getting an MRI increase a personal injury case's value?
An MRI increases the full value of your case, in part, because it increases your out of pocket medical bills or lien.
Getting an MRI Doesn't Mean that Your Case is Worth More
However, this doesn't mean that your case will be worth more. This is because settlement value takes into account many factors that can kill the value of the case. This may include:
All Things Equal, MRI Will Increase Settlement Value
However, if you take 10 cases where someone gets an MRI, and 10 where the injured person doesn't get an MRI, the total value of the claims where the claimant gets an MRI will likely be worth more.
This is because the victim's out of pocket expenses are higher, and there is usually is at least some available bodily injury liability insurance in Florida auto accident cases.
There is also usually insurance in a slip and fall case or other accident on someone else's property.
Will Personal Injury Protection (PIP) Pay for Your MRI after a Car Crash?
If you are covered by PIP, then PIP will pay for your MRI.
You Need To Get Initial Medical Treatment Within 14 Days of Crash
You need to get your initial medical treatment within 14 days of the motor vehicle accident for the PIP insurer to pay for your MRI. Florida Statute 627.736(1)(a).
PIP pays up to a limit of $10,000. It will pay the MRI facility directly.
Will a business pay for your MRI if you're hurt on its property?
They may. This is particularly true if it has an insurance policy with medical payments ("Medpay" or "MPC") coverage.
Business Doesn't Have to Pay in Advance of Your MRI
But, don't expect a business to pay in advance for your MRI. They don't have to.
This is true even if it has an insurance policy with medical payments ("Medpay" or "MPC") coverage.
When I use the word "business", I am referring to a:
Supermarket such as Publix, Winn Dixie, Sedano's, Whole Foods, Fresh Market, Presidente and others
Store like Walmart, Target, Costco, Home Depot, Lowe's, Sears, Kmart, Big Lots, Ross or DD's
Restaurant like McDonald's, Subway, Burger King, Wendy's, Chipotle, KFC, Cracker Barrel or Chicken Kitchen
Theme Parks such as Walt Disney World, Epcot and Universal Studios
On a cruise ship, including but not limited to slip and falls against Carnival, Royal Caribbean, Norwegian (NCL), Disney, Celebrity Cruise Line and others.
I haven't had one case where one of the above businesses paid in advance for my client's MRI.
If you get hurt at a business, the manager may assure you that they will pay for their medical bills. Don't believe them!
Don't Wait for Insurer to Authorize MRI
Although you should report the incident, don't waste days trying to get in contact with an insurance adjuster later to later be told that they won't pay for the MRI until you get it.
Don't be one of these people who I speak with on a daily basis. And whatever you do, don't give a statement to the liability claims adjuster. They don't need one.
When does an MRI help your case the
most

?

An MRI helps your case the most if it:
1. Clearly shows a muscle, tendon or ligament tear, or herniated disc and you are young
If the radiologist (person who reads the MRI) clearly sees a tear or herniated disc, there is a greater chance that the doctor hired by the liable insurance company agrees with this finding. This helps the damages component of your case.
2. Shows a brain injury
As you can imagine, if an MRI shows an acute brain injury, this increases the full value of the case because a brain injury may negatively affect many aspects of your life.
When does an MRI Least help your case?
An MRI helps your case the least if a radiologist says that the tear seen on the MRI is of indeterminate age or that it isn't acute. When a radiologist says a tear isn't acute, he is saying that it wasn't caused by the accident.
I've seen radiologists say in the MRI report that a:
Low Property Damage

If you were in a car accident, and there was low property damage to the vehicle's, an MRI may not help your case as much than if there was a lot of damage.
Can you get an MRI if You Don't Have Insurance?
If someone's carelessness caused your injury, and you don't have insurance, an attorney may be able to get you to a facility where you can get an MRI.
This is one of the 11 benefits of hiring a lawyer. You will generally need to sign a document, called a letter of protection, where you agree to pay back the facility when the case settles.
If, and when, the case settles, the attorney will reimburse the MRI center for the cost. The MRI center is typically paid after the injury lawyer takes his fees and costs.
Should you request a copy of the MRI report and disc from the facility?
Yes, ask for as many copies as they will give you for free. Even if the charge is $25 or so, if you have a positive finding, it's worth it.
Send a copy of the MRI report and disc to the insurer
Yes. You should quickly send the adjuster the MRI report if it shows that you have an injury.
Send the MRI to the Insurer Even if They Don't Ask For It
If you have a positive finding (something is wrong) on your MRI, send the disc to the adjuster even if he/she doesn't request it.
Insurer Needs MRI Records/Bills to Get Money to Settle
Adjusters need the MRI medical records and bills so that they can get the set the proper reserve, and get authority to settle the case. An MRI arguably shows that your pain and/or discomfort resulted in your need for an MRI.
You also don't want to start negotiating your case, only to learn that the insurance company needs to see the actual MRI in order to pay you fair value for your case.
If an MRI shows a tear, does this 100% mean that you have a tear?
More often than not, yes. However, I have seen an MRI show a labrum (in the shoulder) tear, but when the orthopedic doctor operated on it, he said that there wasn't a tear. He said that there was fraying.
Cases like the one I just described may still settle for good money. I settled a Florida truck accident case with those facts for $210,000.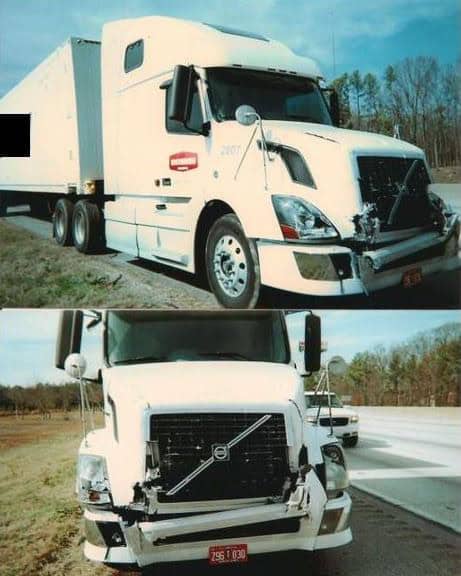 MRI Shows Hamstring Tear; Helps Get $300,000 Settlement for Slip and Fall
The shopper in the above photo slipped and fell in a supermarket in Miami, Florida. He claimed that the fall aggravated his prior Achilles Tendon injury.
He had an MRI that showed a tear in his hamstring. Although his prior injury was delayed healing of the skin around his Achilles tendon, this MRI helped add value to the case.
MRI Shows 2 Disc Protrusions in Back ($260K Settlement)
I settled an Uber driver's injury claim for $260,000. The Uber driver claimed that the accident caused his back injury.
Here is the actual crash diagram from the police report:
My client, Ray, was an Uber driver who was engaged in an Uber ride in Miami, Florida. He was in Vehicle 2 in the above diagram. He had a passenger at the time of the crash.
A company van (vehicle #1 in the diagram) was heading in the opposite direction. The van made a left hand turn.
The front of the van collided with the left driver side of the Uber driver's car. You can see the damage to the car that Ray was driving (below):
The van wasn't as badly damaged. Check out the photo below:
Here is a photo of the Uber driver laying in his hospital bed: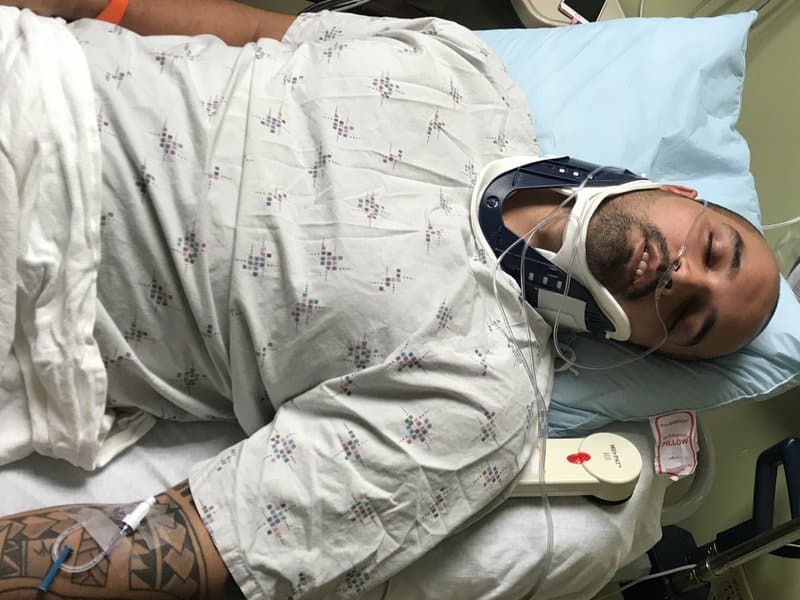 The MRI of Ray's back showed two disc protrusions. 
I've labeled them here: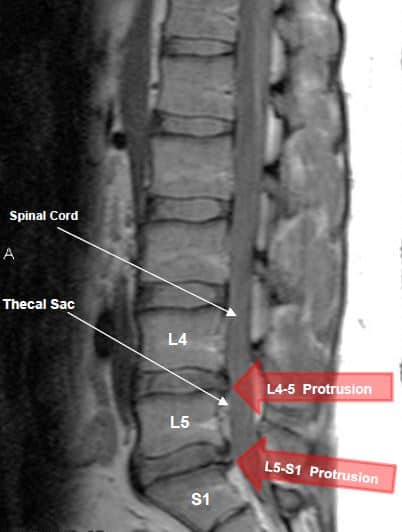 They showed a L4-5 left paracentral disc protrusion with some indentation on the thecal sac with moderate subarticular recess stenosis on the left.
It also showed a L5-S1 left paracentral disc protrusion, which abuts against the thecal sac and may abut against the exiting nerve root on the left.
The MRI helped us get this $260,000 settlement. Ray also had a fracture of the lamina of his vertebrae. However, he didn't have surgery.
CNA (American Casualty Company of Reading, Pennsylvania) insured the at fault van. CNA paid the $260K settlement.
Here is CNA's settlement check:
This is one of the biggest Uber accident settlements that you'll find online.
Should you be afraid of getting an MRI?
No. There are different types of MRIs. If you're claustrophobic (afraid of being in a small space), you can get an open MRI.
There are no known harmful side-effects associated with temporary exposure to the strong magnetic field used by MRI scanners.
Will the defense radiologist usually minimize the injuries seen on an MRI?
The insurance company gets to hire a radiologist and orthopedic doctor to look at your MRI results. They will typically describe the MRI findings in the light most favorable to the insurance company.
However, the defense radiologist has a duty to be ethical.
MRI Results in $10K Settlement for Car Accident Victim (Fort Lauderdale)
On April 22, 2018, my client was in his car and stopped at a light in Fort Lauderdale, Florida. A drunk driver hit him.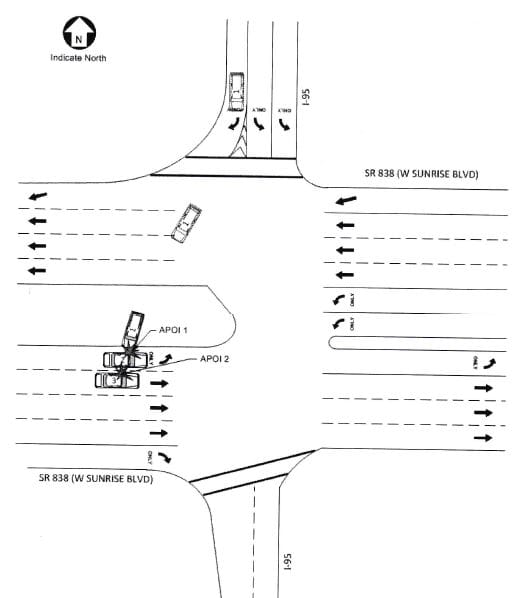 The drunk driver was driving his mom's car. GEICO insured the car. My client had neck and back pain. Here is the crash diagram:
This is a photo of my client's car after the accident:
An MRI showed that he had at least one herniated disc in his neck and lower back. The MRI helped this case get settled fast.
In this injury case, it took GEICO 37 days from the date of accident to print the check. They quickly sent it. GEICO paid us the owner's $10,000 bodily injury liability (BIL) insurance limits.
Most of the settlement was for pain and suffering.

Here is the actual settlement check:
I like cases with GEICO when their insured is arrested for drunk driving. This is because we can also make a claim for punitive damages.
You can read more about this $10,000 settlement.
Do insurance companies use the same radiologists over and over to read a MRI?
They often do. Some insurance companies that use the same doctors time and time again to read the injured person's MRI are:
Using Same Radiologist Over and Over May Hurt Defense Case
It may. A jury will get to hear about the percentage of time that a radiologist testifies for the defense as opposed to injured victims.
A jury may put less weight on the radiologist's testimony if he testifies 95% of the time for the defense.
Call Me Now!
Call me now at (888) 594-3577 to find out for FREE if we can represent you. We answer calls 24 hours a day, 7 days a week, 365 days a year.
No Fees or Costs if I Do Not Get You Money

We speak Spanish. Learn more about us.