Below are some of our settlements where our client was injured in a truck accident. We also give detailed information on dealing with certain trucking insurance companies.
$445K Settlement for Truck Accident (Leg Fracture)
Watch our video on this settlement:
A man was riding his motorcycle on a road in Hialeah, Florida. The motorcyclist was heading straight.
Another man was driving a tractor-trailer heading in the opposite direction.
The tractor-trailer driver made a left in front of the motorcyclist. The front of the tractor struck the motorcycle rider.
The rider was thrown from the motorcycle. He landed on the side of the road.
Due to his injuries, fire rescue transported him via ambulance to the hospital.
The motorcycle rider had a broken leg (tibial plateau) and finger. Doctors performed surgery on both his finger and leg. Fortunately, he called our office while he was in the hospital.
Chartis (now AIG) insured the trucking company. We settled the motorcycle rider's injury case for $445,000 with Chartis. Truck accident lawyer Justin Ziegler was also able to get the hospital's billing company to reduce the bill by a big amount.
Read more about his $445,000 settlement here.
$210K Settlement for Truck Driver Rear Ended By Semi-Truck (Shoulder Injury)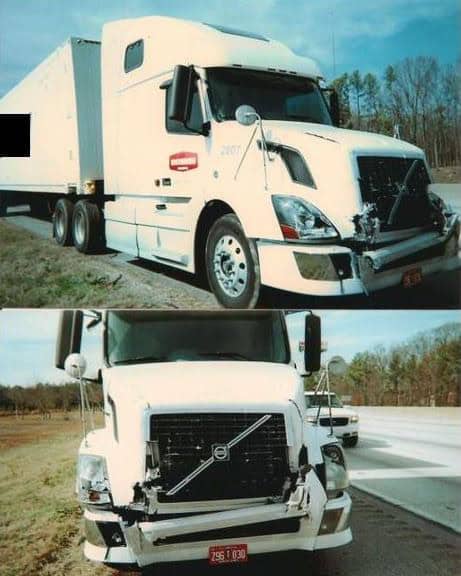 See a $210,000 settlement for a truck driver who claimed that a rear-end accident caused him to need surgery on his labrum tear. He also claimed that the wreck caused or aggravated 3 herniated discs.
$100K Settlement for Bike Rider Hit By Pickup Truck
A woman was riding her bike in a street intersection in Cooper City, Florida. A pickup driver struck her.
Our client spent days in the hospital. Doctors performed surgery to her face. Specifically, they put a plate in her face.
USAA insured the pick-up truck driver. The bodily injury liability (BIL) insurance limits were $100,000 per per person.
We settled with USAA for the $100,000 BIL insurance limits. Unfortunately, our client didn't have uninsured motorist insurance.
$100K Settlement for Driver Rear Ended by Truck
We represented a woman who was rear ended by a pickup truck. Our client had a discectomy to her bulging disc in her lower back.
Liberty Mutual insured the at fault truck. They paid the $100K bodily injury liability (BIL) insurance limits.
$100K Settlement for Driver Who T-Boned Tractor-Trailer
A driver of a car t-boned a tractor-trailer (18 wheeler) that ran a red light. The MRI revealed that the driver had a herniated disc at C5-C6.
The crash occurred in Miami, Florida.
$52K for Scooter Rider Hit By Truck (Eye Injury)
A young man was riding a scooter in Miami, Florida. A NAPA auto parts commercial pickup truck hit him.
The moped rider had an eye injury. Unfortunately, he didn't have health insurance. Thus, attorney Justin Ziegler helped him find a ophthalmologist (eye doctor). He also got some therapy for his aches and pains.
Fortunately, he did not need surgery.
Crawford and Company handled the claim for NAPA. We settled his personal injury claim with Crawford for $52,000. Crawford is part of Broadspire, who we've written about.
$28K Settlement For 18 Wheeler Rear-End Crash (Shoulder Pain)
Tom, a 51 year old self-employed man, was driving a box truck on I-75 in Wildwood, Sumter County, Florida. (Tom's truck is vehicle #2 in the diagram below.)
Jose Diaz was driving a truck for Carolina National Transportation. The truck that Jose was driving is vehicle #1 in the diagram below.
American Inter-Fidelity Exchange insured Carolina National. Jose and Tom were traveling in the same direction (South). The front of Jose's truck crashed into the back of Tom's truck.
The police officer investigating the scene of the crash cited Jose for careless driving. The officer recreated the scene of the crash with the following drawing:
The impact was hard. Tom got an estimate of the damage to his truck. He also took photos of his truck. We sent the estimate and photos to American Inter-Fidelity Exchange.
The following photo shows the damage to the rear of Tom's truck.
Tom didn't take photos of Jose's truck.
He did not take an ambulance to the hospital. In fact, he didn't even go to the hospital.
Six days after the accident, Tom went to his primary care physician. Her told his doctor that he felt pain immediately after the collision.
His pain progressively worsened. He had pain in his neck, back and elbows.
His back pain radiated (went down) into his left leg. The doctor noticed that Tom had muscle spasms.
Due to pain radiating into his leg, his doctor ordered an MRI of the lumbar spine (lower back). He had two bulging discs in his lower back.
He also referred Tom to an orthopaedic doctor.
His doctor gave him prescriptions for Flexeril (muscle relaxer) and Ibuprofen (pain reliever) to help ease the muscle spasms and pain.
We claimed that the accident caused or aggravated pain in Tom's neck, back and elbows. The doctor ordered an MRI of his knee. An image of the knee MRI is below.
We also claimed that the collision worsened the pre-existing chondromalacia in his knee.
Tom was driving a box truck for work. However, Allstate insured his personal vehicle. Allstate paid personal injury protection (PIP) benefits to Tom's doctors.
Here is the settlement check:
$25,000 Settlement (Policy limits)
For a driver (insured by USAA) in Miami, Florida who had soft tissue injuries as a result of being rear ended by a truck.
$22,000 Settlement
For our client's personal injury claim where our client's car was hit in the rear. Our client states that the truck actually "climbed" onto the rear of his car. The truck driver was working for a company who had liability insurance. The client treated with a chiropractor and a doctor in Hialeah for his injury.
An MRI taken of the Cervical revealed:
1. C4-C5 Mild Spondylosis with a posterior central broad disc bulge slightly impressing upon the anterior surface of the spinal cord particularly with the neck in the extended position.
2. C5-C6 Mild Spondylosis with a posterior central shallow disc bulge mildly impinging upon the anterior surface of the spinal cord with the neck in the extended position.
3. C6-C7 posterolateral disc bulge and uncovertebral joint thickening resulting in encroachment upon the left C7 root exit zone.
4. Multilevel cervical Foraminal stenosis related to uncovertebral joint thickening and posterolateral bulging of the disc.
Our client did not have surgery. We are asking the insurance company for $25,000, and we will demand more should we have to file a personal injury lawsuit.
$16,500 Settlement
On behalf of a driver of a car who suffered personal injury when his car was hit by another car (in Kendall, Florida) whose driver was insured by GEICO. The at fault car failed to yield the right of way when exiting the mall.
My client, the injured driver did not go to the hospital, but treated with a doctor days later. He then went months without treating and then treated consistently with a chiropractor. He was a candidate for a percutaneous lumbar discectomy.
 $10K Settlement (Truck Accident)
For our Jamaican male client who suffered personal injury (herniated disc) when the car he was driving was rear ended by a commercial truck. His Toyota 4Runner was a total loss, and every airbag in his SUV deployed. He accompanied his wife to the hospital.
A chiropractor and orthopedic doctor treated him.
He was a candidate for epidurals and/or a percutaneous discectomy. The car that rear ended him was ticket for careless driving. Our client is very wise by purchasing uninsured motorist insurance. We have been offered $10,000 to settle this personal injury claim.
$11,000 Settlement
For a young driver from Hialeah who suffered personal injury when an 18 wheeler truck t-boned his car. The accident occurred in Miami, Florida. The insurance company for the truck driver was Lincoln General. The driver treated with a chiropractor in Hialeah, Florida and an MRI revealed a bulging disc.
$7,500 Settlement
For our Jamaican female client who suffered personal injury (bulging disc) as a passenger in a car that was rear ended by a commercial truck insured by First Commercial Insurance Company.
The auto accident occurred in Miami, Florida. The brand new SUV was a total loss, and all the airbags deployed. She was rushed to Baptist Hospital in South Miami, Florida. He treated with a chiropractor and orthopedic doctor.
One of his doctors said that he was a candidate for epidurals and/or a percutaneous discectomy.
The car which she was traveling in has underinsured motorist insurance with Allstate.
Who are the largest Trucking Companies?
Below are the largest 100 for-hire carriers in the United States. If you suffer an injury in a Florida truck accident as a result of one of these trucking companies, we want to represent you.
UPS Inc.
FedEx Corp.
XPO Logistics
J.B. Hunt Transport Services Inc.
Knight-Swift Transportation Holdings (Knight Transportation, Swift Transportation)
YRC Worldwide
Schneider
Hub Group
TFI International
Landstar System
Old Dominion Freight Line Inc.
Ryder Supply Chain Solutions
ArcBest
Estes Express Lines
Werner Enterprises Inc.
Roadrunner Transportation Systems Inc.
NFI
Prime Inc.
Penske Logistics
UniGroup Inc.
U.S. Xpress Enterprises
R+L Carriers
CRST International
Kenan Advantage Group
C.R. England Inc.
Sirva Inc.
Saia Inc.
Purolator
Daseke Inc.
Southeastern Freight Lines
Universal Logistics Holdings
Averitt Express
Forward Air Corp.
Crete Carrier Corp.
Celadon Group Inc.
Anderson Trucking Service
KLLM Transport Services
Lynden Inc.
Evans Delivery Company
Atlas World Group
Ruan
Quality Distribution Inc.
Central Transport International
Cardinal Logistics
Day & Ross Transportation Group
Pitt Ohio Transportation Group
Covenant Transport Services
Marten Transport Ltd.
Stevens Transport
AAA Cooper Transportation
United Road Services Inc.
Mullen Group Ltd.
Heartland Express Inc.
Jack Cooper Holdings
PS Logistics
Trimac Transportation
OnTrac Inc.
Western Express
Dayton Freight Lines
Suddath
Canada Cartage
Bennett International Group
Mercer Transportation Co.
Two Men and a Truck Movers
Bison Transport
Cowan Systems
Eagle Express Lines/Hoovestol Inc.
Dart Transit Company
USA Truck
Shevell Group
P.A.M. Transport
Mesilla Valley Transportation
TransX Group of Companies
TMC Transportation
Black Horse Carriers
Epes Carriers Inc.
LaserShip Inc.
Roehl Transport
A. Duie Pyle Inc.
Maverick USA
Transport Investments Inc.
IMC Companies
Dicom Transportation Group
Salmon Cos.
Cassens Transport Co.
TransAm Trucking Inc.
Hirschbach Motor Lines
Foodliner/Quest Liner
Koch Companies Inc.
Dependable Supply Chain Services
Trans-System Inc.
Melton Truck Lines Inc.
Central Freight Lines
Martin Transportation Systems
A&R Logistics
Challenger Group
United Vision Logistics
Superior Bulk Logistics
John Christner Trucking
Acme Truck Line
Who are the most common trucking insurance companies?
Other than household names like , There are many insurance companies that insure trucking companies. Some are household names like Progressive. Others are:
American Inter-Fidelity Exchange
Prime Property & Casualty Insurance Inc.
and many others.
Check out my articles on truck accident settlements with some of the largest companies in Florida:
Target truck accidents (coming soon)
and many more
Call Us Now!
Call us now at (888) 594-3577 to find out for FREE if we can represent you. We answer calls 24 hours a day, 7 days a week, 365 days a year.
No Fees or Costs if We Do Not Get You Money

We speak Spanish. We invite you to learn more about us.