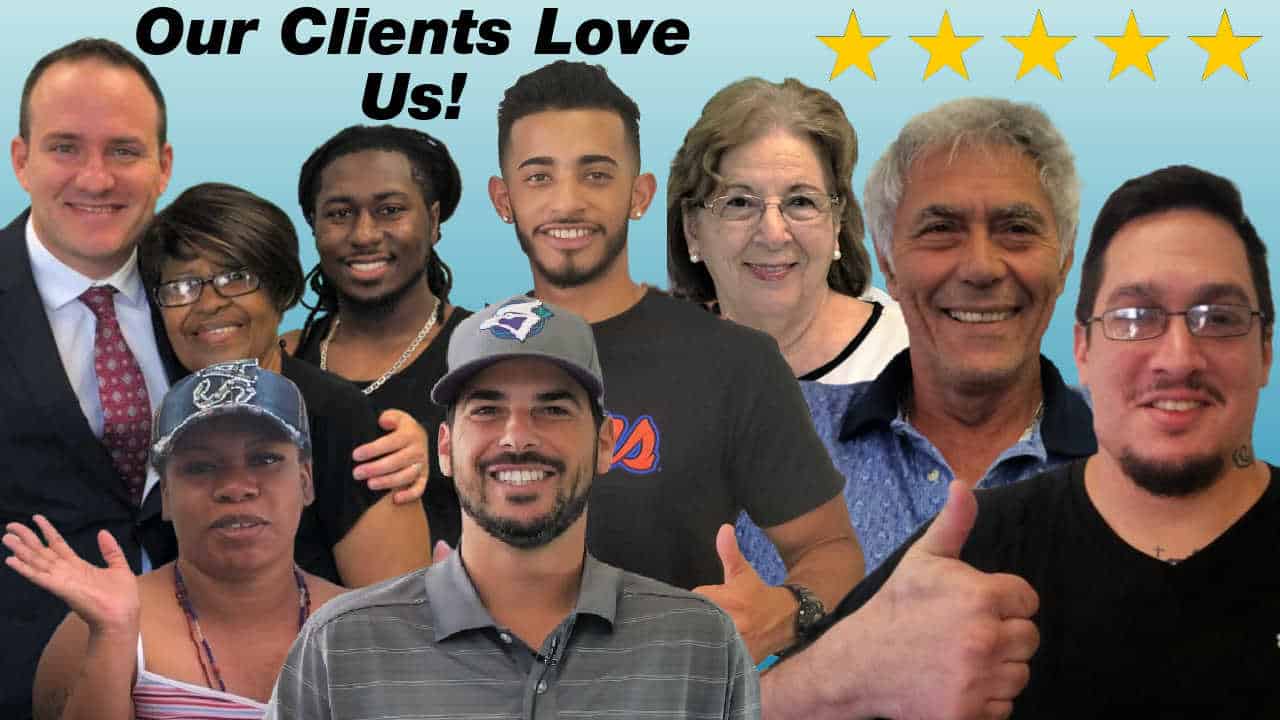 Our clients who have dealt with us love us. Other attorneys continually refer cases to us as well.
But You Don't Have To Take Our Word For It…
Below are just a few of the many reviews of our Miami law firm. You can also watch several of my clients' video testimonials and settlement stories. We want you to join our growing list of happy clients.
We represent people who are injured in accidents anywhere in Florida or while on a cruise.
This is one of our many happy past clients:
Most of the reviews below were taken from our Google Maps listing.
As of August 2023, our ratings are as follows:
4.9 (out of 5) rating on Google Maps (117 reviews)
5.0 rating on Yelp
5.0 rating on Avvo
Every case is different. Thus, prospective clients may not obtain the same or similar results.
Madeline's Comments About Us ($670,000 Personal Injury Settlement in 2023)
Madeline tripped and fell on a hazard in a parking lot in Doral, Miami-Dade County, Florida. As a result of the fall, she broke her ankle and had two surgeries.
The landscaper's insurance company initially denied liability. But I didn't let this stop us.
I built up Madeline's case. Through intense negotiation, I ultimately got her a $670,000 settlement.
Here is what she said after the Hartford insurance company offered $650,000.
I'm super happy with that outcome. I never in my life thought it was going to be even close to half that amount. I'm super happy with the work that you did on my behalf. It's something that I never dreamed about.

The relationship and the course of this case have been very easy to work with and the result is amazing. I'm very, very happy.

I trust you 100%. You know better than me how to handle things legally. You made me believe again that there are good and honest attorneys and you are one of them.

You always ask me [about what I'd like to do] and I appreciate that. You consult me with every step.

My experience with you guiding me through this process has always been good so I trust you.

Madeline's video chat with me
Pierre's 5 Star Review ($50,000 Car Accident Settlement)
I would like to start with Jenny ( Justin's paralegal ). I truly appreciate your time and efforts during the entire process.

You were prompt, understanding, and patient as this was my first injury claim of any variety. I initially called [another law firm] and wanted to speak with someone else.

Just really didn't feel as if I were being heard – just rushed to answer the next question as if I were inconveniencing them. After a bit of research including YouTube videos, I called Justin's office and Jenny answered the phone.

After our exchange and subsequent initial conversation with Justin, I felt valued and as I had an opportunity to explain myself thoroughly. I allowed Justin to represent me right away.

Justin got to work IMMEDIATELY. Crash reports, consent forms, and all other investigative aspects of the case seemed as if they were happening at light speed!

He was able to find an imaging center to treat me up-front as I was uninsured. This led to me receiving chiropractic and occupational therapy for my hand, wrist, back, and neck.
Here is a photo of a cast on Pierre's finger injury:
Throughout the case, Justin was always able to be reached. He would respond to emails with haste and copied me on everything he did even if there was no action to be taken on my part – just to keep me completely in the loop.

In fact, on three or four occasions, Justin and I spoke on the phone for over an hour plus, which made him seem personable and if I was his only client. It was like having a buddy, who just happened to be an attorney as well.

Justin, I can't express enough how grateful I am to have had you represent me in this difficult time – all the way from Orlando too! I learned a TON about the law, insurance, and a few life lessons sprinkled in there as well hahah!

If I ever run into any situation where your services are needed again, I will not hesitate to call.

thankfully,

Pierre

Google Maps 5 star review
Here is the [redacted] check from Pierre's case:
Cordario's 5 Star Review ($28K Car Accident Settlement in April 2021)
Lying in the hospital bed I wasn't even sure if I even had a case for a hit and run accident. I searched for hit and run lawyers and Justin was the first name to come up.

I watched his videos and testimonies. Justin and Jenny [paralegal] were awesome.

They kept me up to date during the whole process. There was never a grey area. Things got really tough financially for me and Justin came in clutch at the right time.

This process was as smooth as can be. Thank you guys so much for your help.

Google 5 star review on April 12, 2021
In 2020, Cordario was driving his car in Flemington, Marion County, Florida. A driver rear ended Cordario's car.
This sent Cordario's car off the side of the road where he struck a pole.
You can see the rear end damage here:
Below, you can see the damage to the front of his car when he struck the pole:
His airbag did not deploy. This was a hit and run accident.
An ambulance took Cordario to Shands Hospital in Gainesville, Florida.
Cordario had a traumatic fracture of his ulnar styloid with minimal displacement. The ulnar styloid is a bone at the end of your forearm closest to the wrist.
This was to his non-dominant arm. Every car accident lawyer knows that your case is worth more if your break a bone in your dominant arm. This is because it has a bigger effect on your daily activities.
Fortunately, Cordario did not need surgery for this broken bone.
This was not a serious fracture. In fact, the hospital radiologist said that the x-ray showed that he may have a small and difficult to see avulsion fracture. In other words, he was not certain that it was a fracture.
He searched for a hit and run lawyers. Cordario saw my videos and client testimonials. He called me to see if I could represent him.
I gave him a free consultation. After we spoke, he hired me.
Cordario also had lower back pain. He received physical therapy for it.
Progressive insured Cordario's car with uninsured motorist insurance. In 2021, I settled his personal injury case with Progressive for $28,000.
After my lawyer fees, costs and paying his medical bills, we gave him a check for $15,496.
Sandra's 5 Star Review ($35,000 Settlement)
My name is Sandra, I've gotten into a car accident back in August last 2020. I've never been in any kind of accidents before. At first I was very lost when it came to the insurance part.

I have googled a car accident lawyer and when I saw mr JZs contact on google and my gut told me to call and get some information. JZ helps had been representing me ever since the first day I called.

Checked up on me and made sure to do anything I had to in order to recover. He and his assistant Jenny always answered my questions.

It had been my first accident I didn't know what to do., but they also always informed me of every step of the way.

They always been there for me no matter what. I could have not chosen any better person for my case. I would refer this law firm in a heart beat to anyone I know and to others. I'm very grateful , because the accident itself was very scary.

Thanks to the law firm I didn't had to deal with the insurance, because they took care of everything for me. Thank you JZ help and assistant Jenny. I will always keep you and your family in my prayers.

5 star Google Maps review on April 2021
Here is a short summary of Sandra's claim:
Sandra's employer gave her a car to use for work. In August 2020, Sandra was driving east in Crestview (near Pensacola), Florida. Daniel was in a car heading south. He ran a stop sign.
As a result, the front of Sandra's car struck the passenger side of Daniel's car.
You can see the damage to Sandra's car here:
You can see the actual diagram from the crash report here: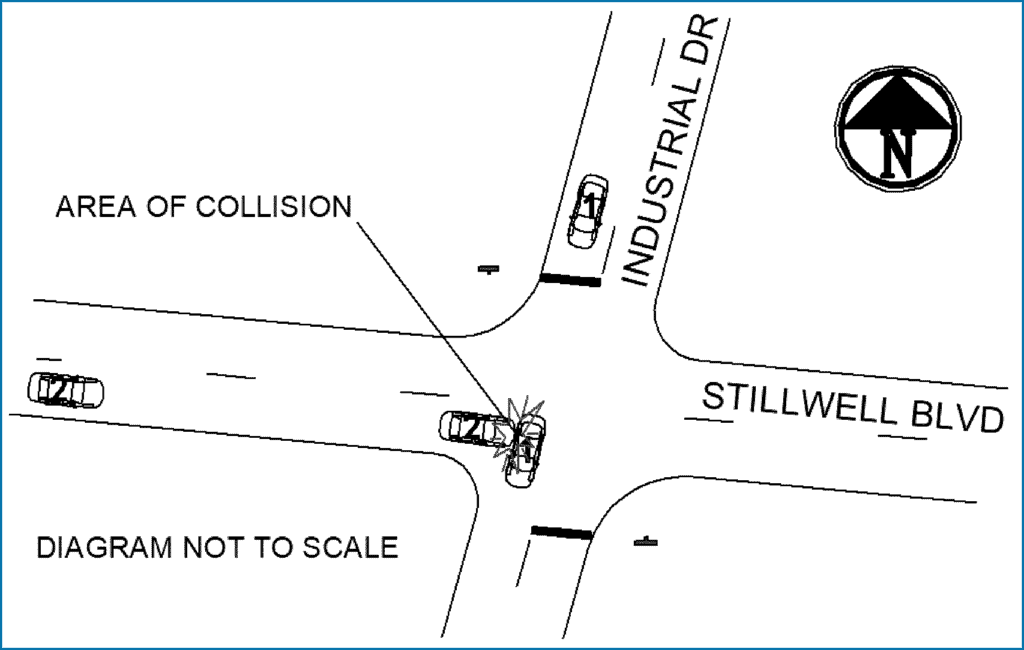 State Farm insured Daniel's car (#1 in the diagram) with $25,000 in bodily injury liability insurance coverage.
After the accident, Sandra had back and neck pain. She said that her workers' compensation insurance company gave her limited information about how wage loss worked.
Sandra searched Google for how wage loss works with workers' compensation. She found my website my website. She got a free consultation with me.
Let Me Fight to Get You a Fair Settlement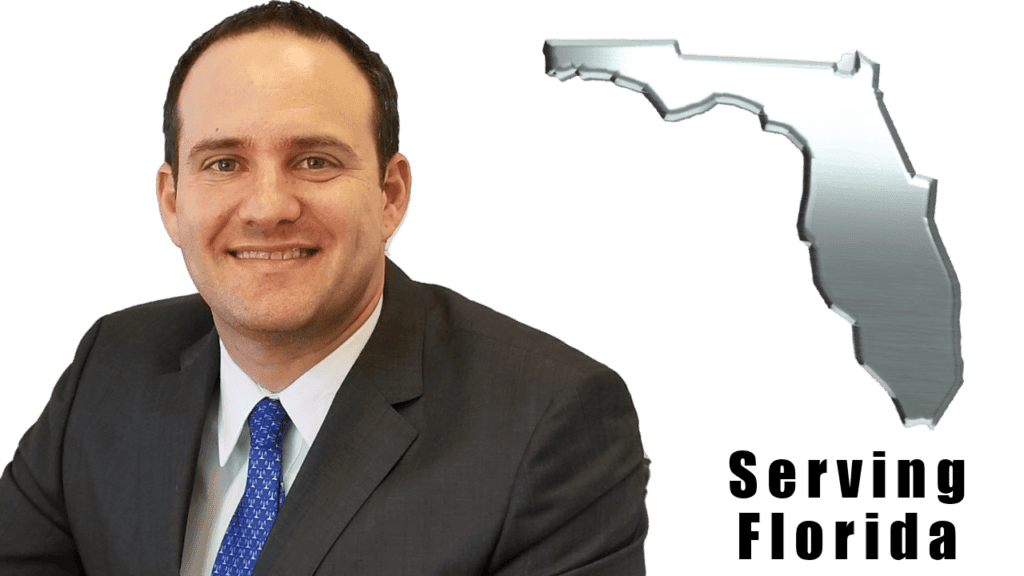 After we spoke, she hired me.
An MRI that showed that she had a herniated disc.
Sandra was working at the time of her accident. Thus, her workers' compensation paid all of her medical bills.
In February 2021, I got State Farm to pay me its driver's $25,000 BIL insurance policy limits. You can see the check (redacted):
They paid me within about 6 months after the car accident.
It gets better:
USAA insured Sandra's personal car with $10,000 of uninsured motorist insurance coverage. At the time of this accident, Sandra was not driving her personal car. However, her underinsured motorist insurance (from her personal car) covered her for this accident.
In February 2021, I got USAA to pay me Sandra's $10,000 limit of uninsured motorist coverage. Here is USAA's check:
The total settlement was $35,000.
After my car accident lawyer fees and costs, Sandra gets a check for $23,333.33.
Normally, you have to pay back the workers' compensation insurance company from your personal injury settlement. However, they must reduce their claim (lien) by your attorney's fees and costs and other factors.
Here, Sandra's workers' compensation lawyer got the workers comp insurer to waive it's lien. As you can see from her review above, Sandra was very happy with our personal injury settlement.
Sandra also settled a workers' compensation with her employer's insurance company.
Dawn's $30K Trip and Fall Settlement (December 2020)
Dawn tripped and fell on a broken walkway at a tourist attraction in Kenansville, Florida. It was close to Orlando.
You can see a photo of the cracks in the walkway that she tripped on:
She broke her ankle. Fortunately, she did not need surgery.
In December 2020, we settled her case for $30,000.
Take a look at the check:
She sent us this Thank You card:
In addition, she wrote the following 5 star review about my law firm on Google maps:
Very pleased with the professionalism & efficiency I received from Justin Ziegler. I feel I was represented well with my injury. I did not have an easy case ( in my opinion).

If I had questions, Justin & his assistant, Jenny, were always quick to respond. I felt like they genuinely cared about me. There is no doubt…I would recommend JZ helps for your injury case. Thank you, Justin! (..Jenny too!)

5 star review on Google Maps (December 2020)
Tiffany's 5 Star Review ($120K Trip and Fall Settlement in May 2020)
Tiffany claimed that she tripped over caution tape that was hanging off a barricade in Homestead, Florida. She broke her foot and had surgeries.
Unfortunately, she didn't have any good photos showing the dangerous condition that caused her fall. Also, the witnesses would not cooperate.
Due to major issues proving liability, we settled her case for $120,000 with Markel (Evanston Insurance Company).
After my lawyer fees, costs and paying her medical bills, Tiffany got over $45,879 in her pocket.
This doesn't include the interest that we had to pay back on a loan that she took.
Tiffany did not have health insurance. She would have gotten much more money in her pocket if she would have had health insurance.
In June 2020, Tiffany wrote this review on Google Maps:
Justin is a very very great professional attorney and I would gladly recommend his to anyone his a very good lawyer. Thank you and Jenny for all y'all hard work and helping settle my case.

5 star Google Maps review
Watch this video to learn more about Tiffany's claim and settlement:
Alissa T. (May 2020)
Justin has been very helpful on multiple occasions. His professionalism, and responsiveness were greatly appreciated in a time of uncertainty.

He provided excellent guidance and advise. I know that I am in good hands with Justin Ziegler!

Review on Google Maps
Matt S. (May 2020)
Justin was great in answering my questions on Florida law. He called me back timely and as a lawyer from NYC myself I know how hard that can be to do. Thanks Justin!

Google Maps review
Lamar (April 2020)
My experience was amazing. Justin and Jenny are very thorough and also A+ with communication. Every step of the way, Justin has been informative and doesn't not mind educating you on your rights.

I would highly recommend this firm to anyone seeking justice. Their number should definitely be in your Rolodex.

5 star review on Google Maps
Lamar was driving his car in a Wendy's drive thru lane in Oakland Park, Broward County, Florida.
Joan was driving a car and crashed into the back of Lamar's car. After the crash, Lamar took this photo of the damage to his car:
In January 2020, I reached a car accident settlement with Sedgwick for its $10,000 policy limits. Unfortunately, that was all the available insurance.
Here is the check:
Angela (September 2019)
In 2018 while staying at a resort I had a bad fall in a bathtub where I broke my upper humerus (upper arm) near the shoulder socket. I was rushed to the hospital where I had surgery within hours and had to have a steel plate and 10 screws placed to keep the bone together to mend. All I asked of the resort was to help with medical expenses, they refused. So, my husband and I set out to find an attorney. We tried to find one local, and no one would touch the case. Never did we imagine that we would find someone like Mr. Ziegler and Jenny.

While researching attorney's my husband came across a case like mine that Mr. Ziegler had represented. We called and spoke with him on the phone and instantly liked him. He was honest with us about slip and falls being one of the hardest cases to take on. He was in no way wrong about that.

Over the last year and a half, we have emailed and talked on the phone more than times than I could ever count. He has always been there to respond to the simplest or hardest questions. Mr. Ziegler and his Paralegal Jenny have never missed a beat with returning phone calls or emails quickly. I feel like I have found a friend in them. Also, I would call the office for something and it never failed that either him or Jenny would answer the phone personally.

I will not lie that I have had some struggles over the last few months with wanting to settle and Mr. Ziegler was always there to help and offer advice to me. I know he has several clients, but I was never made to feel that there was anyone else but me that was his client. If you are looking for someone who cares and never gives up on you or your case this is the office, you need to hire him. While my case should have taken twice as long as it did, we settled with in a year and a half. I could not be happier about my choice in an attorney's office.

5 star Review on Google Maps (September 6, 2019)
How much of her $250K settlement was for pain and suffering?
Most of Angela's settlement was for pain and suffering. In fact, about $225,000 of the $250,000 settlement was for pain and suffering.
Here is the settlement check:
The full value of Angela's case was worth over $250,000. However, she slipped and fell in a hotel bathtub. Proving liability was tough. Difficult proving liability is one of the many factors that an injured person (or his/her attorney) may need to adjust for when calculating settlement value.
Check out Angela's $250,000 hotel bathtub slip and fall settlement.
Zach ($170K Settlement)
I definitely recommend Justin Ziegler. He was there for me after my I broke my arm in low impact collision on Sarasota, Florida. He helped me receive a very sizable settlement. Should I ever need a lawyer again, I will go to Justin first.

Zak's 5 star review on Google maps (2019)
Here are the settlement checks in Zach's case:
John ($60K Settlement in 2020)
John said this about us:
Many thanks to you and your law firm for representing me in my case against the Marriott Corporation. In the complexity of handing such a case you and your firm were spectacular and efficient on my behalf for a pleasing outcome and resolve. Thank you again.

John's review
Take a look at the $60,000 settlement check:
Dania
I am very pleased to have selected attorney Justin Ziegler. If you need an accident lawyer, do not think about it.

Dania C. (August 2018)
Dania's case was one of our many Progressive car accident settlements.
Chiquetta
Chiquetta also gave us a 5 star review on Google Maps.
Jeremy
On April 22, 2018, Jeremy was hit by a drunk driver in Fort Lauderdale, Florida. He claimed neck and back pain. Jeremy hired injury lawyer Justin Ziegler.
We settled his claim for the $10,000 bodily injury liability insurance limit (that covered the drunk driver).
Here is some of what Jeremy says about us in the video (above):
Justin and Jenny [paralegal] figured out how to get the job done. They were paid at the end of my settlement and pretty much they took care of my bills and everything. It was a very speedy process.

They helped me get the treatment that I needed and the settlement that I needed. It was great.

The best thing I liked about being represented by JZ helps is it was speedy. It was very easy or forced. It was authentic.

The best thing that I like about you guys was the consistency. Like the emails, Jenny always kept me posted. Whenever I called, someone always picked up.
Most of the settlement was for his pain and suffering. Jeremy didn't have surgery.
Jarvis
Awesome team, very knowledgeable, easy to get into contact with. Will keep you updated throughout the entire process. I'm a satisfied client and I highly recommend them for your legal matters.

5 star Google Maps review
Ryan
"I hired Justin to help me with my automobile personal injury case. He responded to me right away and he got started protecting my rights.
My case was very complicated involving my severe injury, multi-state involvement, car rental companies, several different insurance companies, workers comp, and probate issues due to the other driver passing away.
Justin and his assistant, Jenny, worked hard the whole way through and, importantly, were always responsive to me, even at night or weekends.
I would highly recommend that you hire JZ Helps to handle your case!"
See this $300,000 settlement for a car accident in Clearwater, Florida. The victim suffered a tibial plateau (top of the lower leg bone) fracture.
Keith
Here is a picture of Keith and I celebrating the $100K settlement.
Keith
"Justin was my brother's high school friend. My brother actually recommended to call Justin after the accident.
I didn't know what to expect. I wasn't expecting anything crazy because of the time period that passed between my medical treatments. State Farm settled for the bodily injury limits [$100K] which I was very excited about. It was a great experience dealing with Justin [attorney] and Jenny [paralegal]."
Tom
In the video below, Tom describes his experience with my truck accident law firm:
Doug
Doug was hit by a car while he was a pedestrian in Miami Beach, Florida. We settled his case for $65,000 with GEICO. This is Doug's 5 star review of me as his personal injury lawyer.
Justin Ziegler did an excellent job handling my auto accident case. He and his senior paralegal, Jenny, kept me abreast on its progress throughout. I give his firm my highest recommendation.

5 star review on Google Maps by Doug (December 2017)
Doug sent my paralegal a plant as a thank you.
Take a look:
And he wrote my paralegal a very sweet message:
Lyft Passenger Says We Are Fast and Effective
Justin Ziegler represented a passenger in a Miami Shores Lyft accident. We settled his Lyft accident case for $70,000. Here is what our client said about me as his Lyft accident attorney.
Justin is fast and effective by being ALL THE TIME one step ahead of potential issues with your case. I was impressed with his accurate and rapid responsiveness even for a single phone call or email.. He's an EXTRAORDINARY professional and human being…two qualities hard to find in a lawyer. I'm positive about referring Justin to everyone.

My actual client (Lyft passenger) review on Google Maps
I also handle Uber accident claims. If you were injured in a rideshare accident, I'd like to be your lawyer.
Review from a Caller to Our Office
Google created this image (below) of a review on our google local business listing. (I am aware of the spelling error. However, Google created the graphic.)
$20K Payout for Soft Tissue Injuries
Tim*
December 28, 2015
"Justin was everything I was looking for in a lawyer.
His communication was excellent, I was always informed immediately of any status changes.
Justin gave me realistic expectations for what I was and was not entitled to.
Justin was a consummate professional in every way.
Through the entire process every step and the reason for it was explained in a clear and understandable way.
Justin's assistant Jenny was excellent, and worked hard to accommodate my busy work schedule.
I really have no criticisms what so ever of my entire experience.
I would absolutely use JZ helps again and recommend them Highly to friends and family."
See this case where a driver got $20,000 after a truck hit him. He claimed a concussion, injury to his shoulder, spine & loss of sensation to his fingertip."
$35K Payout after Car Hits Scooter Rider (Broken Leg)
Juan*
November 30, 2015
"I give you 5 stars. I liked the way all my questions were answered accurately and fast.
A scooter rider got $35,000 after a driver failed to yield the right of way and hit him in Miami Lakes, Florida. He suffered an upper leg (femur) fracture.
$25K Payout for Car Crash in Key Largo
Mike*
September 2015
"Very professional and understanding of the unfortunate car accident I was in. Has a very transparent business operation and they have excellent communication from start to finish.
They made a bad situation have a positive outcome. The whole process was smooth and I can tell he is a very honest person who truly wants to help people always putting his clients needs first. Would definitely recommend them to everyone, and use them again if the need ever arises again."
Learn more about his $25,000 settlement with USAA.
Cathy*
August 2015
$17,000 Settlement for Herniated Disc from Miami Car Crash
Learn about, our client, a young woman in her early 20's who got a $17,000 settlement after another driver rear ended her. She claimed the crash caused two herniated discs.
Nelly
June 2015
$18,000 Settlement – Trip and Fall at a South Miami, Florida restaurant.
All the settlements in this article are before deduction for attorney's fees and expenses. Most cases result in a lower recovery. It should not be assumed that your case will have as beneficial a result.
Phil
$16,500 Settlement with GEICO. Miami, Florida car accident. Herniated disc.
Greg
$100,000 Settlement. Truck Accident. Miami, Florida. Zurich Insurance.
Lemar Alejo
February 20, 2015
Justin Ziegler is an enthusiastic personal injury attorney who I've known to provide excellent service to all his clients.
Hosam Zawahry
December 2014
Great firm, really knows the law inside and out! – .
Jim S.
November 2014
I was hit by a car while riding my bicycle a few years ago. I went to Justin Ziegler for help. He was very personable and professional. He did all the work and got me a sizable settlement. I would highly recommend Justin Ziegler to anyone who needs an injury attorney. – Jim S.
Colleen Russo
November 2014
Justin Ziegler is extremely knowledgeable about issues surrounding the personal injury practice. He provided me with assistance in addressing an insurance company's failure to resolve my client's case fairly providing some steps I wasn't familiar with!! Thanks!
Angel Diaz
November 2014
I have known Justin for many years and without a doubt he is a great attorney in South Florida. Incredibly knowledgeable and reliable.
Jim Dreyer
November 2014
Smart, resourceful. An asset to our profession.
Frank DePena
August 2014
Great service and dedication. Highly recommend Mr. Ziegler.
Daniel Rudez
May 2014
As a fellow attorney Justin was very helpful and knowledgable in answering my questions. I would highly recommend him to any potential clients.
Isaac Newlin
May 2014
An Excellent source of advice concerning the value of an injury claim. Justin was very helpful and truly went the extra mile to answer my questions.
Andy San Jorge
April 2014
I am an attorney in Miami who had the pleasure of referring a past client to Mr. Ziegler following her injury. I tracked the progress of the case from claim to settlement and I can say that Mr. Ziegler handled the matter with the utmost zeal and professionalism. Our (now) mutual client was thrilled with the outcome and thanks me every time we speak – Thank you Justin!
John Doe* (Not Actual name)
April 2014
My family and I dealt with an unfortunate accident which was caused by my neighbor's negligence. Although in the end we were not able to proceed, Mr. Ziegler's thoroughness and knowledge of the law was refreshing. I would highly recommend him to anyone.
Mike Doe** (Not Actual name)
March 2014
My family and I dealt with an unfortunate accident which was caused by my neighbors negligence. Although in the end we were not able to proceed, Mr. Ziegler's thoroughness and knowledge of the law was refreshing compared to other lawyers I have worked with. I would highly recommend him to anyone.
Ernest Alexander
March 2014
From the beginning Justin was on top of letting me know what was going on with the case. He poured his heart and soul into the case. I've never had a lawyer represent me before and this experience has made me rethink my views and opinions of lawyers. Justin is nothing short of amazing. Thank you so much.
Michael Grife
March 2014
Justin is a colleague of mine. He is an excellent attorney and I endorse his work.
You can also check out our reviews on Google. As of September 5, 2018, our Google rating is 5 stars with 79 reviews.
Were you injured in an accident in Florida?
Check out some of the many Florida injury cases that we have settled, including but not limited to car accidents, truck accidents, slip or trip and falls, motorcycle accidents, cruise ships accidents and much more.
We represent people injured anywhere in Florida in car accidents, slip and falls, motorcycle accidents, bike accidents, cruise ship accidents and many other types of accidents.
We want to represent you if you were injured in an accident in Florida, on a cruise ship or boat. If you live in Florida but were injured in another state we may also be able to represent you.
Call us now at (888) 594-3577 to Get a Free Consultation. There are No Fees or Costs Unless We Recover Money. Call us 24 hours a day, 7 days a week, and 365 days a year. We speak Spanish. We invite you to learn more about us.
*Not actual client name.