Find Out For FREE If I Can Represent You
Complete the short form below!
We have a 4.9 (out of 5) Star Google Maps Rating
We only represent people injured in Florida or on a cruise, or people who live in Florida. In addition, we may be able to represent you if your family member was killed in Florida.
"*" indicates required fields
Join Hundreds of Injured Clients Just Like You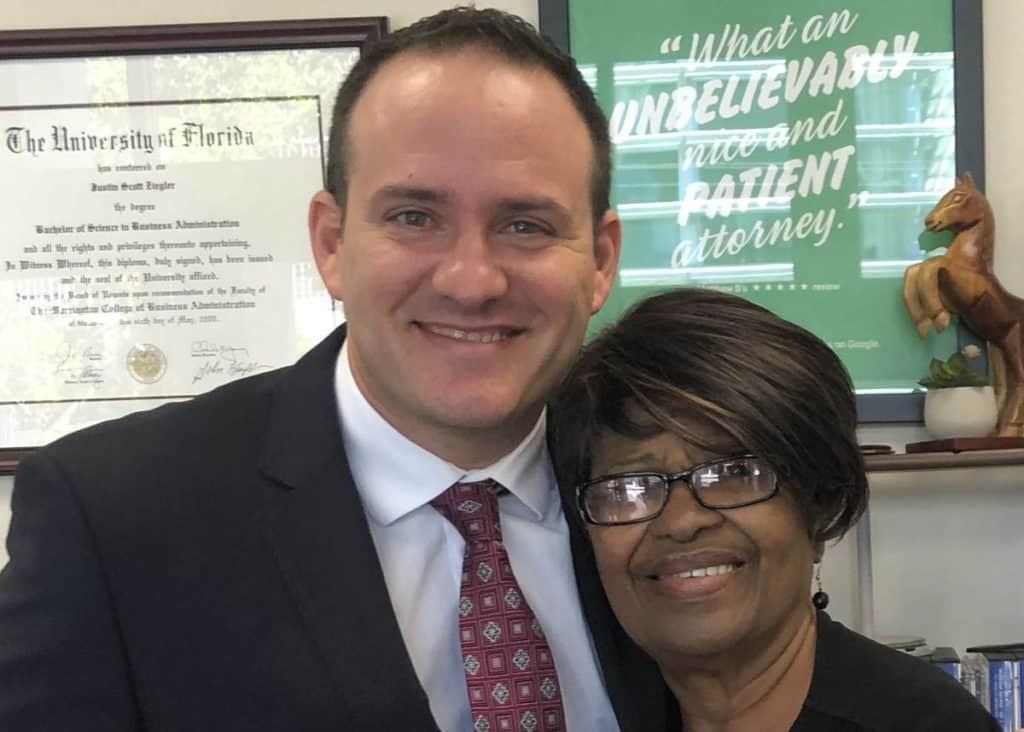 We have recovered over $15,000,000 in personal injury settlements. Therefore, we are the only personal injury law firm that you need. We are ready to help you right now. We want to be your law firm.
Our office is in Coral Gables, Miami-Dade County, Florida. We have reached many big injury settlements in the South Florida area. But that's not it.
We serve all of Florida. In fact, some of our biggest injury settlements have been for accidents that happened outside of the South Florida area.
See What Our Clients Say
In 2023, I settled Madeline's personal injury case for $670,000. That's her in the photo above.
Here's what she said about us:
I'm super happy with that outcome. I never in my life thought it was going to be even close to half that amount. I'm super happy with the work that you did on my behalf. It's something that I never dreamed about.

The relationship and the course of this case have been very easy to work with and the result is amazing. I'm very, very happy.

I trust you 100%. You made me believe again that there are good and honest attorneys and you are one of them.

You always ask me [about what I'd like to do] and I appreciate that. You consult me with every step.

My experience with you guiding me through this process has always been good so I trust you.

Madeline's video chat with me
Every case is different. Thus, prospective clients may not obtain the same or similar results.
In another case, I reached a $250,000 settlement for a slip and fall. Here is what our client said about me:
If you are looking for someone who cares and never gives up on you or your case this is the office, you need to hire him.

While my case should have taken twice as long as it did, we settled with in a year and a half. I could not be happier about my choice in an attorney's office.

Angela's 5 star Google Review
In another case, we reached a $300,000 settlement for a Clearwater, Florida car accident. Our client said:
I hired Justin to help me with my automobile personal injury case. He responded to me right away and he got started protecting my rights. My case was very complicated involving my severe injury, multi-state involvement, car rental companies, several different insurance companies, workers comp, and probate issues due to the other driver passing away.

Justin and his assistant, Jenny, worked hard the whole way through and, importantly, were always responsive to me, even at night or weekends. I would highly recommend that you hire JZ Helps to handle your case!

Ryan's 5 star Google review
Just look at another of our happy clients:
Here is another happy client (Jeremy):
You won't pay fees or costs unless we get you money. We also speak Spanish.
Contact Us
Attorney Justin Ziegler
JZ helps (a Florida injury law firm)
1450 Madruga Ave., Suite 306B
Coral Gables (Miami), Fl 33146
Call Me at 1-888-JZ-Helps (1-888-594-3577)
We can also come to you if you were injured anywhere in Florida or on a cruise. We can even meet you at your house or the hospital.
*We generally respond to the completed contacted form (above) within minutes. We may take longer to respond on the weekend or late at night.
The purpose of our free consultation is to see if we can represent you. I will not tell you how much I think your case is worth.