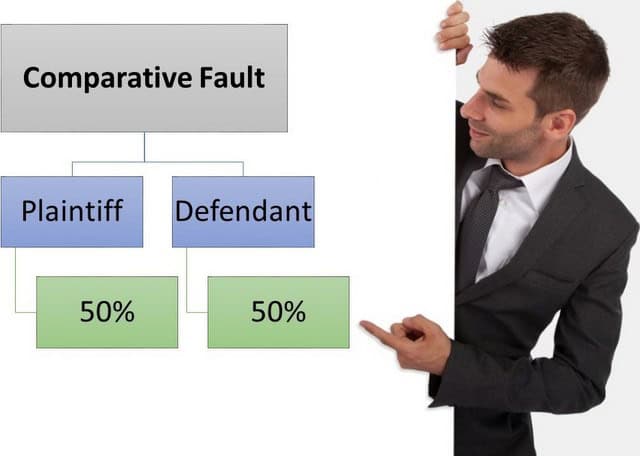 If someone else's negligence caused your accident, you are entitled to recover your damages, which include economic damages (medical bills, lost wages, etc.) and non-economic damages (pain and suffering, etc.), subject to certain limitations.  
However, the percentage that the claimant (the injured person) was at fault reduces the claimant's damages proportionately.
Florida Statute 768.81(2) states that:
"In a negligence action, contributory fault chargeable to the claimant diminishes proportionately the amount awarded as economic and noneconomic damages for an injury attributable to the claimant's contributory fault, but does not bar recovery."
Florida's comparative fault law is much more favorable to the injured person than the majority of other states.  In some other states, if you are 1% or more at fault, you cannot recover any damages.
Some of the many examples of comparative fault are:
not looking where you are walking

running a red light
not walking in a crosswalk (Learn more about whether a driver is at fault for hitting a pedestrian in Florida.)
not using your headlights while driving when it is raining. F.S. 316.217(1)(b)
not wearing a seatbelt
not wearing a helmet while riding a

motorcycle

not supervising your child (if your child gets injured)
speeding
carelessly or reckless driving
if you run (when you should not be running) and that results in a slip or trip and fall
walking on the grass when you should not be (and you trip and fall in a hole)
failing to yield the right of way
and many more factors
In Florida, there are some situations where the claimant legally has no comparative fault.
Bicycle Helmets
An injured person is not comparatively negligent for not wearing a bicycle helmet. Florida Statute 316.2065.  A parent or guardian is not comparatively negligent for failing to prevent a child from riding a bike without a helmet.
Children Under the Age of Six Not Capable of Being Negligent
A child under six years of age is legally incapable of negligence.
In Swindell v. Hellkamp, 242 So.2d 708 (Fla. 1970), the Florida supreme court held as a matter of law that a child under the age of six, who ran into the path of an automobile and was injured, could not be contributorily negligent because a child does not have the capacity to exercise "reasonable care" so as to hold the child responsible for his or her own acts.
This applies to a claim of comparative negligence as well.  See Lindenfield v. Dorazio, 606 So.2d 1255, 1257-58 (Fla. 4th DCA 1992). However, a parent or guardian may be negligent for failing to supervise.
Dog Bites – Kids Under 6
Can

be Comparative Negligent in Dog Injury Cases

In Reed v. Bowen, 512 So.2d 198, 200 (Fla. 1987), the court held that section 767.04 modified the common-law rule that a child under six was legally incapable of negligence.

Thus, even if the dog-bite victim was under six years of age, the defendant could assert the statutory defense of provocation.  Accord Porter v. Allstate Insurance Co., 497 So.2d 927, 930 (Fla. 5th DCA 1986).
Example of No Comparative Fault
Let's say you were riding a motorcycle on a 2-way road. An 18-wheeler tractor trailer (truck) made a left hand turn in front of you and failed to yield the right of way. As a result, the motorcycle that you were driving struck the front of the 18-wheeler.
You were taken by ambulance to the hospital, you had a 6-day hospital stay, and you treated with doctors for knee surgery and hand surgery.
You then treated for 7 months or so after the accident until the doctor says that your knee and hand injury are as good as they going to get.
You still have some pain but it is manageable.Your medical bills are $145,000 or so. I explain who pays your medical bills if you are injured while on your motorcycle and hit by a car.
The truck driver admits to the police officer that he made a left hand turn in front of you. Because you were injured while you were on a motorcycle, you do not need to prove that you have a permanent injury in order to get money for pain and suffering.
Assume the value of your past and future pain and suffering is $300,000.
In this example, since you did nothing wrong, you have zero (0%) comparative fault. In this case, your economic damages are the ambulance bill, your hospital bill, and doctors' bills.
Your non-economic damage is your pain and suffering. Using this example, you would be entitled to get money for:
[Medical Bills + Pain & Suffering] x [% of fault of truck driver] = Money you may get
[($145,000) + ($300,000)] x 100% = $445,000
Example #2 – 50% Comparative Fault on Injured Person
Now, let's say the same accident happened except that the truck driver says that you were going 60 miles per hour when the speed limit was 30 miles per hour.
Because you were speeding let's assume that you were 50% at fault and the truck driver was 50% at fault because he cut you off.
[Medical Bills + Pain & Suffering] x [% of fault of truck driver] = Money you're owed
[($145,000) + ($300,000)] x 50% = $227,500.
In the above examples, I did not mention the value of the damage to the motorcycle because the insurance company for the at fault person normally issues a separate check – unless it is a single limits policy – for damage to the vehicle under the property damage portion of their insured's motor vehicle insurance policy.
So you can see from the examples that comparative fault is a huge factor that affects the amount that you can get in your personal injury case.   Comparative fault is just one of many factors that affects the amount of money that you may get in your personal injury case.
It can be a mistake to assume that just because you know someone who got a lot of money for his or her accident, that you will get an equal amount.
By the way, example #1 was an actual case that I handled that settled for $445,000.  The insurance company that paid the settlement is now known as AIG. I have to commend them for settling the claim before a lawsuit was filed and being fair.
If the motorcyclist in Example 2 was 70% at fault, he could still recover 30% of his damages and so on.
Did someone's carelessness cause your injury in an accident in Florida, or on a cruise or boat? 
See Our Settlements
Check out some of the many Florida injury cases that we have settled, including but not limited to car accidents, truck accidents, slip or trip and falls, motorcycle accidents, drunk driving (DUI) accidents, pedestrian accidents, drunk driving accidents, taxi accidents, bicycle accidents, store or supermarket accidents, cruise ship accidents and much more.
We want to represent you!
Our Miami law firm represents people injured anywhere in Florida in car accidents, truck accidents, slip, trip and falls, motorcycle accidents, bike accidents, drunk driving crashes, pedestrian accidents, accidents involving a Uber or Lyft Driver, cruise ship or boat accidents and many other types of accidents.
We want to represent you if you were injured in an accident in Florida, on a cruise ship or boat. If you live in Florida but were injured in another state we may also be able to represent you.
Call Us Now!
Call us now at (888) 594-3577 to find out for FREE if we can represent you. We answer calls 24 hours a day, 7 days a week, 365 days a year. 
No Fees or Costs if We Do Not Get You Money

We speak Spanish. We invite you to learn more about us.
Editor's Note: This post was originally published in March 2013 and has been completely revamped and updated.