When should I hire an attorney after a car accident? If you are asking this question, you are not alone. Thousands of people ask it every month.
I'm going to tell you when to get a lawyer after a car accident. I will also reveal when you do not need one.
I'll share with you the benefits of hiring a lawyer for your car accident claim. You will also see what to watch out for when hiring a lawyer. You'll see what questions to ask the attorney for a car accident case.
The average cost of medical bills is increasing quickly each year. According to the IRC, claimed medical costs (and payments) relating to car accidents is growing faster than inflation.
Just look at this graph:
You don't want to just hope that insurance company will pay for your bills. Only to find out that they later deny or delay your case. You don't want bad credit if you can't pay your medical bills.
Perhaps you are afraid that after paying attorney's fees you are going to get a smaller payout. Don't be. You'll be happy that you hired a lawyer.
A study found that claimants with an attorney received an average total bodily injury payment of 3.5x more than those without a lawyer!
That is big news.
Specifically, the study found that people with attorneys in car accidents got an average of bodily injury payment of $16,658.
Without an attorney, the average bodily injury payment was $4,699.
Take a look:
The $16,658 amount is before deduction of attorney's fees and costs. However, there is another big benefit to hiring a lawyer that the study does not mention. I will talk about it in detail below.
You'll also get to hear about 13 reasons to hire a lawyer if you are hurt in an accident caused by someone else. However, I won't stop there.
You're going to see actual examples (using real settlements) of the benefits of hiring a lawyer.
In the video below, you'll see when you may NOT need a lawyer. You'll also see how an attorney may get you a BIGGER settlement.
Will an insurance company delay your claim without an attorney?
They do a lot of the time. In fact, an Insurance Research Council (IRC) survey showed that 15% of respondents spoke with an attorney because they were dissatisfied with delays in settlement.
Yes, it's unfortunate. Some insurance companies delay claims. Years ago, Allstate hired a consulting company (McKinsey) to tell them how they could be more profitable. They developed a three tier approach (Delay, Deny and Defend.)
Here is a image of McKinsey's advice:
Basically, McKinsey told Allstate that it could wear down customers by delaying settlements. They also told Allstate to politely make a low offer on a claim.
I've said this before:
Just because an insurance adjuster is polite does not mean that he or she will make a fair offer. (Just look at Progressive. They have nice adjusters who make low offers.)
Let's get back to a the study where people were asked why they talked to a lawyer after a car accident. 22% of respondents talked to an attorney because they wanted to get the highest settlement possible. That is good thinking.
In order to see when you should get a lawyer after a car accident, let's look at some different scenarios.
If you aren't hurt, you may not need a lawyer for a Car Accident
You already know that bigger injuries often lead to larger settlements. On the flip side, if you are not injured, your case is worth much less. Sure, there is one car insurance company that makes quick, low offers to settle an injury claim. I'm talking about Progressive.
Surprisingly, Progressive may make an offer even if you are not hurt. What about other car insurance companies?
Most other companies won't make you an offer for pain and suffering if you have not received medical treatment. This is because they know that, in a state like Florida, you usually need a permanent injury in order to get compensation for pain and suffering.
This is particularly true if there was no damage to the cars involved in the accident.
If you are not injured, and there is no damage to the cars in the crash, I do not recommend hiring a car accident lawyer. That said, you can still get an attorney for to help you get money for the diminished value for your car.
If you were hit by an hit and run driver or uninsured car, and you aren't entitled to UM coverage, do you need an attorney?
You may not need an injury lawyer in this scenario. At least this is the case in Florida. Unfortunately, Florida does not have state fund that pays you if you were injured by a hit and run or uninsured driver.
Therefore, if you were injured by a hit and run driver, and you aren't entitled to uninsured motorist insurance, you may not be able to get any money for your case. This is because there may not be a collectible defendant.
If a Coworker Was At Fault for Your Accident, You May Not Need a Personal Injury Lawyer
The general rule is that you should quickly get an attorney if you were badly injured in a car accident while working. However, there is an exception with this rule. If you co-worker was driving and was 100% at fault, you may not need to hire an attorney.
That said, you should still get a lawyer for your claim for workers' compensation. Workers compensation is a different type of law.
In this instance, why might you not need to get a personal injury lawyer?
Because if your co-worker was driving for work purposes, both your employer and coworker likely get immunity for the causing your injury. In simple terms, this means that you can't sue your co-worker or your employer for personal injury.
Florida has this law. Florida Statutes 440.11(1)(b)(2). Your only remedy is to make a workers compensation claim.
The bad news?
In a workers compensation claim, you aren't entitled to money for pain and suffering.
In Florida, you can't sue your coworker until he was grossly negligent. Most car accident cases do not involve gross negligence. An example of gross negligence is driving while drunk.
However, if you have a serious injury, it is still worth getting a free consultation from a car accident lawyer.
If You are Badly Injured, Get an Attorney for the Car Accident
It's no secret. The bigger the injuries, the greater the full value of the case.
Why?
Because your pain and suffering is worth more. Additionally, you will have larger medical bills (and possibly lost wages).
Thus, you have more to lose if you are dealing with a big injury after a car accident. Also, the insurance company will assign a more experienced adjuster to your case.
If you have a big injury, you will be dealing with a large loss adjuster. These adjusters often have over 20 years of experience handling car accident cases.
Check out the Linkedin profile of an adjuster with whom I settled a $90,000 car accident injury case.
You can see that this adjuster has handled claims for 22 years. These seasoned adjusters have likely negotiated over 5,000 claims. They are pros. In other words, you are going up against a the Lebron James of insurance adjusters. You are not dealing with an entry level adjuster.
Remember:
Insurance companies want to pay you as little as possible.
Earlier, I said that you should hire an attorney in a big injury case. But what is considered a "big" injury?
First, any injury that results in surgery. Just look at the stats from my biggest settlements:
Of course, death is also a tremendous loss. Sometimes, a broken bone can be a serious injury. But that is not it.
If you've been in a car accident, you may have severe back or neck pain. It can be debilitating. Months down the road, your may need steroid injections or a fusion surgery. Either may lead to a payout.
In a Big Injury Case, Knowing the Settlement Value is Necessary

One of the most common questions that I get each day is, "How Much is My Case Worth?"
Each day, I get numerous phone calls, comments on my Youtube videos and comments on this blog. Many people want to know the value of their case.
And for good reason. Knowing the personal injury settlement formula is not common knowledge. For 16 years, I've been representing people injured in car accidents (and other incidents). Yet, my case valuation skills still continue to increase.
Unless you have experience in evaluating injury cases, it's very hard to value personal injury claims. Some people think that if they know the amount of their medical bills, they can value a case.
The problem?
Medical bills are just one part of the damages that make up the full value of a case. And calculating the full value of your damages is just part of the equation. Even if you know full value, there are over 70 important factors that can affect how much a case is worth.
Do you know all the factors? Probably not.
Even when I had 5 years experience, I didn't understand the factors as well as I do now.
When does an injury lawyer have a good estimated settlement range?
Possibly after you're at maximum medical improvement (MMI). However, sometimes an attorney won't have a solid value until you're well into your lawsuit.
Hire an Attorney Who Knows Current Settlement Values
Here is another reason why you should quickly get an attorney for a car accident. An experienced attorney knows about recent jury verdicts and settlement values.
How do they keep up to date?
They attend seminars. They read appellate and trial cases that are decided each week.
A solid injury lawyer is friends with other personal injury attorneys and insurance defense attorneys. In other words, they are friends with attorneys who see injury cases from both sides.
A good injury lawyer is a members of listservs where attorneys share up to date information on insurance company settlements.
Simply put, an excellent injury lawyer lives and breathes accident law.
Now, some injured accident victims think that they can value cases on their own. They think that they can simply surf the web and look at past attorney settlements.
However, there is a major problem with the settlements on the internet.
Attorneys give such little information that often very little can be learned from reading their verdicts or settlements. Also, personal injury attorneys tend to not share the good facts of their case.
Basically, attorneys put the settlement in the light most favorable to them. This makes many internet settlement summaries almost useless.
Warning! I strongly suggest that you do not value your personal injury case based on an online settlement calculator. This is true whether you are looking at my Florida injury settlement calculator or one that someone else made.
Insurance companies require defense attorneys to send them a report estimating the value of a claim, and your attorney should have a similar estimation. If you are unable to evaluate the fair value of a personal injury case, then you will not know if you are leaving money on the table.
You may think you are getting a great deal when in fact you could be leaving a lot of money on the table.
For example, I settled a case for $445,000 for a motorcycle rider after a tractor trailer hit him in Hialeah, Florida. He broke his leg (tibial plateau fracture). He had surgery to fix it.
The insurer's initial offer was $100,000. We knew that fair value of the case was closer to $445,000. Thus, we held out for months and negotiated tough with the bodily injury claims adjuster during this time.
Here is a comparison between the insurance company's first offer and final offer:
As a result, my client got a big check.
After my attorney's fees, costs and paying his medical bills, you can see how much he got:
His payout does not include the high interest on a loan that he took.
If he didn't get a lawyer, he may have gotten a smaller settlement
Without a lawyer, there is a chance that my client would have accepted the initial offer of $100,000. This assumes that the adjuster would have made the same $100,000 offer to our client if he was not represented by an attorney.
When I initially spoke with the adjuster – which was after my client had the leg surgery – the adjuster told me that he had set the reserve (set aside) at $150,000 for this claim. Many insurance companies transfer your claim to a different adjuster as soon as they learn that an attorney is representing you. I assume that they do this because they are taking the claim more seriously.
My client had about $20,000 in medical expenses, so he would have received $80,000 had he accepted the insurance company's $100,000 offer. Some people would think that they are getting a great deal. The average American is in debt and I would imagine that most do not even have $10,000 in their bank account. Let alone $80,000.
After practicing for 16 years (now), I know the fair settlement range for injury cases. I told my client to wait a few months. We ultimately got a $445,000 settlement.
My client received approximately $275,000. Basically, he received $195,000 more than if we would have accepted the initial offer. He got more compensation because he listened to my advice.
Adjusters are Persuasive and You May Fall for Their Trap
Liability claims adjusters can be very convincing and are seasoned negotiators.
In fact, the particular adjuster who we dealt with said in his Linkedin Profile that his past position as a claims specialist at State Farm:
required strong persuasion and negotiation skills to facilitate injury settlements with individuals or their attorneys.
I settled another case $100,000 for a man who claimed a herniated disc, erectile dysfunction (ED) and a meniscus tear. The adjuster literally told me that he would not offer a dime more than his second offer, which was $10,000.00.
But I knew the value of the claim and I had the MRI CD read by an orthopedic surgeon and determined that the claim was worth significantly in excess of $10,000.
I sent the MRI CD to the claims adjuster and months later we settled for the policy limits of $100,000.
I could spend days giving you more examples.
If You Were Working During the Car Accident, Hire an Attorney
During some car accidents, the injured person was working. Maybe you were in another state for work purposes. Or perhaps you were a police officer that was responding to an emergency. Either way, you get a big benefit by being represented.
Let me explain. Since you were working, workers compensation will pay your medical bills. It also pays a portion of your lost wages. If you settle your car accident case, you must repay the workers compensation insurance company. However, let's say that you have an attorney for the car accident case. In this instance, you get a discount on the amount that you must pay to the workers compensation insurer.
Here is an example from one of my cases. Ryan was in Florida for work purposes. Another driver hit him. Ryan broke his leg. While in the hospital, he was unsure as to when to get an attorney for this car accident.
After we spoke on the phone, he hired me as his personal injury attorney. Here is a photo of Ryan a few weeks after the accident.
Ryan's workers compensation paid almost of all his medical bills. I settled his personal injury case for $300,000.
If You Were Working During the Car Accident, Hire an Attorney (Another Example)
Here is another example of how car accident lawyer may help you get more money in your pocket if someone else caused your accident while you're working.
Sandra's employer gave her a car to use for work. In August 2020, Sandra was driving east in Crestview (near Pensacola), Florida. Daniel was in a car heading south. He ran a stop sign.
As a result, the front of Sandra's car struck the passenger side of Daniel's car.
You can see the damage to Sandra's car here:
You can see the actual diagram from the crash report here: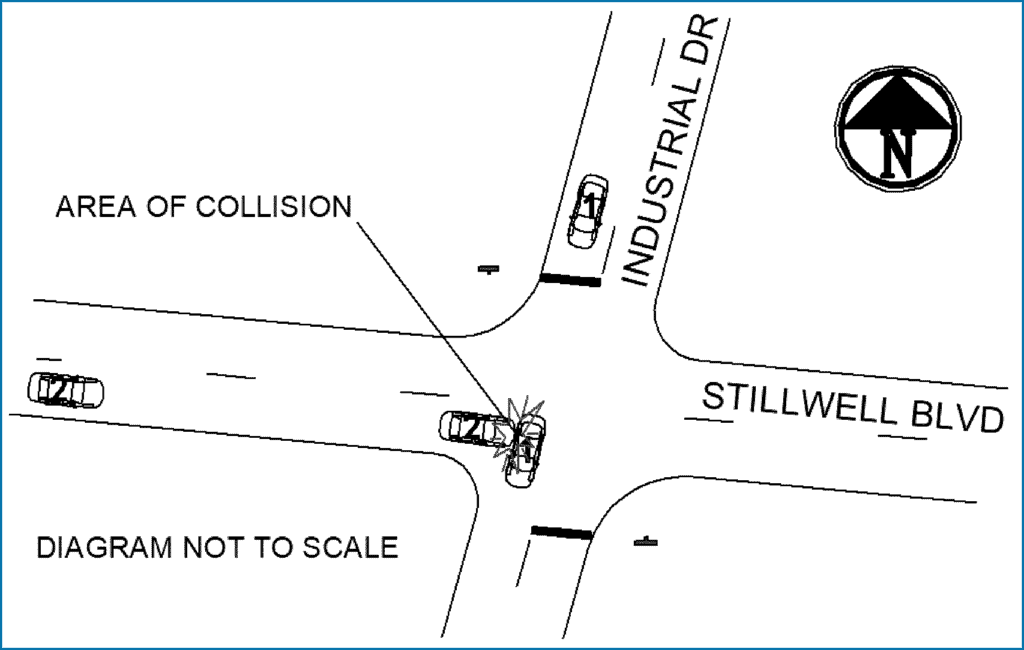 State Farm insured Daniel's car (#1 in the diagram) with $25,000 in bodily injury liability insurance coverage.
After the accident, Sandra had back and neck pain. She said that her workers' compensation insurance company gave her limited information about how wage loss worked.
Sandra searched Google for how wage loss works with workers' compensation. She found my website my website. She got a free consultation with me.
Let Me Fight to Get You a Fair Settlement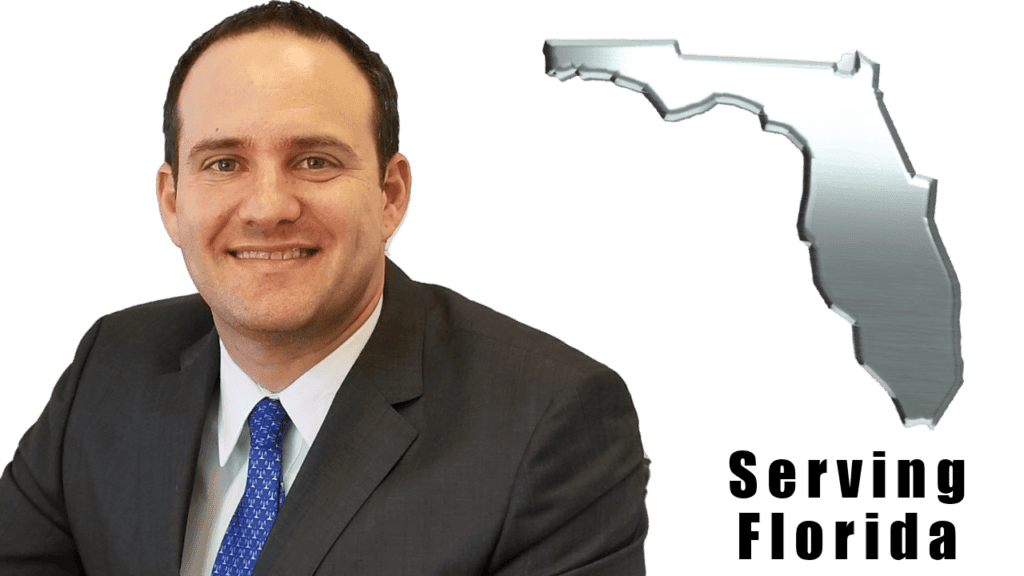 After we spoke, she hired me as her car accident lawyer.
An MRI that showed that she had a herniated disc.
Sandra was working at the time of her accident. Thus, her workers' compensation paid all of her medical bills.
In February 2021, I got State Farm to pay me its driver's $25,000 BIL insurance policy limits. This was about 6 months after the car accident.
It gets better:
USAA insured Sandra's personal car with $10,000 of uninsured motorist insurance coverage. At the time of this accident, Sandra was not driving her personal car. However, her underinsured motorist insurance (from her personal car) covered her for this accident.
In February 2021, I got USAA to pay me Sandra's $10,000 limit of uninsured motorist coverage.
The total settlement was $35,000. After my car accident lawyer fees and costs, Sandra gets a check for $23,333.33.
Normally, you have to pay back the workers' compensation insurance company from your personal injury settlement. However, they must reduce their claim (lien) by your attorney's fees and costs and other factors.
Here, Sandra's workers' compensation lawyer got the workers comp insurer to waive it's lien. I have to give him points for that. What would have happened if Sandra's workers' comp attorney would not have been able get the workers' comp insurer to waive its lien?
Here, the work comp insurer would still had to reduce it's lien by my lawyer fees and costs. Sandra was happy with the $35,000 personal injury settlement that we got her.
In addition, Sandra also settled a workers' compensation with her employer's insurance company.
If you have Medpay coverage, hire an attorney in a car accident case
If someone else caused your accident, and you are badly injured, and you have Medpay coverage, you should hire a lawyer. This is because the Medpay insurer will likely have to reduce its claim to be paid from the settlement by your lawyer's fees and costs.
Medical payments coverage is optional coverage in your car insurance policy. Let's look at Doug's case.
Doug lived in California. He came to vacation in Miami Beach, Florida.
While he was walking in a crosswalk, a car hit him.
This is the diagram from the Florida traffic crash report:
As a result of the impact, Doug landed on the car's hood.
You can see a dent from Doug striking the hood:
Getting hit while not walking in a crosswalk is one of many factors that can reduce the value of an injury case.
Paramedics came to the scene. At the scene, the pedestrian complained of leg pain and other injuries.
Paramedics transported him to the hospital in an ambulance.
At the hospital, a doctor diagnosed Doug with a broken lower leg bone (fibula fracture).
Below is an image of the fibula.
GEICO insured the careless driver.
Doug owned a car in California. He had Medpay benefits (with Farmers Insurance) on that car. Doug also had Medicare and a Medicare supplement plan.
The Medicare plans and Farmers Insurance paid over $12,000 of his medical bills. And they demanded that we pay them back from any settlement.
GEICO's First Offer Was Only $14,780 (Wound Up Paying $65,000)
Even if you are a pedestrian who is hit by a car, expect the insurance company to make you a low offer. This is especially true if you don't have a lawyer.
I negotiated with GEICO. We settled with GEICO for $65,000. Here is the settlement check.
Since Doug had a lawyer (me), they all had to reduce their payback claim by my lawyer fees and costs. We only had to pay the Medicare plans and Farmers Insurance a little under $8,000 from the settlement. That put another $4,000 in Doug's pocket!
This chart shows the comparison between GEICO's first offer and the $65,000 settlement.
Ultimately, I settled Doug's case for $65,000.
After my attorney fees, costs and paying his out of pocket medical bills and liens back, Doug got $35,332 in his pocket.
Therefore, GEICO paid about $57,000 for the pain and suffering associated with his broken leg (fibula fracture).
The $65,000 settlement was about 8.1 times Doug's final out of pocket medical bills, Medpay and health insurance lien.
This is a good settlement amount for pain and suffering for a broken ankle case.
If you have uninsured motorist insurance, when should you get a lawyer for a car accident?
If you are badly injured, immediately. Let's get back to Ryan's $300,000 settlement. Two sources were responsible for the payout. The at fault driver's insurance company (Allstate) paid $100,000. Fortunately, Ryan had uninsured motorist (UM) coverage. UM coverage steps in if the at fault driver is uninsured. If you are badly injured, chances are that the at fault driver will be underinsured.
Want proof? Just look at this map of the percentage of uninsured drivers in each state:
Ryan's uninsured motorist insurance company paid $200,000.
However, the workers compensation insurer asked to get paid back a whopping $100,000 from the $300,000 settlement!
Therefore, his workers compensation insurer had to reduce it's claim by my percentage of attorney's fees and costs. This reduced the pay back amount by $33,333!
I was eventually able to get the pay back amount down to a little over $10,000. (But that's another story.)
If you are seriously injured in a car accident while working, when you should you hire an attorney? Immediately after the crash. Just look at how Ryan benefited.
Ryan was from out of state. If you are from out of state and injured in another state, that is another reason to hire a lawyer. You will be dealing with the laws of at least two states. It's confusing. Learn about out of state visitors who are injured in Florida car accidents.
If Your Accident Involved a Rental Car, When Should You Hire an Attorney?
If you were seriously injured, hire one immediately after the accident. Understanding how insurance applies to rental cars is tricky. How do you get the rental car company to respond to you? Does the rental car company have uninsured motorist coverage? Does No-Fault insurance apply?
The list of questions goes on and on.
And if you are from out of state, you may be dealing with four different three to five different insurance companies! That means you may be dealing with 3 to 7 different insurance adjusters.
This can get complicated very quickly.
If someone was driving a rental car and caused your accident, the case may not be straight forward. Some rental car companies are not responsive. They won't return your phone calls. Some say that it is their policy to wait 30 days to see if the driver's coverage will afford coverage. They won't tell you about your rights. Other adjusters won't let you know if liability coverage applies.
But don't take it from me.
I represented a young man who was a passenger in a rental car whose driver crashed. He broke his arm. Like others, his mom did not know when she should get an attorney for this car accident.
Here is what she said:

I found Justin after being in a car accident with my kids in Florida. My then 17 year old son suffered a fractured humerus and needed surgery with permanent hardware.

I tried for the first couple months to deal with the insurance companies on my own and then realized I needed professional help. That's when I found Justin and called him up for some advice.

My son just received his settlement and is very happy! We could've never done this on our own. If you hire him to represent you, you won't be disappointed!
I settled his case for $170,000.
You can see how much Zach got in his pocket after my attorney fees and costs, and paying his medical bills.
When should you hire a lawyer for an Uber or Lyft car accident?
If you are injured, then contact an attorney immediately. Here's why:
You don't want to miss out on valuable insurance coverage. Currently, Lyft and Uber car's have a lot of bodily injury liability insurance. However, it only applies if the Uber or Lyft driver caused the accident.
Shortly after the accident, Uber or Lyft will likely try to get your version of the accident. This is the danger zone. They can later use your statement against you. Do not hesitate to get an attorney after a rideshare car accident.
Let me give you an example of how hiring an attorney can help.
Ray was driving for Uber. He had a passenger. A van crashed into Ray. A police officer gave the van's driver a ticket. However, the van's insurance company still asked Ray to give a recorded statement.
He had no obligation to give them a statement. Fortunately, Ray had hired an attorney (me). I told the van's insurance company that he would not give a statement. They eventually backed off.
But if Ray would have not hired a lawyer, he would have given a statement. It may have cost him a pretty penny. Or a hundred thousand. We will never know. I settled Ray's injury case for $260,000.
At the time of the accident, Ray was driving an uninsured car. That is another reason to get a lawyer quickly after a car accident. I got the van's insurance company to pay for the car. If they would have taken Ray's statement, they may have denied the claim. The owner of the car would have had to pay a $1,000 deductible.
Remember:
Uber has a $1,000 collision deductible when en route to pickup passengers or during trips.
Now, here are 13 reasons why you are better of hiring a lawyer for a car accident.
Attorneys Can Tell You Which Doctors Will Kill Your Injury Case
Having an attorney is important if you want to maximize case value. After all, 22% But do you know what is often just as important?
Getting treatment with a doctors who won't destroy your claim. A doctor can torpedo your case if they don't believe that the accident caused your injury. Many physicians who will sink your case are doctors who routinely get hired by insurance companies as expert witnesses.
What's the solution?
Hire an injury lawyer who knows which Florida doctors are patient advocates. After practicing for many years, I created a map of doctors in Florida who will be fair to the injured person.
Getting an Attorney After Attorney Can Quickly Preserve Evidence
Evidence disappears with time. Having good evidence may get you a bigger injury settlement.
For example, in Florida, the audio from a 911 call is often only kept for 60 days. An attorney can quickly request the 911 audio call for you.
911 calls exist in all types of accidents. The 911 audio call increase the size of a motorcycle accident settlement. Likewise, it can help a pedestrian's case if a car hits him or her.
In a slip and fall case, surveillance video can add value. An injury lawyer already has the proper letters to send to the premises operator.
If You Hire an Attorney for a Car Accident, It Can Save Time and Reduce Stress
Personal injury claims are stressful. Accident cases involve sending countless letters, emails and phone calls.
Believe me, I wish injury cases were simple. If they were, I'd take my kids to the beach much more often.
But accident cases are tough. Even if you're dealing with the few insurance companies who have a good reputation.
Let's look at two insurance companies that I consider to be above average: USAA and Zurich American Insurance Company. (York Risk Services handles Lyft claims for Zurich).
Even if you have an injury claim with USAA or Zurich, it is stressful. If you want to maximize your pain and suffering settlement, it will take work. A lot of hard work.
Even if you just want compensation for lower back pain from a car accident.
And if you've had surgery as a result of accident, it's a different ball game.
Why?
Because accidents that result in surgery have a higher settlement value. Hence, there is more money at stake.
Now, let's assume you're trying to settle an injury case with State Farm. Simply put, State Farm is cheap. With State Farm, you're going to experience even more stress.
The same is true with other terrible insurance companies. I'm talking about car accident cases with Progressive and many others. However, if you get an attorney, then you don't have to deal with Progressive. The lawyer will do it.
Pedestrian Hires Lawyer and Gets $90K Settlement for Car Accident
A lady was walking in a parking lot. A driver of a car hit her. As a result of the impact, the pedestrian broke her ankle. Specifically, she fractured her distal fibula.
Fortunately, her daughter knew when to get an attorney after this car accident. She did so immediately. This was a smart move.
Progressive insured the at fault driver. They did not initially make an offer. Not even a $5,000 or $10,000 offer. In fact, Progressive blamed the pedestrian for causing the accident.
Through aggressive negotiation, I settled her case for $90,000.
As you can see from the graph, most of the settlement was for pain and suffering.
Is hiring a lawyer a huge time saver?
Yes. People love saving time. Hiring an attorney who concentrates in representing injured people can save you countless hours of time. You won't have to do legal research. As an added bonus, you'll have less doubt, worry and stress.
I know this because I am much more efficient than when I started practicing 17 years ago. My learning curve was much higher when I started as a personal injury lawyer. Everything was new. Now, my learning curve is much less steep.
Well, for people hurt in car accidents it's the same. They will experience a tremendous amount of confusion. They'll have question after question.
Injury Attorneys Have a Case Management System that Quickly Creates Letters
In the typical injury case, you will have to send many emails and letters. Sometimes, we'll send over 100 emails and letters out in an accident claim!
Since we have a case management system, once we have your information in my system, we can create letters fast. Basically, we just click one button and it puts the case information into the proper letter.
This saves hours of time.
So is it worth hiring a lawyer (and having to pay a fee if there's a settlement)?
Yes. You tip 20% (or hopefully at least 15%) when you go out to eat. Part of the reason that you do this is convenience (or maybe you are not the greatest cook like me) and then you don't have to spend time cooking.
I pay my maid to clean my house. This frees up time for my wife and I to spend working in our careers. It also allows me to spend more time with my children, family and friends.
I pay for my paralegal (who is fantastic by the way) to answer the phones. She also opens the mail, scans documents and performs many other duties. This saves me time so I can concentrate on doing what I am skilled at.
I get to focus on doing what I enjoy. This includes meeting clients, negotiating with adjusters, and speaking with my clients' doctors.
It also includes researching the personal injury law, reviewing settlement releases, attending continuing legal education seminars. I get to make more personal injury videos. And much more.
Each year, I pay my accountant prepare my quarterly payroll returns and taxes.
Why don't I do it myself? I'm probably smart enough to learn the tax code, right? After all, I did graduate (with honors) from University of Miami Law School.
I pay an accountant because helping people save money on their taxes is his specialty. It's what my accountant lives and breathes. He keeps up with changes to the tax code. He has a network of other accountants that he asks questions (and gives answers) to. Thus, he is much more experienced than me when it comes to taxes.
If You Get an Attorney for a Car Accident, They Can Sue
Insurance companies are willing and able to settle most cases before a lawsuit is filed. But some cases require a lawsuit to be filed. You can try to represent yourself up to the point when you decide you may need a lawyer, but by then you may have made mistakes, which may damage your case. You may be making mistakes and not even know that you are making them.
In order to know when to file a lawsuit, you must know the value of your case. Otherwise you may file suit and receive the same offer as you received pre-suit or an offer that did not justify the time and expense of a lawsuit. Sometimes an insurance company will decrease its offer in litigation.
Below are just some past cases where I was offered nothing (zero) even after our client finished his/her medical treatment.
What is the best way to make sure that your attorney is trustworthy?
You should see what the attorney tells you about his (or her) contingency fees. Moreover, ask him or her to tell you what an attorney is not allowed to charge for.
Hiring a Lawyer Leads to $300K Settlement During Lawsuit (Zero Offer Before Suit)
I represented a client who slipped and fell at a supermarket in Miami, Florida. Following the fall, he received 2 skin grafts on his Achilles tendon, and treatment for other injuries. The supermarket denied liability and offered nothing.
We sued the supermarket and settled during hotly contested litigation. We have also settled cases against Publix and another supermarket chains.
Hiring an Attorney Gets $125K After Lawsuit (Zero Offer Prior)
A car being driven by an US Customs employee struck our client while he was a pedestrian who was visiting from another country. The US did not respond within the six (6) months that they have to admit or deny a claim under the Federal Tort Claims Act (FTCA).
Therefore, we sued. The case against US Customs settled for $125,000. If my client did not decide to get an attorney after this car accident, he would not have been able to sue.
Would the US would have made an offer if we did not sue. I will never know.
It may have even been for the $125,000 that we ultimately received in litigation. But we sued because the US did not respond to us. It seemed like they were not taking the claim seriously.
We were able to recover an additional $100,000 from the insurer for the rental car that the US Customs employee was driving. We also settled for $100,000 with the uninsured motorist (UM) insurance that our client purchased when he rented the vehicle.
Our client was entitled to Personal Injury Protection (PIP) because he was putting parking receipt into his car when the car hit him. PIP paid the hospital $10,000 for billed charges.
Hiring a Lawyer Leads to $59K Settlement During Lawsuit ($0 Offer Prior)
I settled a claim for $59,400 for man who surgery to a tendon in his ankle after he tripped and fell in a hole covered with grass overgrowth at a business condominium complex. Prior to filing suit, the 2 liability insurers denied liability.
Some past cases where the final offer was much less than we received after we filed a lawsuit.
Our Actual Case:
Best Offer before Lawsuit: $20,000
Settlement After Lawsuit: $210,000
One case that required a lawsuit – in order to get fair value – was where my client fell off of a loose booth at Denny's restaurant in Hallandale Beach, Florida. Travelers Insurance, the insurer for Denny's franchisee, would not offer a penny more than $20,000 to settle the case. As soon as we filed suit, the adjuster doubled his offer to $40,000. We filed a lawsuit. After hotly contested litigation and several negotiations we settled for $210,000.
Hiring an Attorney Gets $65K Settlement ($20K Offer Before Suit)
A lady was injured in a car accident in Florida. She did not know whether to hire an attorney. Our client had a shoulder injury (rotator cuff tear). The liability insurer would not offer more than $20,000. We filed a lawsuit. After depositions and discovery, we settled for $65,000. If she did not get a lawyer, she would not have sued.
Our Actual Case:
Best Offer before Lawsuit: Zero
After Filing Lawsuit: $30,000
My client was injured at a supermarket. Unfortunately, the supermarket denied liability.
Thereafter, I sued. After I sued, the supermarket's third party claims administrator called me. She offered to settle for $12,000. My injured client rejected it.
Months later, we settled for $30,000.
More likely to have to file lawsuit in Cruise Ship Injury Cases
Filing a lawsuit may more likely be required in a cruise ship injury cases because you only have 1 year to file a lawsuit. You should set up and work on your claim quickly. Bad injuries take time to heal. If you are badly injured, then you most likely will not be at Maximum Medical Improvement (MMI) at approximately one (1) year after the date of the accident.
Many cruise lines, such as Carnival and Royal Caribbean, require that passengers file a lawsuit for personal injury in Federal court in Miami, regardless of where they were injured.
Completing your medical treatment is one of the big factors that may affect how long it may take to settle your case. You may not want to settle with the cruise line until you know the full extent of your injuries.
I co-counseled a case with an injury lawyer from a different law firm. Our client was badly injured. Her medical treatment lasted over a year. Our co-counsel filed the lawsuit before the year expired. The case settled during the lawsuit for $325,000.
You Might Miss Out on Uninsured Motorist (UM) Coverage Without a Lawyer
Uninsured motorist (UM) coverage can be a very complicated area of injury law. Take a look at some of the UM settlements below and ask yourself whether you would have found UM coverage and thus received a UM settlement.
We discovered an extra $100,000 in UM Coverage that our client told us did not exist.
I settled a case for $325,000 for a man who had surgery to repair his broken lower leg (tibia). A driver hit our client while our client was a pedestrian in Coconut Grove, Miami-Dade County, Florida. Part of that settlement was for $100,000 in uninsured motorist (UIM) coverage that our client did not even know existed.
When our client hired me, he told me that he did not purchase uninsured motorist coverage when he rented the car. He was wrong. He did purchase UM coverage. I was able to discover the $100,000 in UM coverage and ultimately settle with the UM insurer for the $100,000 UM limits.
We also discovered $200,000 in liability coverage. The total settlement of the case was for $325,000.
We discovered an extra $10,000 in UM Coverage that our client did not know about.
Our Actual Settlement: $210,000. Uninsured motorist insurance portion of the settlement: $10,000.
I recently settled a UM claim against Progressive. My client was hit by an 18-wheeler tractor-trailer (truck) that had $2,000,000 in liability insurance but had a self-funded retention of $250,000. I offered to settle for Progressive's $10,000 uninsured motorist insurance limits.
The liability adjuster told me that our client was not entitled to UM coverage because the rear driver who hit by a client had sufficient liability insurance.
I argued that since the adverse dispatcher had a self-funded retention of $250,000, he was therefore was considered uninsured under Florida law. Therefore, my client was entitled to UM coverage. Progressive transferred this matter to another adjuster and settled the UM claim for $10,000.
Discover Insurance Of Which You are Unaware.
Our Actual Case: $200,000 settlement where I found an additional $1,000,000 in bodily injury liability coverage after I sent an affidavit to the adverse driver's insurer. Before sending the affidavit, the at-fault driver's insurer stated that there was only $100,000 in coverage and they were unaware of any additional coverage.
Work In An Attempt to Eliminate or Reduce liens.
There is a high likelihood that an injured person has to pay back their health insurance company if he or she settles. I'm also referring to paying back disability insurance companies.
Sometimes settling the case with the at fault party is just half the battle of achieving a settlement.
To better illustrate, let me give you an example.
I settled a slip and fall case for $300,000. My client slipped at Sedano's Supermarket in Miami, Florida.
My client had long term disability (LTD) insurance through his employer. Prudential was the LTD insurer.
Prudential argued that it was entitled to recover the $50,000 or so that it paid in LTD benefits. That's a lot of money!
We finally got Prudential to waive their lien (ask for nothing). This put another $50,000 in my client's pocket. I do not charge a fee on lien reductions. Even if it takes me hours to get the lien reduced.
If You Get an Attorney, They May Be Able to Get a Medicaid Lien Reduced
I've also gotten a Medicaid HMO (Molina) to reduce its lien by 30%.
In that case, my client was a passenger in a car. Another driver hit her.
The at fault driver tested positive for marijuana and Xanax. In other words, the police said that she was hit by an intoxicated driver.
Here is a photo of her after the crash.
She had a hip injury. Specifically, she had a acetabular fracture. Due to limited insurance, we settled her personal injury case for $33,000.
Windhaven paid $8,000 of the settlement.
The passenger had Molina Medicaid. Molina paid some of her bills. Molina hired Equian to recover its payments from the settlement.
I wrote Equian a letter offering a fraction of the amount that it was claiming. Equian then lowered its demand by almost $500.
This put about $500 extra in my client's pocket! That's a two month car payment!
And I'm currently still negotiating for a bigger reduction.
Without an attorney, the injured passenger wouldn't have got that discount.
Why not?
Because he or she doesn't get the benefit of an Medicaid HMO reducing its lien by attorney's fees and costs.
The best part for the client?
She didn't have to pay me a penny for reducing the lien.
Can you imagine if the lien would've been bigger? I would have saved her even more money.
An Attorney Can Get You 1 Time Exam By a Doctor (If Needed)
My client was riding a motorcycle in Miami, Florida. A car made a left hand turn and hit him. GEICO insured the car.
After the accident, the rider searched for a motorcycle accident lawyer. He got a free consultation with me. He hired me.
My client did not have health insurance. I sent him to a doctor to treat him for his back pain. The doctor agreed to wait to get paid until the case settled. (This is called a "letter of protection".) In an area like Miami, it is easy for an attorney to find an orthopedic doctor who will wait until the end of the case to get paid from the settlement.
The doctor sent my client to get an MRI. The MRI showed herniated disc in his lower back. GEICO made a "final" offer of $10,000.
However, my client still had testicle pain.
Now:
It's not easy to find a doctor who will treat testicle pain without health insurance. If the client wanted to get seen on a self-pay basis, the cost would be several hundred dollars.
The good news?
I knew of a urologist (doctor who treats the male reproductive organs) who would see my client. The doctor would see my client on a one time basis. Basically, he would only act as an expert witness.
The catch?
I had to pay the fee up front. I did so.
In Florida, an attorney is not allowed to pay for a client's medical treatment. However, a lawyer can pay for a one time independent medical examination.
The doctor diagnosed my client with erectile dysfunction (ED). Ultimately, we settled for the $100,000 policy limits. Without a lawyer, my client would not have been able to get medical treatment. I have many personal injury settlement stories just like this.
You Don't Have to Pay Costs Up Front.
Every injury lawyer that I know does not require their client to pay costs up front. I settled a case for $445,000 for a motorcycle accident. In that case, I advanced costs of close to $3,000. We hired an accident reconstruction expert. The reality is that many injured people do not have the money to invest in their case. I do. And I will invest it in cases that I take. Of course, first I get client approval if the expense is high.
You are required to pay the attorney for costs at the end of the case. Every attorney (whom I know) is paid their attorney's fees and costs before deduction of medical bills and other liens. Moreover, every attorney (that I know) doesn't charge costs if the client does not recover money.
Please do me one favor. Learn about what an injury attorney cannot charge you for. Each state's bar association has laws that prohibit lawyers from charging for certain costs. Learn these laws. See what the basic personal injury law fee contract looks like. If your attorney's contract has clauses in there that don't seem OK, question them.
Do so before you hire one. It may wind up saving you thousands of dollars.
If you were injured in an accident in Florida, I want you to hire me. You can complete this short form to Get a Free Consultation.
However, I know that not everyone reading this will hire me. Yes, it's sad. But it's a reality. Moreover, some people won't hire an injury lawyer at all. If you don't want to hire a lawyer (or me), please don't forget these words.
Do not overpay your accident attorney. They already make an average of $76,476. Attorneys don't need to earn more money through illegally overcharing you.
If you are about to hire a Florida lawyer and want to know what costs are legal, reach out to me. But contact me before hiring a lawyer.
Some Health Insurers Reduce Liens More if You Have a Lawyer
When you settle your injury claim, you may be required to pay back a health insurer, Medicare or other first party plans or insurers for benefits which they have paid which arise from the accident. Some first party insurers or plans at a minimum have to reduce their alleged lien by your attorney's fees and costs. Without an attorney, you will not get this benefit.
For example, I represented Angela after she slipped and fell at a hotel. She broke her arm and had surgery.
At first, she tried to deal with the hotel. This email to the hotel shows her frustration:
What does that even mean…waiting on claim to filed with your insurance? Who is Mr. V and what will he be contacting me about. The emails seem so vague about what your company plans to do to help me with this. I have not slept in 17 days I am exhausted, in pain, stressed out to the max, do not feel I am functioning at full capacity and seem to be not getting a lot of information in return.
She then hired me as her lawyer. The insurance company made us a lowball offer of just $12,500.
Take a look at their email to me:
Through intense negotiation, I settled her case for $250,000.
Her health insurance paid $23,191 to the hospital and her doctors. I was able to get them to accept just $7,430 as the payback amount. I was able to do this because Florida law required her health insurance plan to reduce its claim by my lawyer's fee and costs.
If Angela would not have had an attorney, she would not have received that reduction.
After my lawyer fees, costs and paying back her medical bills, Angela got $157,353 in her pocket.
The law in regards to reimbursing a first party plan or insurer can be very complex.
Attorney Can Preserve Your Rights in the Settlement Release
There is a certain settlement process that every case takes. Once settlement is reached, the insurance company will require you to sign a release. They will not pay you unless you sign the release. The language of the release is very important.
Why?
Because you don't want to expose yourself to taxes that you aren't required to pay. For example, let's say that you agree to confidentiality. With the wrong release language, you may find yourself owing Uncle Sam money that legally could have been avoided.
Here's a warning:
Never automatically agree to a confidential settlement.
You can suggest edits to the language of the insurance company's settlement release. The liability insurer does not have to agree to your proposed language. However, many do. They do this because if they refuse, it could subject them to owing compensation above the policy limit. This is called bad faith.
Do not give up your valuable rights.
Many Child Injury Settlements Need Court Approval (So You Need a Lawyer Anyway)
Let's say that your child has a personal injury case. If it settles, the insurance company may require court approval. Did you know that there is a filing fee in order to get court approval? And it's not cheap.
If you have an attorney, can refer you to an attorney to file for court approval. That lawyer will wait to get paid until the insurance company issues payment.
Learn which minor child personal injury cases need court approval.
You Won't Have to Waste Your Precious Time Trying to Get the Adjuster on the Phone
Let's face it. Insurance adjusters are busy. If you think that you will get in touch with the claims representative on your first try, you are wrong. Sure it may happen once. Maybe even twice. But speak with any personal injury lawyer and they will tell you that their office spends a ton of time just trying to speak with an adjuster.
Yes, email and fax exists. However, adjusters often do not respond to emails or faxes. Way too often. It's not uncommon for me or my paralegal to have to send four emails to get one response. In fact, it's one of the reasons why I occasionally file a consumer complaint with the Department of Insurance.
Don't take my word for it. Here is what one third party administrator (TPA) at Wal-Mart's claims company said about adjusters' stress:
Surveys of … adjusters' show that even at a caseload of 130 files adjusters consider themselves in a reactive mode being overwhelmed with phone calls data entry and email requests.
What's the solution?
Let an accident attorney (and his staff) make the phone calls for you. You'll be much happier if you let the lawyer spend time making the phone calls and sending emails.
Get a Free Consultation with an attorney for your car accident or other incident. If you were injured in Florida, you can Get a Free Consultation with me. The purpose of the consultation is to see if I can be your lawyer.
Did someone cause your injury in an accident in Florida? Or on a cruise?
Check out some of the many Florida injury cases that we have settled.
We want to represent you if you were injured in an accident in Florida, on a cruise ship or boat. If you live in Florida but were injured in another state we may also be able to represent you.
Call Me Now!
Call us now at (888) 594-3577 to find out for FREE if we can represent you.
No Fees or Costs if We Do Not Get You Money
There are No Fees or Costs Unless We Recover Money. Call us 24 hours a day, 7 days a week, 365 days a year. We speak Spanish. We invite you to learn more about us.
Editor's Note: This post was originally published on June 2014 and has been completely revamped and updated.