If another driver's negligence causes your wrist or hand injury, you may be entitled to get compensation.  Likewise, if you're injured at a business or on a cruise, you may be entitled to a settlement for your hand injury.
I'm going to quickly list the different types of hand injuries. Then, I'll discuss several settlements for hand injuries from car accidents, and other types of accidents.
The most common broken bones and injuries in the hand and wrist that result in personal injury claims are: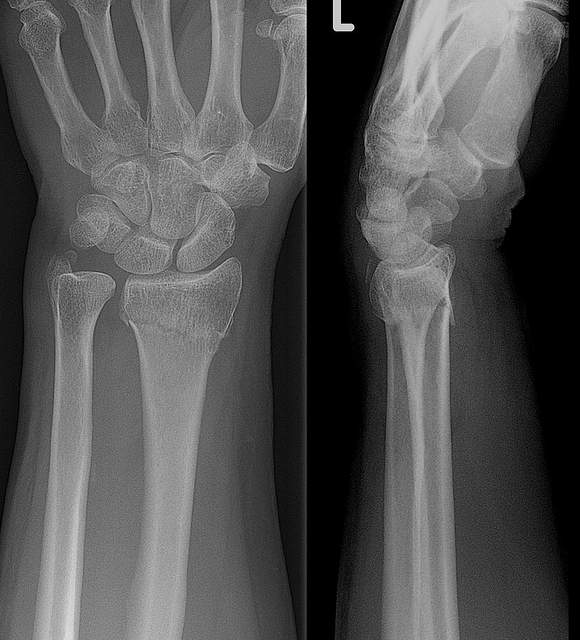 I settled a case for $210,000 where a guest at a Denny's restaurant fell and broke his scaphoid.  The scaphoid is a bone in the wrist.
A loose booth tipped up while he was exiting it.  He fell to the floor and broke his scaphoid. Here is a video about the settlement.
Other common hand and wrist injuries are:
Sprained Thumb
Wrist Sprains
Fingertip Injuries and Amputations
Flexor Tendon Injuries
Hand Fractures
Lawn Mower Injuries in Children
Mallet Finger (Baseball Finger)
Nerve Injuries
Other Conditions in the Hand and Wrist
Other conditions in the hand and wrist that an accident may cause are:
Arthritis of the Hand
Arthritis of the Wrist
Boutonnière Deformity
Compartment Syndrome
Complex Regional Pain Syndrome (Reflect Sympathetic Dystrophy)
You need to know the anatomy of the wrist if you want to maximize the value of a wrist injury case.  Below is a diagram of the hand and wrist.
May Be Hard To Get Money for Pain & Suffering for a Small Hand Injury in a Car Accident Case
In many Florida car accident cases, you need have a permanent injury in order to get any money for pain and suffering.  This can be tough if you just have hand pain without a tear or fracture.
How Much Is a Hand Fracture Worth?
In Florida, the full value that I use as a starting point only, of the pain and suffering (component of for a hand fracture without surgery) as a result of an accident due to someone else's negligence is approximately $35,000 to $70,000 assuming that it heals well and there is little disability.
This full value is for settlement purposes.
How Surgery to Your Broken Hand Affects Your Case and Settlement
If you have surgery to your broken hand, and hardware is put inside (open reduction internal fixation), the full value for pain and suffering component may be upwards of $150,000.
"Full value of pain and suffering" refers to pain and suffering without any reductions for your fault and other factors.  You may also be able to get money for lost wages, medical bills or punitive damages.
Let's look at some hand injury settlements.
Driver Gets $125K Settlement for Hand Fracture (and other injury)
See a case where a driver got a $125,000 for a broken 5th metacarpal in his hand after a car crashed into his car.  He had ORIF surgery to fix it.
They crashed in Miami.
Driver Gets $100,000 for Hand Pain and Other Injuries
See a $100,000 settlement for a lady hit by a car in North Miami Beach. She said the crash caused her hand pain.
The doctor wrapped her hand with gauze.  She also aggravated her pre-existing bulging discs and herniated discs.
She also broke her nose.  GEICO paid its $100,000 BI insurance limits shortly after the crash.
I represented her.
Passenger Gets $70,000 for Wrist Sprain, Tear of Triangular Fibrocartilage and More
See a $70,000 settlement for Lyft passenger who claimed that a crash caused a wrist sprain, and caused or aggravated a partial tear of triangular fibrocartilage.
He also claimed the crash caused or aggravated his neck, back, and ankle injuries.
Scooter Rider Gets $52,000 for Hand Pain and other Injuries
A man driving a pickup truck hit a man riding a scooter.  The scooter rider had hand pain.
About a month after the accident, he had an x-ray of his hand.  The x-ray didn't show anything wrong.
His hand injury was the not his worst injury in this case.  He also had an eye injury.
He Crashed in South Florida
The crash happened in North Miami Beach, Florida.
Crawford & Company (now owns Broadspire) handled the claim for the company that owned the pickup truck.  I represented the scooter rider.
He also had an eye injury, knee pain and other injuries.  We settled for $52,000.
Driver Gets $10,000 for Scapholunate Ligament Tear in Wrist from Car Crash
Mary (not real name) was driving her car in Miami.  Another car hit her car.
The doctor diagnosed Mary with a tear in the central and volar portions of the scapholunate ligament.  The scapholunate ligament is in the wrist.
Nationwide Insurance Company was the bodily injury ("BI") liability insurer.  They paid us the policy limits of $10,000.
Value of Wrist Sprains from Florida Accidents
The full value of a the pain and suffering component of a wrist sprain is usually not that high if there was little treatment.
Car Passenger Gets $25,000 for Wrist Pain and Other Injuries
See a case where USAA paid a car passenger got $25,000 for wrist pain and other injuries after a car rear ended him.  The crash happened in Key Largo, Monroe County, Florida.
He also claimed that the accident caused or aggravated a herniated disc, labrum (shoulder) tear, finger injury and knee injury.
Driver Gets $20,000 Settlement for Wrist and Hand Bruising, and Other Injuries
See a $20,000 settlement where a driver claimed that a car crash caused her bruising/contusions to her hand and wrist.  A car made an improper lane change and they crashed.  This was a SUV rollover crash.
She also claimed that the accident caused or aggravated her herniated disc in her lower back, an ACL sprain/tear and more.
Progressive Insurance paid $10,000.  Windhaven Insurance paid $10,000.
Driver Gets $10,000 Settlement for Sprained Wrist and Other Injuries
A driver crashed into our client's car in Hollywood, Broward County, Florida.
This was a hit and run crash.  The other driver left the accident scene.  My client's car was heavily damaged.
A tow truck removed our client's car from the accident scene.  Our client was injured.
An ambulance transported her to Memorial Regional Hospital in Broward County, Florida.
A doctor diagnosed with her with a sprained wrist.  Her wrist pain went away.
The doctor also diagnosed with her back, neck pain and headaches.
Uninsured Motorist Insurance Paid the Settlement
Our client had uninsured motorist (UM) insurance with American Vehicle Insurance Company.  They paid us the $10,000 policy limits.  This insurer has since changed its name to Federated National Insurance Company.
They are based in Sunrise, Broward County, Florida.  They have a reputation as being below average in paying Florida personal injury claims.
We made a UM injury claim with her insurance company.  All the letters that her UM carrier sent to us had their name listed as Superior Adjusting, Inc.
Our client had Personal Injury Protection (PIP) through her auto insurance policy.  Her PIP paid $10,000 of her medical bills.
Driver Gets $5,000 Settlement for Abrasions to Hand and Other Injuries
See a $5,000 settlement for a driver who suffered abrasions to his hands after a car crash.  He also had two small scars to his knee.
A car T-boned him in an intersection in Westchester, Miami-Dade County, Florida.
Value of Pain and Suffering Component for Carpal Tunnel Surgery ($25,000 to $50,000)
In Florida, in an accident caused by someone else, the settlement value of pain and suffering for carpal tunnel surgery is $25,000 and $50,000.  However, it depends upon the disability that you are left with.
Cruise Passenger Breaks Both Wrists After Fall (Gets No Compensation)
This isn't my case.  The Pizzinos took a cruise on one of Norwegian's ships, the Sky.
The Sky had a coffee bar where Dimitur Hulea worked as a part-time barista. One of Hulea's responsibilities was to clean the coffee bar after it closed at midnight.
The coffee bar did not have the appropriate facilities.  Thus, to clean the coffee bar Hulea had to retrieve two buckets of liquid (one containing a water/bleach mixture, and one containing only water) from the Sky's casino.
In doing so, Hulea had to carry the buckets, one at a time, down a corridor that connected the casino to the coffee bar. Hulea filled the buckets to three quarters full.
Barista Says He Never Spilled Liquid
He testified that he never spilled liquid from the buckets when transporting them down the corridor. Closed circuit television footage from the night when Pizzino slipped shows Hulea walking a bucket to the coffee bar at approximately 12:38 a.m.
Although he was not present at that time, Pizzino's husband, David, was allowed to testify based on the video that the bucket appeared to tilt to the left and hit Hulea's right knee as he approached the coffee bar.
About ten minutes later, Hulea left the coffee bar with two empty buckets and returned with one bucket filled with liquid.
Antoinette Pizzino did not notice any liquid on the ground as she walked. As she neared the coffee bar, she fell forward onto the ground, resulting in injuries including two broken wrists.
At that point, Pizzino noticed that there was liquid on the floor where she fell; more specifically, she testified that there were four to six inch puddles on the floor of the corridor.
Her husband, David, also testified that there was water on the floor where Pizzino slipped. There was no "wet floor" sign present near the coffee bar.
Pizzino hired a Miami cruise injury attorney and sued Norwegian in Miami, Florida.
Many Cruise Passenger Lawsuits Must Be Filed in Miami (Even if Cruise Sails from Elsewhere)
(Quick side note: Personal injury lawsuits against Carnival, Norwegian and Royal Caribbean must be filed in Miami.  The injured passenger needs to hire a lawyer who is licensed to practice in the United States District Court for the Southern District of Florida.  That is federal court.  I am licensed in this court.)
Pizzino claimed Norwegian had negligently created and failed to eliminate a hazardous condition, the wet spot near the coffee bar.  She claimed that  Norwegian's negligence caused her injuries.
The jury's verdict found Norwegian not liable.  On September 20, 2017, the appeals court agreed with the jury verdict.  The passenger didn't get any compensation.
Trial is unpredictable.  Cruise passengers, and people in general, don't always win slip and fall cases.  Slip and fall cases are difficult.
The case is Antoinette Pizzino v NCL (Bahamas) Ltd, a Bermuda Company, d.b.a Norwegian Cruise Line.
Jury Awards $140,228.56 for Broken Wrist from Slip and Fall
This isn't my case.  Osmulski shattered her right wrist after slipping and falling in a store owned by Oldsmar Fine Wine, Inc. (OFW).  The store was doing business as Lueken Liquor.
She underwent two surgeries to repair her wrist.
Jury Heard that Shopper Used Marijuana on the Day of the Incident
The jury heard evidence of the customer's marijuana on the day of the incident.  In fact, the jury asked numerous questions regarding he marijuana use.
All things equal, if the jury hears that you used a drug on the day of the incident, it hurts the value of your case.  It almost never helps increase the settlement or case value.
She hired an expert toxicologist, Ronald R. Bell, who filed his affidavit stating:
that Ms. Osmulski was not experiencing any impairment of her normal faculties at the time of the accident.
Experts testified at trial that additional surgeries may be needed in the future. After a jury trial, a jury determined Osmulski was 65% liable and OFW was 35% liable.
Thus, the verdict was reduced by 65% because she was 65% at fault for her fall.  Basically, she was only entitled to 35% of the verdict.
The full verdict was for $140,228.56.  Past medical expenses were $54,228.56; future medical expenses were $36,000.
The jury awarded $50,000 for past pain and suffering, and no money for future pain and suffering.
The customer's attorney asked the court to increase the verdict.  This is called an additur.
She May Need 3 Future Surgeries, Which Typically Increases Value
Her lawyer claimed that the only evidence regarding her future medical care needs was that she may require three (3) future surgeries.  The jury awarded the cost of 2 of the 3 surgeries.
The only medical testimony was that she has a permanent injury, which includes arthritis in the wrist.  It will get worse over time.  A prognosis of arthritis usually increases the value of pain and suffering.
The court refused to increase the award.
The trial court entered final judgment in Osmulski's favor in an amount of $45,123.84 plus an additional $39,612.02 for costs.
The video evidence of the incident was automatically deleted from OFW's video surveillance cameras.  Therefore, it was not available to be discovered.
Osmulski requested that the judge tell the jury that OFW was negligent or that the missing video would be unfavorable to OFW. The trial court declined to give the requested jury instruction.
Shopper Didn't Asking the Store to Preserve Video
The judge ruled that there could be no spoliation (destruction) of this evidence because Osmulski had not asked OFW to preserve it.
Within a week of the incident, Osmulski and OFW's insurance company communicated several times. Osmulski gave a recorded statement to an agent of OFW's insurance carrier.  A slip and fall victim should never give a recorded statement to a store's insurer.
When asked how the incident happened, Osmulski stated that she slipped about two steps beyond the front door mat when she entered OFW's store.
Osmulski further explained that the mat was wet because it had been raining that day. Osmulski informed OFW's insurance company about her first surgery and about how much time she had missed from work as a result of her injury.
The insurance company told Osmulski that after she completed her medical treatment, the insurance company would be able to follow up on her claim for pain and suffering, medical bills, and anything else.
The case is Osmulski v. Oldsmar Fine Wine, Inc., 93 So. 3d 389, 394 (Fla. Dist. App. 2012).  The shopper tried to appeal the appeals' court decision to the Florida Supreme Court.  However, they refused to hear the case.
Lady Bitten By Jaguar at Zoo Gets $139,498 for Thumb Amputation
This isn't my case.  A jury awarded $139,498 to a woman who was bitten by a jaguar at the zoo.  As a result, she had her thumb was amputated (lost) as well as pieces of her hand.
$100,000 of the verdict was for in pain and suffering.  The trial was in 2012. The case is Russell v. Berens f/k/a Greene and Panther Ridge Conservation Center Inc.
Should You

Immediately

Hire A Lawyer if Someone Caused Your Hand Injury in an Accident?
It depends.  If your hand injury is not very painful and your hand is not deformed, it you may be OK to wait until the next day to hire a lawyer.
There are over 11 reasons to hire a Florida accident lawyer.  If the injury is very painful, if your hand is deformed or numb, and your hand is not pink, you should immediately hire a lawyer.
Choosing the Best Hand Doctor
Choose the right hand surgeon may be a huge factor in a possible settlement. This is a map of hand surgeons in Florida who are patient advocates and will not try to destroy an injury case. Here are the names:
Felix Freshwater, MD (East Kendall/Miami-Dade County)
Robert Moya, MD (Miami)
Dr. John Wilkerson, MD (South Miami/Coral Gables)
Jaqueline Redondo, MD
Phillip B Cummings, MD
Harris Gellman, MD
Kenneth J. Easterling, MD
Alexander Krawiecki, MD
Roberto J Acosta, MD (West Palm Beach)
Did someone's carelessness cause your hand or wrist injury in an accident in Florida, or on a cruise or boat? 
See Our Settlements
Check out some of the many Florida injury cases that we have settled, including but not limited to car accidents, truck accidents, motorcycle accidents, drunk driving (DUI) accidents, pedestrian accidents, drunk driving accidents, taxi accidents, bicycle accidents, and much more.
We want to represent you!
Our Miami law firm represents people anywhere in Florida if someone's carelessness caused their injuries in car accidents, truck accidents, motorcycle accidents, bike accidents, drunk driving crashes, pedestrian accidents, accidents involving a Uber or Lyft Driver, and many other types of accidents.
We want to represent you if you were injured in an accident in Florida.  If you live in Florida but were injured in another state we may also be able to represent you.
Call Us Now!
Call us now at (888) 594-3577 to find out for FREE if we can represent you. We answer calls 24 hours a day, 7 days a week, 365 days a year. 
No Fees or Costs if We Do Not Get You Money

We speak Spanish. We invite you to learn more about us.
Editor's Note: This post was originally published in May 2013 and has been completely revamped and updated.