This article focuses on car, truck and motorcycle accident claims with Travelers Insurance Company. (I wrote a separate article on claims with Travelers for a slip and falls at hotels, restaurants, and other accidents.)
When I think of dealing with Travelers Insurance in an auto accident claim, two things come to mind.
Drivers Insured With Travelers Likely Have BI Insurance
The first is that the careless driver likely has bodily injury ("BI") liability insurance. This is great because BI insurance this is the most common source of payment for pain and suffering in a car accident case.
Since most cars in Florida don't have to have BI insurance, many other insurance companies insure cars without BI insurance.
Travelers Drivers Usually Have 'Decent' BI Limits
Drivers who are insured with Travelers likely have decent BI limits.  All things equal, I think that drivers insured with Travelers are more likely to have more than $10,000 in BI liability insurance.
Travelers Pays Better Than the Big 4 Car Insurers
Travelers is by no means the best paying insurer that sells Florida car or truck insurance in Florida. However, Travelers has a reputation for paying more fairly than many others.
Travelers has a reputation for more fairly paying BI claims than the big 4: State Farm, GEICO, Progressive, and Allstate.
Travelers Auto Adjusters Are More Educated
From my experience, Travelers' car accident insurance adjusters are more educated than claims adjusters for small auto insurance companies. This means that you're less likely to have to repeat yourself when speaking with them.
I've found Travelers auto adjusters to be more customer service friendly than many other small insurance companies.
Are Travelers Adjusters Overworked?
Yes. If you have a personal injury case that is worth more than the BI liability insurance or uninsured motorist ("UM") insurance limits, Travelers will respond quickly to you.
If your case is worth less than the liability insurance limits, don't be surprised if Travelers delays making a fair offer to settle.
How Do You Know If You Have Big Auto Accident Case Against Travelers?
Ask the Travelers claim handler if he or she is part of the Auto Liability Severity Unit. This is the Travelers division that handles the high value claims.
In terms of the value of your injury case, it's a good sign for you if your claim is being handled by this division.
That being said, if there is limited BI liability insurance you may be struck accepting the BI limits even if you have a horrible injury or death case.
Travelers Pays $200K of $300K Settlement for Leg Fracture (Car Accident)
Travelers paid $200,000 of a $300,000 settlement for a tibial plateau fracture. The car crash happened in Clearwater, Pinellas County, Florida.
Travelers and Its Insured Pay $200K (of $210K) to Settle Shoulder Injury Case
Here is a video of some highlights of the settlement:
A truck driver was driving a truck on the highway. A 18 wheeler crashed into the back of my client's truck.
Travelers insured the careless driver. Here is a photo of the truck that Travelers insured: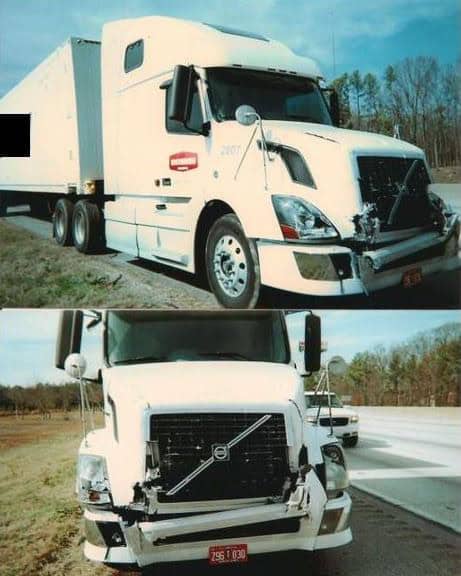 A highway patrol came to the accident scene. My client told the officer that he didn't have any pain. He waited a few days to go to his doctor.
Months later, he had shoulder surgery.
Travelers (and its insured) paid $200,000 to settle the personal injury case. My client had $10,000 in uninsured motorist insurance with Progressive.
Progressive paid $10,000 to settle. The total settlement amount was for $210,000.
Learn about Florida truck accident settlements.
Travelers Pays $47,000 of $57,000 Settlement to Driver in Crash
An on-duty police officer was stopped in traffic, when another car rear ended him. The crash happened in Medley, Florida (North Miami-Dade County).

The driver who caused the accident received a ticket for following too closely. State Farm insured the careless driver.
State Farm Insurance paid us the careless driver's $10,000 BI limits.
The officer said that the wreck caused or aggravated his bulging disc.
His Doctor Gave Him Epidural Shots
He had epidural shots to his lower back.
The cop was a candidate for lower back surgery (lumbar laminectomy). He did not have surgery.
Travelers insured the police officer on his personal car. (He wasn't using his personal car when the accident happened).
Workers compensation for the police department paid over $17,000 in indemnity (lost wages) and medical benefits.
I settled the UIM case with Travelers for $47,000. Thus, State Farm and Travelers paid a combined $57,000 for the personal injury case.
Travelers Pays $50,000 to Motorcyclist Hit By Car Who Suffered Collarbone Fracture
See a $50,000 settlement where a motorcyclist was forced to lay his motorcycle down when a car turned into his direct path. He broke his collarbone.
The accident happened in Pasco County, Florida. I represented him.
Private Passenger Auto Claims
If you are injured in Florida and Travelers is involved with the claim, you were most likely in a private passenger auto accident.
"Private passenger auto" is a fancy word for "personal vehicle".
A "private passenger motor vehicle" is any motor vehicle which is a sedan, station wagon, or jeep-type vehicle and, if not used primarily for occupational, professional, or business purposes, a motor vehicle of the pickup, panel, van, camper, or motor home type.
Private Passenger Auto Liability Insurance
Private Passenger Auto Liability Insurance provides coverage in case you cause an accident in which another person suffers damages. Damages could mean that they are hurt or have property damage. It covers the damage that you are legally responsible for.
In Florida, damages may consist of medical bills, lost wages, pain, suffering and much more.
Example – Private Passenger Auto Liability Insurance
Mike is driving his car. Wendy is driving another car. Mike runs a red light and plows into Wendy.
Wendy suffers a herniated disc. Wendy may make a claim against Mike's private passenger auto liability insurance. It would pay for Wendy's damages.
Is Travelers a big Florida personal vehicle insurer?
The 2014 annual report says that Travelers was the 12th largest private passenger auto liability insurer in Florida.
Its written premium was $136,929,110. Written premiums refer to the amount of premiums customers are required to pay for insurance policies written.
Travelers had 1.9% market share. Market share is the percentage of the Florida private passenger auto liability market accounted for by Travelers.
The other Florida private passenger auto liability insurers with more market share are State Farm, GEICO, Progressive, Allstate and USAA.
The other top 15 private passenger auto liability insurers with less market share in Florida are:
Travelers insures truckers with its division that is called Northland Transportation.
Hurt from a Car Accident or Other Accident in Florida?
Call me now at (888) 594-3577 to find out for FREE if we can represent you. We answer calls 24 hours a day, 7 days a week, 365 days a year.
No Fees or Costs if I Do Not Get You Money
We speak Spanish. Learn more about us. Check out my law firm reviews