If a driver's negligence caused your injury in Little Havana, you may have a case.
Let's look at one of my many Little Havana car accident settlements.
Passenger Gets $25,000 from Little Havana Car Accident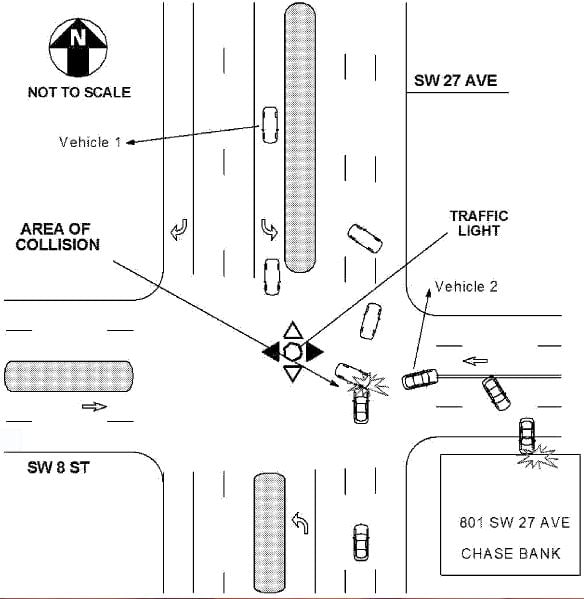 Below is a photo of the intersection:
Take photos of the car accident scene
Tip: Take several pictures of the accident scene that show:
Each driver's view prior to the crash.
The entire accident scene.
All the vehicles involved in the wreck.  This includes, but is not limited to, any deployed airbags.
Any objects that blocked any drivers' view at the time of the crash.
Sometimes there was ongoing construction at the time of the crash.  A construction company may leave:
Something at the scene that blocked one of the driver's views or caused the crash.
Gravel or debris in the road or an object in the road that caused the crash.
If so, you also may be able to sue the construction company.  This is in addition to suing all other parties.
Accident scenes may change
Accident scenes may change with time.  The photo of the scene of the collision is important in proving your case.
Once you get a photo, you don't have to worry about the scene changing.
The above crash happened just 5 Avenues from Little Havana, Florida.  My client was a passenger (vehicle 2) in a car that was heading North on SW 27 Ave.
Another car's (Vehicle 1) driver failed to yield the right of way.  The car that my client was in T-boned the other car.
The other driver was arrested for driving under the influence (DUI).  I got $25,000 for my client's personal injury case.
Her injuries included back, neck and leg pain.  I represented the passenger.  The careless driver was arrested for drunk driving.
State Farm insured the careless driver with a $25,000 bodily injury ("BI") insurance policy.
Passenger Gets $10,000 After Pole Crushes Car in Little Havana
A young woman who was a passenger in a car.  The car was stopped in the street in Little Havana, Florida.
Another driver crashed into her car.  A pole fell on the car that she was in.
Both drivers were killed.  The insurance company that insured the host vehicle has been bought by Kingsway Amigo.
The careless driver was uninsured.  Our client had soft tissue injuries.
The host vehicle's insurer paid the $10,000 policy limits to settle the case.  The car that our client was in did not have uninsured motorist (UM) insurance.
If the car had UM insurance, she would have received a bigger settlement to cover her pain and suffering as well as emotional distress.
Motorcycle Rider Hit By Car Near Little Havana Gets $10,000
A man was riding a motorcycle in Allapattah, Miami-Dade County, Florida.  Allapattah is to the North of Little Havana, to the West of Wynwood and Overtown, to the South of Brownsille, and to the East of Miami Springs.
A car tried to make a left hand turn before the motorcycle approached.  However, they crashed.  The motorcycle rider broke his lower leg bone (tibia).  He also lost some teeth.
The careless driver only had $10,000 in BI insurance with Allstate.  Allstate quickly paid me the $10,000.
Since he was on a motorcycle, he didn't qualify for personal injury protection (PIP) insurance.  He also didn't have any uninsured motorist ("UM") insurance.
Do most drivers in Little Havana have car insurance?
I have no data to back up this answer.  However, Little Havana is a poor area.  I would imagine that many Little Havana residents have no BI liability insurance or very little.
Most cars in Florida don't have to have BI liability insurance.
If a Little Havana resident caused your car accident, hopefully you have uninsured motorist ("UM") insurance.  UM insurance pays you if an uninsured motor vehicle caused your crash.
Other Typical Vehicle Accidents in Little Havana
Wrongful death
and many other types of accidents.
Where is Little Havana, Florida located?
It is surrounded by the neighborhoods of Shenandoah, West Flagler, Riverside, The Roads, Civic Center, Lummus Park, Spring Garden, Downtown Miami and Brickell.
I can meet you in Little Havana in 18 minutes
I can meet you in Little Havana within 18 minutes of our first phone call.  You can also come to my office.
I am a car accident lawyer with an office that is just an 18 minute drive from Little Havana, Florida.
Call Me Now!
Call me now at (888) 594-3577 to find out for FREE if we can represent you. We answer calls 24 hours a day, 7 days a week, 365 days a year. 
No Fees or Costs if We Do Not Get You Money

We speak Spanish.  I invite you to learn more about us.