Over the past 16 years, we have been asked thousands of questions from prospective clients about how much we charge. People want to know how much lawyers take from a settlement. The list of questions about attorneys fees and costs goes on and on. We have happily given thousands of answers to these questions.
Here, you'll see the most frequently asked questions (FAQs) about attorney contingency fees and costs in a personal injury case.
More importantly, you'll get detailed and honest answers. Personal injury claims can arise from car accidents, slip and falls and much more.
Many people are unsure if it's worth it to hire an attorney. Others want to know whether they'll be able to afford a lawyer. The answer is Yes to both of these questions.
In a moment, you'll also see the costs for which an attorney cannot charge. Knowing this information can prevent you from getting ripped off if you hire a lawyer.
You would not believe the ridiculous and illegal costs for which some personal injury attorneys charge their clients. Maybe these unfair charges are one of the reasons why the public ranks attorneys at the bottom of the list for perceived contribution to society.
Who determines the fees and costs for which an attorney can charge?
Each state has a bar, which is an organization of all lawyers licensed by the Supreme Court of that state to practice law in the state. That state bar says what fees and costs are allowed. It also says what costs are not allowed.
Here is the problem:
People injured in accidents don't know what attorney costs are legal. Without knowing this, these clients will not know if the attorney is charging an excessive cost.
Remember:
It is against the law for a personal injury lawyer to charge you excessive costs.
Over 76 factors affect the value of a personal injury settlement. One of those factors is the quality of your lawyer. If you choose an attorney who charges you for excessive costs, you will get less money in your pocket. Not too mention that it is illegal.
As promised, here are some frequently asked questions (FAQs) about attorney's fees and costs in an injury case. Additionally, you will also see real examples of fees and costs from some of my accident settlements.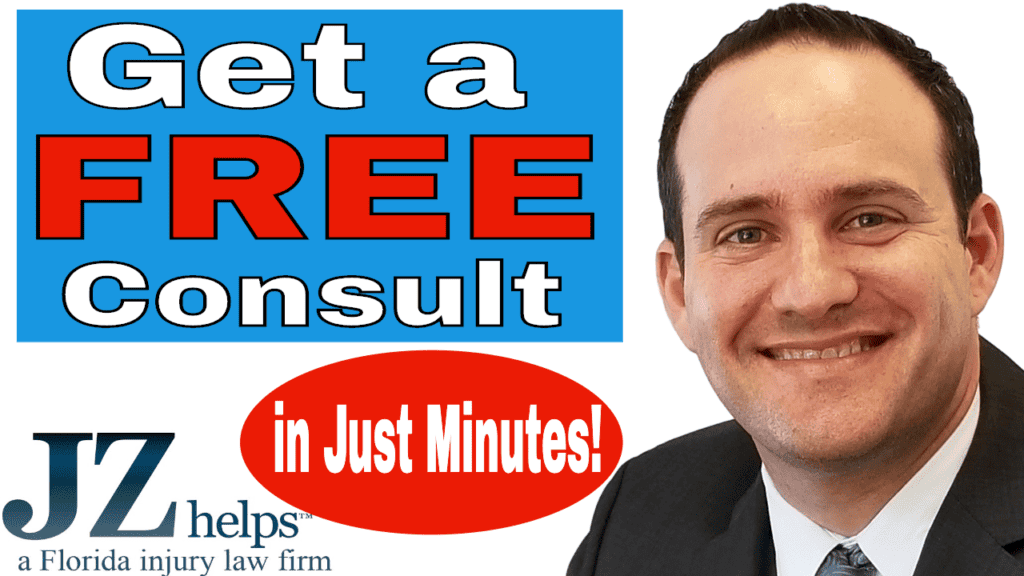 What is the average lawyer contingency fee?
It depends on the state where the accident happened. Attorneys (like myself) are paid a contingency fee. This means that the lawyer takes a percentage of the total amount recovered in your personal injury case.

As an example, let's look at personal injury cases in Florida. If a lawyer settles your case without a lawsuit, he or she cannot charge more than 33 1/3% of the total personal injury settlement. In this instance, I take 33 1/3% of the total settlement. I only handle personal injury cases in Florida. We also are reimbursed (paid back) for the costs that we front (advance for your claim).

But don't get scared about costs. Historically, they have not been an issue in my cases. I handle each case with a client centered focus.

This contingency fee 33-1/3% of the total settlement applies to auto accidents. It also applies to slip and falls, and countless other types of injury cases.

The good news?

Most personal injury claims settle without a lawsuit. However, you should hire an attorney to increase your chances of getting a settlement without a lawsuit.

If I sue and the defendant denies liability, our attorney's fee increases to 40% of the total settlement. We are also paid back for the costs that we advanced for your case.

The above fees apply if your case is worth $1 Million dollars or less. But don't get to excited. Most personal injury cases are worth under $1 million.

If your case settles for an amount above $1 Million, our fees on any amounts above the first $1 Million are reduced according to the maximum amount allowed under the Florida Bar rules.

If your claim is against the county, state or city, then our fees are 25% of the total settlement against the county, city or state. This is true regardless of whether the case is settled before or after a lawsuit is filed.  We are also paid back for the costs that we advanced for your case.

If we settle a personal injury claim against the federal government before a lawsuit, then our fees are 20% of the total settlement. However, if we settle a personal injury case against the federal government after we sue, then our fees are 25%. That 25% fee is limited to the portion of the claim against the federal government. We are also paid back for the costs that we advance for your case.

Please remember that the above descriptions contain only a general description of our attorney's fees and costs and are not a statement of contract.  All fees are subject our contract.
Should I get an attorney after a car accident?
Yes, if someone else is at fault and you are injured. If you think that handling a car accident injury claim is easy, I have bad news. You are wrong. I'm talking about getting an insurance company to make you a fair settlement offer.

First, there are countless laws to know. For example, some states have confusing No-Fault laws that apply to car accidents. Florida is one of these states. Sometimes you need a permanent injury to get compensation for pain and suffering. On other occasions you don't. Your car accident lawyer will know when you need a permanent injury.

Second, you need to know when an insurance company is offering you less than the claim is worth. In one case, the truck driver's insurance company made a first offer of $100,000. Months later, I settled for $445,000. I got the $445,000 settlement because I know how much injury cases are worth.

Third, there are situations where your car (or health) insurance company may be entitled to get repaid from the settlement. However, if you have an attorney, your car (or health) insurance company may have to reduce its reimbursement claim by your pro-rata attorney's fees and costs. This can result in a huge savings to you!

Fourth, Are you prepared to make a Microsoft excel spreadsheet showing all of your total billed charges, amounts that PIP or health insurance paid towards your medical bills, and your outstanding balances?

If not, hire an attorney.

Fifth, the insurance company's goal is to pay you as little as possible. Even if they are very nice.

I wrote an article about 13 reasons to hire a personal injury lawyer. There, I go into much greater detail.
Do you have to pay us any money up front for us to represent you?
No.  We are only paid if we make a recovery.  This means that we only get paid if we get actually get a check from the insurance company.

Aren't contingency fees great?

We think so. And I'm confident that you'll agree.
Do you owe us any money if we do not settle (or collect money) for you?
No. This means that you don't owe us fees or costs if we lose your case.

There is no guarantee that we'll reach a settlement. However, I do my best to only accept personal injury cases that I think have a very high chance of a financial recovery. A financial recovery most often comes in the form of a settlement.
What are some examples of costs in an injury case?
If the case is settled before a lawsuit there are some typical costs. Costs are different than attorney's fees.

Costs include police reports, costs charged by hospital and medical providers for copies of medical records and copies of bills, criminal background checks, past claims history checks, photographs, certified mail. There may be additional costs as well.

On rare occasions, we charge for copies and regular mail postage.

Here's a great tip:

Ask your attorney if he or she charges for copies made in their office.
Copy charges can quickly add up to a few hundred bucks! And you don't want that.

In some cases, costs may include legal research costs, expert witness fees, fees for medical conferences and fees for a final medical report.

If you give us permission to file a lawsuit, then there are additional costs. They typically include the lawsuit filing fee, which is usually around $400. Other lawsuit costs may be for serving summonses and subpoenas, court reporters fees, including fees for medical testimony and all litigation-related expenses. There may be additional costs as well.

Let's face it. Lawsuits aren't cheap. But sometimes they are necessary.

We will make every effort to keep these costs at an absolute minimum, consistent with the requirements of the case.

You'll like to hear this:

In order for us to pay anyone after a settlement, you must approve and sign a closing statement. And our closing statement lists every single cost.

Here's a free tip:

Before hiring an injury lawyer, ask him or her if they'll list every cost on the closing statement. If they won't, ask them why not.

You have the right to know every single cost, line by line. Don't let a lawyer just show one amount for all the costs.

However, our costs won't come as a shock to you.

Why not?

Because, before we incur a big cost, we let our clients know about it. And we get your approval before we pay the cost.

Moreover, we do our best to try to let you know about every cost as we incur it. We do this by sending you an email that shows the invoice. Thus, there are no surprises.

That said, we typically don't inform you about charges for certified mail until the closing statement.
What are the attorney's fees and costs on a $445K Settlement?
Every case is different. However, here is an example from my actual $445,000 motorcycle accident settlement. Our client was hit by a truck while riding a motorcycle in Miami-Dade County. We settled without filing a lawsuit.  

Our fees were 33 1/3% of the total settlement, which was $148,333. We hired an accident reconstruction expert who required a retainer. This means that when I hired him, I paid him $2,500. In most cases, we do not hire an accident reconstruction expert. This is because most cases don't settle for $445,000 (or close to that amount).

That $2,500 cost alone is much higher than our average cost for our 2019 personal injury settlements.  (You'll hear more about that in a moment.)

In that case, we paid the hospital and medical providers to get copies of medical records and bills.

To show how much the client received, we use a formula. In this example, I'm going to keep it simple.  I have not listed several other costs that we were reimbursed after we were paid our attorney's fee.

I also did not list several other medical bills that were deducted from the client's portion of the settlement after we were paid for our fees and costs.

We're responsible for repaying medical providers from the client's portion of the settlement.  I am using approximate costs and medical bills to keep it simple.

Settlement: $445,000
Attorney's fees: -$148,333

Costs
Accident Reconstruction Expert: -$2,500
Hospital Medical records charge: -$53
Orthopedic doctor Medical records charge: -$22

Medical bills owed
Hospital Bills: $13,500
Other Medical Bills: $16,750 (Approximately)

In the actual case, the client received approximately a little over $236,800. This is partly because there were additional costs that we advanced. There were also additional medical bills that we needed to pay after we took our fees and costs.

That's money in his pocket.

We did not file a lawsuit in the above case. To better explain attorney's fees, let's pretend that I sued. If so, the formula would be similar. However, our fees would have increased to 40% of the total settlement instead of the 33 1/3%.

If we would have sued, costs would have also increased. This is because there is a cost for suing. Moreover, there are other lawsuit related costs.
Is 40% a reasonable attorney's fee in a personal injury case?
It depends on the state where the accident happened. I will speak for personal injury cases in Florida, which is where I'm licensed.

In Florida, there are two requirements for an attorney's fee of 40% of to be reasonable in a personal injury case. First, the lawyer must have sued. Second, the defendant must have denied liability or the time to file an answer has passed.

That said, a personal injury lawyer should use his or her best efforts to settle the case without a lawsuit.

For one, this results in a lower fee for the client. The injury lawyer's fee will be capped at 33 1/3% of the total settlement.

Second, settling a case without a lawsuit is often much less stressful and may save time.

You should only hire a personal injury attorney who has sued before. Otherwise, the insurance company may not take your lawyer seriously.

I'm proud to say that I've sued many times before.
Do lawyers get paid before medical bills?
Yes, if this is stated in the attorney's fee contract. For example, let's look at contingency fees in Florida injury cases. In Florida, an attorney is required to say in the contract if the fee is taken before medical bills.

But don't get too excited.

In the past 16 years, I have never heard of an attorney whose fee contract says that fees are paid after medical bills. Moreover, I have never heard of an attorney who takes their fee after medical bills are paid. In other words, attorneys get take their fee before paying medical bills.

Also, hospitals are entitled to get paid for the reasonable value of services. In Florida, certain hospitals are entitled to get paid even if there is not enough money to pay the injury attorney. What happens when the injury case settles?

The attorney is still paid before medical bills like the hospital bill. This assumes that there is enough money in the settlement to cover both the attorney's fee and the hospital bill.
Do you pay taxes on a settlement?
In a personal injury case in the United States, the injured person typically does not pay taxes on a settlement. These is because settlements for personal physical injuries are not taxable. But don't take my word. Look at the IRS law that states it: Section 104(a)(2), Internal Revenue Code. 

First, the portion of a settlement for pain and suffering is not taxable. Since pain and suffering is usually the biggest part of a settlement, that is great news.

Second, lost wages are not taxable. Third, most medical bills are not taxable. However, this assumes that you did not take an itemized deduction for medical expenses related to the injury in prior years. (IRS Publication 4345).

Now the bad news:

Any money that a defendant pays for confidentiality is taxable.  Amos v. Commissioner, T.C. Memo. Docket No. 13391-01, 2003-329. Therefore, the hairs on your neck should stick up if the insurance company tells you that their settlement offer is confidential. And they often will.

In particular, the injured person should be careful when reaching an injury settlement with any huge company. This includes an accident settlement with Lyft, Uber, Walt Disney World, Publix Supermarket, Walmart, Carnival Cruise Lines and others.

Why?

Those companies will require the settlement to be confidential. How do I know?

Just search court records. You'll see that all of those companies only agree to confidential settlements.

What is your best bet?

Hire an attorney who understands whether you will have to pay taxes on a settlement. I'm happy to say that I have a great understanding of this issue.
Why do you need to know what attorney can't charge you for?
First, knowing this information may save you hundreds or thousands of dollars. With people questioning whether the economy is sliding into a recession, you need to save money.

I am not implying that another lawyer is going to rip you off. Hopefully, most personal injury attorneys are ethical. However, some lawyers are simply unaware of the costs for which a personal injury attorney cannot ethically or legally charge.

Let's turn the clock back to 2003 for a moment. I was a young attorney. I had a very basic understanding of injury lawyer fees and costs.

Fast forward 16 years. My knowledge of attorneys fees and costs is excellent. In fact, I do not know a single injury lawyer who knows the ethical rules regarding fees and costs better than me. (I'm yet to find an article on the internet that is more in depth on injury attorney fees and costs than this one. If you see one, please let me know.)

Remember:

Being an accident lawyer is not an easy. We have to know the rules of evidence, personal injury laws, ethics rules, rules of civil procedure, and the rules of court. Additionally, injury attorneys need to understand car accident laws, trucking regulations, traffic laws, accident reconstruction, medical issues, engineering concepts, medical bill laws and more.

However, I have some good news. There are many charges for which an accident attorney is not allowed to charge you. Unfortunately, some attorneys still try to charge you for everything under the sun. They make these illegal charges even if it is considered to be an excessive fee by the state bar (or other laws).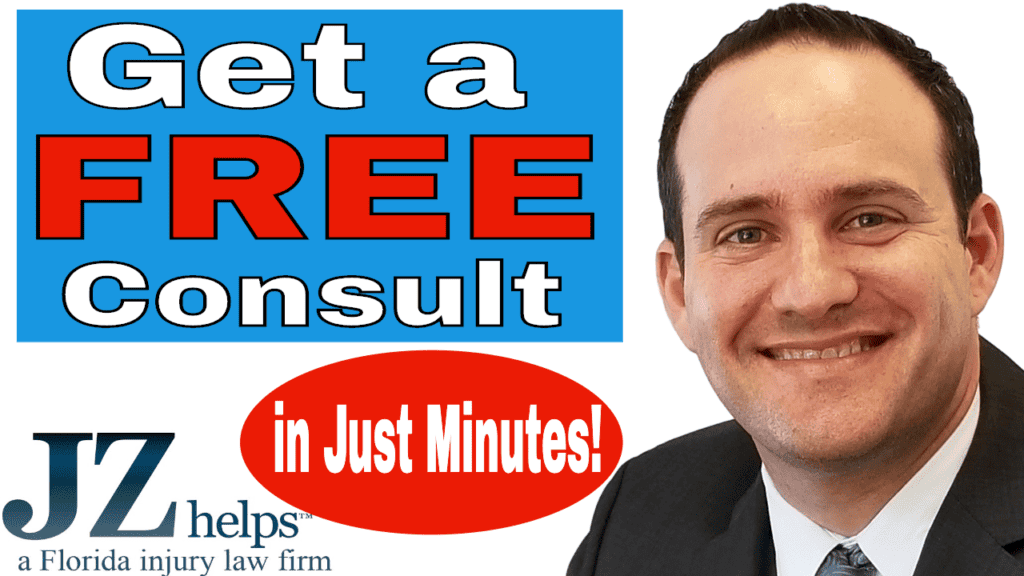 What is our Average Cost in a Personal Injury case?
Earlier I talked about what costs are. Typically, they include the cost of paying to get the injured person's medical records, bills, the crash report, certified mail, and some other things. In some cases, other costs include amounts that we pay the injured person's doctor for a conference. We are more likely to incur this cost in a bigger case.
Every case is different. Thus, no two cases have the exact same cost. In 2019, our average cost for our personal injury settlements is likely under $100.00. This is an estimation. However, I think that it's highly accurate.
Part of the reason why my average cost is so so low is because I've had many injury settlement where the costs are almost nothing.
Here are two examples of personal injury cases where my costs were almost nothing:
$250K Slip and Fall Settlement (Costs Were Almost Zero)
Angela was staying at a resort in Lake Buena Vista, Florida. That's close to Disney World and Universal Studios. She stepped into the bathtub in her hotel room. Seconds later, she slipped and fell. As a result, she broke her arm.
Before hiring me as her injury attorney, she saw that we settled a hotel bathtub slip and fall case for $197,500. And we did so without a lawsuit!
We claimed that the bathtub surface was unreasonably slippery. Philadelphia Insurance Company insured the hotel. We settled Angela's injury claim against the hotel for $250,000. About $225,000 of the $250,000 settlement was for her pain and suffering.
It gets better:
Costs are just $35.00 to send Angela her portion of the settlement, which is for over $149,000. Costs would have been under $7.00 if she would have wanted us to send her the check via certified mail. Of course, she was welcome to come to my office to pick up the check. However, she didn't choose this option.
Can you blame her?
My office is about four hours from where she lives (and was injured). Yet, she trusted me to handle her case.
Don't you love the power of telephones and email?
Not to mention Skype, Whats App, or Google Hangouts. We use all of the above.
Our costs would have been zero if Angela would have picked up the check at my office. However, she wants us to wire her the funds. Currently, my bank charges $35 for a domestic wire. And $50 for an international wire.
The $197,500 settlement that I mentioned above was for an out of state visitor who was injured in Florida. We've settled over $1 million in cases for out of state visitors who were hurt in Florida car accidents.)
$50K Motorcycle Accident Settlement (Costs Were Under $7.00)
A car hit a motorcycle rider in Land O Lakes, Pasco County, Florida. Land O Lakes is about 4 hours from my office in Coral Gables, Miami-Dade County, Florida.
As a result of the accident, the motorcyclist broke his collarbone. Shortly after the accident, he searched on the internet for motorcycle accident attorneys. He called my office to get a free consultation to see if I could represent him. After we spoke, he immediately hired me.
Travelers Insurance Company insured the car who hit him. Fortunately, Travelers has a reputation for making settlement offers similar to USAA. That said, Travelers may still lowball you. For example, I represented a man who broke his restaurant while eating in a restaurant. Travelers would not offer me more than $20,000 to settle. I sued its insured. About two months before trial, we settled for $210,000.
Let's get back to the motorcycle accident example.
Travelers' bodily injury liability policy limits were $50,000. Thereafter, I settled the motorcycle rider's case for $50,000. (This is one of my many motorcycle accident settlements.)
The best part?
Our costs were just $6.59!
Yes, that's under $10.
However, I did charge my attorneys' fee, which was $16,666.66. He was thrilled with the about of money that he got it his pocket.
I've settled several personal injury cases for clients where there was no cost. Of course, I still charge my attorney's fee.
Also, as I've said above, I always charge an attorney's fee if we settle the case. When I use the term "costs", I am not referring to outstanding bills that the injured person owes the hospital, doctor or another medical provider.
Costs Were Under $7 in a $20K Car Accident Settlement (2019)
Let me give you another example of a car accident case where my costs were under $7.00. In April 2019, Cesar was driving his minivan in Brickell, Florida. Another car rear ended him. The impact sent Cesar's minivan into a wall. After the accident, this is what his vehicle looked like.
The airbags in the minivan deployed. Paramedics took Cesar to the hospital.
Here is a photo of him at the hospital: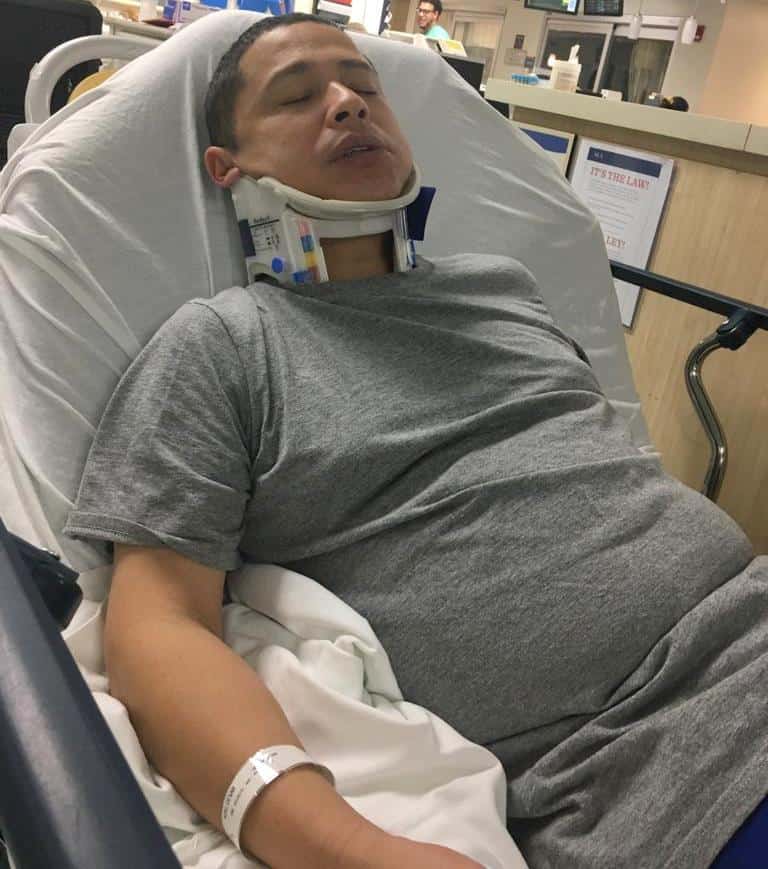 Fortunately, he did not have any broken bones. He was only at the hospital for a few hours. He did not need surgery.
GEICO insured the driver of the car that hit Cesar. We got GEICO to quickly pay Cesar for the property damage to the minivan. We did not charge a fee on the property damage part of the claim because we did not have to sue.
Cesar had an MRI of his knee. Fortunately, he did not have any tendon or ligament damage. He had neck and back pain, which went away.
GEICO's opening offer to settle his personal injury case was $14,655. In December 2019, GEICO paid us $20,000 to settle the case. Here is GEICO's settlement check:

Thus, we settled his personal injury case settled in under nine months.
69% of the settlement was for his pain and suffering. My attorney's fees were $6,666.67. My costs were only $7.00. After my attorneys fees and costs, and paying all of his medical bills, Cesar gets over $7,250 in his pocket.
The best part?
He is very happy with the result. Check out a photo of Cesar and I after he got his settlement check:
Will I get more money in my pocket if I hire a lawyer for my car accident?
No attorney can guarantee that the answer will be Yes. However, let's look at a study done by the Insurance Research Council. Here is a statistic:
The study found that people with an attorney in a car accident case got 3.5 times more for their injury case than those without a lawyer. This study suggests that you are better off getting a lawyer after a car accident.
If you are going to hire a car accident attorney (which I highly suggest), then do so quickly. There are time limits to sue. Moreover, an attorney can properly help you document your claim.
Do Bigger Cases Typically Have More Costs?
All things equal, yes. However, big settlements don't always have more costs than smaller ones. Sometimes a larger settlement may actually have a lower cost than a much smaller settlement.
How Some Government Employees Get a Huge Benefit By Having an Attorney
There are many benefits from hiring a personal injury lawyer. Here, I want to focus on the benefit that a city, county or state employee in Florida gets by hiring a personal injury lawyer.
If your "health insurance" pays benefits, then they are entitled to be paid back from the personal injury settlement. To keep it simple, we'll call this a lien.
However, if you have an attorney, your health insurance company must reduce its lien by your pro-rata attorney's fees and costs. This can result in a big savings to the injured client.
Police officers, teachers, firefighters are just a few professions who get this benefit associated with hiring a lawyer.
This law also applies to individuals with a private (not through work) health insurance plan.
Unfortunately, this law doesn't apply to people who have "health insurance" through a big employer like Walmart, Publix, Disney and many others who have a self-funded health plan with airtight reimbursement language.
If You Hire a Lawyer, Can You Do Anything to Keep the Costs Down (Lower)?
Possibly. If the injured person requests their medical records from the hospital or doctor, sometimes the charge is less than if the attorney requests them.
It's best that the injured person requests that the hospital put the medical records on electronic media (USB, flash drive or CD). If the patient requests that the medical provider give him/her the records on electronic media, the medical charges are often much lower.
This is because federal law limits the amount that medical providers can charge the patient for electronic records.
Do You Owe Us a Fee if We Recover Benefits from Medical Payments ("Medpay") Coverage?
No, unless we have to sue in good faith to get the "Med pay" benefits. Some auto insurance policies have medical payments coverage. The same is true with liability insurance policies for businesses or homes.
The Florida Supreme Court said that an attorney could not take a fee on medpay. Florida Bar v. Thomas, 698 So.2d 530 (Fla.1997). In the Thomas case, Rottblatt was injured in slip and fall accident. Her attorney got her a settlement of $16,000 in liability benefits plus $5,000 in "med pay." I wasn't the the lawyer in that case.
Her doctor was owed $3,100 of the $5,000 med pay amount. Rottblatt's attorney wrote a check to the doctor for $3,100. The attorney kept the remainder of the $5,000 med pay ($1,900).
The court said that the $1,900 belonged to the client, and was in excess of the contingency fee allowed by the fee settlement agreement. Thus, the attorney couldn't take a fee on med pay.
However, if the insurer would've denied the med pay benefits, her attorney could've sued for med pay. In that case, if he sued, he would've been able to take a fee on med pay.
If we settle your case and we receive our fees and costs, will you owe any medical bills?
Assuming that we are able to settle your personal injury case, we are entitled to receive our fee from the total settlement.
Our goal is for the remainder of the settlement (after our fees and costs) to pay for all of your out of pocket past medical bills, if any. We also want there to be as much money as possible for you after all of your bills are paid.
In most cases that we've handled, our clients' portion of the settlement was larger than our attorney's fee.
That is good news for clients.
Additionally, we have never had a case where, after we received our fees and costs, and our client received money to pay for all the medical bills, our client was left with out of pocket bills.
Could it happen? Yes, anything is possible.
However, we are selective in the cases we take and do our best in trying to accept cases where we feel that our clients will be happy with the outcome.
Most personal injury settlements with insurance companies are based on historical settlements and verdicts. This means that insurance companies often look at past cases to predict future settlements.
We have withdrawn (stopped representing a client) in a few personal injury cases where the medical bills were likely to eat up the entire settlement.
Can We Estimate The Future Necessary Costs if We're Your Attorney?
We will periodically tell you how much money we've spent on your behalf. We'll usually send you emails with any cost invoices attached.
In the beginning of a claim, there are some estimated future necessary costs that we're usually aware of. They are:
We will only request documents that we believe have a good likelihood of increasing your case value.
You also have the right to decide, after consulting with us, how much money is to be spent to prepare your case.
Can We Give You a List of Itemized Costs from Our Actual Past Cases?
As far as costs for similar cases, every case is different. We've had some cases where the costs were zero. This is because the medical records/itemized bills were free. Further, there were no other costs.
We've had other cases, where our client had surgery, and there were hundreds or thousands of pages of medical records. In some of those cases, we hired an accident reconstruction expert or life care planner. In larger cases, the costs can add up quickly.
Will You Get Less Money Than Us or Your Doctors?
We will do our best in an attempt to put as much money as possible in your pocket. Our goal is for you to get more money in your pocket than we receive as attorney's fees. We want happy clients.
That said, there is a chance that we receive the same amount of attorney's fees as you. This is more likely to happen if you don't have health insurance or the equivalent. It is also more likely to happen if there is limited bodily injury liability (BIL) insurance available.
Attorneys Can't Charge Fees on Medpay Benefits Before a Lawsuit in a Slip and Fall Case
In another case, Pogue was injured in a laundromat, Wash King. The Florida Bar v. Silver, 788 So.2d 958 (Fla.2001). His attorney, Silver, received a check from Nationwide Insurance Company for general liability coverage ("medpay") made payable to the client in the amount of $3,937.58.
The attorney took a fee on the med pay benefits. The court said that the attorney wasn't charged with a violation in connection with his a taking a full contingency fee on the medpay benefits. This implies that charging a fee on med pay isn't allowed. I assume that the attorney didn't sue to get Med pay benefits.
If Nationwide would've denied the med pay benefits, and her attorney would've sued for med pay, then the lawyer would've been able to take a fee on med pay.
Do We Need Your Permission to File a Lawsuit?
Yes. Pursuant to Rules Regulating the Florida Bar Rule 4-1.2(a), a lawyer must have the client's consent to either sue or settle a personal injury case.
The intent of filing a lawsuit is typically so that you will get more money in your pocket than you would get if you accept a current offer, if one exists.
Some possible risks of filing a lawsuit are that you may have to accept a lower offer, or get no offer at all. This is true even if you already have a pending settlement offer.
An attorney cannot file a lawsuit on your behalf without your informed authorization.
If We Lose The Case, Will You Have to Pay Any Charges?
You would have to pay the defense costs if you choose to sue, and take the case to trial, and you lose at trial.
Also, if the defendant makes an offer [of judgment] to you during a lawsuit, and you reject it, and your judgment after trial is least 25% less than that offer, then you'd owe the defendant it's reasonable fees and costs.
The good news?
We can buy insurance which protects you against these fees and costs if the defendant makes a successful offer of judgment against you. Legal Fee Guard offers this insurance in Florida.
Of course, if we buy this insurance, and we settle your case, then we're repaid for this cost. Like all other costs, we are reimbursed after we are paid our attorney's fees.
On the bright side, we've never had a client owe defense fees or costs.
Learn if the defendant can countersue you in a slip, trip and fall, or other accident on someone's property.
Do We Charge for Paralegal Fees?
No. In a contingent fee case, it is improper to charge separately for work that is usually otherwise accomplished by a client's own attorney and incorporated into the standard fee paid to the attorney. This is true even if that cost is paid to a third party provider. Florida Bar Ethics Opinion 07-2.
Therefore, we do not charge for paralegal fees.
That said, if the court awards fees because we beat a proposal for settlement, the court can award us paralegal fees. But that only happens if we sue. And again, we need your consent to sue.
Do We Charge a Fee for Consulting with An Appellate Attorney?
No. Not unless any appellate proceeding is filed or post judgment relief or action is required for recovery on the judgment.
Let me give you an example. Let's say that I am representing you in a car accident claim with GEICO. Or perhaps we are trying to get a Lyft accident settlement.
During the course of the claim, I decide that I want to consult with an attorney who specializes in appeals. However, we are not filing an appeal. In this instance, I cannot charge you for the appellate attorney's cost.
Please do not let a personal injury attorney try to charge you for this excessive cost.
Do We Charge for Phone Calls (Whether Local or Long Distance)?
No. We don't charge for long distance phone calls unless you live in a remote country and we are unable to use Skype, What's App, Google Hangout, or Facebook to speak via video phone.
As an example, assume that you have an Uber accident claim. You hire me as your Uber accident lawyer. In Florida, Progressive insures Uber for car accidents. For the past 14 years, I've handled Progressive car accident claims. During that time, Progressive has used claims adjusters throughout the entire United States. (The same is true with Lyft's claims handler, Travelers Insurance Company.)
You'll be happy to hear:
If we make long distance calls to Progressive (or anyone else), we do not charge costs for these calls.
Why not?
First, I do not like being so petty. Second, I know other accident attorneys who do not charge for long distance calls. Thus, I do not either. On the other hand, I also know that many attorneys charge the cost of making long distance phone calls.
The fact that we do not charge for long distance phone calls is one of the many things that separates me and many other attorneys.
Also, we don't charge for local phone calls.
Do We Charge You a Fee or Cost to Prepare the Closing Statement If We Get a Settlement?
No. An attorney cannot charge a fee or cost for preparing a closing statement in a Florida personal injury case.
Do We Charge You a Fee or Cost for Storing or Disposing Your File at the End of the Case?
No. We don't nickel and dime our clients.
How do you know which attorney costs are excessive in an injury case?
In my opinion, the best way to see if a Florida personal injury lawyer is charging you an excessive fee is to look at this Authority to Represent and Contingency Fee Agreement. That contract is on The Practice Resource Center of The Florida Bar.
Now:
That fee agreement is not the "standard" personal injury contract. But that is only because there is no "standard" fee contract. However, if there was a standard fee contract, that is likely what it would look like.
You can breathe a sigh of relief:
My fee contract is very to that fee contract. I do have an additional sentence that says that my representation for the personal injury or wrongful death case does not include other claims like probate, workers' compensation and guardianship. I added that sentence to make it clear that I am only handling the personal injury case.
Hiring a probate lawyer is only necessary if your family member was killed in the accident. Also, in a child injury case, a minor guardianship may need to get set up if the settlement is above a certain amount.
Can an Attorney Pay for You Taking an Uber, Lyft or Taxi to Your Medical Appointments?
No. In Florida, attorneys are not ethically allowed to pay for your transportation to your medical appointments with your treating physicians. Rules Regulating the Florida 4-1.8(e). See also Attorney Griev. of Comm'n Maryland v. Kandel, 563 A. 2d 387 – Md: Court of Appeals 1989.
Why not?
Because it is considered financial assistance. Basically, an attorney can't give you money as an advance.
That said, some doctors' offices will arrange to have you picked up at your home, and dropped off after the medical treatment. I know some medical groups in Florida that do this. One of the advantages of hiring a lawyer is that they can tell you which doctors are good and fair to accident victims. Rest assured, I can.
Remember:
Treating with excellent doctors is an important part of your personal injury case. Ultimately, the doctor will either say that your injury is (or is not) related to the accident. And, if true, you usually want the doctor to relate your injury to the accident.
How long does a personal injury case take to settle?
The time that it takes to settle depends on several factors. However, let's assume that liability is clear. (It is not always.) We generally do not settle until we have received all of your medical bills, records and the health plan lien amount. Additionally, we usually need your doctor to say that you are as good as you are going to get. (If you tell us that you do not want further medical treatment, that is OK is as well.)
At that point, we are in a position to try to settle. From there, it depends on the responsiveness of the insurance company. Additionally, it depends on how quick the adjuster is at responding. Some adjusters will make a counter offer the same day that we make a counter demand. Others can take a week or longer to make a counter-offer.
Florida injury lawyers usually charge 33 1/3% to settle a case. Realtor's only charge 3%. Why is that?
These are two totally different industries. As of January 31, 2018, the average sales price for homes in Florida was $217,300. 3% of that amount $6,519.00.
An attorney from one of the largest injury law firms in Florida said that his average attorney's fee is $5,000. Since most cases settle before a lawsuit, attorneys usually get 33 1/3% of the total settlement. Thus, this implies that his firm's average injury settlement is about $15,000.
This is for a settlement without a lawsuit. Therefore, in reality, Florida attorneys' fees and realtors commissions are quite similar.
Some personal injury cases don't settle. They go to trial. If the injured person loses at trial, he or she gets nothing. In that instance, the injured person's attorney doesn't get paid.
Other personal injury cases settle for much more. One example is my above motorcycle accident case that settled for $445,000.
Also, a Florida lawyer goes to college and law school for a total of seven (7) years. Then they have to take the bar exam.
A person can become a Florida realtor without any college. One can become a realtor in weeks or months. Their exam is much easier.
Injured in Florida, or on a cruise?
Check out some of the many Florida injury cases that we have settled, including but not limited to car accidents, truck accidents, slip or trip and falls, motorcycle accidents, drunk driving (DUI) accidents, pedestrian accidents, taxi accidents, bicycle accidents, store or supermarket accidents, cruise ship accidents, dog bites, wrongful death and much more.
We want to represent you!
Our Miami law firm represents people anywhere in Florida if someone's carelessness caused their injuries in car accidents, truck accidents, slip, trip and falls, motorcycle accidents, bike accidents, drunk driving crashes, pedestrian accidents, cruise ship or boat accidents, store or supermarket accidents, wrongful death, accidents at an apartment complex, condo building or home, and many other types of accidents.
We want to represent you if you were hurt in an accident in Florida, on a cruise ship or boat. If you live in Florida but were injured in another state we may also be able to represent you.
Call Us Now!
Call us now at (888) 594-3577 to find out for FREE if we can represent you. We answer calls 24 hours a day, 7 days a week, 365 days a year.
No Fees or Costs if We Do Not Get You Money

We speak Spanish. We invite you to learn more about us.