This is the ultimate guide to getting a big and fast settlement with Allstate in 2022 (and beyond).
We'll cover:
How long Allstate takes to settle claims
Examples of many Allstate car accident settlements
and much more
So if you want to make sure that you get the best possible accident payout from Allstate, you should get a lot of value from today's guide.
I have settled many personal injury claims with Allstate. Here, I am going to share with you what I've learned in the past 16 years.
I have also settled many Allstate uninsured motorist ("UM") injury claims. My clients were injured in an accident in Florida by someone insured with Allstate.
Other settlements were with Allstate uninsured motorist coverage.
How is Allstate at paying personal injury claims?
Allstate has funny ads. However, Allstate's reputation is below average in paying BI liability claims.
Allstate would rather pay its attorneys to defend a claim that to offer fair value to the claimant. You may be able to get money for pain and suffering if you were injured in a car accident in Florida.
When Allstate calculates the full value of an injury case, they typically will assign less money to the pain and suffering component of your claim than other insurers such as Liberty Mutual and Geico.
Alltate Pays Out $100K of $300K Car Accident Settlement
Ryan was driving a rental car in Clearwater, Pinellas County, Florida. He was in Florida for business purposes. Another driver crashed into Ryan's car. Above, you can see the damage to Ryan's rental car.
Below, you can see the damage to the other driver's car:
At the hospital, someone took a photo Ryan. Check it out:
Here is another image that focuses more on the equipment that was used to monitor his vitals:
He had a broken leg (tibial plateau).
While in the hospital, Ryan searched for car accident lawyers.
He found our website and decided to get a free consultation with me.
After we spoke, he hired me. At the hospital, doctors performed surgery on his leg.
In particular, they put a plate and screws into his leg.
After surgery, the doctor put a cast on his leg.
When he left the hospital, he could not walk. He was wheeled out of the hospital.
Allstate insured the careless driver's car. They were listed on the driver exchange of information and the crash report.
I quickly sent Allstate a request to disclose certain insurance information.
They responded with the following insurance disclosure: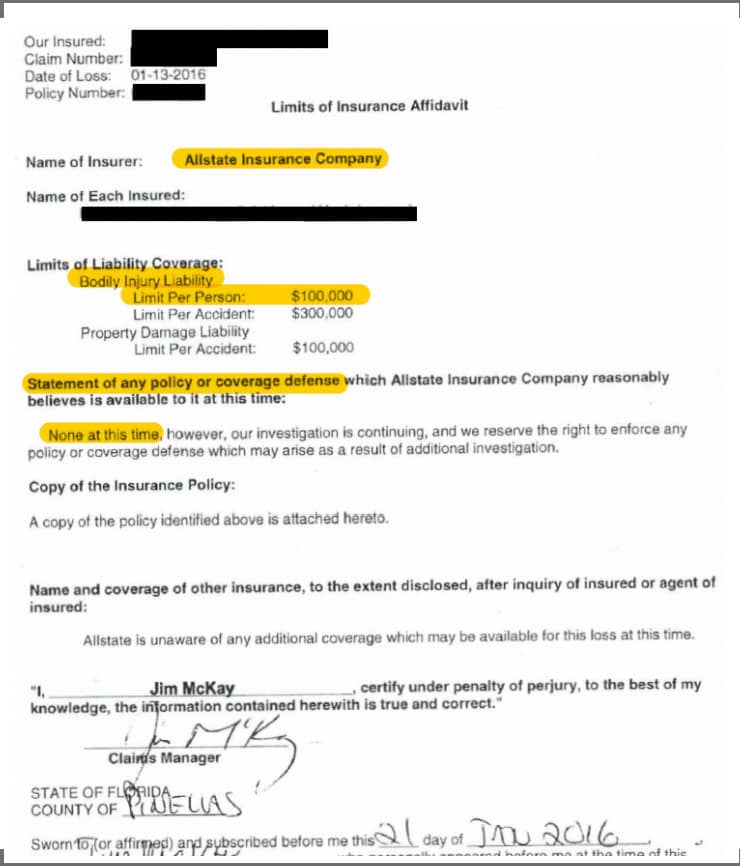 As you can see, the other driver only $100,000 in bodily injury liability (BIL) coverage.
How long does Allstate take to settle a claim?
Within 8 days of the car accident, Allstate sent me a check for the $100,000 BIL limits.
However, I did not want to deposit it. Since my client had Georgia uninsured motorist insurance, we needed to keep the at fault driver in the case.
In order for Ryan to go to orthopedic visits and physical therapy, a medical transport van would come to his home. There, someone would load him into a van while he was in a wheelchair.
Ultimately, Ryan made a good recovery.
I settled with Allstate for the $100,000 BIL limits.
Travelers was his uninsured motorist insurer.
They paid me $200,000 to settle.
Here is the Travelers Insurance settlement check:
In total, the car accident injury settlement amount was $300,000.
When the insurance companies made the combined $300,000 offer, I estimate that about 97% of the settlement was for pain and suffering:
After my attorneys fees, costs, and paying the workers' compensation lien and medical bills, Ryan got $187,371 in his pocket.
This chart shows the breakdown: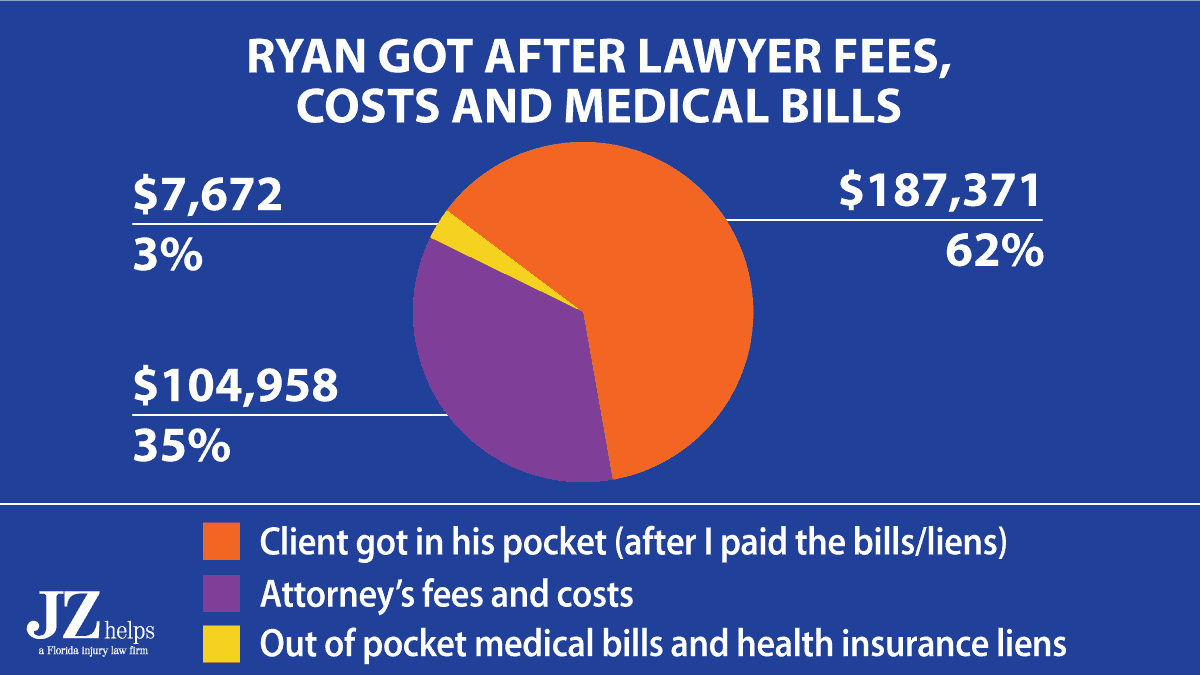 Basically, the $300,000 settlement was 39 times the final out of pocket medical bills and workers' compensation lien.
In other words, the pain and suffering multiplier was 39.
Allstate Pays $100K of $150K Settlement for Back Surgery from Car Crash
A passenger had a back (lumbar) fusion after being hit by another car in Miami, Florida. He was diagnosed with a herniated disc.
The car that received a ticket was insured by Progressive. The car that my client was in had underinsured motorist coverage (UIM) through Allstate Insurance Company.
Many factors affect the settlement value of a claim, and in this case the limited insurance was one. We accepted Allstate's $100,000 UIM insurance limits, and Progressive's $50,000 BI liability insurance limits.
$75K Accident Settlement ($50K Allstate Payout)
As the result of a car accident, the injured female driver had arthroscopic knee surgery and epidural injections to her lower back.
Progressive insured the at fault driver. It paid $50,000 under the bodily injury liability (BIL) coverage, and $25,000 was paid under the underinsured motorist coverage on the car owner's auto insurance policy (Allstate).
$37,500 Car Accident Settlement (Allstate Pays Out $10K)
See a case where State Farm, Allstate and a car owner paid a passenger $37,500 for a broken wrist (distal radius fracture) with surgery.
My actual case: $17,500 Settlement. My client was in a car in Miami Beach, Florida. Another car crashed into her.
The other driver was suspected of drug/alcohol use. The Allstate uninsured motorist (UM) claim adjuster was Marcia Mcnish.
Progressive insured the other driver. They paid their $10,000 BI limits. We made a UM claim against Allstate.
Allstate settled for $7,500.
My actual case: $14,300 Settlement. A car crashed into my client's car in Venice, Florida. An ambulance took her to the hospital. My client went to a chiropractor.
The airbag also burned her hands. She was not left with any scars.
AIG insured the careless driver. AIG paid $10,000 to settle. Allstate was her underinsured motorist insurer. Allstate paid $4,300 to settle the case.
The total case settled for $14,300.
My actual case: $12,500 Settlement (Gross) for a woman who was rear ended by another car in Hallandale, Broward County, Florida. We received the policy limits of $10,000 from Allstate and $2,500 from her underinsured motorist carrier, State Farm.
She had neck and back injuries.
$10K Allstate Car Accident Payout (Car Ran Over Pedestrian's Foot)
Allstate paid $10,000 after a driver ran over a pedestrian's foot. He claimed a soft tissue foot and ankle injury.
The accident happened in Miami Beach, Florida. I represented the pedestrian.
$10K Allstate Car Accident Settlement
In January 2015, Jackson was driving a car in Miami Beach, Florida. Another car crashed into the back of Jackson's car. There was little to no damage to Jackson's car.
His doctor diagnosed him with a knee injury (meniscus tear). He had arthroscopic surgery, in his native country, to fix it.
Infinity Auto Insurance insured my client with PIP.
We had his Portuguese medical records translated by a discount translator. We try hard to keep costs down. One of the 11 benefits of hiring an injury lawyer is that we can pay for costs in advance.
We settled this case in July 2015.
My actual case: $10,000 Settlement (Gross) for a man who had surgery to his lower leg (tibia) after he was hit by a car – insured by Allstate – while he was riding a motorcycle in North Miami, Florida.
$441,000 Verdict for Herniated Disc and Erectile Dysfunction
This isn't my case. In Allstate Ins. Co. v. Marotta, 125 So.3d 956 (Fla. 4th DCA 2013) a 59-year-old man was hit head on by an uninsured motorist.
The crash occurred in Boca Raton, Palm Beach County, Florida.
The injured man was a salon owner. He claimed that the crash caused:
herniated discs at C6-C7 and L4-L5
a spinal cord contusion (bruise)
erectile dysfunction
He sued the uninsured motorist and Allstate, which was his uninsured motorist insurance carrier. His wife sued for loss of consortium.
After trial, the jury awarded him $441,000. The jury found that he had incurred $37,000 in past medical expenses and would incur $194,000 in future medical expenses.
The jury also found that Marotta had sustained a permanent injury and awarded $40,000 and $170,000 in past and future noneconomic damages*, respectively. Non-economic damages refers to pain, suffering, mental anguish and loss of enjoyment of life.
The jury did not award damages for loss of consortium.
The injured claimant's uninsured motorist policy limits were $100,000. He did not make a claim for lost wages or loss of earning capacity.
After the trial, Allstate asked for a motion for a new trial. The court denied Allstate's request. Allstate appealed the court's ruling. The appellate court ruled that Allstate should get a new trial.
The injured man asked the court to let him add a bad faith lawsuit. Allstate asked the court to limit the judgment to the policy limits.
I do not know the whether the court allowed the man to add a bad faith lawsuit. The appellate court ruled that the injured man's costs should be in addition to the policy limits if he prevails during the next trial.
Allstate Pays $2 Million of a $2.1 Million Settlement After a Drunk Driver Who Hit and Killed a Pedestrian
This isn't my case. On May 12, 2011, Guadalupe Carrizales was crossing Judge Winikoff Road near State Road 7 west of Boca Raton, Palm Beach County, Florida. She was taking a morning walk.
A 19 year-old drunk driver struck her.
He allegedly left the accident scene without helping the pedestrian. The pedestrian died. She was survived by four (4) adult children.
GEICO insured the driver.
On May 27, the pedestrian's son, Manuel, as personal representative of the estate, sued the driver and the owner of the car.
In Florida, the a car owner is responsible up to $100,000 (in most cases) for injury for the at-fault driver's carelessness.
In addition, he sued the owner under the theory that he shouldn't have let Falzini drive, since he was allegedly drunk.
The adult children claimed that the defendant driver was driving fast and hit their mother. She was allegedly struck by the speeding Infiniti G35 car with such force that she was dismembered.
The driver allegedly left the scene.
The driver was allegedly found at his home, which was many miles from where the accident happened.
The personal representative (PR) claimed that there was proof that the owner of the car was with the driver before the crash and the owner knew that the driver was drunk before he gave him permission to driver his car.
Toxicology reports allegedly showed that the driver's blood alcohol level was above the legal amount.
The Driver Insured By Allstate Only Had Huge Insurance Policy
GEICO insured the driver with $10,000 in bodily injury liability (BIL) insurance. Allstate insured the car owner with $100,000 in BIL insurance, and a $2 million umbrella insurance policy.
Allstate initially denied coverage on the umbrella policy. That means that they didn't offer any money from the umbrella coverage.
However, Allstate and GEICO paid the full amount of the policies to settle.
The total settlement against the driver and the car owner was for $2,110,000.
Every wrongful death accident is tragic. No amount of money will compensate the adult children for the loss of their mother. However, the adult children were fortunate that the car owner had such a big insurance policy. Most individuals in Florida do not carry anywhere close to $2.1 million in liability coverage.
The date of the settlement against the driver who caused the accident was on was 8/5/11. The settlement with the car owner was around that time. Allstate and GEICO allegedly paid on the day the settlement was reached.
They settled before trial. The personal representative continued the lawsuit against the hotel and bar for allegedly serving the minor driver.
I am not sure how much the medical bills. I assume that they were very minimal (a few hundred dollars at most for the ambulance bill) as the mother died at the accident scene.
The case is Manuel Carrizales, as Personal Representative of the Estate of Guadalupe Carrizales v Ronald Falzini and David Hanzelik, 2K Clevelander d/b/a The Clevelander, and Miller's Alehouse, Inc. d/b/a Boca Alehouse. Case No. 502011 CA 007910 XXXXMB.
Drunk Driving Accident Cases are Worth More
Cases where a drunk driver causes an accident are generally worth more than if the driver was sober (not drunk) and just careless.
This is because the adult children can sue the drunk driver for punitive damages. Punitive damages are in addition to compensation for medical bills, and pain and suffering.
I don't know if the woman was crossing the street in a crosswalk. If she was in a crosswalk, then a jury would likely place little, if any, fault on her. On the other hand, if she was walking across the road and not in a crosswalk, she would probably be partially at fault.
What if the pedestrian was partially at fault?
In that instance, the insurance company for the owner of the car and drunk driver would reduce the value of the wrongful death claim by their mother's percentage of fault.
This verdict shows that an insurance companies may pay $527,750 or more for an adult child's claim for mental pain and suffering.
If a Court Gives You Money for Future Medical Bills, Does Allstate Owe You Money for Pain and Suffering?
Not always. In Allstate Ins. Co. v. Manasse, 707 So.2d 1110 (Fla.1998), Myrda Manasse was injured in an automobile accident with an uninsured driver.
She sued Allstate Insurance Company, her uninsured motorist insurer, for compensation.
Manasse presented one witness, her chiropractor, to testify as to the necessity of future medical care. He recommended continuing conservative therapy.
The jury awarded money to cover three to four visits per year at her chiropractor's rate. Allstate presented evidence disputing that:
Manasse sustained a permanent injury;
Would need future chiropractic care;
her condition would necessarily cause pain.
Allstate's evidence further suggested that any continued complaints of pain could be for reasons unrelated to the August 1992 accident, such as Manasse's excessive weight, strenuous sporting and weightlifting activities, or a subsequent accident.
The jury found that Manasse suffered a permanent injury. They awarded her $10,000 over a forty-year period for future medical expenses, $2,000 for past pain and suffering, and zero for future pain and suffering.
The court said that it was OK that the jury didn't award money for pain and suffering, even though they awarded money for future medical bills.
It Can Be Tough to Get Money for Future Pain and Suffering
One of the judges said that:
Future damages are less certain than past damages. A jury knows for a fact that a plaintiff has incurred past medical expenses, and, when it finds those expenses to have been caused by the accident, there is generally something wrong when it awards nothing for past pain and suffering. The need for future medical expenses is often in dispute, however, as it was here. It does not necessarily therefore follow… that an award of future medical expenses requires an award for pain and suffering.
What do Allstate Underinsured Motorist (UIM) Insurance Claim Adjuster Evaluation Review Comments Look Like?
If your making a personal injury claim with Allstate, the claim adjuster will write up "Evaluation Review Comments" in his/her file. These are notes about the value of your case.
Although not from my case, here is what one Allstate UIM insurance claim adjuster's evaluation review comments in a UIM insurance claim look like:
From looking at the comments above, you can see what Allstate felt was important in that case. Those notes are from the case of Wiggins v. Allstate Property and Casualty Ins. Co 94 F. Supp. 3d 1276 – Dist. Court, SD Florida 2015.
Does Allstate Have to Pay You for Your Injuries if Allstate's Insured Doesn't Have BI liability Insurance?
Maybe. In Allstate Indemnity Co. v. Oser, 893 So.2d 675 (Fla. 1st DCA 2005), Allstate insured Sabrina Patterson, with $25,000 in property damage liability insurance. (This isn't my case.)
Patterson's auto policy with Allstate didn't have any BIL insurance.
On October 7, 1999, Duane Patterson was driving Sabrina's car. Duane crashed into a vehicle being driven by Timothy Oser.
Oser was badly hurt. He claimed that Patterson's negligence caused the crash.
Since Sabrina owned the car, she was liable for Duane's carelessness from this accident in Florida.
Oser's attorney offered to settle with Allstate for an amount equal to Patterson's property-damage limits. Allstate rejected the offer.
Oser sued Patterson on June 2, 2000, in Alachua County, Florida, for bodily injury and property damage.
His lawsuit against Patterson for BIL resulted in a final judgment against Patterson for $1,502,584.60.
Oser and Patterson then sued Allstate, claiming that Allstate acted in bad faith by failing to settle all of Oser's claims when it could have and should have done so.
Allstate asked the court to dismiss the case, arguing that it can't be liable for personal injuries since Patterson's auto insurance policy didn't have BIL coverage.
The appeals court disagreed with Allstate. It let the case continue to trial.
Patterson later filed a satisfaction of judgment with the court, so I am assuming that Allstate paid Oser to settle case.
The bad faith case against Allstate is Case No. 01-03-CA-2541.
In Florida, does Allstate insure private passenger autos with
No-Fault (PIP)

?

In Florida, Allstate does business under a few different names. Private Passenger auto are basically personal vehicles not routinely used for business.

Yes. In Florida, the 2014 FLOIR Annual Report listed the following:

Allstate Fire and Casualty Insurance Company as the sixth largest private passenger auto No-Fault insurer. They had:
written premiums as $117,186,875
market share as 3.4%
Allstate Insurance Company as the thirteenth largest private passenger auto No-Fault insurer. They had:
written premiums as $72,609,557
market share as 2.1%
Is Allstate a big Florida private passenger auto
liability

insurer?

Yes. The 2014 FLOIR Annual Report lists Allstate was a Top 5 Carrier for Florida private passenger auto liability insurance. Private passenger auto is basically a personal car or van.

Allstate writes auto liability insurance for at least 10.7% of Florida private passenger cars. For private passenger auto liability insurance in Florida, Allstate operates under a few names.

They are listed below. Written premium and market share are in parenthesis.
Allstate Fire and Casualty Insurance Company ($395,592,790; 5.4%)
Allstate Insurance Company ($244,342,493; 3.4%)
Allstate Property & Casualty Insurance Company ($138,077,521; 1.9%)
Source: Florida Office of Insurance Regulation's 2014 annual report. Made available in January 2015.
Allstate's major competitors who handle private passenger BI liability accidents are:
Those companies (or affiliated companies) are the Top 15 Carriers for Florida private passenger auto liability insurance.
Does Allstate insure business automobiles with No-Fault (PIP) in Florida?
Yes. The 2014 FLOIR Annual Report lists Allstate Insurance Company as Florida's second largest commercial auto no-fault insurer. No-Fault is Personal Injury Protection.
"Commercial" basically means "business". For Commercial Auto No-Fault, Allstate Insurance Company's:
written premiums were $7,720,420.
9.0% market share
In Florida, does Allstate Insure
Businesses for Auto Injury Liability

Insurance?

Yes. The 2014 FLOIR Annual Report lists Allstate Insurance Company as the fourth largest business auto liability insurer in Florida. It wrote premiums of $28,724,304.

It had 2.2% market share. If a business vehicle (insured by Allstate) caused your injury, the claim is very similar to a personal BI injury claim.

The other top 15 large business auto BI liability insurers in Florida are:
Auto-Owners Insurance Company (#2)
Westfield Insurance Company (#3)
Owners Insurance Company (#5)
Empire Fire and Marine Insurance Company
Philadelphia Indemnity Insurance Company (We had a $100,000 Settlement. Global Settlement for $325,000.)
Amerisure Insurance Company
Ascendant Commercial Insurance (We had a $25,000 Settlement.)
National Trust Insurance Company
National Indemnity Company of the South
FCCI Commercial Insurance Company
Allstate Life Insurance in Florida
Allstate is one of the largest Florida life insurers.
Consumer Complaints against Allstate in Florida
Allstate has a duty to act reasonably towards its insureds. Sometimes, they may act unreasonably such as by making an unfair settlement offer.
In Florida, an Allstate insured may submit a consumer complaint to the Department of Insurance if Allstate is acting unfairly. Allstate will be required to send the Department a written response within twenty (20) days.
Allstate Indemnity Company had a consumer complaint index of 0.22, which is a great sign for consumers. Proportionately less consumer complaints were filed against Allstate Indemnity Company than other Florida private passenger auto insurers.
Incredibly, there were no consumer complaints made against Allstate's three (3) larger private passenger auto insurance companies:
Allstate Fire and Casualty Insurance Company
Allstate Insurance Company
Allstate Property & Casualty Insurance Company
Allstate should be proud of this.
Which attorneys does Allstate use to defend its insureds and itself in Florida injury cases?
Allstate uses many Florida defense attorneys. Some of them are:
Jacqueline G. Emanuel of Knoerr & Emanuel, P.A., Fort Lauderdale. (Used as recent as 2013 in the case of Allstate Insurance Company v. Marotta).
Allstate Group Voluntary Benefits Coverage
Allstate Benefits offers Walmart employees voluntary Accident benefits. Allstate Benefits (AB) group voluntary accident coverage provides cash benefits for out-of-pocket expenses associated with an accidental injury.
It can help the victim should an off -the-job accidental injury occur.
Over 86 Important factors May affect Allstate Claim Compensation in Florida
Dealing with Allstate is just one of the 86 important factors may affect the settlement value of a Florida injury case. Most people only know a couple of these factors.
Did someone's carelessness cause your injury in a Florida car crash or other type of accident?
See Our Settlements
Check out some of the many Florida injury cases that we have settled, including but not limited to car accidents, truck accidents, motorcycle accidents, bike accidents, pedestrian accidents, taxi accidents, drunk driving (DUI) accidents and much more.
We want to represent you!
Our Miami law firm represents people injured anywhere in Florida in car accidents, truck accidents, motorcycle accidents, bike accidents, drunk driving crashes, pedestrian accidents, taxi accidents, accidents involving an Uber or Lyft Driver, and many other types of accidents.
We want to represent you if you were injured in an accident in Florida. If you live in Florida but were injured in another state we may also be able to represent you.
Call Us Now!
Call us now at (888) 594-3577 to find out for FREE if we can represent you. We answer calls 24 hours a day, 7 days a week, 365 days a year.
No Fees or Costs if We Do Not Get You Money

We speak Spanish. We invite you to learn more about us.