You might be wondering:
Should you hire a Miami motorcycle accident lawyer for your Florida accident?
If you're injured, the answer is yes.  We want to represent you in your injury claim.
During his 14 year career, Miami motorcycle accident attorney Justin "JZ" Ziegler has fought for and settled cases for many Florida motorcycle riders.
We'll fight to:
Get You Money for Pain and Suffering
Look:
Most people don't how much pain and suffering is worth in a motorcycle accident case.  There isn't a calculator that you can use to get the answer.
I can't emphasize this enough.
You need years of experience handling these claims to know what is fair.
We want to get you money for pain and suffering for your motorcycle accident related injuries.  You're entitled to compensation for pain and suffering so long as someone's negligence caused your injury.
Whether or not you get money for pain and suffering may depend on many factors such as the extent of your injuries and many other issues.
Unless you're an insurance adjuster or personal injury lawyer, you likely won't have any idea of how much the typical pain and suffering award is in a motorcycle accident.
This is where we come in.  Justin "JZ" Ziegler is our Miami motorcycle accident attorney.  JZ keeps track of our average motorcycle accident settlements for particular injuries.
We also keep current with Florida jury verdicts and other attorney's payouts for motorcycle accidents.
This helps us stay on top of how much juries are awarding for pain and suffering.  Attorney JZ constantly talks with other Florida lawyers to see how much insurance companies are paying for pain and suffering for particular injuries from motorcycle accidents.
We have settled many Florida motorcycle crash cases over the past 14 years where we got our client's compensation for their pain and suffering.
Attorney JZ Settles Miami Motorcycle Accident Case for $445,000
A motorcycle rider was riding a motorcycle heading Southbound on Northwest 35 Ave.  This is near Hialeah and Miami Springs in Dade County, Florida.
A tractor trailer (18 wheeler) was heading in the opposite direction (Northbound).  The tractor trailer made a left hand turn and hit the motorcycle rider.
The rider broke the top of his lower leg bone (tibial plateau).  He also had a finger fracture.
An ambulance took him to the hospital.  There, he had surgery to fix his broken leg and finger.
He called us from his room in Hialeah Hospital.  Within a couple of hours, Miami motorcycle accident lawyer was in his hospital room.
It gave him a sense of ease and comfort that he now had an attorney fighting for his rights.  Pursuant to Florida Statute 627.4137, we sent a letter to the truck driver's insurance company to see how much the insurance limits were.
Fortunately, the truck had plenty of insurance.
But here's the kicker.
The truck driver's insurance adjuster told Miami motorcycle accident lawyer JZ that he had only set aside $100,000 to pay for the personal injuries.
This is crazy given the rider's injury.  JZ told him that he had needed to quickly increase the claim reserve.
It gets better.
When the rider was done with his medical treatment, we settled his case for $445,000.
That's not all.  We were able to greatly reduce his hospital bill and some of his other bills.
Why does hiring a motorcycle accident lawyer matter?
The doctor who performed surgery on the rider's knee told attorney JZ that he didn't think he had a permanent injury.
Attorney JZ recommended that the client see another orthopedic doctor.  JZ met with this doctor in his office to discuss the motorcycle rider's injuries.
This other orthopedic doctor wrote a strong report that talked about the rider's injuries.  We sent this report to the truck driver's insurance company, Chartis.  (Chartis is now AIG.)
What's the bottom line?
The report and attorney JZ's involvement helped get the $445,000 settlement.
Hire a Motorcycle Accident Lawyer Whose Settled Cases With the Big Auto Insurance Companies
I suggest hiring a motorcycle accident lawyer who has settled many cases with Florida's biggest car insurance companies.  Ask any lawyer who you're considering hiring if they've settled motorcycle accident cases with Florida's big 4 auto insurers.
As you can see from the Florida Office of Insurance Regulation's 2016 Annual report, the big four auto insurers in Florida are State Farm, GEICO, Progressive and Allstate.
An experienced motorcycle accident attorney should be able to tell you about their settlements with those insurers.  This is true whether you're hiring a Miami motorcycle accident lawyer, or an attorney whose office is in another part of Florida.
We've settled motorcycle accident cases with the Big 4 car insurers and many others.  This includes motorcycle accident settlements with State Farm, GEICO, Progressive,  Crawford and Company (now Broadspire), Allstate, Travelers, Chartis (now AIG), United Auto, Ascendant Insurance and others.
Get Your Motorcycle Fixed.*
We will fight to get the proper auto insurance company to quickly fix your motorcycle after a Florida crash.  We know which insurance company should pay for the damage.
Note: We only help you get your motorcycle fixed if you also are injured.
We'll Fight to Get Your Medical Bills Paid
If there is medical payments (Medpay) coverage on the motorcycle that you were riding at the time of the crash, then we will make a claim with the medical payments insurance company to pay your medical bills.  We will request and review all of your medical bills and send them to the Medpay insurer.
We will request your medical records and bills from your medical providers.  These include the ambulance company, the hospital, the emergency room doctors, emergency room radiologists, emergency room pathologists and surgeons.
We have the proper authorizations which these medical providers require to release these records to you or to us.  Let us do it for you.
The records can be costly.  We will advance the cost.  You only pay us attorney's fees or costs if we get you money. There are no upfront fees or costs.
We will send the proper letter to the Medpay insurer which requires them to let us know if they are seeking subrogation (to be repaid) from the injury settlement.  If the Medpay insurer does not respond within the proper time limit, we'll argue that you don't owe them money from the settlement.
On the other hand, if you have to pay back the Medpay insurer, will attempt to negotiate a fair settlement.
If you were a member of a health plan, had health insurance coverage, Medicare or Medicaid, we will request the health insurer's lien and documentation that they are required to give us pursuant to Florida or Federal law.
We will fight to negotiate any amounts to which they are seeking reimbursement from the injury settlement against the party who caused your accident.
With an Attorney, You Have to Pay Back Medicare Less Money
The good news is that Medicare covers motorcycle accidents.  The bad news is that you have to pay Medicare back for any motorcycle accident related bills that they pay.   This is known as Medicare's lien.
Why does hiring us matter? If you hire us, Medicare must reduce its lien by your pro-rata share our attorney's fees or costs.
The same is true for private health insurance (and insurance through your employer if it isn't self-funded).  This can be a huge benefit of hiring an attorney.
We will make a claim with the responsible parties' liability insurance coverage to get your medical bills paid.  We will request and review all of your medical bills and send them to the liable party's insurer.  If the available liability coverage is not limited, then we will submit a demand package to the insurer.
We have settled many cases with for people injured on motorcycles where the insurance company paid for some, or all, of our clients' medical bills.
Get You Money for Not Being Able to Work
We have the proper forms to prove to the insurance company that you are entitled to money that you lost because of a Florida motorcycle wreck.  We will quickly send your lost wage documentation to the proper insurance companies.
Get You a Rental Vehicle*
We will make a claim with the proper insurance company to get you a rental car while your motorcycle is in the shop.
*Note: We only help you get your motorcycle fixed if you also are injured due to someone else's carelessness.
Get You Medical Treatment
Many people who are injured in a Florida motorcycle accident are unsure how to find a doctor who will treat them. It is important to treat with a doctor who is willing to speak with us about your injury.
We will let you know if a doctor who you have selected or want to see has a reputation for being willing to testify for people injured in motorcycle accidents.  We'll let you know if you have chosen to treat with a doctor who is routinely hired as an expert witness by Florida auto insurance companies.
We created an awesome online map of Florida doctors who we recommend for motorcycle accident cases.
Get You Money for Household Expenses that You Cannot Perform
We will make a claim and submit all the proper documents to the careless driver's insurer.  This documents your damages so that you can maximize your chance of getting paid for all expenses for ordinary and necessary household tasks that you cannot perform as a result of the motorcycle crash.
The tasks include doing the dishes, cooking meals, cleaning the home, cleaning the pool, and landscaping.
Get You Paid for Your Trips to Doctor Appointments
We will make a claim and provide supporting documentation to the with the careless party's auto insurer in an attempt to get you paid for the miles that you accrue driving to and from medical appointments, and the pharmacy.
Gas is not cheap.  We want to get you money for every dime that you spend as a result of the auto accident.
We've Had Herniated Disc Injury Settlements from Motorcycle Accidents
If you're claiming neck or back pain, you may have a herniated disc.  We've settled herniated disc injury cases for motorcycle riders.
In one case, Miami motorcycle accident lawyer JZ got a $100,000 settlement for a rider who claimed that the crash caused or aggravated his herniated disc.  GEICO insured the driver who hit our client while he was on a motorcycle.
However, GEICO didn't exactly roll over and pay the $100K without a fight.
Here is the actual herniated disc in his lower back.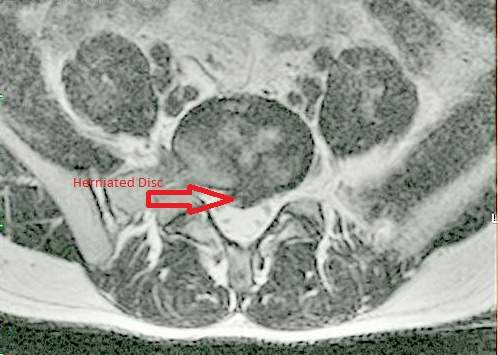 GEICO's initially offered $4,500 to settle the motorcyclist's personal injury case.
Thereafter, attorney JZ reviewed the MRI with an independent orthopedic doctor (retired surgeon).  He confirmed what the motorcycle rider's treating orthopedic doctor and radiologist said.  Specifically, that our client had a L5-S1 disk herniation indenting the thecal sac.
We sent the MRI image of the herniated disc to GEICO.  On the image, you can see above, we pointed out where the herniated disc was.
However, insurance companies have big bucks to fight your claim.  GEICO hired the medical director of neuroradiology and MRI at Baptist Hospital, Kevin Abrams, MD to read the MRI.  The good news for the injured motorcycle rider was that Dr. Abrams agreed with the treating doctor.
GEICO's doctor said that the MRI of his lower back showed:
Disc desiccation at L5-S1….and a moderate-sized central/right paramedian disk herniation indenting ventral thecal sac. There was no central canal stenosis. There is no neural foraminal stenosis.
GEICO's doctor also found a possible knee (meniscus) tear on the MRI of our client's knee.  Our client didn't have health insurance.  We paid for a one time IME with a urologist who diagnosed him with erectile dysfunction.
As I mentioned earlier, GEICO paid $100,000 to settle the case.
If appropriate, we will also:
Get witness statement or affidavits.
A witness can have a huge effect on the amount of money that you may be able to get if someone's carelessness caused your injury while you were on a motorcycle.
You can concentrate on healing while we meet and interview witnesses, and prepare witness affidavits.  We do this in an effort to get you as much money as possible for your injuries.
Since motorcycle accidents often result in serious injury, this is all the more need to quickly gather witness statements.  We have prepared many witness affidavits and spoken with many witnesses in Florida accident cases.
When liability is in question or contested, a solid witness statements can resulted in us getting our clients more money in their case.
Do you know how to, and are you willing to, contact witnesses and properly draft a witness affidavit in a motorcycle wreck case?
Hiring an Accident Reconstruction Expert May Increase Value
A truck hit our client, a motorcyclist, in Hialeah, Florida and it fractured his lower leg.
He called us and attorney, Justin Ziegler, met our prospective client at Hialeah Hospital within a couple of hours of the initial phone call. He hired us to represent him in his personal injury claim against the truck driver and company.
Shortly thereafter, we spent $2,500 to hire an accident reconstruction expert to document the crash scene, inspect the truck and download the truck's event data recorder.
We did this so that we were prepared if the case went to trial.  Within months after the crash, we settled that case for $445,000.
Are you willing to spend $2,500 or more on an accident reconstruction expert to prove your case?  In the right case, Miami motorcycle accident lawyer Justin Ziegler is.
Did someone cause your motorcycle accident in a Florida?  Were you hurt in another type of accident?
See Our Settlements
We are a Miami motorcycle accident law firm.  Check out some of the many Florida injury cases that we have settled, including but not limited to car accidents, truck accidents, motorcycle accidents, bike accidents, pedestrian accidents, taxi accidents,  drunk driving (DUI) accidents and much more.
We want to represent you!
Our Miami law firm represents people injured anywhere in Florida in car accidents, truck accidents, slip, trip and falls, motorcycle accidents, bike accidents, drunk driving crashes, pedestrian accidents, taxi accidents, accidents involving an Uber or Lyft Driver, and many other types of accidents.
We want to represent you if you were injured in an accident in Florida, on a cruise ship or boat. If you live in Florida but were injured in another state we may also be able to represent you.
Call Us Now!
Call us now at (888) 594-3577 to find out for FREE if we can represent you. We answer calls 24 hours a day, 7 days a week, 365 days a year. 
No Fees or Costs if We Do Not Get You Money

We speak Spanish. We invite you to learn more about us.