Settlement: $445,000
Case type: Personal Injury, Motorcycle Rider Hit by Tractor Trailer (18 wheeler tractor-trailer)
State/County: Florida/Miami-Dade/Hialeah
Watch this video about this settlement:
Settlement Date: 10/25/11
Update 8/8/2018: This settlement is from the late 2011.  However, I'll also talk about what would happen if the same accident happened today.
Claimant's Atty: Justin Ziegler
Insurer for 18 Wheeler /Liability Claims Adjuster/Defendant's Atty:
Chartis Insurance/Adjuster Tim Hightower/ Attorney Don Mates had little involvement with the case.  Chartis is now AIG.
Claimant's Expert: Rick Swope (Accident Reconstruction)
Parties:
The motorcyclist was 33-year-old male, unemployed at time of accident. Prior to date of accident, the motorcyclist had worked various types of manual labor, sales jobs, and truck driving.
Insurer for trucking company was Chartis Insurance (Insurance Company for State of PA).
Summary:
A motorcyclist was riding when a tractor-trailer made a left hand turn in front of him. The tractor-trailer driver violated the motorcyclist's right of way.
As a result of the truck driver's violation of the right of way, he was thrown of his motorcycle.  The police report stated that Claimant, the motorcyclist, was going 5 mph over the speed limit.
The driver of the tractor-trailer received a ticket for causing the crash. A diagram of the accident is below.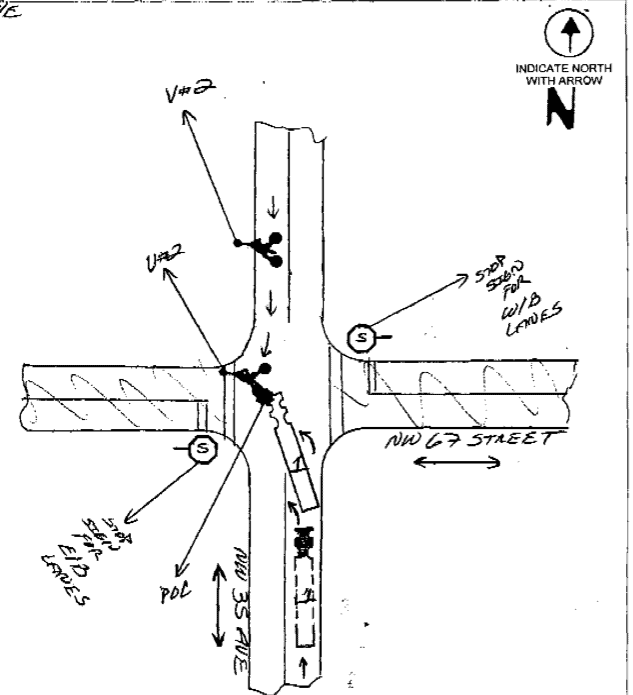 What Injuries Did the Motorcycle Rider Have?
The motorcyclist's injuries included a broken leg and finger.  Specifically, he fractured his tibial plateau.  Doctors performed surgery at the hospital.
How does surgery affect the settlement?
Surgery increases the full value of the case.  Out of my 16 biggest personal injury settlements, the injured person had surgery in 15 of them.
In particular, they did an open reduction internal fixation (ORIF) on his leg.
A doctors also performed ORIF surgery on non-dominant hand ring finger fracture. Hardware was subsequently removed from the distal (end) portion of his ring finger under local anesthesia.  He owed medical bills of $52,000.00.  Since he was on a motorcycle, he was entitled to PIP insurance.
In Florida, medical bills are paid differently in car accidents than motorcycle wrecks.
The orthopedic surgeon performed surgery on my client's knee at the hospital, my client treated with him for a short period of time.  I called the doctor's office.
The office manager told me that my client's injuries were not permanent. My client chose to switch his orthopedic surgeon to Jorge Cabrera, MD.
Doctor Cabrera is one of the many orthopedic doctors in Florida – that is listed on this map – who will treat people who are injured in accidents.
I spoke with Dr. Cabrera.  I then sent him a questionnaire that had my questions and his answers.
Dr. Cabrera said that he will need a knee replacement within the next 20 years.
Note: Some attorneys believe that a knee replacement is needed in 5-10 years. The orthopedic surgeon did not agree with this in this case.
The orthopedic surgeon said that the distal fracture of my client's finger was not uniting (a non-union); however this did not really present a problem for the claimant.
Wage Loss/Future Earning Capacity
The past lost wage claim and future loss of earning capacity claim was weak because the motorcycle rider was a "on again off again trucker and employee."
I consulted with an independent orthopedic surgeon that I personally know, free of charge, who stated that "he would anticipate him to have a good result with minimal limitation in activities and only a small, if any, permanent impairment. There may be further improvement in months to come."
As you can see doctors can have a totally different opinion about the severity of someone's injuries (e.g. permanent impairment) and the need for future medical treatment.
Policy Limits for Bodily Injury Liability Coverage of the insurance company that covered the truck:
1 million dollars ($1,000,000)
How Much of the Settlement Was for Pain and Suffering?
Past Medical expenses were $52,000.00. Therefore, I assume that the insurance claims adjuster was paying $393,000.00 for pain and suffering and/or future medical combined.
Since a truck hit the motorcyclist, he did not have to prove that he had a permanent injury in order to be entitled to money for pain and suffering.
Future Medical expenses: The adjuster stated that he was not offering any money for future medical bills unless the motorcyclist was examined by a doctor chosen by their insurance company.
I argued that there was a lost wage claim and loss of future earning capacity claim but the adjuster rejected these.
Breakdown
It was my position that the truck driver was liable for violating the motorcyclist's right of way.
The insurance adjuster argued that motorcyclist was comparatively negligent because the police report stated that he was going 35 mph when the speed limit was 30 mph.
The case settled pre-suit and about 3 months after he was at Maximum Medical Improvement (MMI).
All things, equal motorcycle accident settlements tend to be higher than car accident cases.
Why?
Because the injuries tend to be bigger.
What if an Uber or Lyft Driver Would've Hit the Motorcycle Rider?
Let's assume the motorcycle rider wasn't hit by a truck.  Instead, assume an Uber or Lyft driver hit him.
Would I have still gotten a $445,000 settlement?
It would depend on whether the Uber or Lyft driver was engaged in a ride.
If the Uber or Lyft wasn't engaged in a ride, but the Uber app was on, Uber's and Lyft's BIL insurance is up to $50K per person/$100K per accident.  Florida Statute 627.748(7)(b)1.a.
Progressive insures Uber in Florida.  Zurich American Insurance Company insures Lyft.  Zurich's reputation is better than GEICO, State Farm and others.
York Risk Services handles Lyft claims.
Uber and Lyft also have $25,000 (per accident) in property damage liability insurance.
Thus, if the Uber and Lyft wasn't engaged in a ride, the most Progressive or York would've paid me was $50,000.  They would've likely sent me the settlement check fast.
If the Uber of Lyft was engaged in a ride, the motorcyclist can get up to $1 million of the Uber's liability insurance for death, injury and property damage.  Florida Statute 627.748(7)(c)1.a.
Thus, the settlement would've been similar to what Chartis paid me.  However, if an Uber driver caused the accident, Progressive would've likely offered less.  Progressive is the worst part of Uber accident claims.
The motorcycle rider would've had to decide whether to sue.
On the other hand, York (for Lyft) would've likely paid similar to Chartis.
I want to represent you!
I am a Miami truck and motorcycle accident lawyer that represents injured victims throughout Florida.  We represent victims of other types of accidents.
I want to represent you if you were hurt in an accident in Florida.
Call Me Now!
Call me now at (888) 594-3577 to find out for FREE if I can represent you. We answer calls 24 hours a day, 7 days a week, 365 days a year. 
No Fees or Costs if We Do Not Get You Money

We speak Spanish. I invite you to learn more about me.