On July 30, 2018, Shankeva was a passenger in her boyfriend's (Ken) car. They were stopped at a red light in Holly Hill, Florida.
(Holly Hill is located in Volusia County, near Ormond Beach and Daytona Beach.)
In the diagram below, Shankeva was in vehicle 3 (V3).  Terry was driving vehicle 1.  Terry crashed head on into vehicle 2.  Vehicle 2 then hit Vehicle 3.
Sadly, the driver of vehicle 2 in this crash died on impact.  Our prayers are with her family.
Here is the actual diagram from the crash report.
Paramedics came to the accident scene.  They took Shankeva out of the car on a stretcher.   A photo of her is at the top of this article.
Here is another photo of Shankeva on the stretcher:
Ken's car sustained heavy front end damage.  Here is a photo of the front of his car: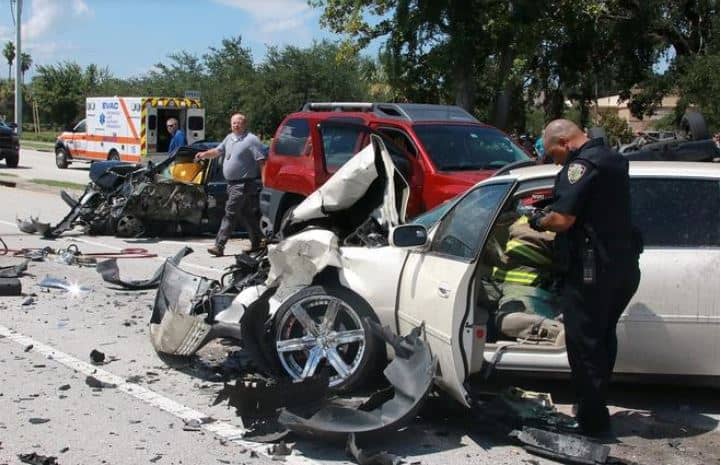 Paramedics arrived at the accident scene.  So that they could properly treat her, paramedics cut Shankeva's skirt and purse strap.
They took Shankeva to the hospital (Halifax Medical Center).  At the hospital, doctors took x-rays, a CT scan and a MRI of her hip.
The x-ray showed an acetabular fracture.  It is also called a fracture of the acetabulum.
The acetabulum is the concave surface of the pelvis. The head of the femur meets with the pelvis at the acetabulum, forming the hip joint.
Here is what the acetabulum looks like:
An acetabular fracture is a break in the socket portion of the "ball-and-socket" hip joint.
Fortunately, doctors did not recommend surgery.  Treatment for acetabular fractures often involves surgery to get the hip back to normal and stabilize the hip joint.
However, Shankeva was admitted to the hospital.  This means that she was given a hospital room.  She had to stay at the hospital for almost 48 hours.
Doctors recommended that Shankeva follow up with an orthopedic doctor.
After Shankeva was discharged from the hospital, she went home.   She then called a personal injury lawyer (me).  She hired me.
Due to her acetabular fracture, Shankeva needed to use a walker.  Here is a photo of her using her walker:
I sent this photo to Windhaven Insurance Company.  (I'll talk about who Windhaven insured in a moment.)
Days after the car accident, Shankeva fell while she was at her house.  She fell because her hip injury made it difficult to walk.
Thereafter, she then went back to the hospital.  Fortunately, x-rays showed that her fall didn't worsen her fracture.
In addition to having difficulty walking (due to her fracture), she had other issues.  Bathing was difficult.  She needed assistance.  She also needed assistance putting her clothes on.  Her kids had to help her do these everyday tasks.
Windhaven Insurance Company insured the vehicle that Terry was driving.  Again, Terry was driver of vehicle 1.
Terry was actually an excluded driver on the Windhaven car insurance policy.   The Windhaven Insurance policy had bodily injury liability limits (BIL) of $10,000 per person/$20,000 per accident.  This meant that my client couldn't get more than $10,000 for her injuries from Windhaven.
Passenger's Car Had $25K of Uninsured Motorist Insurance
My client was a passenger in a car that State Farm insured.
The good news?
State Farm had $25,000 in uninsured motorist insurance (per person) on that policy.
I sent State Farm my client's hospital records and bill.  I sent them other records and bills as well.
Lately, State Farm has been terrible to deal with in personal injury cases.  They've been delaying claims and settlements.  I consider them a below average insurance company.   State Farm is much worse than USAA, Travelers, GEICO and Hartford.
However, I have to give credit where it is due.  I notified State Farm about Shankeva's injury.
Within 30 days of the crash, State Farm paid me the $25,000 uninsured motorist insurance limits.
The best part?
And they paid without me having to sue them.  Suing is stressful.  Settling before a lawsuit saved my client a good amount of stress.
Since we settled before a lawsuit, my attorney's fee didn't go up.
This is just one of my many State Farm car accident settlements.  It's only one of my numerous uninsured motorist insurance settlements.
Shankeva's boyfriend (Ken) suffered an injury as well.  Specifically, he had a cut to his head which required stitches (or staples).  He also had neck and back pain.
How did her boyfriend's injuries impact her case?
Because Windhaven's BIL insurance policy was limited to $10,000.  This meant that the most that they could get (combined) was $10,000.
We Settled With Windhaven Before a Lawsuit
During a mediation before a lawsuit, Windhaven agreed to pay Shankeva $8,000 for her injuries.  They paid Ken $2,000 for his injury.   I fought so that Shankeva could get most ($8,000) of the $10,000 BIL limits.
I spent a good amount of time on the phone with Shankeva. This helped me to understand how her injuries affected her activities of daily living.
The total personal injury settlement was for $33,000.  Again, State Farm paid $25,000.  Windhaven paid $8,000.
I also got Windhaven to pay Shankeva $95 for the damage to her skirt and purse.
Learn more about Windhaven car accident settlements.
At Fault Driver Tested Positive for Drugs
The driver who was charged with causing (or contributing) to the accident was arrested.  Specifically, toxicology and Microbiology reports from blood and urine analysis showed that Terry tested positive for drugs.  In particular, Xanax and marijuana.
The full value of a case is higher if the at fault driver tests positive for drugs.  This is because the jury can award punitive damages.
Similarly, settlements for people hit by a drunk driver tend to be higher.
Terry Sped Up Before the Crash
I searched online to view the criminal public records in Volusia County.   I downloaded the charging affidavit of the driver of vehicle 1 (Terry).  Here is a portion of the charging affidavit:
Since this case involved a death, a police officer removed vehicle one's EDR (Event Data Recorder) for download.  His review indicated that prior to impact, Terry went from 62 mph to 69 mph.  Basically, he sped up before impact.
The speed limit was 45 mph.
Medicaid Paid Most of Shankeva's Bills and Asked for Repayment
Shankeva had Molina Medicaid.  Molina paid $1,550 to her medical providers.  My client doesn't owe any medical providers who billed Medicaid.  She had a $26,000 hospital bill for her inpatient stay. After PIP paid, Halifax hospital billed Molina Medicaid.
Since PIP paid more than Medicaid would've paid, the hospital had to adjust the balance to zero.  In other words, my client didn't owe the hospital a penny.  This is one of the nice things about Medicaid.
However, Molina hired Equian to recoup the $1,550 that it paid for Shankeva's medical bills.   This is called a lien or subrogation claim.
I called the Equian adjuster.  I told her that Molina is a managed care HMO that is subject to Florida's collateral source law.  In other words, I've argued that Equian must reduce its claim by my percentage of attorney's fees,  costs and other equitable factors.
Getting a lien reduced by the injured person's attorney fees and costs is just one of 13 reasons to hire an attorney.  Sadly, many injured victims don't think about this when deciding whether or not to hire a lawyer.
I can't fault them.  Most people don't realize that they may have to pay back their "health insurance" company when the personal injury case settles.
Equian Says Molina Medicaid Gets Paid Back 100% (of What it Paid)
The Equian representative said they didn't have to reduce their lien at all.
However, I didn't stop there.
I spoke with her supervisor.  He may be an attorney.  The supervisor rejected my argument that they had to reduce their lien.  Big time.
Interestingly, he sounded very sure of his position.
However, one of the 5 mistakes that can kill an injury case is believing an adjuster.   All too many times I've had adjusters tell me law that is dead wrong!
The supervisor asked me:
Are you really going to sue over such a small amount [$1,550]?
I said, "Yes".
I sent a letter to Equian whereupon I offered $241 to settle their claim.  Part of my reasoning was that there was BIL and uninsured motorist insurance.  In other words, because of limited insurance, my client didn't get fair value for her case.
Within 12 days of receiving my letter later, Equian sent me an email saying that they the "lowest" they'll accept is $1,085.
Medicaid Cuts It's Lien by 30% (and It's Not Over)
The good news?
This is a 30% reduction off their lien!  That's almost a $500 saving to my client.  I don't earn an extra cent my fighting for her.
However, I refuse to overpay and let people take advantage of my clients.
All because I didn't listen to them.  But more importantly, I know Florida's Medicaid reduction laws.   (Before you hire a lawyer, ask them if they understand how to reduce the amount that you have to pay back your "health insurance" or similar company.)
I recently increased my offer to settle Equian's lien to $275.  I'm waiting to hear Equian's response.
We had to pay back my client's orthopedic doctor about $800 because he didn't accept Molina Medicaid.  It's tough to find orthopedic doctors who'll accept Medicaid.
Most of the $33,000 injury settlement was for pain and suffering.
Thankfully, Shankeva is doing much better now.  She still may follow up with her primary care doctor.  But overall, she is doing well.
Would Shankeva Have Gotten More Money if She Had Surgery to the Fracture?
No, because there was limited insurance.  The at fault driver and car owner likely weren't collectible.
Surgery increases the full value of an injury case.  Full value is the value before reductions for liability and other issues. Here, there was limited insurance.  Therefore, Shankeva would not have gotten more money even if she had surgery.
Would the Settlement Have Been Different if There Was an Uber or Lyft Car Involved?
Let's change the facts for a second.
What would've happened if it would've been an Uber or Lyft driver operating the at fault car?
In that case, there would've been at least $50,000 in BIL insurance for Shankeva and Ken to split.  This is because Lyft and Uber cars are insured with $50,000 per person when the app is on, but the driver isn't engaged in a ride.
As a result, Shankeva's settlement would've likely been for closer to $50,000.  (She would've still had to split some of the Uber or Lyft insurance money with Ken.)
If the Uber or Lyft driver was engaged in a ride, then there would've been $1 million in liability insurance per accident.
This is just one of my many injury settlements.
Shankeva said this about my law firm:
I give you 5 stars because I know that you all push limits.  That's a great dedication for representation. Especially for me as your client.
Injured in Florida or on a Cruise?
Call Us Now!
Call us now at (888) 594-3577 to find out for FREE if we can represent you. We answer calls 24 hours a day, 7 days a week, 365 days a year. 
No Fees or Costs if We Do Not Get You Money

We speak Spanish. We invite you to learn more about us.