Here, you'll hear how I got a settlement of $170,000 for a broken arm.
On June 30, 2018, Zach was visiting Florida. He was a back seat passenger in a Thrifty rental car in Sarasota, Florida.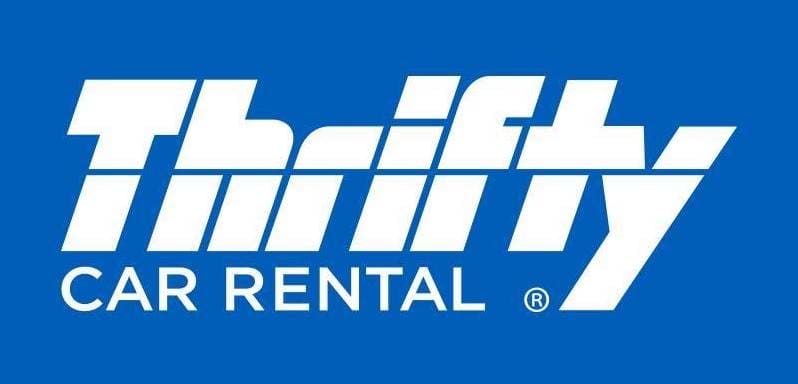 Zach dropped his cell phone on the car floor. He took off his seat belt for a moment to pick it up.
At that moment, the driver of the rental car crashed into the back of another car.
After the accident, here is what the rental car looked like:
Zach's arm either hit the inside of the car door, or the seat in front of him.
Zach had bad pain in his arm. An ambulance took him to the hospital. There, doctors diagnosed him with a distal humerus fracture. In this case, "distal" is the part of the upper arm bone that is closest to the elbow.
Here is a photo of Zach at the hospital in Sarasota, Florida.
Zach flew back to his home state. There, he had surgery on his broken arm. His fracture healed well. He went to his orthopedic doctor about 4 times. Zach didn't need physical therapy.
However, he does have a scar on his arm. Here is a photo of his scar about 6 months after the accident.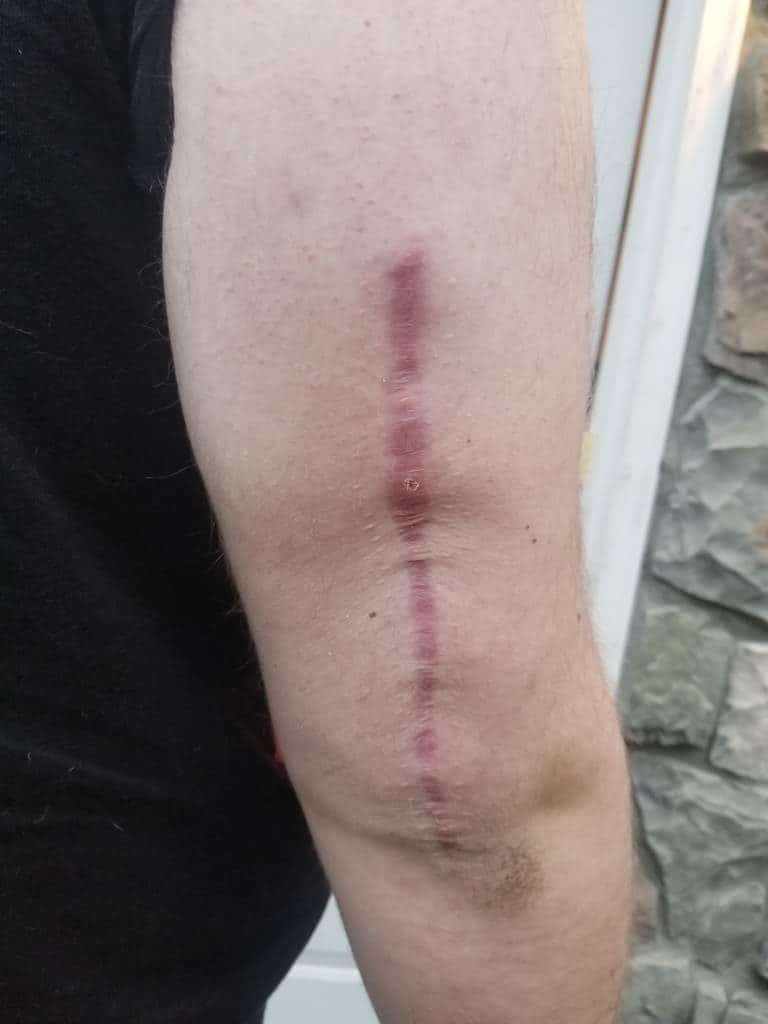 We made a Personal Injury Protection (PIP) claim with Thrifty/ESIS. Florida has a complex set of laws when it comes to paying medical bills from a car accident.
Shortly thereafter, the rental car's PIP coverage (ESIS) paid $10,000 to Zach's hospital and doctors. Also, the driver of Zach's car had Medpay insurance on his personal car with GEICO. GEICO paid Zach's medical provider's $5,000.
Also, the driver of Zach's car had Medpay insurance on his personal car with GEICO. GEICO paid Zach's medical provider's $5,000.
State Farm insured a car that Zach's mom owned. That insurance policy had Medical payments coverage. It made one payment. Then, it denied coverage.
The Rental Car Driver Purchased Insurance
The driver of the car that Zach was in purchased Liability Insurance Supplement (LIS). Ace American Insurance Company was the insurer. (Side Note: ACE bought Chubb Insurance. Chubb has an excellent reputation for fairly paying personal injury claims.)
At the time of the crash, Zach was a minor (17 years old). His mother wasn't making any progress with ESIS (the claims administrator for Thrifty/Ace). ESIS wasn't proactively helping her. They were short with their responses to her.
Zach's mom became frustrated. She called me to talk about Zach's claim.
However, even after speaking with me, she was unsure whether she'd benefit by hiring a personal injury lawyer. That said, she became more and more frustrated with ESIS.
Then, she hired me (an attorney). We quickly made phone calls and emails to ESIS and GEICO. ESIS took us seriously.
Within 8 months of the accident, ESIS (Ace) paid us $170,000 to settle Zach's injury claim. Zach received about $113,000 in his pocket (after my attorney's fees and costs).
What's the Value of a Broken Arm with Surgery?
If you look at past recent Florida jury verdicts, you'll note:
The full settlement value of the pain and suffering of a broken arm (with surgery) is between $150,000 and $250,000. And let's say that the full settlement value of his scar was $20,000 or so.
Knowing the pain and suffering settlement value is just one part calculating value. There are many other factors that affect settlement value.
You'll see this in a moment.
I know these values because I've settled hundreds of personal injury claims. I've done so over the past 15 years.
All things equal, scars on worth less money on men than women. Additionally, the scar was on the back of his upper arm. It's not on his face. If the scar was on his face, the settlement would've been much higher.
Zach basically had under $350 in out of pocket medical bills.
That means that the full value of his case was around $170,000 to $190,000 or so. However, he wasn't wearing at seat belt. So let's put 10% to 15% fault on him for not wearing his seatbelt.
This means that the fair settlement value of his case was between $145,000 to $170,000. Since we settled for $170,000, Zach got fair value for his claim.
We settled around March 2019.
The best part?
Zach is thrilled with the settlement. (I hope to be adding a video of him and I talking about the settlement soon.)
Zach gave my law firm a 5 star review on Google. Specifically, he said:
I definitely recommend Justin Ziegler. He was there for me after my I broke my arm in low impact collision on Sarasota, Florida.

He helped me receive a very sizable settlement. Should I ever need a lawyer again, I will go to Justin first.
Injured in Florida or on a Cruise?
Call us now at (888) 594-3577 to find out for FREE if we can represent you. We answer calls 24 hours a day, 7 days a week, 365 days a year.
No Fees or Costs if We Do Not Get You Money

We speak Spanish. We invite you to learn more about us.