This is a complete guide to personal injury settlement releases.
In this in-depth guide you'll learn:
How to create or edit personal injury settlement release form
Common mistakes to avoid when signing a settlement release
What happens after you sign a settlement release
Lots more
Let's dive right in.
1. What is a settlement release?
Once you agree to a personal injury settlement with a liability claims adjuster, they will generally send you a form that is titled "Release of claims" or something similar.
Basically, they are asking you to release the tortfeasor (sometimes an insured) from any liability. This is so the claimant does not get a second chance to make a claim against the same responsible party.
In Florida, a liability insurer has a duty to act in good faith towards its insured. Often times, you are not the insured.
For example, let's assume that another driver hits you while you are a pedestrian. In your case against the at fault drivers insurance company, you are not the insured. Therefore, the at fault party's insurance company does not owe you a duty to act in good faith.
In some other personal injury cases, you are the insured. For example, you are an insured in a uninsured motorist (UM) insurance coverage case. However, even in uninsured motorist bodily injury cases, do not expect that your insurance company has your best interests in mind. Sadly, they do not.
The adjuster is looking out for the best interests of his or her insured, not necessarily the claimant.
Here is a huge tip:
Do not assume that the release that the adjuster sends you is standard, even if they tell you that it is!
It is often not.
I am not going to go over every word that needs to be in a release. The closest thing to a standard release in Florida is the "Standard Release Form" published by the Trial Lawyers Section of the Florida Bar. But even that release may not be good enough to protect the injured person.
The positive of that release is that the section's members (who drafted it) consist of plaintiff and defense attorneys. That release is neutral and is does not favor one party over the other. So with that release the injured person and negligent party are generally on equal footing.
The "Standard Release Form" does not include certain things that should be added in many cases. I have a few variations of releases that I use depending on the actual facts and insurance policies that are in play. For example, if an auto insurer who has provided both PIP and uninsured motorist (UM) coverage sends me a check to settle the UM claim but my client still has PIP available, I use a particular release.
This article is written for personal injury cases, not for workers' compensation cases. However, some of this article can be used for a workers' compensation claim.
2. Payment and Consideration Section of a Release
The first paragraph of personal injury settlement releases often mention the settlement amount. Specifically, it says that the party who is paying settlement money is being released in exchange for a certain sum (amount).
As an example, the first paragraph of the Florida trial lawyers standard release form says:
The undersigned, hereinafter the Releasor(s), for and in consideration of the sum of $ ____________, do, for ourselves and our respective heirs, executors, administrators and assigns, do hereby completely and fully release and discharge _____________________________, hereinafter the Releasee(s), of and from any obligation, liability or responsibility arising out of the claim and/or action (_____________________________________________) which occurred on or about (date of accident). It is understood and agreed that this settlement is in full compromise of a disputed claim, and that neither this release nor the payment pursuant to this release shall be construed as an admission of liability.

Florida Trial Lawyers section Standard Release Form
Generally speaking, this language is OK. However, sometimes the person or company paying your settlement will try to get you insert language that also releases punitive damages.
You should not release punitive damages unless you actually made a punitive damages claim, or you had a valid basis for a punitive damages claim.
This is because the IRS taxes you on money that you were paid for punitive damages.
The IRS says:
Punitive Damages: Punitive damages are taxable and should be reported as "Other Income" on line 8z of Form 1040, Schedule 1, even if the punitive damages were received in a settlement for personal physical injuries or physical sickness

IRS Publication 4345 (Rev. 11-2021)
2.1 Time to Pay
I often add in the time that the insurance company or defendant has to pay after they receive the signed settlement release.
The best time to negotiate this time is before you settle the case. Once you get the insurance to its highest offer, and you want to accept it, tell the adjuster that you need them to send the settlement check via next day delivery.
They will often agree to this if you tell them this before you settle.
Remember:
Generally speaking, insurance companies want to settle personal injury claims.
After you settle, you've lost your negotiation leverage (or power). And leverage is everything!
3. Don't Release All Other Persons or Companies
You should also be careful not to release any person or company who isn't paying you to settle. Some defendants and insurance companies will include release language that asks you to release "all other persons or companies".
You shouldn't agree to this.
Otherwise, you may lose claims against these parties that you have or may have in the future. This may be true even if the claim occurs in the future but "arises out" of the original incident.
4. Should You Reserve Other Claims?
You should always be careful if you want to release one party in a personal injury claim but want to keep your case going against another party. If you do not include the proper language, then once you settle with one party your entire case may be forever settled.
Do not expect the adjuster to add the proper language – that will reserve your claim(s) – for you! The "Standard Release Form" has good language under the Reservation of Claim(s) Section.
An example of a case whereupon you may want to keep another party involved is in a motor vehicle accident with several potential defendants. Another example is if you were injured at a hotel when shower glass breaks and you want to make a claim against the hotel and the glass installer.
I settled a personal injury claim for $64,900 where my client tripped and fell in a hole in the grass at an office building.
All the settlements in this article are before deduction for attorney's fees and expenses. Most cases result in a lower recovery. It should not be assumed that your case will have as beneficial a result.
We made a claim against the landscaping company, the building owner and the property management company. I settled with the landscaper's insurer and the property manager's insurer at the same time. I included the reservation of claims language just in case one of the settlements fell through.
There are endless examples of situations where it is beneficial to include the reservation of claim(s) language.
5. Should the Release Say that Damages Are Not Satisfied?
The release should have language that states that the injured party is not recovering all his damages in the incident. This may help you if for example, a short term or long term disability insurer asserts a lien on the case.
They may argue that you were made whole and that you need to reimburse them (possibly in full) for the lost wages that you recovered in the accident.
I settled a case for $300,000 for a man who fell at a supermarket in Miami. My client is in the photo below.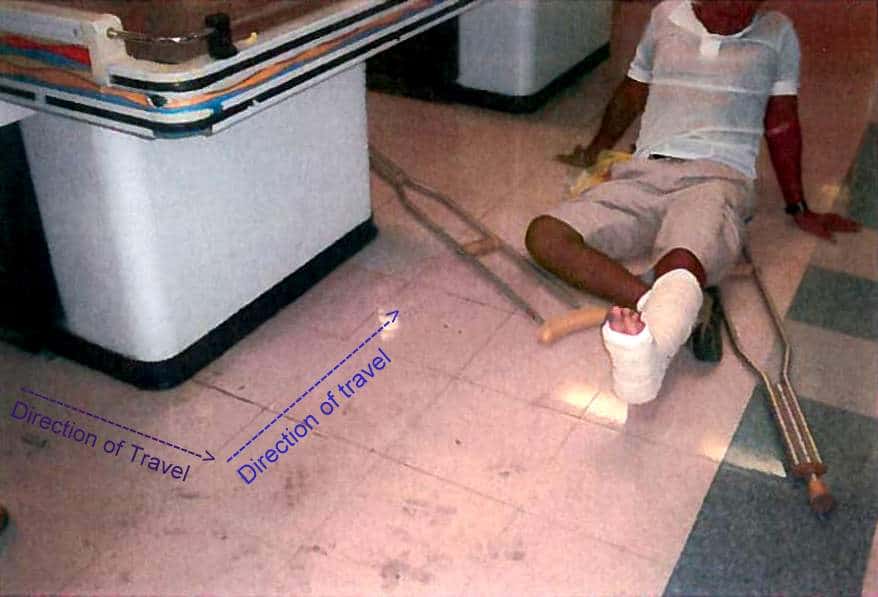 He was badly injured. Crum & Forster was the general liability insurer for Sedano's Supermarket.
Crum & Forster has a great reputation for paying injury claims.
Prudential was my client's long term disability (LTD) insurer.
Prudential paid my client $40,000 (60% of his lost wages) for his disability.
The LTD insurer argued that the injury for which the LTD insurer paid disability benefits for was related to the subject fall in the personal injury case.
I settled with the supermarket and my client signed a release of claims. The LTD insurer asked to see the actual release in the personal injury case. Fortunately, my release had the following language:
The payment hereunder does not satisfy all of the claimant's damages resulting from this accident, including, but not limited to, past and future lost wages, past and future medical and health care expenses which may have been incurred or may be incurred in the future and which is not being paid in this settlement.
If I did not have this language in the release, then the LTD insurer may have argued that my client was made whole from the settlement. They could have argued that the injured person owed them the $40,000 in LTD the disability benefits that the LTD insurer paid to him.
I made other arguments to the LTD carrier, such as the fact that my client had a pre-existing injury that was a result of the pre-incident injury, which resulted in the LTD payments.
6. Reservation of First Party Benefits
An injured victim who settles a Florida personal injury case should be sure to include reservation of first party benefits language in the release. The case that made this necessary is See Connecticut General Life Insurance v. Dyess, 569 So.2d 1293 (Fla. 5th DCA 1990), review denied, 581 So.2d 1307 (Fla. 1991).
In Dyess, the plaintiff was severely injured in an automobile accident allegedly caused by a defective tire manufactured by Uniroyal Tire Company. The Dyesses later settled with Uniroyal for $2,000,000.
As a condition of settlement, the Dyesses executed a release which covered
any and all claims … for … hospital and medical expenses … arising … out of the accident…
After settling with Uniroyal, the Dyesses filed a claim with the health insurer to recover medical benefits under a group medical insurance policy. The health insurer claimed that since the Uniroyal release provided that the Dyesses had received full payment for medical expenses, no benefits were available pursuant to a "conditioned claim payment" provision in its policy which purports to deny a double recovery to a claimant.
In Dyess, the injured person chose not to file a claim against their health care provider (thus no subrogation) but to collect these expenses from the tortfeasor. They then released any claim to such expenses from the tortfeasor in their settlement.
After releasing their claim against the tortfeasor (thus preventing subrogation), the victim sought to recover double damages by filing a claim against their health care provider.
The Dyess court said that the injured person is prevented from filing a health insurance claim (having waived their right to insurance by electing to collect such damages "in full" from Uniroyal).
The court said that the Dyesses signed a release which covered:
any and all claims … for … hospital and medical expenses … arising … out of the accident… .
The better language would have been for the Dyesses to execute a release which stated:
6.1 What release language preserves first party benefits?
Here is some language that I took from the Florida trial lawyers section standard release form:
RESERVATION OF FIRST PARTY BENEFITS

Notwithstanding anything herein to the contrary, this Release shall not release any health, disability or other insurance carrier or self-insureds from its obligation to provide any personal injury protection coverage, medical payment coverage, uninsured/underinsured motorist coverage, health insurance coverage, major medical insurance coverage, Tricare, VA Benefits, Medicare, Medicare advantage plans, Medicare supplemental insurance, Medicaid, workers' compensation benefits/insurance, disability insurance coverage, supplemental insurance from all claims and demands, rights and causes of action of any kind the undersigned now has or hereafter may have, on account of personal injuries known or unknown to the undersigned arising from the subject accident. It is the intention of the parties to this agreement to release and discharge the Releasee(s) only, and to reserve all rights of Releasor(s), to obtain all first party benefits to which Releasor(s) may be entitled.
The court also took issue with the fact that the release said that:
the Dyesses had received full payment for medical expenses.
The better language would have been:
The Dyesses have not received full payment for medical expenses as well as any and all damages.
Finally, in my opinion, Dyess should have used the available medical benefits under the group medical insurance policy. This is because you never know what will happen at trial. Sometimes you may win a bad case, and lose a good case.
At trial, good cases can be lost. And bad cases can be won. That's why attorneys refer to trial as rolling the dice. When you roll dice, you don't know for certain what number you will roll.
While Dyess had a big settlement ($2,000,000), any case can be lost at trial.
If you lose your case, at least you won't be stuck with large medical bills. For this reason, I recommend using health insurance coverage if you have it. This is just one part of knowing how to get medical bills after a car accident.
Dyess probably did not use the medical insurance because he/she wanted to have large out of pocket medical bills. Generally speaking, larger medical bills increase the full value of an injury case.
I have received releases by third party administrators (TPA) and insurers that do not include language that reserves your right to make a claim against first party coverage. For example, I settled a trip and fall case for $18,000 with Nautilus Insurance Company.
The photo below shows Nautilus' office.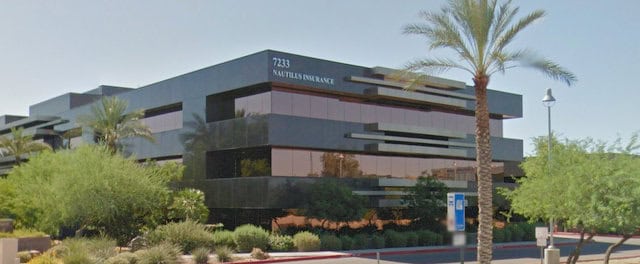 Nautilus is a W.R. Berkley Company.
My client tripped over a landscape edging that was protruding onto a sidewalk. She fell and her face hit a wheelstop.
It happened on private property outside of a South Miami, Dade County, Florida restaurant. The injured person missed out on valuable health insurance coverage in that case. What could the victim have done differently?
A photo of the hazard is below.
Nautilus sent me a settlement release that did not have his reservation of first party benefits language in its release.
Examples of first party coverage are health, disability or other insurance carrier or self-insureds who provide any personal injury protection coverage, medical payment coverage, uninsured motorist coverage, health insurance coverage, major medical insurance coverage, workers' compensation benefits/insurance, and/or disability insurance coverage.
The "Standard Release" that I discussed earlier has pretty good language for reserving first party benefits. I use language, to reserve first party benefits, that is slightly different than the Standard Release.
If you fail to reserve first party benefits then you may give up your right to make a claim against this valuable coverage. Earlier, I gave you the language that I may use for the "Reservation of First Party Benefits".
6.2 Example of Why It's Important to Reserve 1rst party Benefits
I settled a case for $125,000 for a man when a car hit him in Miami, Florida. GEICO insured the careless driver who ran a stop sign and hit him.
He had a workers' compensation case whereupon the employer (via workers compensation) paid $30,000 or so in lost wages and medical expenses.
We put language in the release that stated that the injured person was not releasing the workers' compensation insurer. But if we failed to put that language in the release, perhaps the workers' compensation self-insured could argue that they did not owe future workers' compensation benefits.
This could result in a huge financial loss and medical loss of coverage to the injured person.
7. Signing a General Release Prevents Medical Malpractice Lawsuit
I do not think I have ever received a release from a liability claims adjuster or defense attorney that says that the:
"Releasor reserves any right to pursue causes of action against a subsequent tortfeasor physician, medical providers for the damages resulting from their negligence, and any subsequent or sequential tortfeasors."
In Florida, without similar language, your medical malpractice action against physicians and medical practices that treated you for the injuries sustained in the accident is barred. Broz v. Rodriguez, 891 So. 2d 1205 – Fla: Dist. Court of Appeals, 4th Dist. 2005.
In Broz, an injured party settled her negligence action against a ranch where she fell. She sued her doctors and medical practices who treated her for the injuries sustained in the fall. The court awarded summary judgment to the physicians and medical practices and dismissed the case.
The injured party appealed and lost. The District court of appeal held that a general release signed in connection with settlement of negligence action barred injured party's medical malpractice claim.
The injured party would have been able to still sue her doctors and medical practices if she would have had one sentence in the personal injury general release that said:
"Releasor reserves a malpractice cause and vicarious liability cause of action, and reserves all causes of action against subsequent or sequential tortfeasors, including but not limited to physicians and medical practices."
The Broz case did say that injured person was aware of all of his injuries at the time of settlement. If you were not aware of all your injuries, perhaps you could argue that you did not release the doctors and medical practices. But I strongly suggest that you include the aforementioned malpractice language in the release as it is better to be safe than sorry.
One of the many benefits to hiring a lawyer, who concentrates his practice in representing people injured in accidents, is that they can review and edit the settlement release to make sure that you are not losing valuable coverage, money and rights.
8. Medicare and Personal Injury Settlement Releases
8.1 ICD-10 Codes for Medicare Beneficiaries
Medicare beneficiaries and people who have a reasonable expectation of becoming a Medicare beneficiary in the next thirty (30) months should take the settlement process seriously. Liability insurers report ICD-9 codes to Medicare for those classes of people.
An ICD-9 code is a code for a health related issue. For example, there is an ICD-9 code for back pain. After a settlement, Medicare can deny future treatment which is related to the subject accident.
The ICD-9 codes do not have to be in the release. However, if the victim is a Medicare beneficiary, he or she should have a written agreement with the defendant that states which ICD-9 codes will be reported.
If the insurer reports the wrong ICD-9 to Medicare, it can create major issues with Medicare denying unrelated treatment down the road.
For example, someone's negligence may cause your back and neck injury in a car accident. You make an injury claim against all 11 parties that you can sue. A liability insurer may argue that the neck injury is pre-existing. The liability insurer does not pay any money for the neck injury claim.
But, they pay money for the back injury claim. Then the insurer reports both the neck and the back injury to Medicare. Medicare can deny coverage for future for medical treatment related to the victim's neck.
This is because Medicare will believe that the liability insurer is the primary payer since it reporting that injury. This example was for a car accident. But, the same is true for a Florida slip and fall claim or other type of claim.
8.2 Medicare Set Aside (MSA) Language
I do not have MSA language in my standard release. Some liability insurers insist on including MSA language in a release. If it is a non-policy limits case, and my client does not need an MSA, I may agree to the following language if it applies to the facts of my case:
"Pursuant to 42 C.F.R. § 411.54, the Medicare Secondary Payer Act (42 U.S.C. § 1395y) and the Medicare Secondary Payer Manual, the parties to this settlement believe that any rights or interests Medicare may have in the settlement have been adequately considered and protected. It is not the purpose of this settlement to shift responsibility of medical care in this matter to the Medicare program.
Instead, this settlement is intended to resolve a dispute between the plaintiff and defendant."
If my client's treating doctor says that he or she doesn't need more medical care, the release can say:
"Although the plaintiff may be a Medicare recipient, there is no future medical treatment that is Medicare covered being recommended by the treating physician(s). As such, the settling parties believe they are not required to create a Medicare Set Aside Arrangement."
This language may be satisfactory to the liability insurer.
9. Should you agree to an addendum to the settlement release?
You may submit a proposed release to the liability insurer, and they may reject it. They may insist on using their release. They may tell you that you can prepare an addendum to their release.
In Florida, you should not generally agree to an addendum because it may have no effect on the release if it does not serve to explain an ambiguity. An addendum to a settlement release may just complicate the settlement.
In this scenario, I may send the liability insurer a letter in writing that states something like:
My issue with an addendum is that, under Florida law, an addendum may not serve to explain an ambiguity but instead may create an ambiguity that would not otherwise exist in the Release and Settlement Agreement." Univ. of Miami v. Francois, 76 So. 3d 360 (Fla. 3d DCA 2011).

An Addenda cannot be relied upon to "explain" an agreement, which, by its terms, required no explanation. Wickenheiser v. Ramm Vending Promotion, Inc., 560 So.2d 350, 352 (Fla. 5th DCA 1990) (holding "evidence that would contradict, add to, or subtract from or affect the construction of a valid, complete and unambiguous written instrument is inadmissible under the parol evidence rule"). The intent of the parties was to be determined from the four corners of the Agreement, not through consideration of extrinsic evidence. Sheen v. Lyon,485 So.2d 422 (Fla.1986); Garcia v. Tarmac Am., Inc., 880 So.2d 807 (Fla. 5th DCA 2004); V & M Erectors, Inc. v. The Middlesex Corp., 867 So.2d 1252 (Fla. 4th DCA 2004).

In the aforementioned Univ. of Miami case, the appeals court said that the trial court properly concluded that the clear and unambiguous terms of the Release and Settlement Agreement failed to reserve a cause of action and barred Francois from pursuing a claim against the University of Miami.

Please advise what parts of my proposed release is unacceptable to you. Please forward this letter to your insured(s), and explain to them how our proposed release prejudices their rights. We are willing to settle this case for $XX,XXX.XX, which is under your insured's policy limits. Please advise your insured that he/she/they will be personally liable for any judgment that exceeds your policy limits.

If you still do not agree with our reasonable release, you are welcome to send us your proposed release in Microsoft Word with the track changes option so that I can make edits."
Note: There may be exceptions to my general rule of not using an addendum to a settlement release. Exceptions include, but not limited to, situations where a structured settlement company insists on using a special release.
10. What to do if the insurer uses language that requires you to agree to a fact that isn't true
Insurers often use form releases that state facts which aren't true. Don't agree to include facts that aren't true.
For example, in Diecidue v. Lewis, Fla: Dist. Court of Appeals, 2nd Dist. 2017, Diecidue was hit by a driver who lost control of a vehicle.
Diecidue injured his back in the process. He sued his UM insurer, Allstate.
During the lawsuit, Allstate made a settlement offer to Diecidue. This settlement offer was likely for pain and suffering, and more. Allstate included a settlement release with this offer.
The release said:
To procure payment of the consideration referred to herein, I do hereby declare and represent that I have no qualifying disability and qualifying dependent(s) which would enable a claim to be made by or on behalf of any unmarried dependent, as defined by section 768.0415, Florida Statutes (2007).
The court said that Allstate's waiver for loss of consortium claims, when read together with section 768.0415 would amount to an outright falsehood.
Because the terms of the Allstate release form demand Diecidue to state that he does not have any "qualifying dependent(s)," signing the waiver would require Diecidue to represent that he has no unmarried dependent children. In Diecidue's case, this is simply untrue—he has unmarried dependent children.
The appeals court also said:
It would have been impossible for Diecidue to comply with the loss-of-consortium waiver because Diecidue could not honestly represent that he had no qualifying dependents under section 768.0415.
Allstate won the UM lawsuit at trial. In an effort to have Diecidue pay its attorney's fees, Allstate tried to enforce the offer that it made during the lawsuit.
The court refused to enforce Allstate's proposal for settlement, in part, because it required Diecidue to misrepresent that he has no children eligible to file a claim for loss of consortium.
11. Which defendants will be the least willing to negotiate release language?
Based on my past experience, defendants with high limits of insurance are the least willing to negotiate release language. The same is true for self-insured businesses.
I assume that the following large companies are self-insured: Publix, Walmart, Walt Disney World, Epcot, Petsmart, Target, Universal Studios Orlando, Costco, large shopping malls. If I am correct, negotiating a release with them may be tougher.
It will also likely be harder to negotiate a release with insurance companies in slip and fall cases or other claims if you're injured at a business establishment. This is because the businesses liability limits are usually at least $1 Million. Those insurers usually have no excess financial exposure since most claims are worth way under $1 million.
12. Don't Agree to a Confidential Settlement!
I wrote an article on why you shouldn't agree to a confidential settlement.
One reason is that agreeing to confidentiality can have BIG tax consequences. Sure, some defendants will require confidentiality. They won't budge.
However, many defendants will still allow agree to more narrow confidentiality than their first proposed release includes. And some will remove confidentiality if you tell them that they didn't ask for it before the settlement.
Here are just a few of the many insurance companies have removed confidentiality (but only after I demanded it) in a personal injury case:
This benefits the injured person. After all, you don't want to have to spend the rest of your life worrying that you can't speak about an accident, or a settlement.
Look online and you won't find many Uber car accident settlements. If you search court records, you'll see that Uber settlements are confidential.
Here is an example:
This is not my case. Gayna Hansen was riding a bike when she claimed that an Uber driver hit her. The bone in her ankle went through her skin.
Let me give you an example. Gayna hired a lawyer who sued Uber. Uber denied liability. In 2018, at mediation in Orlando federal court, Gayna's attorney reached a settlement in her Uber car accident case.
She and Uber signed a confidential settlement agreement. I assume that Uber required confidentiality. I say this because, in most car accident and personal injury claims, the defendant (not the injured person) is much more likely to be the one requesting confidentiality.
Since the payout is confidential, I don't know the settlement amount. However, a broken ankle that requires surgery is often worth over $200,000 in pain and suffering alone. Especially if the bone breaks the skin.
12.1 You May Lose the Entire Confidential Settlement if You "Speak" About
Another reason to reject a confidentiality clause in a release is become you want to be able to speak freely about the claim and settlement. Some defendants not had to pay the injured person settlement money when they talked about the settlement.
One such case involved my former high school (Gulliver), and School Management Systems, Inc. Thankfully, it wasn't my client or case.
12.2 Defendant Didn't Have to Pay $80K Settlement Because Plaintiff Told Daughter About Confidential Settlement
The plaintiff, Snay, sued Gulliver for age discrimination and retaliation. The settlement agreed had:
a detailed confidentiality provision, which provided that the existence and terms of the agreement between Snay and the school were to be kept strictly confidential and that should Snay or his wife breach the confidentiality provision, a portion of the settlement proceeds (the $80,000) would be disgorged:

'13. Confidentiality … [T]he plaintiff shall not either directly or indirectly, disclose, discuss or communicate to any entity or person, except his attorneys or other professional advisors or spouse any information whatsoever regarding the existence or terms of this Agreement… A breach … will result in disgorgement of the Plaintiffs portion of the settlement Payments.'
Disgorgement is a remedy requiring a party to give up any profits he or she made as a result of his or her illegal or wrongful conduct. (Cornell Law School LII).
12.21 Here is what the appeals court said:
Only four days after the agreement was signed, on November 7, 2011, Gulliver notified Snay that he had breached the agreement based on the Facebook posting of Snay's college-age daughter, wherein she stated:

'Mama and Papa Snay won the case against Gulliver. Gulliver is now officially paying for my vacation to Europe this summer. SUCK IT.'

This Facebook comment went out to approximately 1200 of the daughter's Facebook friends, many of whom were either current or past Gulliver students.

Gulliver Schools, Inc. v. Snay, 137 So. 3d 1045 – Fla: Dist. Court of Appeals, 3rd Dist. 2014
On November 15, 2011, Gulliver sent a letter to Snay's counsel, stating that it was tendering the attorney's fees portion of the parties' agreement but was not going to tender Snay's portion because he had breached the confidentiality provision.
Basically, Gulliver didn't send a check for Snay's portion of the settlement.
The appeals court said that:
Because Snay's deposition testimony that "[m]y conversation with my daughter was that it was settled and we were happy with the results," establishes a breach of this provision, the court below should have denied his motion for enforcement of the agreement
I assume that the court believed that, in the above sentence, "it" means this case against Gulliver. The appeals court said:
So moments after signing the agreement, he had a conversation with his wife, and they agreed to inform their daughter that the case was settled and they were happy with the result.
Again, I assume that "the" case means the case against Gulliver.
Another good case to read about allegedly breaching a confidential settlement is Monster Energy Co. v. Schechter (2019) 7 Cal.5th 781, 788.
12.3 Key Takeaways About Confidential Settlements
Don't talk about a confidential settlement. This includes both online and offline (e.g. phone, Facebook, text, in person, etc.) communication. Of course, never mention the name of defendant or the settlement amount in any communication to anyone.
Did someone cause your injury in an accident in Florida? Or on a cruise or boat?
I want to represent you if you were Seriously injured in an accident in Florida
I want to represent you if you were injured in an accident in Florida, on a cruise.
Call us now at (888) 594-3577 to find out for FREE if we can represent you. We answer calls 24 hours a day, 7 days a week, 365 days a year.

We speak Spanish. I invite you to learn more about us. Check out some of our reviews.
Editor's Note: This post was originally published on April 2013 and I update it when I can.