A Florida mall's carelessness can cause you to slip or trip and fall, and get hurt.  If so, you may have a case.
This article focuses on slip, trip and fall against Florida malls.  I wrote a separate article on general injury claims against shopping malls in Florida.
Is a Mall Owner Liable for the Cleaning and Maintenance Company's Negligence?
Yes.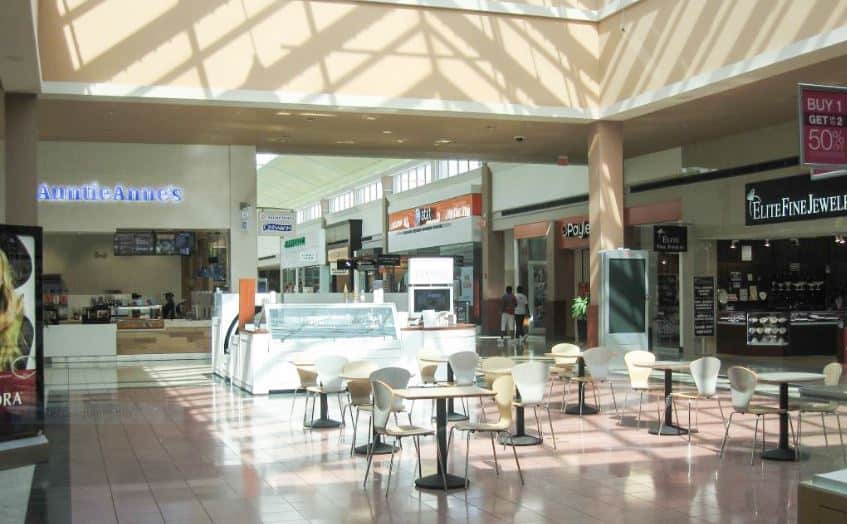 Pembroke Lakes Mall Ltd. v. McGruder, 137 So.3d 418 (Fla. 4th DCA 2014) involved a case where June McGruder was awarded a judgment of $269,049.50 following a slip and fall accident.  This isn't my case.
In 2008, June McGruder went to a shopping mall to purchase clothing. The mall was owned by Pembroke Lakes, which contracted with Millard to clean and maintain the premises.
As McGruder walked through the mall, she slipped and fell on a clear, slippery substance on the floor. McGruder sustained injuries resulting from the fall and received medical treatment for the injuries.
In 2010, McGruder sued Pembroke Lakes and Millard for negligence in failing to warn McGruder of the spill, allowing the spill to remain on the floor, and failing to have a proper maintenance and clean-up plan in place to prevent spills from remaining on the floor.
At the end of trial, the jury verdict found Pembroke Lakes and Millard negligent for the accident, and finding that McGruder was not comparatively negligent.
Jury Awards $269,049 in Medical Bills, and Pain and Suffering
The jury awarded McGruder $269,049.50 for past medical expenses, future medical expenses, and pain and suffering. The jury then assigned 50% liability each to Pembroke Lakes and Millard.
Section 768.0710 imposes a non-delegable duty of care on business owners to maintain their premises in a reasonably safe condition for invitees. Armiger v. Associated Outdoor Clubs, Inc., 48 So.3d 864, 876 (Fla. 2d DCA 2010).
The mall owner cannot "avoid liability for the breach of its statutory duty by contracting the maintenance and cleaning function at the mall to others." 
When an owner owes a non-delegable duty of care to a plaintiff who obtains a verdict assigning negligence to the owner and a party contracted by the owner, the owner is jointly and severally liable for the negligence attributed to the contracted party. See U.S. Sec. Servs. Corp. v. Ramada Inn, Inc., 665 So.2d 268, 269-71 (Fla. 3d DCA 1995) (holding hotel owner jointly and severally liable for portion of negligence attributed to company contracted by hotel to provide security); see also Armiger, 48 So.3d at 875 (When a business owner is subject to a nondelegable duty, the potential responsibility of an independent contractor is not relevant to the analysis of the business owner's liability…
The party subject to the nondelegable duty is directly liable for the breach of that duty, and the assignment of liability based on the tortious acts of another is not a consideration.
Slips and Falls at Store Entries from an
Enclosed

Shopping Center

Someone may slip and fall at a store entry when they are walking from an enclosed shopping area at a mall.  Most people refer to an enclosed shopping area as the inside of a mall.

When store entries are from an enclosed shopping area, wiper mats should be used to remove dust and moisture.  ANSI/NFSI B101.6-2012: 5.4.2.

Wiper mats are mats designed to remove moisture, contaminants, dust and finer soil from footwear.  Wiper mats usually have a carpet top produced with finer denier yarns or fibers with rubber or PVC backings.

Dust is fine particles of earth, dirt or other materials.  Moisture is a liquid substance, usually water from rain in Florida, that can be tracked into a building, resulting in a slip or fall hazard.

A shopper may slip on water dirt at a store entry at an enclosed mall.  The injured person may argue that the store was careless for not having a wiper mat at the entrance.

The store may argue that there is no requirement to have a wiper mat at the store entrance.  The store may argue that the use of American National Standards is completely voluntary.

The store may argue that they do not have to follow the American National Standards.  They may argue that these standards recommend using a wiper mat.

The store may argue that the standard does not say that wiper mats are required.
Slip and Falls on Stairs at a Florida Mall
A shopping mall guest may slip and fall on chipped tile on the stairs.  If so, he or she may have a case.
The above picture shows chipped tile on a step at a South Miami mall.  A guest could slip on this broken tile.
The mall's claims adjuster will argue that the patron should have seen this broken tile before the fall.  The mall's claim adjuster may reduce the full value of the case accordingly.
The patron should argue that this chipped tile is a hazard.
Stepping in a pothole and falling in a mall parking lot
You may step in a pothole and fall in the mall's parking lot.  If you do, you may have a case against both the mall and the store.
Does auto insurance (PIP) cover the victim if he or she fell while near a motor vehicle in Florida?
Yes, personal injury protection (PIP) will cover the victim if he or she was hurt while entering or exiting a motor vehicle.  PIP will also cover the injured person if he or she fell while changing a tire.
Under Florida law, he or she is "occupying a self-propelled vehicle" while doing the aforementioned things.  In Florida, PIP covers you while you are occupying a self-propelled vehicle.
Someone may slip and fall on rotted or wet leaves while stepping out of a car in Florida.  He or she may slipped on a pebble or step in a pothole while entering a truck in Florida.
If so, PIP covers him or her.
If a Florida mall's carelessness caused you to slip, fall and get shoulder surgery, is that a good case?
Maybe.  In a slip and fall case against a mall, the mall may place fault on you.
They may say that you should have seen the substance on the floor.  If so, the case value may need to be reduced for settlement purposes.
Past Florida Slip and Fall Settlements
Check out some past Florida slip and fall injury settlements.  The adjuster may know about similar settlements. When looking at past settlements, pay attention to the pain and suffering component.
Look at which facts may lead to a slip and fall case.  Case with similar facts may lead to a possible case against a Florida mall.
By looking at past Florida slip and fall cases, you can learn about which facts hurt a Florida slip and fall case.
Sample Slip and Fall lawsuit against a Florida mall
This is a complaint in a Florida slip and fall case.  I may use it against a Florida mall.  I would make changes as appropriate.  I have used this draft to help me create other Florida slip and fall complaints.
Types of Shopping Mall Accidents Where You May Have a Case
In any claim against a shopping mall, you must prove that the mall's carelessness caused your injury.  If so, the following accidents may be grounds for a claim:
Slip and Falls
These are by far the most common mall injuries.
Falls in Parking Lots
A pothole could cause your fall.  You could slip on a banana peel or other substance in the parking lot.  You may have a case in these situations.
Tripping on a wheel stop and falling
In Florida, tripping on a wheel stop in a parking lot may cause someone's injury.
Popular malls in Florida means accidents
Given the high number of visitors to many of Florida popular malls, there will be accidents.  Some of the more popular malls are:
Bayside MarketPlace
Cocowalk
Dadeland Station
Dolphin Mall
Dadeland Mall
International Mall
Merrick Park
Midtown Miami Shops
Shops at Sunset Place
The Falls
Miller Square Shopping Center
Sawgrass Mills
Southland Mall
Westland Mall
Did someone's carelessness cause your slip and fall at a Florida mall?  Were you hurt in another type of accident? 
I am a Miami slip, trip and fall lawyer that represents people anywhere in Florida if someone's carelessness caused their injuries in shopping mall accident, slip, trip and falls, wrongful death and many other types of accidents.
I want to represent you if you were hurt in an accident in Florida.
Call Me Now!
Call me now at (888) 594-3577 to find out for FREE if we can represent you. We answer calls 24 hours a day, 7 days a week, 365 days a year. 
No Fees or Costs if We Do Not Get You Money

We speak Spanish. We invite you to learn more about us.