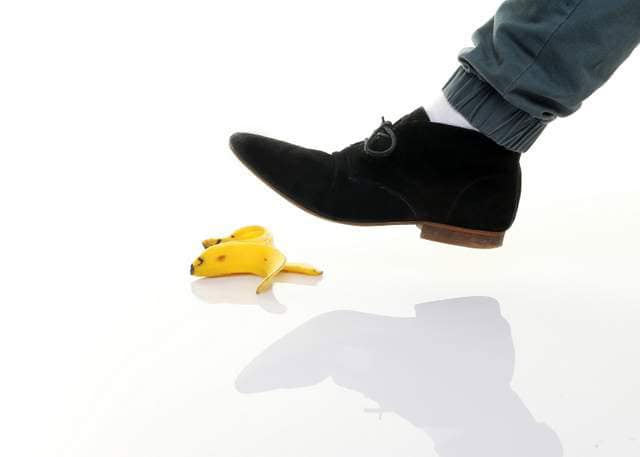 In order to have a good Florida slip and fall case, a dangerous condition must have caused your fall and your injuries. There are some other important components to a slip and fall such as the injured person, duty, notice, a personal injury, and a legal cause.  But here we will focus on a dangerous condition.
Before I give examples of some substances or debris that may constitute a dangerous condition in a Florida slip and fall case, I want to emphasize that whether a condition in Florida is considered dangerous may depend on the particular circumstances.  There are over 84 important factors that can affect the value of a Florida personal injury case,
Many factors can affect whether you may recover damages (e.g. pain and suffering, mental anguish, loss of enjoyment of life, medical bills, lost wages) from a Florida slip and fall.
Examples of a dangerous condition in a Florida Slip and Fall Case
Water on the floor at a hotel, restaurant or grocery store
A substance on the floor of a supermarket or store
Small changes in the riser height of a set of stairs
No slip resistant paint on a walkway
Failure to have a proper and secure handrail
Cash register tapes on the floor of a business

may

be a dangerous condition. Nance v. Winn Dixie Stores, Inc., 436 So. 2d 1075 – Fla: Dist. Court of Appeals, 3rd Dist. 1983.  (Read more about Winn Dixie injury claims in Florida).
I have settled cases with each of the above dangerous conditions.  If some of the above hazards caused your slip and fall you may need an expert to testify as to the dangerous condition.  The cost for an expert usually starts at $1,200. One of the 11 reasons to hire an injury lawyer is that the attorney will usually front this cost for you, and there are no fees if you don't recover money.
Sometimes a person does not slip and fall on a dangerous condition.  This is one of the reasons why an attorney may reject a slip and fall case.  Remember that a property owner's negligence must have caused your injury. Below are some factors that may have caused the accident but are not the fault of the property owner.  If one or more of these factors is present, it may result in a lower the settlement value of a slip and fall case.
Type and Condition of Injured Person's Shoes
Sometimes the fall may have been caused by the plaintiff wearing a certain type of shoes that are not in safe condition.  But an injured person may still have a great case even if he or she was wearing high heels, sandals or another type of footwear. In fact, I settled a case for $300,000 where my client slipped and fell while using crutches in a supermarket.  That settlement was before deduction for attorney's fees and expenses. Most cases result in a lower recovery. It should not be assumed that your case will have as beneficial a result.
I also settled a case for $195,000 where my client was walking with a boot on his foot for a prior foot issue when he slipped and fell on a slippery walkway.  I have settled slip and fall cases against supermarkets where my client was wearing sandals.
If you were wearing shoes at the time of the fall, you should write down whether you had your laces tied.  I had a client who was asked by a defense attorney whether he was wearing baggy pants and whether his laces were tied at the time of the fall.  You should also preserve all of your clothing as the defense attorney may request this.
Your Age
The property owner may try to place blame on you if you slipped and fell and you are older.  The same is true if a child slips and falls.  Kids 6 and under in Florida are generally not at fault for a slip and fall accident.
Older people and kids generally have the same right to walk in an area as anyone else.  Find out how age affects a Florida injury case.
Your State of Mind
Your mental state is important in a slip and fall case because it may show that you may not have paying attention and this caused your fall.  If a lawsuit is filed, the property owner is entitled to request your medical records.  So one of the many factors that you should consider if you slip and fell is your mental state at the time of the fall.
Whether you consumed alcoholic beverages or took any drugs or medication in the 12 hours before your fall may affect the value of your case.  In Florida, this is a standard question that the property owner can ask you if you sue them for a slip and fall.
Liability claims adjusters are not sympathetic to people who were drunk when they fell.  In Florida, if you were intoxicated to the extent that your faculties were impaired AND you are 50% or more responsible for the slip and fall, then you get nothing!
You should also make a note of whether you took your daily medication before the fall? As in any injury case, the use of alcohol, drugs or medication can affect the value of the injury case.
If you suffered from mental illness, the adjuster may try to blame the fall on your not being distracted and in the moment.
Your Gait (Movement of your Legs)
The injured person should write down any issues that he or she had walking before the accident that would affect your gait.  This may affect the value of your case as the adjuster may try to blame the fall on walking issues that pre-existed the fall.
Like I said above, I have settled cases for people who were wearing a walking boot or on crutches at the time of the fall.  An injured persons should write down any past issues that he or she has had walking.  If lawsuit needs to be filed, you can expect the defense to get all of your past medical records. The adjuster may ask you whether you had issues walking immediately before your fall.
The injured person's memory of the accident, and what occurred right before and after are very important as he or she is often the only witness to the fall.   You should note whether your loss of balance before the fall was the cause of your injury.  It is important to locate the hazard that caused the fall as soon as possible after the accidents to take pictures and/or video as soon as possible following the incident.
Did someone's carelessness cause you to slip or trip and fall and suffer an injury in Florida, or on a cruise or boat?  Were you injured in another type of accident?
See Our Settlements
Check out some of the many Florida injury cases that we have settled, including but not limited to slip or trip and falls, supermarket or store accidents, cruise ship accidents and much more.
We want to represent you!
Our Miami law firm represents people injured anywhere in Florida in slip, trip and falls, store or supermarket accidents, cruise ship or boat accidents, accidents at someone else's home, condo or apartment, and many other types of accidents.
We want to represent you if you were injured in an accident in Florida, on a cruise ship or boat. If you live in Florida but were injured in another state we may also be able to represent you.
Call Us Now!
Call us now at (888) 594-3577 to find out for FREE if we can represent you. We answer calls 24 hours a day, 7 days a week, 365 days a year. 
No Fees or Costs if We Do Not Get You Money

We speak Spanish. We invite you to learn more about us.