If you're claiming that an accident or incident caused your compression fracture, you need to know how much it's worth. That is the only way that you will know how much to settle for.
In order to know how much a compression fracture is worth, you need several pieces of information. They include knowing:
Past jury verdicts for compression fracture cases
Details about past spinal compression fracture settlement amounts
What a compression fracture is
How likely it is that you'll be able to prove that the accident caused or aggravated (worsened) the fracture
In addition, you should know how the type of case affects the settlement.
Some examples of types of cases are car accidents, slip and falls, or dog attacks. Different laws affect your ability to prove liability in each case. I've just mentioned a few types of accidents. Many other types of accidents can cause or aggravate a compression fracture.
I talk about many of the above issues in this article.
Let's first look at some settlements for fractures of vertebrae and lamina.
$260K Settlement for Fracture of the Lamina of Vertebrae (Uber Accident in Miami)
Here is the actual crash diagram from the police report:
My client, Ray, was an Uber driver who was engaged in a ride in Miami, Florida. He was in Vehicle 2 in the above diagram. He had a passenger at the time of the crash.
A company van (vehicle #1 in the diagram) was heading in the opposite direction. The van made a left hand turn.
The front of the van collided with the left driver side of the Uber driver's car. You can see the damage to the car that Ray was driving (below):
The van wasn't as badly damaged. Check out the photo below:
At the hospital, The CT scan showed a fracture of the left lamina of the T3 vertebra. Here is what the lamina of a vertebrae looks like:
The image below shows where the T3 vertebra is located.
Doctors admitted him into the hospital. This means that he was given a room in the hospital. Here is what Ray looked like when I visited him at the hospital: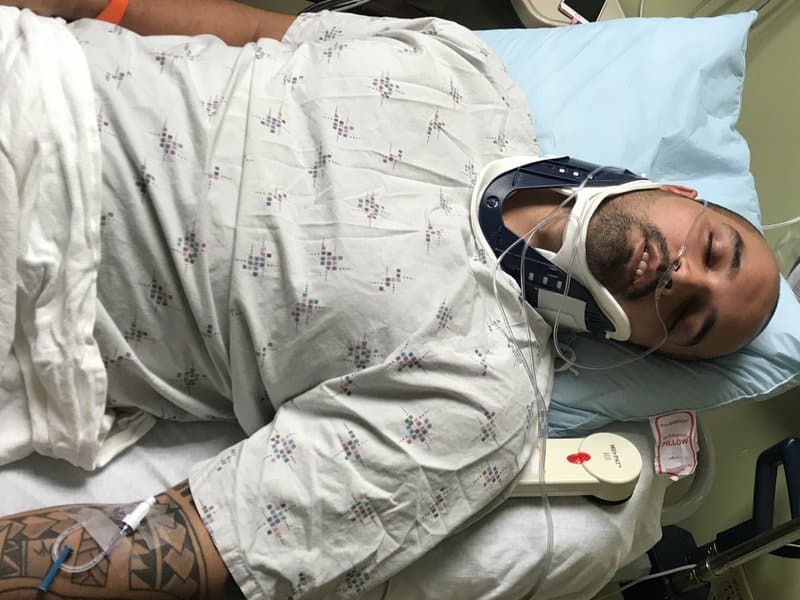 Doctors put an IV line in his arm, and an oxygen tube below his nose.
All things equal, a fracture of the lamina of a vertebra isn't worth as much as a compression fracture of the vertebrae.
At the hospital, doctors took an MRI of Ray's neck. The MRI did not show the lamina fracture. It also did not show edema at the T3 level. Edema is swelling caused by excess fluid trapped in your body's tissues.
If you have edema, doctors are more likely to agree that the accident (trauma) caused the lamina fracture.
Neurosurgeon Says No Surgery Needed
The neurosurgeon reviewed the CT scan done at the hospital. He said that there is a "linear break in the cortex just medial to the pedicle lamina junction on the left side towards the pedicle at T3."
The neurosurgeon did not recommend surgery to the lamina fracture. CNA insured the company whose driver (of the van) caused the accident. The CNA adjuster argued to me that the MRI of Ray's thoracic spine said that there was no fracture to the lamina of T3.
I settled the Uber driver's personal injury claim with CNA for $260,000.
Here is a video about this $260K settlement:
Would this settlement have been different if my client was on a motorcycle (instead of driving a car)?
Not really. If it had been a motorcycle accident settlement, the payout would've been similar.
$52.5K Settlement for Compression Fractures (Bike Rider Hits Side of Car in Key Biscayne)
A young bicycle rider was heading straight in a bicycle lane. He was in Key Biscayne, Florida.
A car was heading in the same direction as him. The car made a right hand turn in front of the bike rider.
The bicyclist collided into the car. The force threw him off his bike. He landed on his back.
The car's driver received a ticket for failure to yield right of way. However, in a Florida car accident case, the jury isn't allowed to hear whether a ticket was issued. Thus, they don't know who received a ticket.
That being said, none of the insurance adjusters placed the bike rider at fault for the crash.
He had a closed head injury. A closed head injury is when you receive a powerful strike to your head from hitting an object. However, the object does not crack the skull.
Thankfully, he did not lose consciousness. If he had lost consciousness, the case would have been worth more.
The bicyclist also suffered compression fractures from T3 to T5.
T3, T4 and T5 are different thoracic vertebrae. In humans, thoracic vertebrae consist of 12 bones. An image of the thoracic vertebrae is below.
He also had a small disc protrusion. The car's driver had a $10,000 bodily injury liability (BIL) insurance limit. His insurance company paid the $10,000 limit to us.
$42.5K of the Settlement Was from Bike Rider's Uninsured Motorist Insurance
Fortunately, my client had uninsured/underinsured motorist (UM/UIM) insurance. USAA was his UM/UIM insurer. We settled the UIM insurance claim with USAA for $42,500.
The bicyclist's health insurer paid some of his medical bills. As with most health insurance, it paid at a reduced amount.
The health insurer was legally entitled to get paid back from the settlement. Their lien was relatively small. It was only about $650.00.
I represented the injured bicyclist. The entire settlement was for $52,500.
I settled in the case in 2007. Check out some of my other bike accident settlements.
Surgery Would've Increased the Settlement Amount
The bike rider would've received a bigger settlement if he would've had surgery. However, surgery was not recommended. Surgery usually significantly increases the full value of a case. Full value is the value before taking into consideration any factors that may reduce the case value.
Some factors that may reduce case value are difficulty proving liability, and fault on the injured person.
Another hurdle may be proving that an accident caused a compression fracture and more. If you were in a car accident, took an ambulance to the hospital and had emergency surgery, linking the compression fracture to the accident is more straightforward.
If you sue, the defense gets to hire a doctor who will likely say that your compression fracture existed before the accident. But don't take my word for it. You'll see this below in a moment.
How much is my personal injury case worth if I have surgery to a compression fracture?
If you look at Florida personal injury verdicts for a kyphoplasty (surgery), the full value of the pain and suffering component is between $100,000 and $150,000. A doctor may perform a kyphoplasty surgery to fix a compression fracture.
Kyphoplasty injects special cement into your vertebrae — with the added step of creating space for the treatment with a balloon-like device (balloon vertebroplasty). Kyphoplasty can restore a damaged vertebra's height and may also reduce pain.
The above full value of pain and suffering is for the more populated counties in Florida, where juries usually award more for pain and suffering than in smaller counties.
Next, you need to add your medical bills and lost wages to the full value of pain and suffering. This gets you to the full value of the case.
You then need to reduce the value of your case, if appropriate, by difficulty proving liability, and your fault.
How do I calculate settlement value in a kyphoplasty fall down case?
Let me give you an example of how to calculate settlement value if you have a kyphoplasty after you slip or trip and fall somewhere. Assume that you slip or trip and fall at a hotel, apartment complex or condo, store, mall, theme park or at another business.
As a result, you have a compression fracture and a doctor performs a kyphoplasty on you. Overall, you heal well. You don't have any major complications.
Assume that the hazard that caused you to fall was fairly visible before you fell. In other words, it is open and obvious and you, arguably, should have seen it before you fell.
In this scenario, you may only be able to show that a property owner is 50% to 75% at fault for allowing this dangerous condition to be on their property. Further, assume that you are around 50% at fault for not seeing what you slipped or tripped on before you fell. This means that your claim is only worth about 30% to 40% of the full value if the property owner was 100% at fault. I arrive at this percentage my multiplying 50% by 50%.
Let's assume that your health insurance paid $10,000 to your medical providers for your kyphoplasty surgery. If your medical bills and lost wages are around $20,000, the full value of your case may be $120,000. That's the full value of pain, suffering, lost wages and medical bills.
But the compression fracture kyphoplasty settlement calculation does not stop there.
If you have a tough fall down case, the property owner's insurance company may only pay you 30% to 40% of the claim's full value. This would put the settlement value between $35,000 and $65,000. This is because 30% to 40% of $120,000 is within the above range ($35,000 to $65,000).
You can see how a tough liability fall down case can significantly decrease the value of a your settlement if you have a kyphoplasty.
Jury Awards $368K for Surgery to Fracture in Back (and Other Injuries)
On July 6, 2016, Shan Frogel crashed into the back of Charleen Mcmanus' car.
Charleen claimed that her back pain was worsened by the accident. She complained of pain in her back, neck, and thoracic spine. She continued to complain of thoracic spine pain over the next year in treating with a chiropactor, Dr. Cirone.
Her work required her to lift heavy bales of hay, ride horses and take feed and hay off trucks. In April 2017, McManus again suffered lower back pain. Specifically, in that month, she felt a mid-back pop and excruciating pain while trying to lift a 25 pound bag. Dr. Cirone believed that the lifting incident caused a fracture in McManus' back (thoracic verterbrae).
Her neurosugeon (Dr. Anthony Hall) said that the accident caused her thoracic vertebrae fracture. Additionally, he also stated that the symptoms from her disc herniation and bulges were caused by this car accident. Dr. Hall has a good reputation for being fair to injured accident victims.
The Neurosurgeon Operated on Her Spine
Ultimately, a neurosurgeon operated on her spine. I reviewed the court filings. However, they do not mention the type of surgery. The neurosurgeon (Dr. Anthony Hall) charged $128,314 for the surgery. Surgeries are not cheap!
However, it takes a tremendous amount of dedication and time to become a neurosurgeon. Also, each spinal surgery carries the risk of paralysis and other injuries. In other words, neurosurgeons have a stressful job.
At some point after the car accident, she hired an attorney. On August 1, 2017, McManus sued the driver who rear ended her. In November 10, 2017, McManus' attorney offered to settle with the alleged at fault driver for $100,000. Three days later, that driver accepted the offer.
Next, McManus sued her uninsured motorist carrier, Owners Insurance Company. She had a $50,000 per person uninsured motorist (UM) coverage limit with auto owners. However, she had stacking coverage and two cars on her policy. Thus, she was entitled to $100,000 in UM coverage.
Owners fought the case through trial. Ultimately, a jury awarded $368,000 to McManus.
They awarded $5,000 in past pain and suffering, and $112,500 in future pain and suffering. They also awarded her the full value of her medical bills. Thus, the pain and suffering award was 32% of the entire verdict.
However, Owners Insurance Company gets a $100,000 credit for McManus' settlement with the at fault driver. Owners also gets a credit for $10,000 because she had personal injury protection (PIP) that paid $10,000 to her medical providers.
Why do I think that the award was so high?
First, she had surgery. As I mentioned above, surgery greatly increases the full value of a case.
Second, the medical bills that she owed were huge. She had Medicare. However, she did not use it for her treatment.
In fact, the defense argued strongly that her medical expenses should have been limited to what Medicare would have paid. Specifically, the defense argued that her medical providers accept Medicare. The defense attorney cited to another trial judge limited the medical bills to what Medicare would have paid. This would have potentially been problematic if the jury would not have awarded her the claimed medical bills.
However, they chose to treat her and wait to accept payment until the case was over. This is a risk that you take by not using your Medicare for medical treatment that is related to an accident.
On September 5, 2018, the parties reached a settlement. I do not know the amount of the settlement.
What is a Vertebroplasty?
The two common surgeries on compression fractures are vertebroplasty and kyphoplasty. In a vertebroplasty, a doctor injects cement (Methyl methacrylate) into the vertebral body. They try to re-expand it.
Radiologist, Dr. Michael Raskin, was hired in a slip and fall lawsuit against Dollar General. That wasn't my case.
The customer's primary injury was two compression fractures. Dr. Raskin said, in deposition (testimony) that in a vertebroplasty:
the patient is going to be immobile, they're bedridden. Why would you put a patient through a procedure of sticking a large bore needle into their vertebral body, and pumping cement to expand the vertebral body?
Is a Kyphoplasty Worth More than a Vertebroplasty?
All things equal, a kyphoplasty adds more value than a vertebroplasty to a case. But don't take it from me. Here is what a doctor (Raskin) said:
A kyphoplasty is more significant than a vertebroplasty.

Dr. Raskin (Deposition in Dollar General slip and fall lawsuit)
The image of the patient is a stock image that shows the room and procedure setup for a kyphoplasty.
Someone who has a kyphoplasty (or any surgery), and has a injury case, should ask the doctor if he can video the procedure. Send a copy of the video to the insurance adjuster. This brings the case to life. It may help the injured person get a bigger settlement.
Let me share a quick story of how a video may help. In one of my auto accident cases, my client had severe low back pain. She had diagnostic nerve root block injections to L5-S1.
Below is an actual image.
A nerve root block is an injection of local anesthetic (numbing medicine) and steroid injected under X-ray guidance into the area where the nerve exits the spinal column.
My client asked the doctor to take a video of the procedure. Her doctor's assistant took a short video with the patient's cell phone. In the video, you could hear the patient screaming from pain.
I sent a portion of the video to GEICO. Shortly thereafter, GEICO paid the $100,000 policy limits. I believe that the video may have helped us get a quicker and higher settlement.
Surgeons, not interventional neuroradiologists, do a kyphoplasty. A kyphoplasty is a surgery to support the segment, two bones, two vertebral bodies and the disc space.
Which Compression Fracture Cases Are Worth the Least?
Your case can be tougher if you've had an image of your spine was taken before the accident, and it showed a compression fracture. The image could be an x-ray, CT scan or MRI scan.
For example, in the case of Michele Barry v Dolgencorp LLC d/b/a Dollar General, a shopper claimed that her slip and fall aggravated (worsened) her pre-existing compression fractures. Above, I briefly talked about the radiologist's testimony in that case.
Dolgencorp, LLC, is a company that does business as Dollar General, operating discount department stores.
On April 27, 2013, Barry fell in Dollar General's store. The shopper's primary injury were two fractured vertebrae.
To win her case, she to show that Dollar General had notice of the hazardous activity before the fall. The Court ruled that the jury could watch the video of child's play in the store before the fall.
MRI Before the Accident Showed Compression Fractures (Made The Case Tougher)
Dollar General hired a radiologist (doctor) to review all of the customer's MRIs, CT scans and x-rays.
He said that in 2012, before the accident, Barry had an MRI scan that showed compression fractures T11, T12 and L1. The vertebrae looked wedge shaped.
He said that a vertebrae should be nice and square, or look like a perfect rectangle. She had a bulge at L5-S1 before the accident.
Dollar General's radiologist expert said that the the MRI scan taken after the fall, on June 3, 2013, looked the same as before the accident. He said that there was no change.
The MRI taken after her fall showed the same compression fractures in the lower thoracic and upper lumbar. It also showed the L5-S1 bulge.
On February 21, 2014, the customer's lawyer offered to settle the case with Dollar General for $100,000. Dollar General refused the offer.
The Most that Dollar General Offered Was $40K
Dollar General offered to settle for $10,000.00 on June 24, 2014, and for $40,000.00 on July 24, 2014. The customer offered to settle for $149,999.00 on April 24, 2014, and in the amount of $400,000.00 on July 31, 2014.
On on August 21, 2014, the shopper's attorney offered to settle her claim for $200,000.00. Dollar General rejected it.
Dollar General refused to accept any of her offers which increased as she obtained additional evidence that supported liability and her injuries.
Apparently, her attorney thought the chances of winning were higher as he discovered more information about the case.
The case went to trial in Miami-Dade County. At trial, the store video of the shopper in the store was played to the jury.
On November 4, 2014, the jury entered a verdict in favor of the customer, Michele Barry. At the six day trial, Dollar General argued every aspect of the case.
Jury Awards $250K for Two Compression Fractures
They found Dollar General 100% liable for her injuries, in the amount of $250,087.00.
In most slip and fall cases, the jury doesn't find the store or premises owner 100% liable. Unfortunately for the injured person, the jury often places at least some fault on the shopper for causing his or her injuries.
The breakdown of the verdict was as follows. She received the following compensation:
Basically, about 40% of the verdict was for her future medical expenses.
The jury also awarded her the following amounts for pain and suffering, disability, physical impairment, disfigurement, inconvenience, aggravation of a disease or physical defect or loss of capacity for enjoyment of life in the:
Past for $2,735
Future for $33,945
Claimant May Get Less if the Case Is Hotly Contested
Dollar General fought liability very hard. Fortunately, this doesn't happen in every slip and fall case against every company.
However, in some slip and fall cases, like the Dollar General one that I mentioned above, liability is hotly contested.
The good news for the shopper was that the incident was also captured on video and showed her falling on detergent through no fault of her own.
Trip and Fall Cases Are Tougher (May Lead to a Smaller Settlement)
One Florida court said:
trip and fall cases are viewed with a great deal of skepticism by the general public, personal injury attorneys, insurance companies and, most importantly, by juries.
That case was Labaton v. Mellert, 772 So. 2d 622, 623 (Fla. 4th DCA 2000).
As in all trip and fall cases that I've handled (or heard of), the victim's attorney only gets paid if they get a settlement or verdict.
In the Dollar General case, the court determined that $400 was a reasonable hourly fee for a trial attorney of the claimant's attorney's experience. It took 491 hours to get the case through trial. The court awarded her an attorneys' fees of $392,800.
Before Trial, and At Trial, Dollar General Tried to Get the Case Dismissed
Dollar General aggressively claimed that it wasn't liable and tried to get the case dismissed, both before and at trial, under Florida Statute 768.0755.
The theory of liability claimed by the shopper was based on Florida Statutes 768.0755(b), claiming that a dangerous condition occurred regularly in this Dollar General store's premises in the form of unsupervised children repeatedly entering the store and knocking over merchandise.
The court said that it is generally agreed that the new slip and fall statute was passed by the State Legislature to make it more difficult for plaintiffs to pursue slip and fall claims against retail stores.
At the time of the trial only one appellate opinion had addressed this theory of liability under the new law. Feris v. Club Country of Fort Walton Beach, Inc., 138 So.3d 531 (Fla. 1st DCA 2014).
Dollar General Tried to Blame Minor Children for The Lady's Fall
Dollar General wanted to add minor children to the verdict form. If minor children were on the verdict form, and the jury found a minor child responsible for causing the shopper's slip and fall, then Barry would have won less money.
For example, here the jury found that Dollar General was 100% responsible for her injury. Thus, Dollar General had to pay 100% of her medical bills, and pain and suffering.
However, if minor children would've been on the verdict form, and the jury found the minor children 50% liable for the accident, then the customer would've only recovered 50% of her damages.
Thus, it was a big issue.
Shopper's Affidavit Said Dollar General's Refusal to Settle Contributed to Financial Difficulties
The shopper signed an affidavit said that Dollar General's refusal to settle contributed to the loss of her business and made it more difficult to keep up with her mortgage. However, she did not ask the jury to award her money for lost wages, or future loss of ability to earn money in the future.
The Court noted Dollar General took an extremely aggressive litigation (lawsuit) strategy in this case which resulted in numerous court hearings on routine discovery matters.
Dollar General brought four attorneys to trial and billed over 1,017 hours of attorney time from February 21, 2014 through January 15, 2015.
The court compared Dollar General's conduct to the conduct of the defendant in State Farm Fire & Cas. Co. v. Palma, 524 So.2d 1035 (Fla. 4th DCA 1988). There, State Farm chose to take the plaintiff "to the mat" and make an example out of his case.
Likewise, Dollar General and its lawyers counsel chose to go '"toe-to-toe" with Barry and her attorney but lost. The court said that Dollar General cannot complain that their aggressive litigation strategy resulted in the customer having to spend 695 hours to respond to the 1017 hours of attorney time Dollar General chose to expend defending a "slip and fall" case.
It's Difficult to Take a Slip and Fall Case With Questions of Notice to Trial
The court said that it is difficult to take a slip and fall case with questions of notice to conclusion. Again, you need to show that the store knew or should have known of the dangerous condition before you fell.
Further, early on in the case, after giving Dollar General notice to preserve store video before the incident, Barry learned that Dollar erased views from other cameras that would have been relevant to notice.
It would have been easy to drop the case or settle for peanuts.
Dollar General's Doctor Says Customer's Neck Problems Existed Before the Fall
Dollar General also argued that the customer's neck injuries weren't caused or aggravated by the fall.
They hired a radiologist, Dr. Michael Raskin, who testified that he reviewed MRIs of the cervical spine that were taken after the accident on June 3, 2013 and June 6, 2013. Those MRI scans showed abnormalities.
An abnormality is something that is not normal. However, he said that these issues were the same on May 1, 2012, which was less than a year before the slip and fall.
He said that the x-rays taken after the accident showed bony changes. They are called osteophytes. Osteo means bone, phytes meaning spurs. Bone spurs take years to develop. They can't be from something recent. The bone spurs were also on the MRI scans before the slip and all.
Spondylosis is where there is no space between the bones of the spine. Spondylo means of the spine, losis means degeneration. The x-ray before the accident showed that she almost had no disk space between C4 and C5, and C5 and C6.
The MRI showed the narrowing of the disc space between C3 and C4. This was also shown on the x-ray taken before her fall. Also, at C5-6 and C6-7, the disks were dark.
Dark black structures represent the discs. That's where the discs should be. Dr. Raskin said that her discs are there but they're dried out and desiccated. They lost the water.
Can You Date an Injury of a Disc, Disc Desiccation, or Bulges with an MRI alone?
Dollar General's radiologist said No. You can't look at a single MRI and tell when those findings occurred.
However, if you have two MRIs, and an event occurred between those two MRIs, if the findings are the same then it's unlikely the event caused the findings on the second MRI.
When Looking at an MRI, if There's Been Recent Trauma, Would You See it on an MRI?
You may or may not see evidence of soft tissue or ligament injury. The radiologist looks for nuclear material, meaning the nucleus pulposis, the center part of the disc. He looks to see if it's extending beyond the normal boundaries of the disc.
Dr. Raskin said that there was no evidence of acute (sudden) disc herniation. Basically, he stated that there was no evidence of trauma (injury) on any of the MRI scans before or after the accident.
Dollar General's radiologist said that if you see bone marrow edema, it would make him think it is a recent, acute traumatic injury. Edema is the medical term for swelling.
Dr. Raskin said that you can't have a herniation that doesn't touch the thecal sac or posterior longitudinal ligament. He said that all herniations touch the thecal sac or posterior longitudinal ligament.
Slip and Fall Victim Wins $152K for Compression Fracture
On July 22, 2014, Michael Davis slipped and fell at a Steak N Shake restaurant. He claimed that this accident caused his compression fracture.
Davis went to Tallahassee Memorial Hospital. There, they took an x-ray of his spine. However, the radiologist did not see any fracture. Thereafter, Davis treated with Dr. Stoetzel. Dr. Stoetzel reviewed the x-rays from the hospital. He said that they showed a compression fracture at T12.
He said that a compression fracture is where one's vertebrae body becomes compressed down. It involves just the front half of one's vertebrae as opposed to some of more complex fractures.
Dr. Stoetzel said that the most common mechanism of injury that causes a compression fracture is a fall. However, a car accident or lifting injury are also common causes.
He said that even if the compression fracture existed before the fall, it could become more symptomatic as the result of the fall.
It showed wedging and/or compression of T12. He said that with just an x-ray he could not tell if it was a new injury or something that had happened at some other time.
Dr. Stoetzel did not place any restrictions on Mr. Davis.
He said that he would need an x-ray from before the accident to determine if the compression fracture was caused by the fall.
Treating Doctor Said Compression Fracture More Likely Than Not Came from the Fall
Dr. Stoetzel said that more likely than not the T12 fracture came from the July 22, 2014 fall.
However, he said that he can't say this with 100% certainty since he didn't see Davis until 4 months after the accident. Moreover, he did not take an x-ray until 5 months after the fall.
The doctor said that even if he had a chest or abdominal x-ray, taken from the side, from before the fall, it may show whether the compression fracture existed before the fall. Also, a CT scan of the chest or abdomen would possibly show if the compression fracture existed before the fall.
Therefore, the injured person (or their attorney) may want to request any CT scans of his or her chest or abdomen. The insurance company for the at fault party may request these during a lawsuit. Throughout a lawsuit, the insurance company can subpoena your medical re
On February 4, 2015, Spencer Stoetzel, M.D. followed up on an MRI that Mr. Davis had. Dr. Stoetzel said that it appeared that he had a T12 compression fracture that was chronic or healed at that point. He recommended physical therapy for him.
He Had a Minimal Healed Compression Fracture
Dr. Stoetzel said that surgery was not an option or is not an option for a healed minimal compression fracture. The doctor said that treatment could be managed with over-the-counter pain medication like Motrin, Aleve or Tylenol.
Dr. Stoetzel didn't recommend narcotic pain medications for a healed compression fracture. He said that he didn't recommend narcotics for back pain, and the American Medical Association doesn't either.
Narcotic medications increase the full value of the case.
Dr. Stoetzel said that surgery is potentially an option for an acute fracture. He said that surgery isn't an option for a healed fracture.
Dr. Stoetzel said that Davis' 10 percent loss of vertebral body height isn't enough for him to recommend surgery. He said that if he lost 50% of vertebral body height, maybe he would've discussed surgery options like a fusion.
The other surgical option would be a kyphoplasty. However, kyphoplasties are only for acute compression fractures, not healed fracture.
Dr. Stoetzel recommended physical therapy. Davis went to at least two physical therapy visits.
Dr. Stoetzel said he typically prescribes 4 to 6 weeks of physical therapy for a compression fracture.
In 2015, Davis hired an attorney and sued Steak N Shake. On October 15, 2015, Davis' attorney offered to settle with Steak N Shake for $9,500. This means that her attorney valued the case at around $9,500.
Steak N Shake's Attorney Hired a Doctor To Review the Films
Steak N Shake hired Reed Murtagh, M.D. to review the films. In a personal injury case, the defense can hire a doctor to examine you or review your medical records. And they almost always do so. Here, the defense doctor said that Davis' x-ray of her lumbar spine (lower back) showed has compression fractures at T11 and T12.
He said that there was more loss of height in the vertebral body of T12 than there was at T11. Dr. Murtagh said that this means that T12 was a more significant compression fracture.
He said that nobody can say, from looking at the images alone, if the compression fractures were caused by the fall. He did say that the compression fractures are very old.
Dr. Murtagh said that they've been there a long time, probably years based on the abnormalities he saw on the plain x-ray. He said that his opinion was that both compression fractures occurred before the fall.
His basis was that the fractures were very well corticated. That means, the bone surrounding the outer margins of the vertebral bodies are intact, with no breaks. There was also sclerosis or increased bone. The disc spaces of the front of the vertebral bodies T-11-T12, T12-L1 are calcified.
Defense Doctor Said the Fractures Look Old (From Before the Fall)
He said that is the anterior longitudinal ligament, and that takes a long time to calcify. Thus, he said that they don't look like acute (new) fractures. Dr. Murtagh said the compression fractures don't look very fresh.
Dr. Murtagh looked at the December 2014 MRI of the thoracic spine. He said that a compression fracture of the spine would show marrow edema in the vertebral body, and that would last for about 6 weeks.
He said Davis' December 2014 compression fractures were probably older than 6 weeks. Dr. Murtagh said there was no marrow edema.
Edema is fluid accumulation within the fatty marrow of the vertebral body, which would have a different signal and be identifiable on the MRI. Edema indicates bruising within the bone. It can be seen with a fracture of the bone, or bruise of the bone. It usually lasts about 6 weeks.
He said it may last up to 8 weeks, but should be gone after that. Edema shows up immediately after trauma.
Dr. Murtagh said that the MRI showed slight encroachment into the spinal canal with contact of the cord by the posterior margin of the intervertebral disc. He said that this condition can cause symptoms (problems). He also said that this condition could exist and not cause pain.
On September 27, 2016, the jury awarded Davis $152,476.04. The verdict breakdown was:
Past medical bills: $7,476.04
Future Medical expenses: $30,000
Past pain and suffering: $15,000
Future pain and suffering: $100,000
This is an incredible verdict for the injured person. Do not expect most insurance companies to offer you $115,000 in pain and suffering for a healed compression fracture with minimal treatment. Most insurance companies will not offer you that type of money for a minimal healed compression fracture. I'm talking about insurers like GEICO, Progressive, Allstate and many others.
Steak N Shake appealed the verdict. The appeal was based on their claim that they didn't have notice of any dangerous condition before Davis' fall.
In other words, they are claiming that it wasn't reasonable for them to know that there was a dangerous condition on the floor before Davis's fall. Steak N Shake also claimed that the verdict was too high, in relation to the small amount of medical bills ($7,476). The appeals court disagreed. It let the verdict stand. This was a big win for Davis.
$1.1 Million Verdict for Surgery to Compression Fracture Caused by Fall off Balcony
This isn't my case. Amanda Fournier, a 17 year old, fell from a second-story balcony when she the railing of the balcony, upon which she was leaning, failed, resulting in her falling to the ground from the second story and suffering multiple spinal fractures and subsequent spinal fusion surgery.
The incident occurred on September 13, 2013 at a rental home owned by Derazi and rented by Daniel Diaz. She claimed that the plastic railing against which she was leaning at the time of the fall was in an unsafe and dangerous condition.
Amanda claimed that it was installed and/or maintained with drywall screws which are not intended for outdoor use. She also claimed that the brackets which held the railing in place did not have all the screws in place ensuring that it would meet code requirements.
Amanda also claimed that this dangerous condition was one that she couldn't have readily discovered.
The Defense Claimed that Amanda Was Drunk (Intoxicated)
Derazi's attorney initially claimed a defense, among others, that Amanda was impaired (intoxicated), and her intoxication caused her the incident.
In Florida, an injured person has no case if he or she:
(a) is under the influence of any alcoholic beverage or drug to the extent that the plaintiffs normal faculties were impaired or the plaintiff had a blood or breath alcohol level of 0.08 percent or higher; and
(b) As a result of the influence of such alcoholic beverage or drug the plaintiff was more than 50 percent at fault for his or her own harm. Fla. Stat. 768.36.
The neurosurgeon at the emergency room hospital diagnosed her with a ligament injury at the C5-C6 level.
The C5-C6 spinal segment, consisting of the C5 and C6 vertebrae along with the C5-C6 disc in between. It is located just beneath the middle of the cervical spine. It helps provide the neck with structural support and flexibility.
She had thoracic compression fractures. Below is an image of the thoracic vertebrae. Here compression fracture occurred at the top of the red area.
A Doctor Put Rods and Screws In Her Neck, Which Greatly Increased the Verdict
On September 2013, Eric Nottmeier, M.D., the neurosurgeon put rods and screws into her neck.
This is what a rod and screws look like: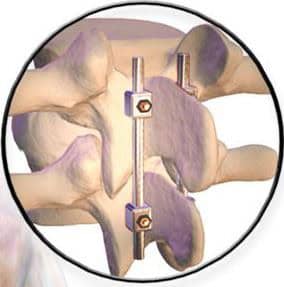 He said that the surgery was successful. After the surgery, Fournier followed up in the clinic with x-rays. They showed good fixation, good fusion across the instrumented levels, with no instability of her spine.
He recommended a brace for treatment for the thoracic compression fractures. On April 2014, she had a CT of her cervical spine (neck). It revealed solid fusion crossed instrumentation. There was no lucency of the instrumentation.
(Areas of lucency around the inferior pedicle screws indicate that the hardware may be loose.) If the hardware is loose, it increases the value of the case.
Thoracic spine x-rays were done. They showed no change in her alignment. And the compression fractures were stable.
The compression fractures were still present at that time. However, they were stable. When compression fractures heal, they'll heal in the position that they originally presented with. There was no further deformity or compression of those fractures at that visit.
Do Compression Fractures Ever Go Away?
Dr. Nottmeier said:
It's highly unlikely a compression fracture will ever return to the normal block of bone that it was before.
What is the Ideal Outcome for a Compression Fracture?
Dr. Nottmeier said it is a:
stable compression fracture without any pain.
The neurosurgeon saw her 5 times. The last follow up was on February 2015.
In February 2015, she came back to see the neurosurgeon. She was having some increased neck and thoracic pain. The doctor didn't order any x-rays. She had been participating in physical therapy and was 50 percent improved. In terms of pain, she was feeling better.
She had reported that she had been improving through physical therapy. The neurosurgeon offered to do some x-rays, but said it wasn't absolutely necessary. Fournier said she was doing good enough. She didn't want x-rays at that time.
She didn't have any future appointments to see the doctor. The neurosurgeon said that whenever someone undergoes fusion in the spine, they're always at risk for adjacent segment disease from that fusion.
What is Adjacent Segment Disease?
It's when the disc above or below the fusion starts showing changes of degeneration, requiring extension of the fusion in the future. Dr. Nottmeier said that it's commonly accepted that there is a risk of adjacent segment disease with any fusion of the spine. If you take out segments of the spine, it puts stress on adjacent motion segments.
On the other hand, he said that there's a possibility that she won't get adjacent segment disease.
Dr. Nottmeier said that studies have shown that people with prior cervical fusions on average have a 2 to 3 percent cumulative risk per year of symptomatic adjacent segment disease. Symptomatic means symptoms (problems).
Cumulative risk, in this case, means that over a 10 year period, she had a 20 to 30 percent chance of symptomatic adjacent segment disease.
Doctor Said She'd Likely Need a Fusion Surgery In the Future
The doctor said that if you assume that Amanda lived 60 more years, it's more likely than not that she will develop adjacent segment disease to her fusion requiring treatment.
The neurosurgeon said that her fusion was solid, so she shouldn't be at risk of having injury over the fused levels. Her adjacent levels will be under some increased stress.
So, in patients with a two-level fusion, if they are at risk of heavy contact sports or situations where they have significant trauma to their neck, they may be more prone to an injury than someone without a two-level fusion.
On July 17, 2017, the jury found that Derazi's negligence caused her injury.
The jury awarded found 5% of fault on Amanda. They found Derazi 80% at fault, and Pi Kappa Phi Fraternity 15% at fault.
They awarded the following:
Past Medical Expenses: $145,547.88
Future Medical Expenses: $60,000
Past Pain and Suffering: $600,000
Future Pain and Suffering: $300,000
The total verdict was for $1,105,547.88.
If she had been much older, I think there is a greater chance that the jury wouldn't have awarded her money for her fusion. Thus, the amount of money awarded for future medical expenses and future pain and suffering may have been much smaller.
The defendant can still appeal this verdict. However, the defendant didn't claim that the amount awarded for pain and suffering or medical expenses was too high.
The injured person's age often affects the value of a case.
Golf Cart Driver Wins $233K for Compression Fracture in Vertebrae Requiring Removable Body Cast for 6 Months
This isn't my case. Roslyn Posner claimed that on January 13, 2009, Linda Berger-Buvitt ran a stop sign at the intersection of the golf cart path and pedestrian sidewalk. Posner was allegedly 82 years old at the time of the crash.
Berger-Buvitt claimed that the bushes, trees and/or foliage owned, controlled and/or maintained by The Polo Club of Boca Raton Property Owners Association, blocked her view as she was making her turn at the intersection. Thus, she claimed this caused or contributed to the collision with Posner's golf cart.
The police officer who responded to this crash said that he observed bushes and foliage in the area of the intersection.
Rosalyn was allegedly diagnosed with a mild compression fracture in her thoracic vertebrae. She needed to wear a removable body cast for six months.
USAA and Zurich Insurance Insured the Other Driver and Polo Club
USAA insured Berger-Buvitt. Zurich Insurance Company insured the Polo Club.
Posner and her husband sued Linda Berger-Buvitt and The Polo Club.
During the lawsuit, USAA offered $44,500 to settle Mrs. Posner's lawsuit against Berger-Buvitt. USAA offered $500 to settle her husband's loss of consortium claim against Berger-Buvitt.
She and her husband didn't accept these offers.
Likewise, Zurich Insurance (Polo Club) offered to settle with Mrs. Posner for $2,501. They offered to settled her husband's lawsuit for $101.00
However, the Posners didn't accept.
On the September 21, 2012, the jury reached a verdict that Berger-Buvitt was 75% responsible for the crash. They found Posner 25% liable. They didn't place any blame on The Polo Club.
The jury awarded Mrs. Posner:
$15,000 for past medical bills
$133,000 for future medical bills
$65,000 for past pain and suffering, mental anguish and loss capacity to enjoy life
$18,000 for past pain and suffering, mental anguish and loss capacity to enjoy life
Thus, they gave her $83,000 for her past and future pain and suffering. It's possible that she may have been awarded more money for future pain and suffering if she was younger. This is because she would've had a longer life expectancy.
After factoring in her fault, her final judgment against Berger-Buvitt was for $173,250.
As I mentioned earlier, the Polo Club was found 0% at fault. Thus, Zurich beat its offer to Mrs. Posner and her husband by 25%. Thus, she owed the Polo Club $45,300 for attorneys fees and costs. Her husband owed them $402.00.
The jury didn't award her husband, Arthur, any money for loss of his wife's service, comfort and attention.
Which Insurance Companies Pay The Best for Compression Fracture Cases?
Expect Progressive Insurance to be the toughest big insurer in terms of fair payment for compression fracture cases. Unfortunately, Progressive insures Uber in Florida. Allstate has a reputation for paying slightly more than Progressive.
Insurance companies like CNA, the Hartford, and Nationwide have a reputation for paying more to settle injury cases.
How Much Will Uber or Lyft Pay You If You Have a Compression Fracture?
The nice thing with Uber and Lyft accident cases is that there is a high likelihood that there will be enough insurance to cover your injuries. This is particularly true if you're a passenger in an Uber or Lyft vehicle.
If an Uber vehicle hits you while the driver isn't engaged in a ride in Florida, your compression fracture case may settle faster. This is because Uber or Lyft's insurance limit will be $50,000 per person/$100,000 per accident.
Thus, Lyft or Uber may be more likely to pay the limits. This assumes that you can prove your case.
If the Uber or Lyft driver is engaged in a ride, it may take longer to get a settlement because the insurance limit is higher.
How Much is a Burst Fracture Worth?
If the vertebral body is crushed in all directions it is called a burst fracture. The term burst implies that the margins of the vertebral body spread out in all directions.
A burst fracture is a much more severe injury than a compression fracture. Thus, a burst fracture is worth more than a compression fracture.
A burst fracture is an injury to the spine in which the vertebral body breaks due to immediate and severe compression. They typically occur from severe trauma, such as a car accident or a fall from a height.
With a great deal of force vertically onto the spine, a vertebra may be crushed. Pieces of the vertebra shattering into surrounding tissues and sometimes the spinal canal.
What is the full value of pain and suffering of a burst fracture? For settlement for purposes in Florida, it is:
Burst fracture (with 2 level spinal fusion): $250,000 to $400,000
Burst fracture (with 4 level spinal fusion): $300,000 to $500,000
If You Have a Surgery to a Compression Fracture, Is Your Injury Considered Permanent?
In most Florida car accident cases, the injured person needs a permanent injury to get money for pain and suffering.
All things equal, a jury is more likely to consider your compression fracture to be a permanent injury if you've had surgery. The more major the surgery, the more likely that a jury will consider it to be permanent.
And if a jury would consider it permanent, then there is a good chance that the responsible insurance company would also. This often triggers a higher settlement offer.
Take, for example, someone who is in a car accident and has a fractured vertebrae. If he or she has surgery to the fix the vertebrae, doctors are more likely to say that the injury is permanent.
When it comes to spinal fusion surgery, the more levels that are fused, the higher the likelihood that a jury believes that the injury is permanent.
Let's assume that the injured person has a three or four level spinal fusion surgery as a result of a burst fracture (or other fracture). A burst fracture can happen from a bad car accident or a fall from a height.
Having a four (or more) level fusion is a lot of restriction. It negatively affects your ability to function.
In this case, a jury is more likely to believe that is a permanent injury as compared to a one level fusion.
For settlement purposes, the pain and suffering value of a two level back or neck fusion surgery is likely less than a four level fusion surgery. A four level fusion surgery is a major surgery.
What are some other types of compression fracture cases?
As you've seen by now, all types of accidents can cause a compression fracture. This includes cases where a pedestrian is hit by a car, and much more. As you may imagine, cases where the injured person has more than one injury are worth more.
Therefore, someone who has a compression fracture and a broken wrist will get more compensation than someone with just the latter injury. I'm assuming that someone else was careless and caused the injuries. I am also talking about the full value of the case. The full settlement value is before considering factors that decrease settlement value.
Do You Have a Compression Fracture from an Accident in Florida, or on a Cruise?
Call Me Now!
Dial (888) 594-3577 to find out for FREE if we can represent you. We answer calls 24 hours a day, 7 days a week, 365 days a year.
No Fees or Costs if I Don't Get You Money
We speak Spanish. Learn more about us. Check out my law firm reviews.
This article was published a while ago and continually gets updated.