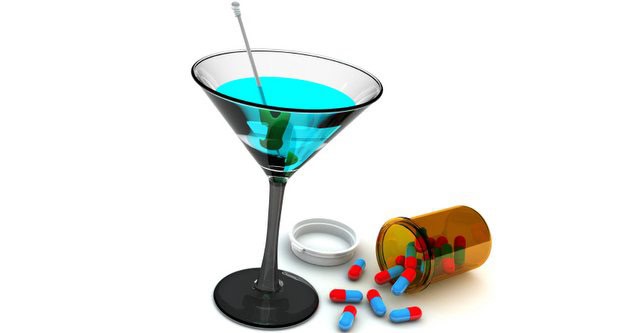 The value of an injury claim may decrease or increase depending on if one of the parties consumed alcoholic beverages or took any drugs or medication in the 12 hours before your accident.  
This issue is always relevant against the injured person who is making the claim.  In an auto negligence case, this issue can be used against the person who caused the accident.
If a lawsuit is filed based on negligence, this is one of the many questions that the either side can ask each other.  (The Florida Supreme Court has felt this question was important enough to include it in the Standard Interrogatories Forms for Personal Injury Negligence Cases.  Florida Rules of Civil Procedure Appendix I – Form 1 and 6.)
Cruise Slip and Fall Case Tossed; Passenger Drank 4 to 6 Drinks Before Fall
This isn't my case.  In Salazar v. Norwegian Cruise Line Holdings, Ltd.., Dist. Court, SD Florida 2016, Edwin Salazar sued Norwegian for injuries he allegedly suffered when he slipped and fell on liquid that had accumulated on the dance floor of a disco on the Norwegian Sky.
The judge's ruling said that Salazar drank three or four beers before dinner and had drunk two glasses of wine at dinner.  About 45 minutes after dinner, he went to the one of the ship's discos.
I think that the judge mentioned the amount that Salazar drank because he felt that it hurt Salazar's case.  Salazar said that, when the strobe lights were on, he would have seen the liquid if he looked at the floor.
Norwegian Had No Duty To Warn of Liquid on Disco Floor
The court said that Norwegian didn't have a duty to warn Salazar because the liquid on the floor was open and obvious.
The court said that a spilled drink on the dance floor of a cruise discotheque after midnight is to be expected.
The judge dismissed the case.  Darrin Gayles was the judge.
Judge Says 'No Alcohol' Was Involved; Passenger Fell and Sued
In Holderbaum v. Carnival Corp., 87 F. Supp. 3d 1345, 1359 (S.D. Fla. 2015), a passenger slipped and fell on stairs on the Carnival Paradise.
The judge said that "No alcohol was involved."  This implied that the passenger would have a tougher case if she had been drinking before the fall.
Carnival defended the case by blaming the passenger's fall on her own negligence.  The passenger asked the court to refuse to allow Carnival to use this defense.
The court said that this issue should be decided by a jury.  It said that a jury could find that Holderbaum was not, but should have been, looking at the stairs as she descended them.
The court said that a jury could find that her failure to do so contributed to her injury.
Type of Medication
The type of medication that either the victim (or the defendant) took is important.  Medication that does not affect ones senses will usually not be used against a party.
But if you drank alcohol or used illegal drugs in the 12 hours before the incident, it may be used against you.
Amount of alcoholic beverages, drugs or medication
The amount of alcoholic beverages, drugs, or medication which were consumed also has an effect on your case.  If either party had 1 beer 11 hours before an accident it may not have an impact on the case.
On the other hand if one party had 5 drinks in the 2 hours before the accident, then that party may have serious problems.
911 call can be huge
If 911 was called it can be important because a caller may have stated that a party seemed under the influence.  The fire rescue/ambulance report may state that a party smelled of alcohol, had slurred speech or bloodshot eyes.  The hospital medical records may state the same.
The ER or hospital may have performed blood tests to see if there were alcoholic beverages, drugs or medications in either the injured person or the at fault individual's system.
Where the alcoholic beverages were consumed or the drugs or medications were taken may be important because it may lead to the discovery of other witnesses.
Attorneys can may subpoena a credit card statement and bar receipt to see whether a party purchased alcohol or medication near the time of the incident.
Subpoena power is one of the many 11 reasons to hire an accident Lawyer if you are injured.
1. If injured person consumed alcoholic beverages or took any drugs or medication in the 12 hours before your accident. 
Your drug or alcohol use may be used against the injured person if he or she is making a lost wage claim.
2. If the negligent party consumed alcoholic beverages or took any drugs or medications within 12 hours before the incident
If the person whose negligence caused the accident consumed alcoholic beverages or took any drugs or medication in the 12 hours before your accident, it can greatly increase the full value of the injured person's case.
This is because the injured person can tell the at fault party's insurer that they are claiming punitive damages.  Some insurers pay a multiple of the otherwise fair value of a case if their insured's intoxication caused the accident.
Punitive damages are not covered in an insurance policy, but the insurer owes a common law duty of good faith to the insured in negotiating settlements with third-party claimants.
I settled a case for $95,000 with Geico where my client claimed a herniated disc as a result of being hit by a driver who was arrested for DUI. This is one of many herniated disc settlements where the possibility of punitive damages increased the settlement value.
If the negligent person was intoxicated, there are a large amount of different documents that need to be requested to maximize the value of their case.  Do not make the mistake of treating a DUI accident case like a simple car accident case.    You can check out some of my Florida DUI accident settlements.
Example of how consuming alcohol affects case value
If you were drinking before the accident or incident, this may decrease the value of your injury case. I will give you an example.
Example – How Drinking Alcohol Before Accident or Incident May Affect Your Case
Let's assume that you have 6 beers or so in the 4 hours. You are getting up from a table in the outdoor part of the restaurant and you trip and fall over a curb that you didn't see because it was painted the same color as the floor.
I have mentioned throughout this website that fall down cases (whether a slip and fall or a trip and fall) should as a starting point generally be evaluated by placing 50% fault on you for not looking where you were walking.  This fault is subject to increase or decrease depending on the particular facts.
Now, there are exceptions to this rule, such as if you were walking and stepped in a hole covered with grass overgrowth. Since you admit that you had drunk a large amount of alcohol before you tripped and fell, we can assume that a jury may find you an additional 50% to 75% at fault for drinking so much alcohol before your incident and being "buzzed", intoxicated or drunk.
For the example, below to keep things simple we'll assume that you were 60% at fault for being intoxicated to the point that it may have caused you to trip and fall.
Now back to the example. Let's calculate the possible settlement value of your case, whether in an out of court settlement, during litigation or trial. We'll assume that your medical bills are $10,000 and your lost wages are $500.
Let's assume that your herniated disc has left you with a big resultant disability, and the possible settlement value of the pain and suffering component is $50,000.  I got the $50,000 from my article
Now I'm going to add the above numbers to the settlement formula below.
Settlement = (Medical Bills + Lost Wages + Pain & Suffering) x (1 – Your % of General Fault) x (1- % of Your Fault for Drinking)
Settlement = ($10,000 + $500 + $50,000) x ( .5) x (.5)
Settlement = ($65,000) x (.5) x (.5)
Possible Settlement = $16,250
Now, if you take the exact same facts but you were not drinking, perhaps the possible settlement could be double this amount. Once again, as you can see, if you change just 1 fact in a personal injury case it completely change the possible settlement value of a claim.  And there are over 42 Important Factors Affecting the Value of an Injury Case.
That's one of the reasons why when I get an instant chat, someone completes a contact form on my site, or I get a  phone call from a prospective client and I am asked "How much is my case worth?" my response is usually something like:
"Each case is different and I cannot state exactly what each claim may be worth. This initial consultation is to see if it is something this firm can assist with, if so then I can answer further questions at that time."
To best estimate the settlement value, there are many questions that need to be answered in any personal injury case. I know of very few attorneys who will tell a prospective client how much their case is worth without extensively reviewing the case in detail, which includes looking at many different facts.
Were you injured in an accident?
Check out some of the many Florida injury cases that we have settled, including but not limited to car accidents, truck accidents, slip or trip and falls, motorcycle accidents, pedestrian accidents, drunk driving accidents, cruise ship accidents and much more.
Our Miami law firm represents people injured anywhere in Florida in car accidents, truck accidents, slip, trip and falls, motorcycle accidents, bike accidents, drunk driving crashes, pedestrian accidents, cruise ship or boat accidents and many other types of accidents.
We want to represent you if you were injured in an accident in Florida, on a cruise ship or boat. If you live in Florida but were injured in another state we may also be able to represent you.
Call us now at (888) 594-3577 to Get a Free Consultation.  There are No Fees or Costs Unless We Recover Money. Call us 24 hours a day, 7 days a week, 365 days a year. We speak Spanish. We invite you to learn more about us.