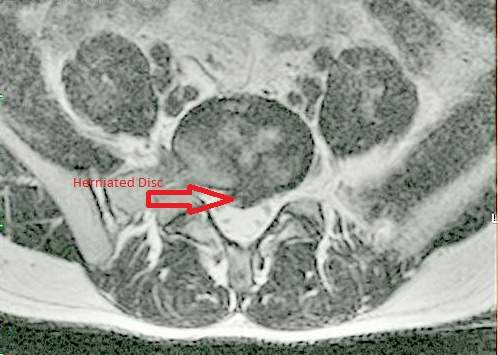 If someone's negligence caused your herniated disc in the lower back, you may have a case.
A herniated disc is occasionally called a ruptured or slipped disk.  It often happens in your lower back.  It is one of the biggest reasons for lower back pain, and leg pain (sciatica).
Somewhere between sixty and eighty percent of people will have low back pain some time in their live.  A large percentage of people will have leg pain and low back pain resulting from a herniated disk.
Herniated discs can be painful.  However, most accident victims feel much better after a few weeks or months of treatment, without surgery.
Since most people feel much better in under a few months of non-surgical treatment, all herniated disc cases aren't worth a large amount of money.
Lower Back Anatomy
You lower spine is made up of 5 vertebrae that are stacked on top of each other.  These bones connect to make a canal that guards your spinal cord.
This area is known as your lower spine.
Herniated Discs
A disk starts to herniate when its jelly-like nucleus presses on its outer ring.  This can occur from wear and tear or a sudden injury.
Since not every herniated disc is related to a sudden injury, the insurance company for the liable party will often argue that your herniated disc was due to wear and tear, and not the accident.
Some juries find that a herniated disc was caused by wear and tear and not the accident.  Thus, insurers know this and may offer less than your case's full value if the jury found that the herniated disc was 100% related to the accident.
If the nucleus busts or herniates through the outer ring, your back pain may get better.  However, your sciatica leg pain, gets worse.
This is caused by the jelly-like substance inflaming the spinal nerves.  It can also place pressure on the sensitive spinal nerves, which causes numbness, pain or weakness in 1 or both of your legs.
What Adjusters Use to Pay Less if You're Claiming a Herniated Disc in Your Lower Back
Weight. If you're overweight, you are placing additional stress on the disks in your lower back.  If you're overweight and you're making a personal injury claim for a herniated disc in your lower back, the insurance company may argue that your herniated disc is weight related and not from the accident.
Repetitive activities that strain your spine. Many people have jobs that require intense physical activity.  Some jobs require a huge amount of twisting, bending, pulling or lifting.  If you have a job that is physically demanding, the insurance company may argue that your herniated disc in your lower back was caused by the physical demands of your job, and not the accident.
A lot of driving. If you're seated for long periods, in addition to vibration from a car engine, it may put pressure on your disks and spine.  So, if your occupation is a truck driver, the insurance company may argue that your herniated disc in your lower back was caused from being seated for long periods of time, and not the accident.
Symptoms of a herniated disc in your lower back
Most people with a herniated disc in their lower back first experience low back pain.  The pain may last for a few days, and then get better.
A lot of the time, you'll later get weakness, numbness or leg pain.  Your leg pain can go below the knee, and many times into your ankle or foot.
You may get symptoms such as:
Weakness in your foot and/or leg
Numbness or tingling in your foot and/or leg
Leg and/or foot pain (sciatica)
Loss of bowel or bladder control.  (This hardly ever happens.)
Driver Gets $150,000 for Herniated Disc in Lower Back
A driver of a car got $150,000 for a herniated disc in the lower back.  A careless driver of another vehicle caused the accident in Miami.
An MRI revealed anterior and posterior disc herniations at L5-S1.  There was anterior impression of the thecal sac and severe bilateral neural foraminal stenosis.
There was mild anterolisthesis.  There was disc space narrowing, disc bulge, dessication, osteophytes, and facet hypertrophy.
The claimant ultimately had lower back surgery.  Specifically, a:
L5-S1 transforaminal lumbar inner body fusion
L5-S1 pedicle screw fusion
Left L5 hemilaminectomy and diskectomy
Microdissection
In situ bone graft
The injury liability policy limits were $150,000.  We settled for the $150,000 limits.  I represented the victim.
Driver Gets $20,000 Settlement for Herniated Disc in Lower Back and Other Injuries
See a $20,000 settlement where a driver claimed that a car made an improper lane change, crashed into her SUV and it rolled over.
She claimed that the rollover crash caused or aggravated a herniated disc in her lower back, ACL sprain/tear, etc.
Lady Wins $134,600 Against Driver Insured With State Farm
This is not my case.  Jessica Guillen sued a driver insured with State Farm.  She claimed that the car accident caused her cervical and lumbar disc bulges and herniations.
She treated with a pain management doctor, who recommended future injection therapy.  His opinion was that she would likely need surgery in the future.
State Farm's medical expert said that the diagnostic results (likely MRIs) showed that Jessica's spine had degenerative conditions that weren't related to the auto accident.
A jury awarded her $134,600.  $67,600 of that amount was for her pain and suffering.
The verdict was on 2/25/2014.  The case is Jessica Guillen v. Maupin.
Call Me Now!
Call me now at (888) 594-3577 to find out for FREE if we can represent you. We answer calls 24 hours a day, 7 days a week, 365 days a year. 
No Fees or Costs if We Do Not Get You Money

We speak Spanish.  I invite you to learn more about us.  Check out our reviews.