Broadspire is Crawford's worldwide third-party administration (TPA) group that handles claims for corporations and insurers.  Broadspire is not an insurer.
When Broadspire is handling a claim for a Florida business (that is not an insurer), they are not subject to Florida bad faith laws.  This may give the injured person less negotiating power in certain cases.
The injured victim may not be able to file a consumer complaint against the corporation if Broadspire is handling the claim.  This also decreases the accident victim's leverage if Broadspire is acting unfairly.
However, if Broadspire is servicing the claim for an insurer, then Florida's bad faith laws may apply.  This is favorable to the injured person is certain cases.  The accident victim would also be able file a consumer complaint against the insurer if it acts unreasonably.
Deciding Claims Payouts
Broadspire allows corporations and insurers to have more power over claims, including deciding how much to pay claimants.  The ultimate decision maker as to how much to offer is Broadspire's client.
Broadspire will evaluate the case value.  They will tell their client how much they think the case is worth.
The client will decide whether to agree with Broadspire's evaluation, and give them authority to make an offer.
Where does Broadspire operate?
Broadspire operates worldwide.  The focus of this article is on their Florida operations.
What Broadspire does
Broadspire services many different types of claims.  They include:
Accident and Health
Employer's, Public and Product Liability
General and Product Liability
Marine and Transportation
Property and Business Interruption
Motor (First Party and Third Party)
Personal Injuries
Rehabilitation and Return to Work
Broadspire claims to be the "leading" third-party administrator (TPA) to employers and insurance companies.  According to Business Insurance's survey, their parent company (Crawford & Co.) is the second largest TPA as ranked by 2014 gross revenues.
Crawford & Co.'s revenue was $1,217,000,000.  The number one largest TPA is Sedgwick.
Gallagher Bassett Services is number four.
Teleplus Intake
Broadspire uses TelePlus Intake.  They use the TelePlus system to report Florida workers compensation, auto and general liability claims.  General liability claims include situations where a third party makes a personal injury claim based on a businesses' negligence.
General liability claims include, but are not limited to:
Falling off a bench or booth
Missteps and Falls
Being cut by shower glass that breaks
Tripping over a dangerous condition such as an unmarked curb
Falling due to a loose handrail
Falling due to slippery steps

Many

other types of claims
Employees usually do not have a general liability claim against their employer.  They usually just have a workers compensation case.
However, sometimes an employee can sue an employer for personal injury in Florida.  Broadspire's TelePlus system is available 24/7/365.
Lawsuit Management
Most Florida personal injury claims do not result in a lawsuit.  However, Broadspire's TPA claims adjusters work with lawyers to make a plan to try to achieve a cost-effective solution.
Sometimes, this includes a settlement.  Broadspire claims that their lawsuit strategy results in a smoother process and more informed negotiating.
Special Investigations Unit
Broadspire claims that it is friendly and understanding to people who are really injured.  Broadspire uses "red flag indicators" and thorough claims investigations.
Their claims adjusters work with the Special Investigations unit (SIU) to find, look into and prosecute fraudulent claims.
Tip: If you do not lie, you should not be worried about this.
Several Broadspire SIU adjusters are prior police officers that are seasoned in finding fraud.
Subrogation
Third party negligence may cause an injury, and thus a claim.
Example of third party negligence
Mike is riding a motorcycle.  An 18-wheeler cuts him off.  Mike is thrown off the bike.
He has surgery to fix his broken lower leg and finger.  Mike has a third party negligence claim against the truck driver and trucking company.  He may also be able to sue other parties.
When a claim happens due to third-party negligence, Broadspire may handle the workers compensation claim for the injured person.  In Florida, Broadspire (on behalf of the employer) may be able to subrogate against all responsible parties.
If Florida, Broadspire (as a workers compensation TPA) is required to reduce its lien at a minimum by attorney's fees and costs.  This is just one of 11 reasons that you should hire a Florida accident lawyer if someone's carelessness caused your injury, and Broadspire is your workers compensation TPA.
Without a lawyer, Broadspire does not have to reduce its lien against the injured party's personal injury claim by attorney's fees and costs.
General Liability Claims
Broadspire offers many services for general liability cases (bodily injury, property damage, or other damages arising out of its client's premises, operations or products).
Broadspire's services include:
Initial investigation to verify the basic facts, order the proper reports, get medical bills and records, and get in touch with the correct parties.  Broadspire may request the 911 call and order the police report.
Check coverage and determine limits.  Broadspire will see if coverage exists.  Coverage protects a client when an injured person makes a claim against them.  Insurance policies have different limits of coverage.  The odds are that if Broadspire is involved the limits will be high enough to pay your damages.
Set the reserves and calculate forseeable exposure.  The claims reserve is money that is earmarked for the eventual claim payment.  You want Broadspire to quickly set the reserves as high as possible.  It takes Broadspire time to increase the reserves.  If the reserves are not properly set, it can delay or make settlement impossible.
Evaluate liability based on the facts and applicable Florida laws.  In a Florida accident case, you need to prove that Broadspire's client was liable.  You have to show that they acted below the reasonable standard of care.  Liable means "negligent."
Broadspire is a Crawford Company.  It is based outside of Florida.
Auto Liability Claims
Broadspire handles auto liability claims for:
Trucking businesses
School Bus companies
Delivery and different types of business vehicles
Personal autos used for business
Broadspire Accident and Injury Settlements in Florida
My Actual Case: $210,000 Settlement for a Florida male tractor-trailer driver who claimed that a rear end crash caused his shoulder joint tear (glenoid labrum tear).
Below is a picture of the truck that the at fault driver was operating.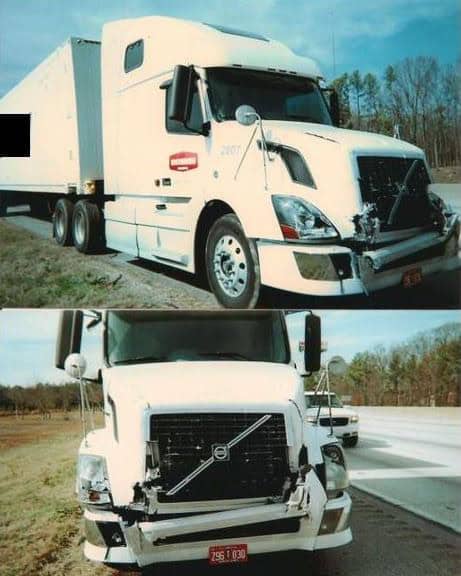 The damage to my client's truck is below.
The trucking company had a self-insured retention (SIR) of $250,000.
Broadspire was the third party administrator (TPA) that adjusted the claim.  Travelers Insurance provided bodily injury coverage to the trucking company/dispatcher above its deductible.
Travelers is one of the largest Florida private passenger auto liability insurers.  Per the 2014 FLOIR Annual Report, the other the top 15 (by Florida market share) are:
We also received a $10,000 settlement check from my client's auto insurer, Progressive.  They provided uninsured motorist coverage on my client's personal auto policy.
The Broadspire claims adjuster for the trucking company sent my client's medical records to an orthopedic surgeon.  The Broadspire adjuster was Mark Miller.  He is a very nice.
The responsible party hired a defense attorney.  He has an office in South Florida.  We settled the case at pre-suit mediation in Hollywood, Florida.
The settlement was for ten times the amount of Broadspire's first offer, which was $20,000.
We also helped my client with his workers compensation case.  Commercial Risk Management, Inc. was the workers compensation servicing agent.  They have a Tampa, Florida address.
Did someone's carelessness cause your injury in an accident in Florida, or on a cruise or boat? 
See Our Settlements
Check out some of the many Florida injury cases that we have settled, including but not limited to car accidents, truck accidents, slip or trip and falls, motorcycle accidents, drunk driving (DUI) accidents, pedestrian accidents, taxi accidents, bicycle accidents, store or supermarket accidents, cruise ship accidents, dog bites, wrongful death and much more.
We want to represent you!
Our Miami law firm represents people anywhere in Florida if someone's carelessness caused their injuries in car accidents, truck accidents, slip, trip and falls, motorcycle accidents, bike accidents, drunk driving crashes, pedestrian accidents, cruise ship or boat accidents, store or supermarket accidents, wrongful death, accidents at an apartment complex, condo building or home, accidents involving a Uber or Lyft Driver, and many other types of accidents.
We want to represent you if you were hurt in an accident in Florida, on a cruise ship or boat. If you live in Florida but were injured in another state we may also be able to represent you.
Call Us Now!
Call us now at (888) 594-3577 to find out for FREE if we can represent you. We answer calls 24 hours a day, 7 days a week, 365 days a year. 
No Fees or Costs if We Do Not Get You Money

We speak Spanish. We invite you to learn more about us.