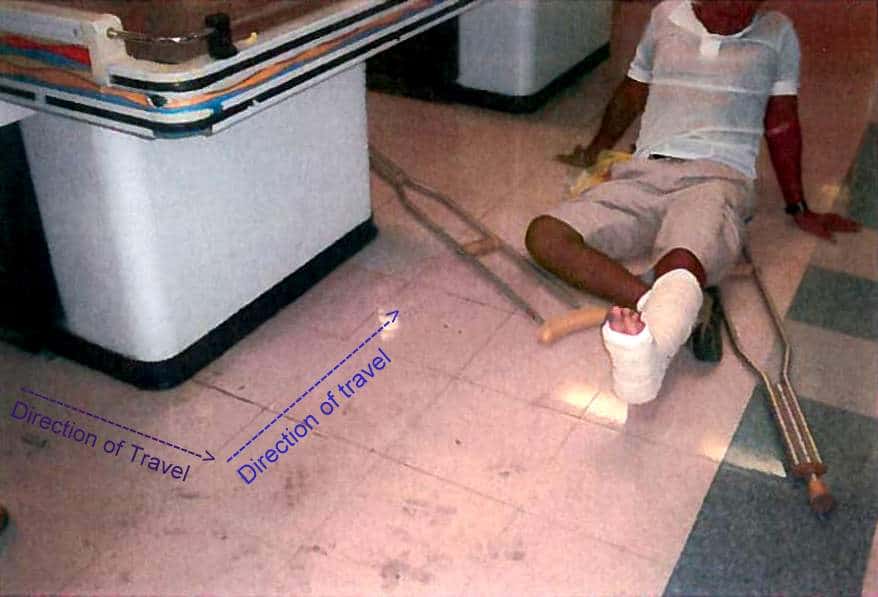 Circumstantial evidence is evidence that relies on an inference to connect it to a conclusion of fact—like a rotten banana on a supermarket floor. The rotted banana is evidence that relies on inferring that it had been on the floor for a long time in order to rot.
On the other hand, direct evidence supports the truth of an assertion directly— without need for any additional evidence or inference.  An example of direct evidence is someone seeing a banana on the floor for an unreasonable amount of time before your fall.
All things equal, direct evidence is stronger than circumstantial evidence.  In slip and fall cases, you often only have circumstantial evidence to prove that the business establishment had notice of the dangerous condition.
Why should you know what circumstantial evidence is in a Florida slip and fall case?
Because the words "circumstantial evidence" are used in Florida's slip and fall law.  Florida Statute 768.0755.  It says that in Florida,
"if a person slips and falls on a transitory foreign substance in a business establishment, the injured person must prove that the business establishment had actual or constructive knowledge of the dangerous condition and should have taken action to remedy it.
Constructive knowledge may be proven by circumstantial evidence showing that:
(a) The dangerous condition existed for such a length of time that, in the exercise of ordinary care, the business establishment should have known of the condition; or

(b) The condition occurred with regularity and was therefore foreseeable."  
Can you use pictures to show circumstantial evidence in your slip and fall case?
Yes.  So take plenty of pictures of the circumstantial evidence.  Do not rely on the fact that the business establishment may have surveillance video or pictures of the evidence.
The time that a substance has been on the floor at a business establishment can be established by circumstantial evidence.  Business establishment include, but are not limited to:
Generally speaking, circumstantial evidence in slip and fall cases include, but is not limited to:
Size of the puddle
Tracks
Streaks
Rotting
Smudges
Liquid is partly or completely dried
Other characteristics
Actual Florida cases that give examples of circumstantial evidence
Looking at Florida appellate decisions is a great way to learn how circumstantial evidence may help you get your case to trial.  I have separated the appellate decisions by each district court of appeal because trial courts give the most weight to their district court's appellate decisions.
Below is a map of the five appeals courts in Florida.
3rd DCA – Miami-Dade County and Monroe County, which consists of cities including, but not limited to, Miami, Hialeah, Miami Beach, South Beach, Kendall, Pinecrest, Marathon, Tavernier, Key West).
The 3rd DCA has said that circumstantial evidence may be one or more of the following:
wet substance that smelled like cooking oil.  The shopper said that the floor was very dirty and oily; that cigarette butts and candy wrappers littered the floor; and that grocery cart tracks and footprints traversed the dirty area where she fell. Altman v. Publix Supermarkets, Inc., 579 So.2d 351 (1991).  Learn more about Florida Publix accident cases.
A Big Puddle May Lead to a Better Slip and Fall Settlement
An appeals court said that a puddle 1 to 2 inches deep and approximately 6 feet by 12 feet in diameter may show the the premises should've known of the hazard.  Grayson v. Carnival Cruise Lines, Inc., 576 So.2d 417 (Fla. 3d DCA 1991).
The Grayson case was a passenger slip and fall lawsuit against Carnival Cruise Lines.  Mr. Grayson claimed he stepped from the stairs directly into a puddle.
He said that the puddle was one to two inches deep and approximately six feet by twelve feet in diameter. Grayson alleged that he immediately slipped and fell.   As a result, he was injured.
The Graysons testimony that the puddle was big likely helped them get a bigger cruise ship injury settlement.  If the puddle would've been much smaller, the court may have dismissed the case.
By smaller, I mean like the size of a quarter or smaller than that.
After you fall, take photos of any big puddle.
1st DCA: Counties of Alachua, Baker, Bay, Bradford, Calhoun, Clay, Columbia, Dixie, Duval, Escambia, Franklin, Gadsden, Gilchrist, Gulf, Hamilton, Holmes, Jackson, Jefferson, Lafayette, Leon, Levy, Liberty, Madison, Nassau, Okaloosa, Santa Rosa, Suwannee, Taylor, Union, Wakulla, Walton and Washington
The floor where the car dealership "guest" fell was wet because of water tracked in by persons coming into the break room; the drink machine had been leaking prior to the man's fall; the break room floor had been tested prior to the man's fall and, according to the car dealership's safety director, failed to comply with applicable safety standards; and other evidence of an unsafe condition where the "guest" fell.  "Guest" could not specifically give the origin of the cause of his fall. Mayerlen v. Brumos Motor Cars, Inc., 765 So.2d 935 (Fla. 1st DCA 2000).
looked like water, but could have been syrup or Sprite. Her grandson said in affidavit that liquid expanded out when pressed upon. Fall occurred near a soda drink dispenser set out for customer use in a medical center.  Grandson saw that the cafeteria cashier had a clear view of the area of the fall.  Grandson was in the cafeteria 10-15 minutes before the accident and did not hear or see anyone spill a liquid in the area of the fall.  Reasonable inferences could be drawn therefrom that a spill had remained on TCH's floor for a sufficient length of time to either have partially evaporated or become syrupy, or even possibly for over an hour, prior to the opening of the cafeteria for the day.  Gonzalez v. Tallahassee Medical Center, Inc., 629 So.2d 945 (Fla. 1st DCA 1993).
4th DCA (Palm Beach, Broward, St. Lucie, Martin, Indian River, and Okeechobee Counties.)
5th DCA (Daytona Beach, Florida)
The Fifth District Court of Appeal is comprised of the Fifth Circuit, including Hernando, Lake, Marion, Citrus and Sumter Counties; the Seventh Circuit, including Flagler, Putnam, St. Johns and Volusia Counties; the Ninth Circuit, including Orange and Osceola Counties; and the Eighteenth Circuit, including Brevard and Seminole Counties.
Some cases say that circumstantial evidence may show constructive notice.  Other cases say that there was no (or not enough) circumstantial evidence to show constructive notice.
Below are cases that found no constructive notice, but they imply that certain characteristics (as described below) may show constructive notice.
a slippery, oily, clear substance with evidence of signs of age, such as skid marks, smudges or the like may prove constructive notice. " Wal-Mart Stores, Inc. v. King,592 So.2d 705, 707 (Fla. 5th DCA 1991).
loose dried rice and beans, with 

evidence that they

appeared old or were ground into the floor or crushed

, and no evidence of broken packages). Winn Dixie Stores, Inc. v. Gaines, 542 So.2d 432, 432 (Fla. 4th DCA 1989)
Florida slip and fall law allows you to prove constructive notice by circumstantial evidence.  The statute that requires constructive or actual notice only applies to transitory foreign substances at business establishments.
What is considered a business establishment?
Florida slip and fall law says that a business establishment includes but is not limited to:
Supermarkets such as Publix, Winn-Dixie, Sedano's and Whole Foods.
Stores like Walmart, Target, Costco, and Petsmart and Petco
Retail outlets
Theme Parks like Walt Disney World, Epcot and Universal Studios
Universities or colleges. "Services are rendered" for a fee.  McCarthy v. Broward College, Fla: Dist. Court of Appeals, 4th Dist. 2015.
Service-based, government-owned entities, such as Miami International Airport. (Kenz v. Miami-Dade Cnty., 116 So. 3d 461 (Fla. 3d DCA 2013).
a U.S. Postal Service facility. Kertz v. U.S., 2013 WL 1464180 (M.D. Fla. Apr. 10, 2013)
Did someone's carelessness cause you to slip or trip and fall and suffer an injury in Florida, or on a cruise or boat?  Were you injured in another type of accident?
See Our Settlements
Check out some of the many Florida injury cases that we have settled, including but not limited to slip or trip and falls, supermarket or store accidents, accidents at an apartment complex, condo building or home, restaurant accidents, hotel accidents, day care accidents, cruise ship accidents and much more.
We want to represent you!
Our Miami law firm represents people injured anywhere in Florida in slip, trip and falls, store or supermarket accidents, cruise ship or boat accidents, accidents at an apartment complex, condo building or home, and many other types of accidents.
We want to represent you if you were injured in an accident in Florida, on a cruise ship or boat. If you live in Florida but were injured in another state we may also be able to represent you.
Call Us Now!
Call us now at (888) 594-3577 to find out for FREE if we can represent you. We answer calls 24 hours a day, 7 days a week, 365 days a year. 
No Fees or Costs if We Do Not Get You Money

We speak Spanish. We invite you to learn more about us.