A landowner or occupier may allow a condition to occur with regularity on its premises.  This may cause your injury.
If so, in Florida, you may be entitled to compensation.
Goal is to get your case to a jury
To get a slip and fall settlement or verdict for your injuries incurred in a slip and fall accident in Florida, the goal is to be able to get your case in front of a jury.
Although most cases settle before trial, a liability claims adjuster (who is the person who pays your claim) in a slip and fall case generally will only offer you money when he or she knows that your case can get to a jury and you are injured.
Florida Statute 768.0755 states that "if a person slip and falls on a transitory foreign substance in a business establishment, the injured person must prove that the business establishment had actual or constructive knowledge of the dangerous condition and should have taken action to remedy it.
Constructive knowledge may be proven by circumstantial evidence showing that:
A) Actual Knowledge of the Substance or Debris on the Floor and Should Have Fixed It
You may have a good slip and fall case in Florida if you can show that the owner or operator of a business (store, supermarket, etc.)  failed to use reasonable care to protect customers after the owner or operator actually knew that a substance (water, a grape, a banana, etc.) or debris was on the floor.
B) Constructive Knowledge
If you slipped and fell at a business establishment in Florida, you can prove constructive knowledge of a dangerous condition by showing that:
1. The dangerous condition (thing that you slipped and fell on) existed for such a length of time that, in the exercise of ordinary care, the business establishment should have known of the condition; or
2. The condition occurred with regularity and was therefore foreseeable.
This article only talks about #2 above. It only discusses whether you have a case if you slipped and fell on a dangerous condition (substance or debris) that occurred with regularity (often) at a business.
Below are a few examples and explanations of situations where you may have a case in Florida if you slip and fall at a business (store, supermarket, etc.) on substance and that occurred with regularity.
Case Gets to Jury if Items are Regularly on a Store Floor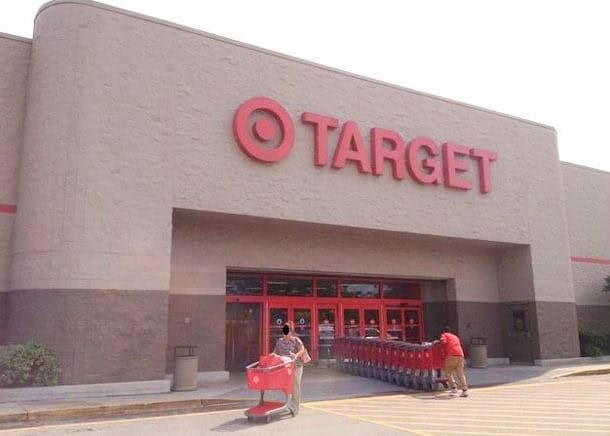 See why a West Palm Beach court said that items that were regularly on a Target store floor before the fall was enough to get a guest's case to trial.
However, the jury said that Target's negligence was not cause of her injury.
Store may have constructive notice of the shopping basket on floor based on its occurring with such frequency that it should have known of its existence.
DeLeon sued a Florida Dollar Tree for injuries she suffered when she tripped over a shopping basket which was on the floor behind her in a checkout line.
The 4th District Court of Appeals heard this case.  It located in West Palm Beach, Florida.  It handles appeals for Palm Beach, Broward, St. Lucie, Martin, Indian River, and Okeechobee Counties.  The opinion was filed in 2012.
There was no evidence presented as to how long the shopping basket had been on the floor.  However, one of Dollar Tree's cashiers stated that one of her job responsibilities was seeking out errant shopping baskets and returning them to their rightful place.
She admitted that it was common for customers to place their shopping baskets on the floor in the checkout line.  She stated that on multiple prior occasions she had warned customers about shopping baskets left on the floor.
Therefore, the appeals court said that a jury could reasonably conclude that Dollar Tree had constructive notice of the shopping basket based on its occurring with such frequency that the owner should have known of its existence.
This case is  DeLeon v. Dollar Tree Stores, Inc., 98 So. 3d 96 – Fla: Dist. Court of Appeals, 4th Dist. 2012.
I invite you to check out some of my settlements for people who slipped and fell and were injured in Florida.
Learn more about slip, trip and fall injury claims against Dollar Tree, Dollar General, and Family Dollar stores in Florida.
Rain That Blows Into Store Under Door May be Regularly Occurring Condition
You find out that a supermarket (or store) employee says that rain often blew into a store or under the door and the store usually put up yellow safety cones to warn the customers of the slippery area when this happens.
But at the time of your slip and fall in Coral Gables, Florida there were no warning cones put up.
This example is similar to the case of Brooks v. Phillip Watts Enterprises, Inc., 560 So. 2d 339 (Fla. 1st DCA 1990).  Assume an employee testifies that the area had been swept about 30 minutes to an hour before your fall.
After that time, the employees state that no one inspected the area. After you fell you touched the floor and felt a wet spot.
You did not track any water into the store.  In this example, you would be able to show that constructive notice of a dangerous condition (water on the floor) existed on either of 2 theories:
1. The water was on the floor for a long time prior to your fall, and that if the store owner used reasonable care (like a regular inspection) it would have noticed the water. You are able to show this because an employee said that no one had inspected the area for at least 30 minutes before the fall; or
2. The condition (in this case rain being blown through the door inside the store) occurred with regularity and was therefore foreseeable.
Your case should get to a jury because:
A store employee (the manager in this case) knew that the floor was slippery when wet and had knowledge that the water came in to the front area of the store when it was raining (it happened regularly); and

The store had warning cones which were usually placed in front of the store in rainy weather.
Puddle Outside or in Entrance to Store May be Regularly Occurring Condition
Luis slips and falls in a puddle of water outside (on the entrance to) of a store or supermarket in Miami — or any city in Florida — on a day that it is raining.
If an employee or store manager says that the store or supermarket had a regular (recurring) issue with customers falling on water puddles on rainy days, this would be constructive notice and get your case to a jury.
Call us now at (888) 594-3577 to find out for FREE if we can represent you. We answer calls 24 hours a day, 7 days a week, 365 days a year. 
No Fees or Costs if We Do Not Get You Money

We speak Spanish. We invite you to learn more about us.