A driver rear ended our client's car.  We settled this case in July 2015.
The crash happened in January 2015 in Miami Beach, Dade County, Florida.  It happened on the MacArthur Causeway.
The MacArthur Causeway is a six-lane causeway that connects Downtown, Miami, Florida and South Beach, Miami Beach via Biscayne Bay.
There was no property damage to our client's car.  Our client was wearing his seatbelt.  The other car did not have any damage as well.
The other car's airbag did not deploy.  Allstate insured the car that hit our client's car in the rear.
Our client did not take an ambulance to the hospital from the accident scene.  He waited 13 days to go to a medical provider.
He almost missed Florida's 14 day PIP treatment cutoff, which would have eliminated his right to PIP insurance benefits.
Tip: In Florida, if you are covered with PIP, you need to get medical treatment within fourteen days following a car accident or you use lose your right to PIP benefits.
He had an x-ray and MRI of his knee a few weeks after the accident.  We requested the MRI and x-ray images.
We sent them to Heather Anderson Mecko, Allstate's BI adjuster.  He suffered a complex tear to his meniscus and a bone contusion from the impact.
He had arthroscopic surgery, in his native country, to fix it.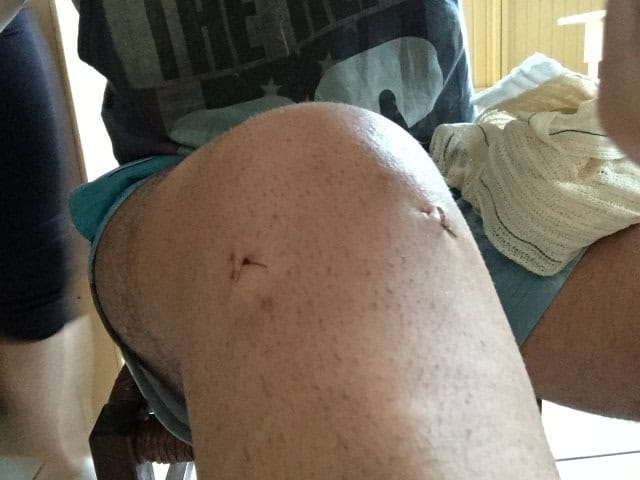 He used an ice compress on his knee after the surgery.

He wore a bandage on his knee after the surgery.
My client used crutches to help him walk after the surgery.
Allstate's insured's BI limits were $10,000.  The careless driver did not have any assets.  Our client did not have UM liability auto insurance coverage.
He had almost no out of pocket medical bills.
Infinity Auto Insurance insured our client with PIP.
Infinity took our client's recorded statement at our office.  Infinity's PIP coverage paid most of our client's medical bills from his treatment with Miami medical providers.
We tried to get Infinity to pay our client's out of pocket medical bill from his home country.  We found a discount translator to translate the medical records from Portuguese into English.
We try hard to keep costs down.  One of the 11 benefits of hiring an injury lawyer is that we can pay for costs in advance.
Many of our clients do not have money to pay for these expenses.  You only pay us if we settle the case (or get a judgment).
We gave Allstate thirty days to pay its BI limits of $10,000.  They paid within 30 days.
He is back to his normal self now.  He is able to exercise now.  He was very pleased with the result.
No Fees or Costs if We Do Not Get You Money

We speak Spanish. We invite you to learn more about us.