Each state has a certain time limit within an injured person must sue.
If the injured person misses the deadline, he or she loses his case. Then, he or she can't get a settlement. In other words, the injured person won't get compensation.
This is true even if the injured person gets surgery. Even if the judge wants to, he or she cannot extend the deadline to sue.
The reason that I've settled millions of dollars in personal injury claims is because I didn't miss this deadline.
Here, I'll focus on accidents that occur in Florida. In addition to accidents, I'll also talk about incidents such as people injured by a crime.
But I won't stop there:
I'll cover the common time limits that apply to an injured person's case.
The time limit to sue is called a called the statute of limitations.
Clearly, the time limit to sue is very important. However, there is another aspect of personal injury claims that is often overlooked by victims.
What is this important aspect that you need to know?
If the injured person waits to get medical treatment, it lowers the value of his or her case.
For example, not taking an ambulance to the hospital drops the settlement value of case. Every day that the injured person waits to go to the doctor, the claim's settlement value decreases.
In fact, insurance company settlement calculators place a lot of importance on when the injured person first gets treatment.
What is the statute of limitations for bodily injury in Florida?
In Florida, you have generally have four (4) years to sue for compensation for negligence. However, there are exceptions.
The 4 year time limit is found in Florida Statute 95.11(3)(a). A statute is a law. The chapter is called "Limitations on Actions". An action is a lawsuit.
In regards to how long you have to sue, Florida's statute (law) says:
(3) WITHIN FOUR YEARS.-

(a) An action founded on negligence.
An action is a lawsuit. Negligence is the failure to use reasonable care.
The time limit to sue for negligence in Florida applies to suing for personal injury and property damage. Thus, most personal injury claims against another party fall under this fall under this 4 year deadline.
Personal injury claims include a claim for pain and suffering. They also include for medical bills and lost wages.
What Types of Claims Does the 4 Year Time Limit Apply to?
This includes personal injury claims against most:
To show you when this four-year time applies, I'm going to use an example. The facts are from one of my many motorcycle accident settlements.
Joe (not real name) was on a motorcycle in Hialeah, Miami-Dade County, Florida. He was heading straight.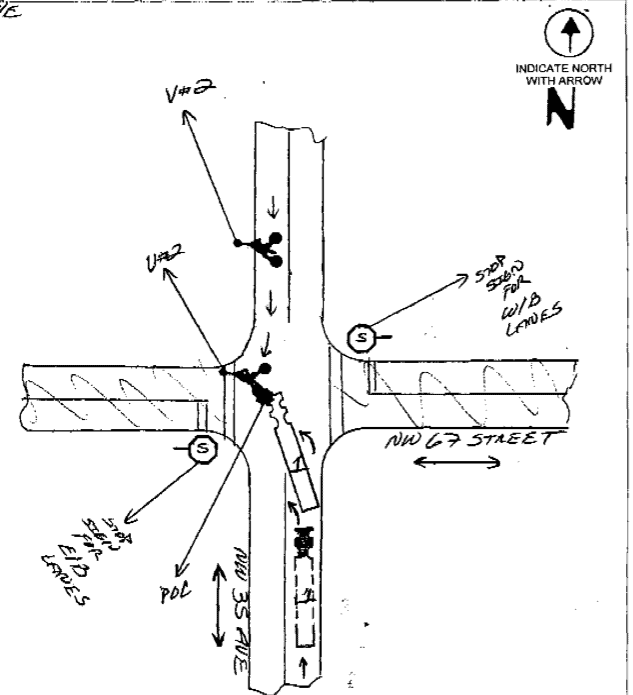 A truck driver was heading in the opposite direction. As you can see from the diagram, the truck made a left hand turn. They crashed.
Joe broke his leg and finger. While he was in the hospital, he hired a Miami motorcycle accident lawyer (me).
Since Joe was hit by a private individual, he has 4 years to sue the truck driver for personal injury and damage to his motorcycle.
Chartis (now AIG) insured the truck. We settled this case for $445,000 within about 1 year of the accident. At the time of the settlement, Joe still had about 3 years to sue.
Bottom Line:
Most claims against drivers insured with Progressive, GEICO and others with be subject to this four-year deadline. However, there are exceptions to this 4 year time limit.
Now, if we change certain facts in that claim, the time to make a claim would be shorter.
For example, let's say that Joe had Medpay coverage his motorcycle with State Farm. In that scenario, there may be a shorter time limit for Joe to give his medical bills to State Farm. He should look at his motorcycle insurance policy to see if it says the deadline. If there is no deadline, the time limit is 5 years.
If he misses that deadline, he loses his Medpay coverage.
5 Years to Make a Claim Against a Florida Uninsured Motorist Insurance Policy
A pedestrian was standing next to his rental car in Coconut Grove. Coconut Grove is in Miami-Dade County, Florida.
While he was next to his car, a driver of a car hit him.
Below is an x-ray which was taken at the hospital. It shows the pedestrian's broken leg.
At the hospital, an external fixator was drilled into his leg, which you can see below.
If you have an external fixator put in your leg, this raises the full value of the case. Doctors removed the fixator within the year.
Months later, a doctor an intramedullary rod (IM) into his leg. They left the rod and screws in place.
Here is what the IM rod looked like: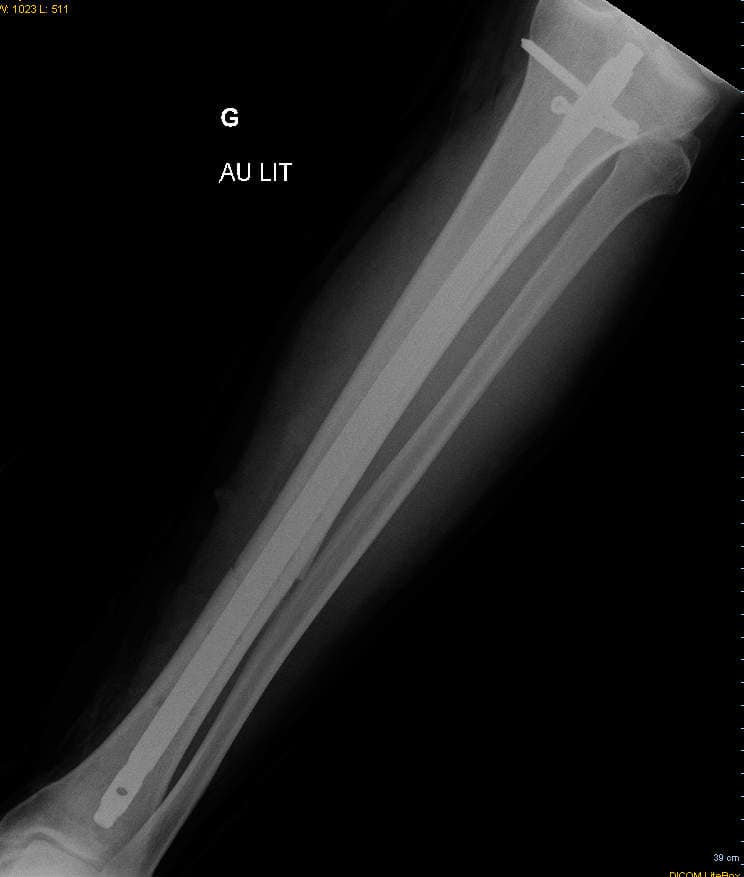 The pedestrian's case was worth more because the rod and screws were left inside his body. This image has appeal to a jury.
The driver of the car that hit him had a rental car insurance policy with $100,000 in bodily injury liability insurance. The rental car company had $100,000 of BIL insurance on the car.
Philadelphia Insurance Company insured the rental car. They paid me $100,000 bodily injury liability (BIL) limits.
Typically, the pedestrian would have four years to sue the driver.
However, the driver was working for the federal government. Specifically, he was working for US Customs when the accident happened. He was also driving a rental car.
Therefore, the pedestrian only had two years to sue the United States!
When the pedestrian rented the car from a rental car company in Florida, he purchased uninsured motorist (UM) insurance. You have five years to make a UM claim on a Florida auto insurance policy.
Thus, the pedestrian had 5 years to make an uninsured motorist insurance claim.
Uninsured Motorist Insurance Company Paid $100K to Settle
I made a underinsured motorist (UIM) insurance claim with my client's UIM insurer, Ace American Insurance Company. Ace didn't offer a dime. Therefore, I filed a civil remedy notice of insurance violation.
Ace hired an attorney. Then, Ace American Insurance Company paid the $100,000 limits without a lawsuit. (Ace has since acquired Chubb Insurance.)
If they failed to offer the $100,000 UIM insurance limits, I may have been able to sue them for bad faith.
Thus, if an insurance company has low bodily injury limits they get more nervous about getting hit with a big verdict.
It gets better. I sued the the United States of America in federal court in Miami. They paid $125,000 to settle.
Therefore, I settled the entire personal injury case for $325,000.
Watch this interesting video on this settlement:
Visitors to Florida May Have a Shorter Time to Notify an Uninsured Motorist Insurer
Let's assume that you're visiting Florida from another state. You get injured in a Florida car accident. If you have uninsured motorist (UM) insurance from your home state, there are 2 deadlines that you may have.
The first deadline is that you may have a very short time to notify your uninsured motorist insurer of your injury claim.
For example, one insurance company, Cotton States (now County Financial), had a Georgia auto policy that says that an insured must notify the UM insurer:
no later than 60 days, of how, when, and where the accident or loss happened.
The injured person who made a UM claim waited more than 60 days to notify the UM insurer. The UM insurer then denied UM coverage by arguing that the injured person failed to notify it of the crash in a timely manner.
The Georgia Court of Appeals agreed with the UM insurer. The injured person wasn't entitled to any UM coverage. Manzi v. Cotton States Mutual Insurance Company, 243 Ga. App. 277, 531 S.E 2d 164 (2000).
Visitors to Florida May Have a Shorter Time to Sue for Uninsured Motorist Insurance Benefits
The second deadline is that the time to sue your uninsured can be much shorter. Time limits can be as short as 1 year. Many other states have a 2 year deadline.
For example, I represented a man (Ryan) who lived in Georgia. He was in Clearwater, Florida for business.
While in Florida, he was injured in a car accident. A driver made a left hand turn into Ryan's rental car.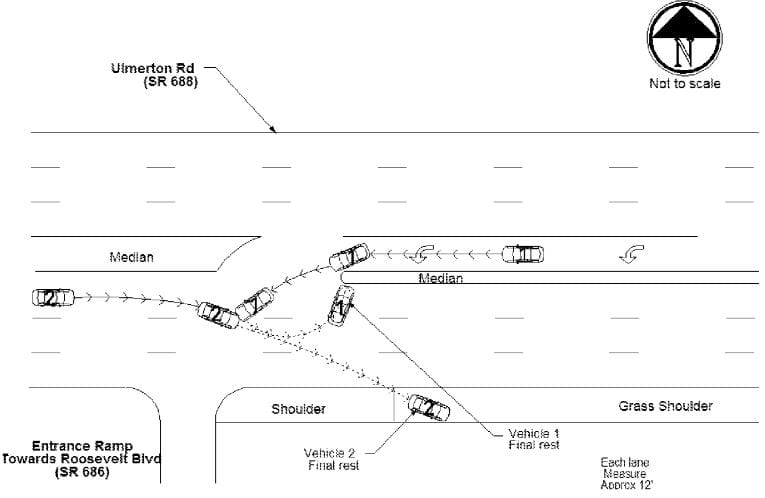 Here is the crash diagram:
You can see Ryan on the ground after the accident:
Ryan broke his leg. In addition, he also detached his meniscus.
Allstate insured the car that hit Ryan. Wisely, Ryan hired a Florida car accident lawyer (me) shortly after the accident.
However, the Allstate policy only had $100,000 in bodily injury liability (BIL) insurance.
Ryan had four years to sue the driver who caused the accident. (Actually, the other driver died which further shortened the time to sue. But, I won't get into that here.)
Ryan had surgery to his tibial plateau fracture. That is a big injury. Thus, his claim was worth about $300,000.
Therefore, we had to look for additional compensation.
The good news?
Ryan had uninsured motorist insurance with Travelers. Since he lived in Georgia, he had a Georgia UM policy. I quickly made an underinsured motorist insurance claim with Travelers. Let's assume that Travelers' policy would've said that he needed to notify them of a UM claim within 60 days of the accident.
Fortunately, I quickly made a UM claim. If I would've waited til day 61, we may have lost the UM claim.
Also, you may only have two years to sue for UM insurance on a Georgia policy. Some Florida appeals courts say you have 2 years, others say you have 4 years. It's better to be safe than sorry. I assumed that it is 2 years.
I settled Ryan's UM claim with Travelers for $200,000. Moreover, we settled a little over 1 year after the accident. Can you imagine if I would've waited 2 years to settle. We would've lost out on that extra $200,000. And $200,000 is a lot of money!
His entire personal injury settlement was for $300,000.
4 year Time Limit Applies To Every City in Florida
The general 4 year time limit to sue for negligence applies regardless of where you're hurt in Florida. So regardless of whether you're hurt in Miami, Homestead or West Palm Beach, the 4 year time limit to sue for negligence applies.
This entire article only applies to Florida cases.
Warning! Each state has different laws.
There are many types of cases where your lawsuit is founded on negligence. Examples are car accidents, dog bites and much more.
What is The Time Limit To Sue for a Car Accident?
Find out:
What is The Time Limit To Sue for a Slip and Fall in Florida?
You have 4 years to sue a private business for its negligence if you're hurt on its property. This assumes that you aren't an employee of the property owner or occupier.
Examples include:
Example – Injured at a Private Business – 4 years to Sue
Fred (not real name) is shopping at Sedano's Supermarket in Miami. He allegedly slips and falls on a substance on the floor.
He claims that the fall aggravated an pre-existing injury to his achilles tendon. Sedano's is a private business. Thus, Fred has 4 years to sue Sedano's.
I settled this case for $300,000.
If You Sign a Waiver, The Time to Sue May Be Much Shorter
Some businesses have you sign a waiver before you're allowed to enter. This waiver can shorten the time you have to sue.
As an example, let's use Sky Zone, a family entertainment center with many connected trampolines. They require you to sign a waiver before entering. Skyzone's Doral and Cutler Bay waiver look like this:
The waiver says, in part:
ANY DISPUTE, CLAIM…ARISING OUT OF OR RELATING TO MY OR THE CHILD'S ACCESS TO AND/OR USE OF THE SKY ZONE PREMISES AND/OR ITS EQUIPMENT…SHALL BE BROUGHT WITHIN ONE YEAR OF ITS ACCRUAL (i.e., the date of the alleged injury)
Thus, you are agreeing to only have one year to bring a claim. This is giving up a huge right.
Negligence Case Against against a City, County, Municipality or the State of Florida
If a Florida county, city, municipality or the State of Florida's negligence caused your accident, you have 4 years to sue. However, you must give them notice within 3 years after the date of your accident.
To comply with this notice requirement, you must give the county certain pieces of information in writing. You then have to wait 6 months, unless they deny your claim, before you can file a lawsuit.
4 Year Time Limit Doesn't Apply Injury Claims Against Federal Government
If you have a personal injury case against the federal government, you have two (2) years to sue. This time limit applies to car accidents, or injuries that happen on U.S. government property.
You must complete a Form 95 (Statement of Claim) and send it to the proper government parties. You then need to wait 6 months before filing a lawsuit. After that time period expires, you can sue the U.S.
What happens if you've already filed a Form 95 against the United States government, but now you want to increase your damages amount?
As long as the claim is still in the administrative phase, is within the SOL, and has not been denied, you can amend it at any time under 28 CFR 14.2(c).
What's the downside to amending the form 95?
You have to wait another 6 months before you can file a lawsuit. This is because it will trigger a new pre-suit investigatory window for the government.
Can You Recover More Money Against the Federal Government than the Amount Claimed as "Sum Certain" on the Form 95?
Yes, if you can show that"the increased amount is based upon newly discovered evidence not reasonably discoverable at the time of presenting the claim to the federal agency, or upon allegation and proof of intervening facts, relating to the amount of the claim", under 28 USC 2675(b). See McDonald v. US, 555 F.Supp. 935 (M.D. Pa. 1983); Fraysier v. US, 566 F.Supp.1085 (S.D. Fla. 1983).
That said, if you try to get more money at trial than put on the Form 95, the burden is hard. However, there no strict rule that prevents you from getting more money at trial than you have demanded as a "sum certain" in the Form 95 admin claim. Again, this assumes that you can meet the above burden.
Medical Malpractice Victims in Florida Usually Have 2 Years to Sue
If you have a medical malpractice claim, then Florida Statute 95.11(4)(b) states the applicable time frame to sue. The time limitation starts from the time the cause of action is discovered or should have been discovered with the exercise of due diligence.
But there are exceptions as well as pre-suit notice requirements.
Professional Malpractice
If you are making a professional negligence claim, then Florida Statute 95.11(4)(a) says that you have to years to sue. The time limitation starts from the time the negligence is discovered or should have been discovered with the exercise of due diligence.
This means that you have 2 years to sue, an attorney or accountant, for professional negligence.
Time Limit to Make a Claim for an Accident While Working
See how long you have to make a claim for an accident with your employer if you're hurt while you're working in Florida.
How Long Do You Have to Sue for Wrongful Death in Florida?
There are essentially two statutes of limitations that affect Florida wrongful death cases. The general statute of limitations that applies to the majority of wrongful death cases provides that an lawsuit for wrongful death must be filed within two years after the cause of action starts. Fla. Stat 95.11(4)(d).
However, the Florida Wrongful Death Act provides that a wrongful death action must be based on an event that would have entitled the decedent to recover damages if death had not happened. Florida Stat. 768.19. Most often, this means that you can only have a wrongful death claim if someone else was negligent.
As a result, if the decedent dies after expiration of the time period contained in the statute of limitations applicable to the underlying cause of action and a lawsuit has not been filed before the death, then any wrongful death action based upon that negligence is not allowed. Ash v. Stella, 457 So. 2d 1377 (Fla. 1984).
If the decedent dies within the time period provided in the statute of limitations applicable to the underlying cause of action, the wrongful death lawsuit will be allowed so long as it is filed within the two year statute of limitations that apply to wrongful death lawsuits. Pait v. Ford Motor Co., 515 So. 2d 1278 (Fla. 1987).
Thus, you (or your attorney) need to look at the statute of limitations that applies to the underlying cause of action to see if the death occurred during that applicable time period. If death happened within that time limit, then the statute of limitations applicable to the wrongful death lawsuit must be complied with.
One Florida appeals court has held that the 5 year time period applies to filing a wrongful death lawsuit for uninsured motorist insurance benefits. Hartford Acc. & Indem. Co. v. Mason, 210 So.2d 474
The loss of a loved one is tragic. This is especially true when the death is due to wrongful death . However, you don't want to miss the wrongful death deadline and forever lose your claim. This is especially true when the settlement value of wrongful death cases is often large. Check out:
Cruise Ship Passengers Have 1 Year to Sue for Negligence
In most cases, the cruise passenger has one year to sue for negligence. This is stated in the cruise ticket contract. Also, passenger injury claims against Carnival, Royal Caribbean, and NCL must be filed in Federal court Miami, Florida.
Is There a Timeline for a Federal Employee to File a Claim for Injury?
The Federal Employees' Compensation Act (FECA) provides that a claim for compensation must be filed within 3 years of the date of injury. This "workers compensation" law applies to federal employees. Therefore, it doesn't apply to state employees.
Moreover, a FECA compensation claim is in addition to a personal injury claim against someone whose negligence caused the federal employees' injury or death.
For a traumatic injury, the statutory time limitation to bring a FECA claim begins to run from the date of injury.
If a claim is not filed within 3 years, compensation may still be paid if written notice of injury was given within 30 days or if the employer had actual knowledge of the injury within 30 days after it occurred.
There is nothing to prohibit the federal employee from filing the claim. Timeliness is determined by the OWCP district office as part of the adjudication process. 5 U.S.C. § 8122; 20 C.F.R. §§ 10.100-10.101.
Did someone's carelessness cause your injury in an accident in Florida, or on a cruise or boat?
I want to represent you if you were injured in an accident in Florida, on a cruise ship or boat. If you live in Florida but were injured in another state we may also be able to represent you.
Call Us Now!
Call us now at (888) 594-3577 to find out for FREE if we can represent you. We answer calls 24 hours a day, 7 days a week, 365 days a year.
No Fees or Costs if We Do Not Get You Money

We speak Spanish. We invite you to learn more about us.
Editor's Note: This post was originally published in 2013 and has been completely revamped and updated.