This not my case.  A passenger was awarded $2,936,368 against Carnival for her knee injury from a slip and fall on the Carnival Pride cruise ship.
Denise Kaba sued Carnival Corporation in United States District Court (Southern District of Florida).  This court is located in Miami, Florida.
However, I am going to use this case to give you tips and strategies for slip and fall cases against Carnival Cruise Lines.
Tip: The lawsuit was filed in Miami's federal court because all passenger personal injury cases against Carnival Cruise Lines must be filed there.
A judge, not a jury, awarded the verdict on May 13, 2011.
Facts
On August 22, 2009, Denise Kaba, slipped and fell while a passenger aboard the M/V Carnival Pride.
Carnival Corporation agreed that it was at fault, and was legally responsible for any resulting loss, injury, or damage, including Kaba's loss of earnings, past and future medical expenses, and non-economic damages.
Those are the types of damages that you may be able to recover in a passenger cruise slip and fall case.
Tip: Slip and fall cases are generally difficult.  Cruise lines, including Carnival, rarely admit fault.
Why did Carnival likely admit fault?
According to passenger's claims in the lawsuit, and discovery, Carnival had:
Installed a new resin surface which was extremely slippery.
Known about prior accidents on this same surface aboard other ships in their fleet.
Prior notice of a dangerous condition is crucial in a slip and fall case.  Generally speaking, a slip and fall case is stronger if the cruise line had a lot of prior notice about a dangerous condition.
A jury or judge may feel less sympathy for Carnival if they had prior notice of many slip and fall incidents on the same surface that you slipped and fell on.
As a result of the fall, the passenger suffered a fractured patella.  The patella is the kneecap.
She was treated on the ship.
Tip: Getting immediate medical treatment on a cruise is similar to getting treatment at a hospital after an accident.  It reduces a gap in treatment, which may weaken Carnival's argument that the accident did not cause your injury.
About 8 days later, at an Orthopedic Institute, she was diagnosed with a displaced and comminuted fracture of her patella.
Tip: A displaced fracture refers to the way the bone breaks. In a displaced fracture, the bone snaps into two or more parts and moves so that the two ends are not lined up straight. If the bone is in many pieces, it is called a comminuted fracture.
The next day, she underwent open reduction, internal fixation of her patellar fracture.
What is open reduction and internal fixation?
Open reduction and internal fixation (ORIF) is a type of surgery used to fix broken bones.
This is a two-part surgery. First, the broken bone is reduced or put back into place. Next, an internal fixation device is placed on the bone. This can be done with screws, plates, rods, or pins that are used to hold the broken bone together.
Surgery increases the full value of a personal injury case. This is even truer for open reduction and internal fixation, where hardware is placed inside the body.
Passenger had 4 more 
operative

procedures in the next 6 months

Her treating physician continued to care for Plaintiff.  He completed an additional 4 more operative procedures in the next 6 months.

She had post-surgical anthrofibrotic scar tissue.  Arthrofibrosis of the knee is a condition whereby knee motion is limited due to scar tissue, contractures after injury or surgery, or due to the effects of osteoarthritis over time.

She also had infra-patellar contracture syndrome.  Infrapatellar contracture syndrome is an uncommon but recalcitrant cause of reduced range of motion after knee surgery or injury.

She also had patella baja syndrome.  It is also known as patella infera.  It is an abnormally low-lying patella, which is associated with restricted range of motion, crepitations and retropatellar pain.

Because of these 3 conditions, she was referred by her doctor to another doctor.

On June 10, 2010, the new doctor recommended excision of her patello-femoral mechanism and replacement of with an entire patella tendon, and tibial tubercle allograft.

On September 29, 2010, she underwent cadaver allograft patellar tendon replacement at the hospital.

She was then placed in a knee immobilizer and discharged home from the Institute.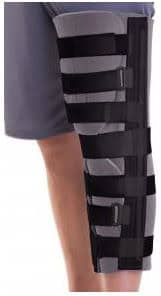 Tip: Take a picture of yourself wearing a knee immobilizer after your slip and fall.  Be sure to send this picture to Carnival's claim adjuster.
It helps humanize you and your case.  It also helps show what you have had to go through since the fall.
She continues to be under the care of her treating physicians and continues to participate in physical therapy as rehabilitation from the operative procedures.
She now suffers from Complex Regional Pain Syndrome (CRPS).  Complex regional pain syndrome is a chronic pain condition most often affecting one of the limbs (arms, legs, hands, or feet), usually after an injury or trauma to that limb.
She has reached maximum medical improvement, which occurs when an injured person gets to a state where his or her condition cannot be improved any further or when a treatment plateau in a person's healing process is reached.
She continues to suffer from pain and discomfort, which she treats with prescription pain management medication as needed.
Tip:  If at the time of trial, you are still suffering from pain and discomfort, this increases the full value of the case.  If you are treating with prescription pain management, this is also increases the full value of the claim.
Prescription pain medication is generally more convincing than over the counter pain medicine when trying to get compensation for your pain and suffering.
Passenger's Loss of Earning Capacity
Prior to her accident, she had not been employed for almost thirty years. Rather, she focused her time and efforts at raising her children and making a home.
Prior to her accident, Plaintiff had no definitive plan for her return to employment.  However, she did have general plans to return to the work force once her children reached a certain age, so that her and her husband would have more security in their "retirement years."
Carnival tried to have her claims for loss of earning capacity dismissed.  The court did not dismiss her claim for loss of earning capacity.
The Court found that she would not have pursued even the possibility of employment for at least four years from the date of trial because, as with her other children, she would choose to remain at home to provide care, supervision and guidance for her youngest child who was presently 12 years old.
The Court found that the net present value of her loss of earnings capacity is $170,483.00.
Passenger's Past and Future Medical Expenses
The passenger incurred extensive medical expenses as a result of her patella injury. She will need future medical care for the treatment of her patella injury.
The judge said that she will require a total knee replacement in approximately five years and a refurbishment of that knee replacement within fifteen years thereof.
The Court found that the passenger's:
Past medical expenses are $221,910.55.
Net present value of her future medical expenses is $373,564.00.
Passenger's Past and Future Non-Economic Damages
The judge found that the passenger had suffered severe pain and will continue to suffer significant pain in the future as a result of her patella injury.  Her capacity to enjoy life has been diminished, and there are many activities in which she can never do again as a result of her patella injury.
Her past non-economic damages amount to $200,000.00. Her future non-economic damages amount to $1,960,000.00.
Denise Kaba was entitled to a judgment in her favor against Carnival Corporation in the amount of:
$170,483.00 for lost earning capacity from the date of trial.
$221,910.55 for past medical expenses.
$373,564.00 for future medical expenses.
$2,160,000.00 for past and future non-economic damages.
$10,410.88 in pre-judgment interest as to past damages.
Carnival's defense attorneys were Henry Salas of Cole, Scott and Kissane's Miami, Florida office, and J. Michael Magee of Carnival Corporation.
Ursula Ungaro was the judge.  The injured passenger used a Miami, Florida lawyer.
Want to learn more about Carnival Cruise Line Accident Claims?
Check out these 7 Must See articles:
I am a Miami cruise accident lawyer.  I want to represent you if you were hurt in an accident on a Carnival cruise ship, another cruise line, or somewhere else in Florida.
Call Me Now!
Call me now at (888) 594-3577 to find out for FREE if I can represent you. We answer calls 24 hours a day, 7 days a week, 365 days a year. 
No Fees or Costs if We Do Not Get You Money

We speak Spanish. I invite you to learn more about me.