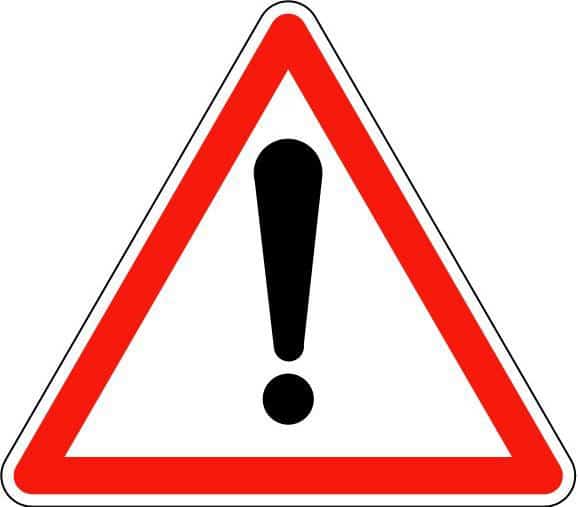 In Florida, a landowner owes an invitee a duty to give a warning of concealed perils which are known or should be known to the landowner, and which are unknown to the invite and cannot be discovered by him through the exercise of due care.  Friedrich v. Fetterman and Associates, P.A., 137 So. 3d 362 (Fla. 2013).
Even though an owner provides a warning, he or she still may have a duty to keep and maintain the premises in a reasonably safe condition.
In almost all situations, a landowner does not have to protect an invitee from dangers which are known to him or that are so open and obvious that he may reasonably be expected to see them.
Take a look at the photo below.
In the above parking lot, the landowner most likely does not have to warn parking bumpers even though they may be a danger.  This is because these wheel stops appear to be consistent throughout the parking lot.
It is reasonable that an invitee will look out for obvious dangers.  This is called the obvious danger law.
The obvious danger doctrine is dependent on the facts of each case in determining if the landowner needs to give a warning.
In a Florida personal injury case where the landowner should foresee an unreasonable risk of danger to the invitee even though the invitee knows of the hazard or the obvious condition, the owner may be held responsible if he did not keep the property in a reasonably safe condition by fixing the dangerous condition.
For example, Florida courts have said that if the owner has reason to believe that the invitee's focus will be distracted, even though the invitee has seen it or been warned, the owner may still have a duty to warn.  Ashcroft v. Calder RaceCourse, Inc., 492 So.2d 1309, 1311 (Fla. 1986)
In the Ashcroft case, a jockey racing at Calder Race Course, in Miami Gardens, Dade County, Florida, was injured when his horse veered across the race course and toward an exit gap.
He lost control, fell to the ground, and was run over by another horse, rendering him a quadriplegic. He sued Calder Race Course for damages, alleging that Calder's negligent placement of the exit gap caused the accident and his injury.
The jury awarded him $10,000,000 for his loss of future earning capacity, medical bills, and pain and suffering.
The Florida Supreme Court said that express assumption of risk waives only risks inherent in the sport itself.  Riding on a track with a negligently placed exit gap is not an inherent risk in the sport of horse racing.
The Florida Supreme Court found that there was no express assumption of risk with respect to the negligent placement of the exit gap.  The court also quoted Prosser and Keaton, Law of Torts Section 61:
"In any case where the occupier as a reasonable person should anticipate an unreasonable risk of harm to the invitee notwithstanding his knowledge, warning, or the obvious nature of the condition, something more in the way of precautions may be required. This is true, for example, where there is reason to expect that the invitee's attention will be distracted."
My thoughts: Although the court did not say it, I think that they were implying that even though the jockey knew about the exit gap, a warning may have been required because Calder had reason to expect that his attention would be distracted by competitive horse racing.
Example – Improperly Placed Parking Bumper
If a parking bumpers are misplaced or sporadic throughout the parking lot, the landowner may have a duty to warn invitees.  Take a look at the picture below.
The above picture shows a parking bumper in the middle of a parking space.  If it were at night (and dark), and you could not see the wheel stop, the landowner would have a duty to warn that this particular wheel stop is there.
As you can see, a court will consider the facts and circumstances of each case.  So will the commercial general liability (CGL) insurance adjuster.
The Ashcroft court gave a few other examples where a landowner may have a duty to warn even though the hazard is obvious to the invitee.
The claimant is distracted by advertisements or products on the sales floor of a store.  This may happen if you are in an aisle shopping at Publix, Walmart or another place.
Walking on icy steps.
In Florida, jurors can decide that even if the dangerous condition is obvious or the claimant has knowledge, the landowner may still have a duty to warn.
Did someone's carelessness cause your injury in Florida? 
See Our Settlements
Check out some of the many Florida injury cases that we have settled, including but not limited to slip or trip and falls, drunk driving (DUI) accidents, cruise ship accidents, wrongful death and much more.
We want to represent you!
Our Miami law firm represents people anywhere in Florida if someone's carelessness caused their injuries in slip, trip and falls, drunk driving crashes, cruise ship or boat accidents, accidents at an apartment complex, condo building or home, wrongful death and many other types of accidents.
We want to represent you if you were hurt in an accident in Florida, on a cruise ship or boat. If you live in Florida but were injured in another state we may also be able to represent you.
Call Us Now!
Call us now at (888) 594-3577 to find out for FREE if we can represent you. We answer calls 24 hours a day, 7 days a week, 365 days a year. 
No Fees or Costs if We Do Not Get You Money

We speak Spanish. We invite you to learn more about us.