What happens if another driver hits you while you are driving an Uber? In this article, I will answer that question. As you may have guessed, the Uber driver may be able to get compensation.
I've written a lot about Uber car accident claims. This article focuses on an Uber driver's rights if another driver caused the accident.
I have written articles about:
Here, I will focus on claims from an Uber drivers point of view. Here are some frequently asked questions (FAQs) by Uber drivers after an accident:
Does Uber Tell Its Drivers What to Do After An Accident?
Uber give its drivers a few steps to take if they've been involved in an accident. This advice is similar to what is printed on most people's car insurance cards.
Uber says to follow these steps:
Check that all parties involved are safe.
Notify police and paramedics if necessary.
Contact Uber.
Notifying the police is important for several reasons.
It documents the accident. This prevents one of the drivers of the vehicles from later denying that there was an accident.
In addition, police officers usually issue a ticket for a moving violation. When evaluating liability, the responsible driver's insurance company usually assigns fault to the driver who received the ticket.
Also, if someone calls 911 to report the accident, the conversation is recorded. The 911 phone call may later help your case.
If you tell the police that you're injured, they will send paramedics to the scene. The paramedics will write down any complaints of pain that you have. This may later help you prove that you complained of pain after the accident.
If you feel that you need to go to the hospital, paramedics may transport you in an ambulance to the hospital. This may help your case. It increases the full settlement value of your case. Your total medical billed charges will be higher.
The insurance company loses the argument that you weren't badly injured because you didn't take an ambulance to the hospital.
If paramedics aren't called, the responsible insurer may argue that the accident didn't cause your injury. They may also argue that you weren't badly hurt from the accident.
How Do Uber Drivers Report the Accident in the App?
The third step that Uber tells its drivers, after an accident, is to contact Uber. Uber says that the driver should use the app. They should go to the section that says:
Head to Trip Issues and Fare Adjustments > I was in an accident. Next, please let us know what happened. Check that you have selected the correct trip and share all available info here. A member of the team will reach out to confirm everyone safety and gather other required information.
You should use caution when letting Uber know what happened. The goal is to keep it simple. Anything that you write can be used against you in your personal injury protection (PIP) and uninsured motorist (UM) insurance claim.
Anything that you discuss with the Uber team member can be used against you in your claim. If you tell them that you aren't hurt, they will likely document this. It can be used against you if you later claim that the accident caused your injury.
However, you may still have a good case even if you tell the Uber team member that you aren't hurt, but later claim an injury. That said, it is also best to have your injuries documented as soon as possible.
The Uber driver accident form will look something like this:
Uber uses the word "partners" to describe its drivers. The form goes on to ask…
All in all, there aren't a lot of questions to answer on this form.
Will an Uber driver's commercial car insurance pay for medical bills from a crash in Florida?
If an Uber driver has a commercial auto insurance policy with Foremost – or another commercial insurer who sells auto insurance to Uber drivers in Florida in the future – it may pay for the Uber driver's medical bills under PIP.
This assumes that the commercial policy has PIP.
If another driver's negligence caused the crash, and the other vehicle is uninsured, Uber's UM insurance will pay the Uber driver's medical bills. It will pay the bills that PIP doesn't pay.
James River Insurance Company insures Ubers. Here is the certificate of liability insurance.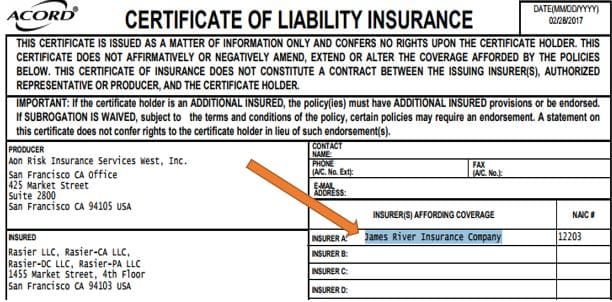 Who Pays an Uber Driver's Lost Wages After an Accident?
I wrote a detailed article about how Uber drivers get their loss of income paid after an accident.
Does an Uber driver need a permanent injury to get money for pain and suffering?
There is no current law that discusses whether an Uber driver needs to have a threshold injury in order to get non-economic damages (e.g. pain, suffering, etc.)
Eventually, Florida courts will decide this or the Florida legislature will pass a law that speaks to this.
If Ubers are classified as taxis or limousines, then Uber drivers in Florida will not need to meet the tort threshold to recover compensation for pain, suffering, mental anguish, loss of capacity to enjoy life, and inconvenience.
An Uber driver should argue to the claims adjuster that he doesn't have to meet the tort threshold. This may keep the full value of the case from dropping. This may result in a higher settlement value.
If Florida courts say that Uber vehicles are classified as private passenger cars, then Uber drivers will need to meet the tort threshold. This may result in a lower settlement value.
What happens if the careless driver (that crashes into the Uber) is uninsured?
Most cars in Florida aren't required to have BI liability insurance. In Florida, some trucks may be required to have BI liability insurance.
If you were hurt in the car accident, and the responsible parties are uninsured, you may want to make an uninsured motorist ("UM") insurance claim. If an uninsured motorist hits an Uber driver, the Uber driver's ability to make a UM claim will depend on whether the Uber driver was en route to pick up a passenger (all the way through drop-off).
Do Uber drivers get uninsured motorist insurance if they are not en route to pickup a passenger?
If an Uber driver isn't en route to the pick up location (or during trips), Uber's insurance will not give the Uber driver UM coverage. The Uber driver can try making a UM claim through a personal auto insurance policy to which he is an insured.
However, once an Uber driver's personal auto insurance company learns that he or she was driving for Uber, they may deny UM coverage. They'll deny coverage unless the driver has rideshare coverage on his policy.
Uber Driver Gets Uber's UM Insurance If En Route to Pickup Passengers or During Trips
Once an Uber driver is en route to pick up (all the way through drop-off), an Uber driver can make a claim with Uber's uninsured motorist insurer.
Currently, Progressive insures Uber in Florida. James River Insurance Company insures Uber drivers in many other states. Uber's Certificate of Liability Insurance for Florida says that $250,000 per accident of uninsured/underinsured motorist insurance is available.
The $250,000 coverage limit should be enough to pay the fair value of 95% of Uber uninsured motorist claims. This is because most claims are worth way under $250,000.
That said, there are certain claims that are clearly worth above $250,000. A bad hip fracture with surgery can easily be worth more than $250,000. A spinal (back or neck) fusion can be worth over $250,000. The full value of a wrongful death case is usually over $250,000. Those are just a few types of injuries that may be worth over $250,000. You can take a look at some of my personal injury settlements to see which injury cases may be worth over $250,000.
The Uber driver can also make a claim with any uninsured motorist (UM) coverage to which you he is an insured.
Uninsured motorist insurance also ensures protection if a hit and run driver hits the Uber vehicle, or if the negligent driver is underinsured.
How does an Uber driver make a claim with Uber's insurance company?
The different ways to make a claim with James River are here. You can make a claim via fax, email or mail.
By Fax:
(804) 420-1058, Attention: Claims Department
By E-mail:
New.Claimsnotices@jamesriverins.com
If you send an email, be sure to request a delivery confirmation, and a read receipt confirmation.
By Mail:
Claims Department
James River Insurance Company
P.O. Box 27648
Richmond, VA 23261
New claims notices are not accepted by phone.
Can Uber's insurance company use everything that an Uber driver puts in writing or says against him in a UM insurance claim?
Yes. So be very careful. Keep it simple. Just hire an Uber accident lawyer. Let the attorney do the thinking (and work) for you.
What information will Uber request when an Uber driver notifies it of an accident?
Uber will ask for an Uber driver's written response several questions. The Uber driver's answers can and will be used against the Uber driver in the Uber driver's UM claim with the James River.
If you're an Uber driver and someone caused your crash and you're hurt, I suggest that you consider the 11 benefits of hiring a personal injury lawyer before answering Uber's questions about the accident.
You'll be able to upload multiple photos of damage to the cars. You can also upload the police report.
Does Uber's insurance company have a right to have you examined by a doctor that they choose?
Yes, if you are an Uber driver. For example, in Florida, uninsured motorist policies typically include a clause that requires an insured claiming UM benefits to attend a compulsory medical examination (CME) conducted by a physician chosen by the insurer. I would expect Uber's insurance company to have this clause in their insurance policy.
Florida cases that allow them to do this are State Farm Mutual Automobile Insurance Co. v. Curran, 83 So.3d 793 (Fla. 5th DCA 2012); Wapnick v. State Farm Mutual Automobile Insurance Co., 54 So.3d 1065 (Fla. 4th DCA 2011).
Do Lyft drivers have the same rights as Uber drivers in Florida?
A Lyft driver's claim is handled differently, since Lyft currently gives its drivers PIP/No-Fault insurance in Florida. However, starting on July 1, 2017, Lyft won't have to provide PIP to drivers while they're engaged in a ride. Florida Statute 627.748(7)(c)1.b.
Did another driver cause your crash while you were driving for Uber in Florida? Were you hurt in another type of accident?
I am an Uber accident lawyer. I serve the entire state of Florida.
For many years now, I've kept up with the laws governing Uber insurance. In fact, the TBO (Tampa Tribune and Tampa Times) interviewed me when the Florida legislature was trying to pass Florida's rideshare law.
I also handle other types of personal injury claims.
Call Me Now!
Call me now at (888) 594-3577 to find out for FREE if we can represent you. We answer calls 24 hours a day, 7 days a week, 365 days a year.
No Fees or Costs if We Do Not Get You Money

We speak Spanish. I invite you to learn more about us.