If you're a Georgia resident who is hurt in a Florida auto accident, different laws may apply to your case than if you are a Florida resident.
Different laws may also apply if you're making a claim under a Georgia auto insurance policy (even if you live in Florida) and you're hurt in a Florida auto accident.
This article applies if:
If you meet one of the two scenarios above, your case is even different from an a visitor from a state other than Georgia who is hurt in Florida auto accident.
Here, I'll focus on some major differences that may exist when dealing with Georgia auto insurance in a Florida accident.
Does Georgia medical payments insurance cover you in a Florida car accident?
It may. Car owners in Georgia can elect to purchase medical payments ("Medpay") insurance, but it isn't required. Unlike uninsured motorist insurance, Medpay coverage applies regardless of fault.
Georgia Medpay coverage is similar to Florida Medpay coverage. I've represented people injured in Florida who had a Georgia car insurance policy with Medpay limits of $5,000 and $10,000, respectively.
There are 2 scenarios where Georgia Medpay will cover you in a Florida car accident. They are if you're:
In a Georgia car (with Medpay coverage) that is in a Florida crash;
A Georgia resident with Medpay on your car insurance policy and you're hurt in a Florida car accident
You May Be Required to Pay Back the Georgia Medpay Insurer from Your Florida Injury Settlement
If an injured person's receives Medpay coverage on a Georgia car insurance policy, and he or she settles a personal injury claim, he or she may have to pay back the Medpay insurer. However, the injured person must repay the Medpay insurer only if two conditions are met. O.C.G.A. § 33-24-56.1(b)
The conditions are:
1. The amount of the recovery exceeds the sum of all medical bills, lost wages, pain and suffering incurred as a result of the injury, exclusive of losses for which reimbursement may be sought under this Code section; and
2. The amount of the reimbursement claim is reduced by the pro rata amount of the attorney's fees and expenses of litigation incurred by the injured party in bringing the claim.
The injured person should ask the Medpay insurance company to state that it is not asking to get reimbursed for the bills that it has paid. They should get this in writing. This also assumes that Medpay has paid or will pay bills.
Warning! Don't automatically pay the Medpay insurer without having a complete understanding of Georgia law as it relates to Medpay reimbursement.
Georgia Medpay Likely Won't Cover You If You're on Business Trip When the Accident Happens
If you're injured while on a business trip in Florida, and you get workers' compensation benefits, your Georgia Medpay coverage likely won't cover you.
This is because most Georgia auto insurance policies say that you're not entitled to Medpay if you get workers compensation benefits.
What if You Don't Have Georgia Medpay and You're Hurt in a Florida Car Accident?
Let's assume that you're a Georgia resident and you:
Don't have Medpay on your Georgia auto insurance policy.
You're hurt while in a car that is registered in Florida
If you're Georgia auto insurance policy has a provision that says that your auto insurance meets the minimum requirements of financial responsibility if you're hurt in another state, then your Georgia auto insurance policy will provide you Personal Injury Protection (PIP) benefits.
I had a case with a Georgia State Farm auto insurance policy that didn't have this provision. Thus, the Georgia resident didn't qualify for Florida PIP benefits under the Georgia auto policy.
However, the Georgia resident did qualify for PIP benefits through the car that in which she was a passenger ("host vehicle") while in Florida.
You Get PIP Benefits from the Florida Host Vehicle's Insurer
As you saw from the example above, any time that you're in a Florida private passenger vehicle, you are covered under the host vehicle's PIP.
Can a Georgia Resident Who Is Hit By a Car While a Pedestrian in Florida Get Money for Pain and Suffering?
Yes, if the driver's negligence caused the pedestrian's injury.
The Georgia resident who is hit by a car in Florida while a pedestrian will not have to meet the no-fault threshold in order to get money for pain, suffering, mental anguish, etc.
$300K Settlement for Georgia Resident Who Was Injured in Florida Car Accident
Ryan was driving an Avis rental car in Clearwater, Pinellas County, Florida. He lived in Georgia, but was in Florida for a business trip.
Another car made a left hand turn and crashed into Ryan's car. The other driver got a ticket for failure to yield the right of way.
The diagram from the crash report is below. Ryan was driving vehicle #2 in the diagram.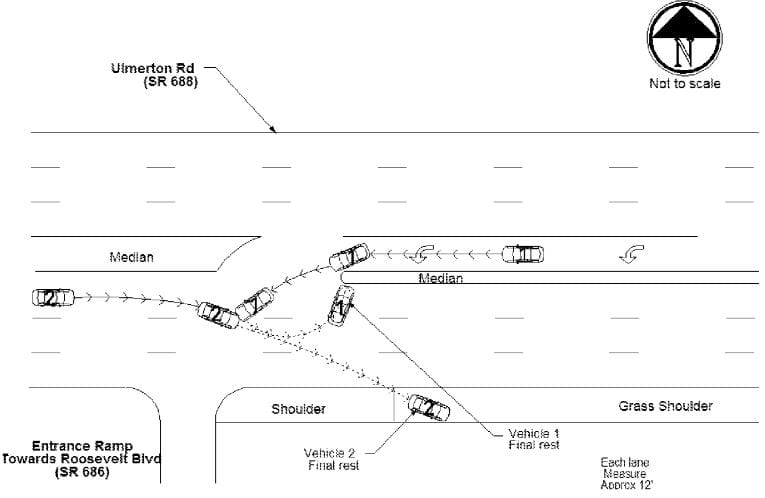 Below, you can see the damage to the other driver's car:
Ryan wound up in the hospital.
You can see him in his hospital bed.
He broke his leg. While at the hospital, he requested a free consultation with me. After we spoke, he hired me.
A doctor put a plate and screws to stabilize his broken leg.
Take a look at the x-ray image of the hardware:
After the surgery, he couldn't put weight on his injured leg.
Thus, he was put in a wheelchair.
Allstate insured the driver who received a ticket for causing the crash.
They paid $100,000 to settle my client's injury claim.
Allstate's check is below:

Sadly, the other driver died after the crash.
Fortunately, Ryan had uninsured motorist insurance. Travelers insured him.
Georgia Uninsured Motorist Insurance Laws May Apply to a Florida Accident
Florida has general time limit to sue for personal injury. However, there are exceptions to the rule.
One of the benefits of hiring an injury lawyer is that he or she should know these exceptions.
Ryan had a much shorter time to make an uninsured motorist (UM) insurance claim.
One Florida court said that a Georgia resident who was hurt in a Florida car accident only had 2 years to sue the UM insurer!
This is much shorter than Florida's five year uninsured motorist insurance time limit.
It gets worse…
Some Georgia UM policies require the insured to notify the UM insurer within 60 days of the accident.
If you fail to notify them, you can lose your valuable UM insurance!
I sued both the underinsured driver's estate. I also sued my client's underinsured motorist (UIM) insurance company, Travelers. Here is a copy of the lawsuit (redacted).
The good news?
Travelers paid $200,000 to settle the UM insurance claim. Travelers' settlement check is below:
The total settlement was for $300,000. Since he had surgery to his broken leg, his injury settlement was bigger.
Travelers has a reputation for paying better than State Farm and Progressive. Travelers pays similar to GEICO.
However, Travelers is worse than USAA. This settlement was greater than the average settlement for a broken leg. This is because Ryan had surgery and there was plenty of insurance.
Learn how Georgia uninsured motorist insurance applies to a Florida car accident.
$130K Settlement for Georgia Resident for Florida Car Accident
A person who lived in Georgia was on vacation in Florida. She was an occupant of a car owned by a Florida resident.
She was in a car accident in Miami-Dade County. An ambulance took her to the hospital.
At the hospital, she was diagnosed with a wrist fracture. She hired a Miami car accident lawyer (me) shortly after the accident.
I settled the case for over $130,000.
How long does a Georgia resident have to sue the at fault driver in a Florida car accident?
Four years, assuming that the at fault driver was not working for the federal government at the time of the crash.
This time limit is still 4 years even if you are a Georgia resident and your claim is against a Georgia driver for a Florida car accident.
For example, let's say that you are a passenger in your Georgia friend or family member's car. At the time of the accident, the car is in Florida. In this instance, you still have four years to sue your friend or family member.
However, if your uninsured motorist (UM) coverage claim is against a Georgia UM policy, then you may only have two years to make the UM claim.
Does a Georgia resident need a permanent injury to get money for pain and suffering after a Florida car accident?
It depends on whether the at fault driver has PIP coverage (or its equivalent). If the at fault driver has PIP coverage (or its equivalent), then a Georgia resident may need a permanent injury to get compensation in his or her claim for pain and suffering against the at fault driver.
Learn about personal injury claims with Uber and Lyft.
I want to represent you if you were hurt in a Florida car accident or other accident.
Call Me Now!
Call me now at (888) 594-3577 to find out for FREE if we can represent you. We answer calls 24 hours a day, 7 days a week, 365 days a year.
No Fees or Costs if I Do Not Get You Money
We speak Spanish. Learn more about us. Check out my law firm reviews.