A Florida supermarket's negligence may cause you to slip, fall and get hurt.  If this happens, you may be able to recover your damages.
This article talks about slip and fall injury claims against Florida supermarkets.  I wrote a separate article on slip and fall injury claims against Publix supermarkets.
I also wrote an article on general accident claims against Florida supermarkets.
Slip and Falls
The most common injuries caused by supermarkets are when a customer slips on a substance or debris and falls.  You may want to determine if you a Florida store slip and fall case.  If so, look at Section 768.0755, Florida Statutes.  It applies to all negligence claims arising from Florida supermarket slip and falls.  It states that:
(1) If a person slips and falls on a transitory foreign substance in a business establishment, the injured person must prove that the business establishment had actual or constructive knowledge of the dangerous condition and should have taken action to remedy it. Constructive knowledge may be proven by circumstantial evidence showing that:
(a) The dangerous condition existed for such a length of time that, in the exercise of ordinary care, the business establishment should have known of the condition; or
(b) The condition occurred with regularity and was therefore foreseeable.
The above statute applies if you are injured at any supermarket or store in anywhere in Florida.  So this law applies equally if you are injured in Miami, Tampa or Pensacola or any other city in Florida.
It can be difficult to meet the burden of proof of this statute because many customers can't prove actual notice and they are unsure how long the substance was on the floor before their fall.  But don't fret, the facts are what they are. All you can do is make sure that you build your case and get it from port to port (before the supermarket claims adjuster sinks it).
You should immediately send a letter (via certified mail return receipt), fax it and an email it (delivery and read receipt confirmation) to the supermarket asking them to preserve (not destroy) any video of the incident area for one day before the fall through five hours after the fall.
It is best to get as much video as possible before the fall.
Sometimes a grocery store claims adjuster will send you the video if you request it.  Sometimes they won't.  Before a lawsuit, they have no legal obligation to send you the video.
If the adjuster sends you a video, it may begin just a few minutes before your fall.
Tip: Even if the adjuster sends you 9 minutes or more of video and tells you that they are denying the claim because there was nothing on the floor that caused you to fall, you may want to put little weight on this.  The problem with this is that someone may have dropped or spilled a substance prior to the start of the video.
Actual Case: I had a case where client claimed to slip on a wet and dirty substance in a Miami supermarket.  My client had 2 skin grafts to repair the skin outside his Achilles tendon.  The adjuster sent me about 8-9 minutes of surveillance video that captured the area of the fall before my client's fall.
Apparently the adjuster thought (or acted as if) nothing was on the floor in the area where my client fell.  The adjuster denied liability and offered nothing.
I thought the video showed a dirty substance on the floor before the fall. I sued the supermarket and later settled for $300,000.
All settlements on this page are before attorney's fees, costs and medical bills were deducted. Most cases result in a lower recovery. It should not be assumed that your case will have as beneficial a result.
Tip:  It was only until after I sued the supermarket where they produced pictures (see below) showing what I believe is dirt on the floor.  But you be the judge.
If you only have nine minutes of video or less, you may be missing a crucial piece of the case. Without seeing two hours or so before and after the fall, you cannot get a good idea of when the last time the grocery store inspected the sales floor prior to the fall.
You should send this letter to both the store that you were injured at and the supermarket corporate headquarters.  In another article I gave the mailing address for Publix corporate.
The address and fax number to each Publix store is here.  If the supermarket destroys the video after you send a request to preserve the video, this may greatly help your case.
You may want to call the claims adjuster (that is handling the claim for the grocery store) and ask him or her to send you the video of the incident area for the two hours before you fell.
It is important that you do not discuss the facts of the case with him or her.
If you are lucky enough to get the video before you file a lawsuit, you want to look at the area where you fell and see whether anyone was in the area for 15-20 minutes before you fell.
If you don't see anyone in the area, and you know that you slipped on a liquid this should be enough to get your case to a jury in Florida.
If you do see people walking in the area where you fell, you want to pay close attention to see if anyone spilled any liquid before your fall.
Another customer may spill liquid on the floor seconds or just a minute or two before your fall.   If this happens, the supermarket may not be at fault.  They would not be liable unless an employee saw this liquid being spilled on the floor or saw it on the floor before the fall.
You want to be able to get your case to a jury. This is because a liability claims adjuster knows that anything is possible when a case goes to a jury. A jury could side with the injured person and award them money for his or her damages.
Even if you can prove that a supermarket knew or should have known that there was something on the sales floor that did not belong there, the value of your personal injury case will be reduced by your percentage of fault (comparative fault).
In Florida, even if you are 51% at fault, if you slip and fall at a grocery store in Florida you can recover 49% of your damages if they are negligent. This is different from a slip and fall case in some other states, where you may not have a case if you are even 1% at fault.
If the claims adjuster for the supermarket's insurer blames you for failing to see something or failure to watch where you were walking, then you can argue that:
– Signs within the store at eye level and above concerning merchandise within the supermarket; and
– The store wants shoppers, like you, to look at these signs as you are walking through the store and hopefully purchase many of the products mentioned in the signs.
– The supermarket should not have any reason to believe that its shoppers will be walking through the store looking at their feet.
A. Slip and fall in a bathroom in a Supermarket.
If you slip and fall in a bathroom in a grocery store, you should take a picture of the cleaning log, which may be posted on the inside of the restroom door. The cleaning log on the door may have an area for a supermarket employee to sign indicating every time the restroom/bathroom was cleaned.
Sometimes the employees do not follow procedure and sign the restroom cleaning log.
If you slip and fall in the bathroom, your case is strongest if you called 911 after you fell or if another shopper saw your fall.  Restrooms do not have video and a personal injury case is strongest when there are witnesses who can corroborate (confirm/testify) the way that your slip and fall happened.
A 911 call audio recording or transcript may be important to help you prove your claim, so you may want to request it.
You still may have a good case if you did not call 911 after you fell or if another customer did not see you fall or see you on the floor in the bathroom. But you should definitely report your fall to the store immediately after it happened. Sometimes people leave the store without reporting the accident.
This makes your case more difficult because the supermarket can argue that your injuries may have been caused from a fall or other type of accident somewhere else. They could also argue that your injuries were not caused at this store because if they were then you would have been in bad pain and the paramedics would have been called.
This is a typical argument if you are claiming a shoulder fracture or other type of broken bone (hip, arm, ankle, etc.).
B. Slip and fall due to a Leaking AC unit in the ceiling.
If you slip and fall on this water leaking from an air conditioning duct, then you could argue that the store knew that there was a leak from the AC duct because the store (or an Air conditioning repair/maintenance company hired by them) removed the ceiling tiles and water was leaking from the area without ceiling tiles.
If the grocery store blames the AC company, then you can argue that the supermarket should have been monitoring the AC repair company to see when the AC company left the store.
If the supermarket properly monitored the AC company, then the store employees would have known when to check the area to make sure that it was free from any substances.
Although you have an injury case against the supermarket, you may also have a case against the AC repair company if they removed the ceiling tiles and did not tell a store employee that they removed the tiles. S
Sometimes when you sue multiple defendants (companies) you may get more money than if you are just suing one company.  This is because each may contribute to the settlement and they are possibly willing to pay a little more money to get the case settled.
C. Water that leaked from a refrigerator or freezer.
Below is a picture of a supermarket taking at least some of the proper precautions when one of its freezers is currently leaking or has leaked in the past.  But perhaps the entire unit should be replaced.
I was told by a Publix supermarket employee – in Miami – that their older refrigerators in the particular store that he works at tend to leak more because the water pan is lower to the ground; whereas the newer refrigerators and freezers have a water pan that is higher of the ground and thus leak less or do not leak at all.
He also mentioned that some of the black pads that line the inside of the glass door frame are loose which creates condensation and water on the floor.  If you slip and fall you should be sure to take picture of these black pads if they are loose.
He mentioned that the supermarket that he worked at has a new freezer (made in last 15 years or so) and it has not even leaked once while the older freezers and refrigerators (purchased 40 or so years ago) leak much more.
Our Settlements for Slip and Fall Accidents in Supermarkets
All settlements on this page are before attorney's fees, costs and medical bills were deducted. Most cases result in a lower recovery. It should not be assumed that your case will have as beneficial a result.
Our Actual Case: $300,000 Settlement for a man who slipped and fell in a supermarket in Miami, Florida. He claimed he slipped on dirty water and old smudges. He had 2 skin grafts on his Achilles tendon after the fall.
Crum & Forster Specialty Insurance Company was the liability insurer for the supermarket.

Check out some of my and other attorneys' settlements and verdicts against Publix and Winn Dixie.
I settled a case for $18,000 (gross) pre-suit against Publix where my client had a shoulder (rotator cuff) tear after she slipped and fell what she though was water. My client and I had no idea how the water got there.
You can check out some of my slip and fall settlements in Florida.
Some of the common things that cause shoppers to slip and fall in a supermarket are:
Food that has fallen to the floor.
A supermarket should be inspecting its floors to make sure that they are free from food.  Customers who get food from the salad bar may accidentally drop it on the floor.
After the fall, the injured person should take pictures of the food on the floor.  The victim should also take pictures of the salad bar and the surrounding area.
An injury case may arise from a shopper slipping on the substance in the above picture.  If so, the adjuster would discount the full value of the case because the food contrasts with the floor.
The supermarket will argue that the shopper should have seen the food before the fall.
A bag that fell on the floor.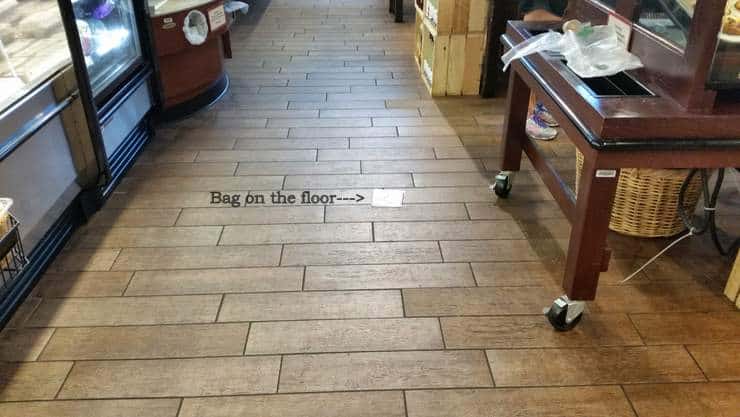 Some Florida grocery stores allow the shoppers to place individual pieces of candy in a bag.  Some Miami supermarkets let customers put individual desserts into a bag.  These may be plastic or paper bags.
The supermarket employees should be inspecting the sales floor to make sure it is free from bags.  The color of the bag may contrast with the floor.  If so, the claims adjuster will argue that you should have seen the bag before the fall.
The insurer may discount the full value accordingly.
Grocery store shoppers may also slip on:
Numbered tickets on the floor near the deli.
Supermarket shoppers may drop their deli tickets on the floor.  The grocery store should be inspecting the deli area.
They should remove these tickets from the floor.  A deli ticket on the floor is a hazard that may cause a slip and fall accident.
Someone may slip on one of the tickets in the above picture.  A claims adjuster would reduce the full value of this slip and fall case because the white ticket color contrasts with the light brown floor.
– A grape, tomato, banana, apple, or other fruit.
– Oil which may be from a sub sandwich, leaky jar or something else.
– Soda that may have come from another customer who accidentally spilled it. Sometimes next to the soda machine.
– Juice (orange juice, apple juice).
– Water that was spilled by a customer and from a water fountain.
– Melted ice.
– Grease or a soup near the deli section. Some supermarkets let you pour soup into a bowl yourself.
– Spilled or leaky laundry detergent.
– Salad dressing.
The injured person may have a case if he or she slipped on one of these above items or something else.
Trip and falls.
Learn about trip and fall accident claims against Florida stores.
My and other attorneys' trip and fall settlements and verdicts against Publix
You can read about my and other attorneys' settlements and verdicts for trip and falls against Publix.
Whole Foods Slip and Fall Cases in Florida
Per Wadsworth Huott, a lady sued Whole Foods Market in Palm Beach County, Florida.  The Wadsworth firm represented Whole Foods.  The lawsuit was filed in 2006.
It was a slip and fall case.  Whole Food won a defense verdict.  The jury sided with Whole Foods.  The lady received nothing.
The lady's demand was for $285,000.  Case: Korpeck v. Whole Foods Market Group, Inc.  This was not my case.
My thoughts: I do not know if Whole Foods made any offers to settle before the trial.  This case shows that Florida slip and fall cases are difficult.
Don't Speak with the Supermarket's Claims adjuster
You should report your slip and fall to the supermarket.  However, do not speak with the grocery store's claims adjusters until (if at all) you are 100% calm.  Slip and fall cases often turn on 1 fact.
Supermarket Employee Injury Cases in Florida
In Florida, injured workers may be able to get benefits without having to show that the supermarket did something wrong that caused the injury.
For example, if you were working for the store and you slipped and fell on liquid in an aisle, you do not have to show that they knew or should have known that there was liquid (e.g. water, grease, etc.) on the floor before you fell.
A grocery store employee could slip and fall on ice or melted ice in the freezer where the meat or deli section is located.
The second most common cause of supermarket employee injuries are falling while at ground level or being struck by an object.
An employee may trip and fall over an object in the stocking area or warehouse in the store.
Did a Florida supermarket's carelessness cause you to slip or trip and fall and suffer an injury? Were you injured in another type of accident?
See Our Settlements
Check out some of the many Florida injury cases that we have settled, including but not limited to slip or trip and falls, supermarket or store accidents, accidents at an apartment complex, condo building or home, restaurant accidents, hotel accidents, day care accidents, cruise ship accidents and much more.
We want to represent you!
Our Miami law firm represents people injured anywhere in Florida in slip, trip and falls, store or supermarket accidents, cruise ship or boat accidents, accidents at an apartment complex, condo building or home, and many other types of accidents.
We want to represent you if you were injured in an accident in Florida, on a cruise ship or boat. If you live in Florida but were injured in another state we may also be able to represent you.
Call Us Now!
Call us now at (888) 594-3577 to find out for FREE if we can represent you. We answer calls 24 hours a day, 7 days a week, 365 days a year. 
No Fees or Costs if We Do Not Get You Money

We speak Spanish. We invite you to learn more about us.