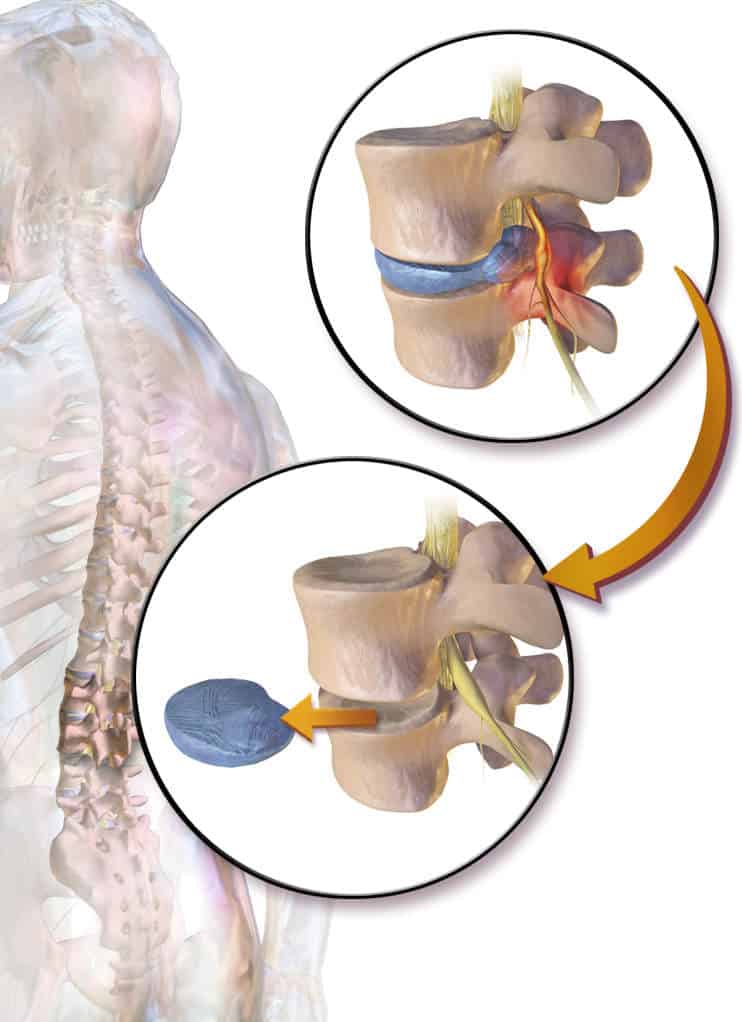 If someone's negligence caused you to get back surgery, you may want to know if you have a case.
This article focuses back surgeries that arise from accidents in Florida or on a cruise.  Each state has different laws that apply.
There are several types of back surgery.  Let's first look at discectomies.
What is a Discectomy?
A discectomy is surgery to remove lumbar (lower back) herniated disc material that is pressing on a nerve root or the spinal cord. It is usually performed as a microdiscectomy, which uses a precise microscope to see the disc and nerves. This bigger view allows the doctor to make a tinier cut (incision).
A discectomy is also spelled as diskectomy.  Lumbar means lower back.  So a lumbar discectomy is a lower back discectomy.
What is your pain and suffering worth in a

lumbar microdiscectomy

 case from a Florida or cruise accident?
The full settlement value of the pain and suffering component of a lumbar microdiscectomy in a Florida personal injury case is generally $150,000 to $200,000.  This is true even though some jury verdicts of percutaneous discectomies are above that.
I arrived at the pain and suffering component amount by looking at past Florida jury verdicts.  Jury verdicts come out daily, so be sure to keep up to date.
You then need to add your economic damages to that amount in order to arrive at the full value of the case.  Economic damages include, but are not limited to, past medical bills, future medical bills, past lost wages and future loss of earning capacity.
How to you calculate the settlement value of a lumbar microdiscectomy case in Florida?
For example, let's say you are in a car crash in Florida.  The careless driver's bodily injury (BI) liability insurer is GEICO.  They admit liability.
There is a good amount of damages to the cars involved in the crash.  The surgeon says that the car crash caused your herniated disc.
You have a lumbar microdiscectomy.  Your out of pocket medical bills, health insurance lien and lost wages are $30,000.  The full value of the case would be:
Full Value = (Out of pocket medical bills + Health Ins. Lien + Lost Wages) + Pain and Suffering
Earlier I said that the pain and suffering component of a lumbar microdiscectomy is $150,000 to $200,000.  So let's plug-in the numbers:
Full Value = $30,000 + ($150,000 to $200,000)
Full Value = $180,000 to $230,000
GEICO may have the full value estimated at $180,000 to $230,000.
Some cases have facts that decrease value
Sometimes you need to adjust the case by one of many factors like the:
This brings you to the settlement value of the claim.
Do you still have a case if you didn't get much medical treatment for a while after the accident?
Generally speaking, yes.   However, waiting to get medical treatment can decrease the case value.  For settlement purposes, you should be prepared to take a discount.
Example – You wait 6 months to get medical treatment
Take the facts of the case above except let's assume that you waited 6 months to see a doctor.  We'll use Progressive, instead of State Farm, as the careless driver's BI insurer.
In this case, Progressive will likely discount the case's full value by 75% to 90%.  This means that instead of the settlement value being between $180,000 and $230,000, it is now between $23,000 and $57,500.
I applied a 75% to 90% discount of the $180,000 to $230,000 range that I gave above.
I could also just use the full value of $(180,000 to $230,000) and multiply it times 15% or a similar percentage.  Progressive may value the case between $27,000 to $34,500.
Discounting Factors Can Drastically Affect Case Value
As you can see, changing one factor can drastically affect – in this case reduce – the case value.  The delay in treatment will present medical causation issues that will likely result in a much lower offer.
What if your Orthopedic Doctor or Neurosurgeon Says Your Back Surgery Isn't Related to the Accident?
I've heard of orthopedic surgeons or neurosurgeon says that a car crash can't cause a lower back herniation.  This makes the case more difficult.
You will then need to be seen by a different neurologist orthopedic doctor who relates your microdiscectomy to the car crash.  Otherwise, don't expect a settlement offer.
Many orthopedic doctors will agree that if your body is turned/twisted at the time of the impact, the torque is more likely to cause a herniated disc in her lower spine (low back).
Car Occupant Gets $150,000 for Lower Back Fusion from Miami wreck
An occupant in a car got $150,000 for a lower back fusion following a Miami, Florida car crash.  Below is the an illustration of a lower back (lumbar) fusion.
All of my settlements on this page are before my attorney's fees, costs and out of pocket medical bills were paid.
Like most Florida auto cases, there was limited BI liability and uninsured motorist insurance.  This is one of hundreds of my Florida car accident settlements.
Lady Gets $100,000 for Percutaneous Discectomy from Miami car crash
A woman in car accident in Miami, Florida had lower back surgery. The procedure was a percutaneous discectomy.
Liberty Mutual was the bodily injury (BI) liability insurer for the at fault vehicle.

 The crash report's diagram is below.
The cases below aren't mine unless I say that they are.
Lady Gets $31,000 Verdict for Lumbar Percutaneous Discectomy from Supermarket Slip and Fall
Learn about a $31,000 verdict (not my case) for the pain and suffering component of a back surgery from a slip and fall in Publix in Marion County, Florida.  Find out more about Publix slip and fall cases in Florida.
$300,000 Verdict for Lower Back Surgery From Walgreens Truck Accident
Read about a driver who was awarded $300,000 for the pain & suffering portion of her back surgery claim after a Walgreens truck hit her in Palm Beach, Florida.
Call Me Now!
Call me now at (888) 594-3577 to find out for FREE if we can represent you. We answer calls 24 hours a day, 7 days a week, 365 days a year. 
No Fees or Costs if I Do Not Get You Money

We speak Spanish. Learn more about us.