Keith was driving a car in Coconut Grove, Miami, Florida. Another car crashed into the back of the car that Keith was in.
The crash reported listed Keith's injuries as "possible".  His airbag didn't deploy.
Keith was not transported to a hospital.  All things equal, a case is worth more if an ambulance takes you to the hospital. This is mainly because a jury is more likely to believe that the crash caused your injuries. Additionally, taking an ambulance will lead to an additional billed charge.
Now, most cases never go trial. However, insurance companies evaluate a case as if the case is going to trial.
After the crash, he complained of neck and back pain to his father, who was his primary care physician.
His father gave him a corticosteroid drug, Prednisone, which helps with inflammation. It improved a little bit but didn't go away.
On the date of the crash, Keith didn't have car insurance on his car. Thus, he couldn't make a claim with anyone else's personal injury protection (PIP) insurance.
About eight months after the crash, Keith had terrible pain. His father ordered an MRI.
MRI Showed a Big Herniated Disc in His Lower Back
An MRI of his lumbar spine (lower back) showed a herniated disc at L5-S1. Here is a side view of the herniated disc.
Below is another view of the herniated disc. This time the MRI is looking from top down.
His dad referred him to a neurosurgeon.
He had back surgery. Specifically, he had a L5-S1 hemilaminotomy, medial facetectomy and microdiskectomy, using a microsurgery.
Below is an illustration of a laminectomy (which is the most similar procedure to a laminotomy that I have an image of).
A hemilaminotomy is a surgery where a window is drilled in the bone through which the nerve root and disc are accessed. A herniated disc is typically removed through such a bony opening. Neurosurgeons often perform such procedures under an operating microscope.
As I mentioned, Keith also had a microdiskectomy. Here is an illustration of a discectomy.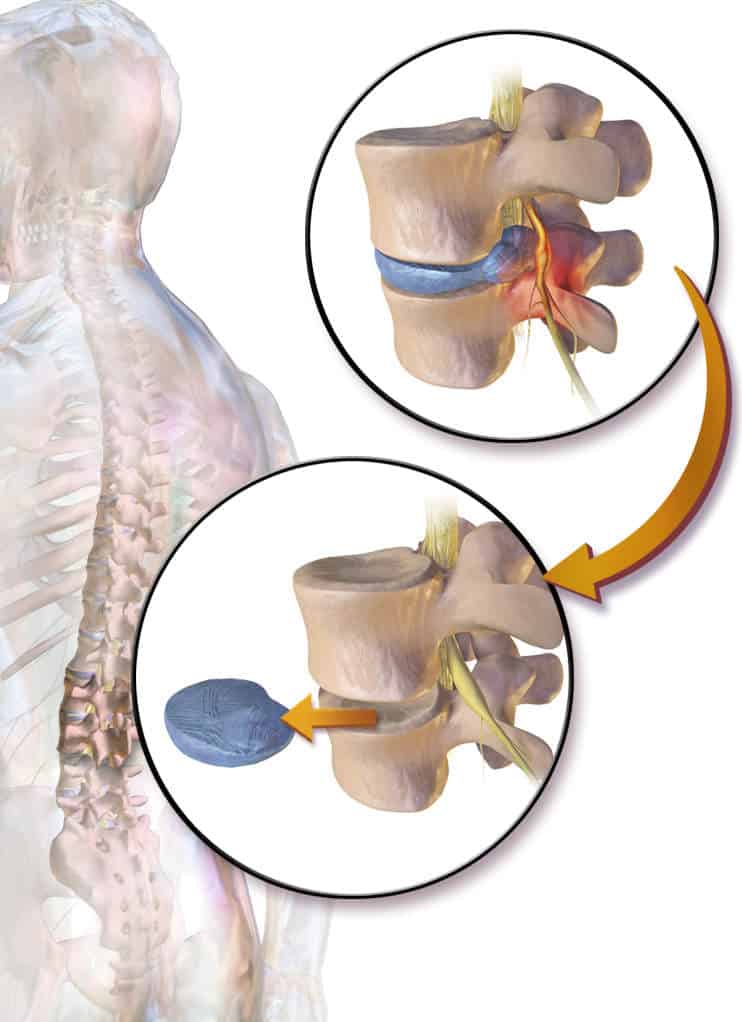 Keith was given general anesthesia for the surgery. It's no secret that surgery increases the full settlement value of a case.
His health insurance paid for most of his medical bills. Keith's health insurance was through his employer.
Keith Had Lost Wages For Not Being Able to Work After the Surgery
Keith missed about 12 days of work from the surgery. He wasn't working at the time of the accident. Thus, he couldn't get workers compensation benefits. His employer didn't compensate him for these lost wages.
He didn't have short term disability insurance.
This is in the incision from the surgery.
He was left with a scar on his lower back from the surgery.
This scar increased the value of his case. However, a scar on the back is worth a fraction of the value of scar on the face. Also, scars on women are typically worth more than scars on men.
This is one of the rare instances where my client first hired me months after the car accident. I always recommend getting a free consultation with me quickly after the accident to see if I can represent you.
I sent State Farm a written request to give me certain insurance information required by Florida Statute 627.4137.
The At Fault Driver Had $100K of BIL Insurance
State Farm replied, in writing, stating that it insured the careless driver with $100,000 in bodily injury liability (BIL) insurance limits.
Eventually, without filing a lawsuit, State Farm offered the $100,000 limits. Here is the $100,000 settlement check.
Most of the settlement was for pain and suffering.
Since we settled without a lawsuit, our attorney's fees were 33 1/3% of the settlement instead of 40%. This saved Keith $6,666.66.
$100K Limits Helped Us Get a Quicker Settlement
State Farm's BIL limits were $100,000. This put pressure on them to pay.
If the limits were higher, they may not have paid the limits. Or they may have taken longer to pay them.
For example, State Farm's next level up of BIL limits is $200,000. If the BIL limits would've been $200,000 they may not have paid them.
However, State Farm chose to pay the $100,000 limits and avoid a possible bad faith verdict.
His medical providers submitted combined billed charges of $43,733 to his health insurance company.
Sounds bad, right?
Wrong.
One of the benefits of health insurance is that it pays medical providers at a contracted rate. The contracted rate is often a fraction of the billed charges. Thus, Keith's health insurance company only paid $4,744 of the total billed charges.
The medical providers then had to contractually adjust his outstanding balance. This is a huge benefit of having health insurance. By huge, I mean massive!
Here is a chart that shows the payments that his health insurer made:
This left Keith with a very small out of pocket amount that he had to pay the hospital and doctors. By small, I mean under $2,000.
However, the health insurance company had a right to get paid back from the settlement.
It not as bad as it sounds. Since he worked for a smaller company, the health plan was not self-funded. By smaller, I mean that he didn't work for a big company like Target, CVS, or even a 250 office dental group.
Why does this matter?
Since the plan wasn't self-funded, they had to reduce their lien (claim) by my pro-rata attorney's fees and costs.
It gets better:
They also had to reduce by any other equitable factors. I argued that State Farm's $100,000 policy limits didn't fully compensate Keith fully for his back surgery. In other words, I argued that the full settlement value of his injury claim was over $100,000.
I argued that we had to settle the claim for $100,000 due to the other driver's limited bodily injury liability (BIL) limits. There was no other source from which we could get compensation. This happens way too often.
Bottom line:
His health insurance company claimed a lien of $4,744.93. I got them to accept $1,265.31 to settle their lien.
Always Use Your Health Insurance
If you can find a doctor who will accept your health insurance, do so! Don't listen to attorneys who want you to treat with a doctor and get paid from the settlement. Using your health insurance will almost always result in your getting much more money in your pocket if the case settles.
There are times when it is impossible to find a doctor who will take your health insurance. Adults with a Medicaid plan often have a difficult time finding a doctor who will accept Medicaid.
Keith Didn't Have Uninsured Motorist Insurance
Neither Keith, nor the vehicle that he was in, had uninsured/underinsured motorist insurance. In many car accident cases, having uninsured motorist (UM) insurance leads to getting an additional payout.
What Would've Happened if This Case Involved A Different Insurance Company?
Let's say that the State Farm didn't insure the other driver. What would've happened if Progressive insured the other driver. I think the result would have likely been the same. Progressive has a reputation for paying slightly less than State Farm.
He was very happy with his settlement. Hear Keith's version of the accident and his settlement.
This is just one of my many personal injury settlements. I am a Miami car accident lawyer that represents people injured anywhere in Florida. I want to represent you.
Call Me Now!
Call me now at (888) 594-3577 to find out for FREE if we can represent you. We answer calls 24 hours a day, 7 days a week, 365 days a year.
No Fees or Costs if We Do Not Get You Money

We speak Spanish. We invite you to learn more about us.