GEICO may insure a driver who causes your crash.  On the other hand, an uninsured driver may cause your crash and, you may have GEICO uninsured motorist ("UM") insurance.
In either event, you may claim that the accident caused your neck injury.
Let's look at several neck injury claims with GEICO in Florida.
GEICO Pays $100,000 for Neck Pain and Other Injuries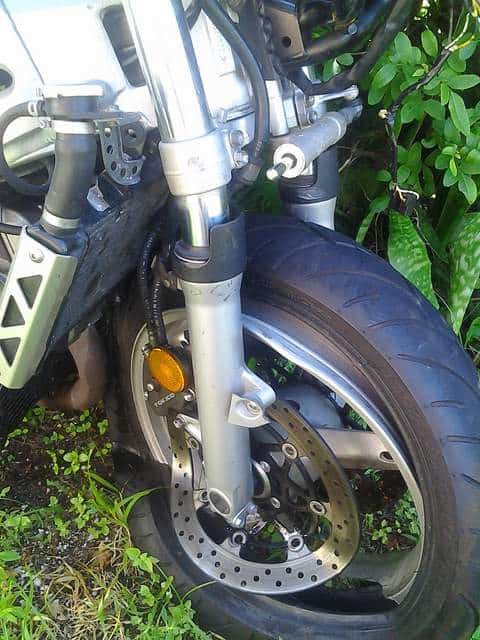 A car hit a motorcycle rider in Midtown Miami.  The driver of the car failed to yield the right of way.
GEICO insured the driver that hit my client.  I claimed that the crash caused the motorcycle rider's:
intermittent neck pain on both sides of his neck
erectile dysfunction (ED)
a possible meniscus tear.
Intermittent means occurring at irregular intervals; not continuous or steady.
Tip: The full value of the pain and suffering component of a personal injury case is lower if your pain if your pain is intermittent.  If you have pain all the time, then the full value is higher.
He had cervical myofascitis with radiculopathy.  Myofascitis is pain originating from muscles that are in spasm.
Radiculopathy is caused by compression or irritation of a nerve as it exits the spinal column.  Symptoms of cervical radiculopathy include pain, numbness, tingling, or weakness in the arms.
Tip: Radiculopathy increases the full value of the pain and suffering component of the case for settlement purposes.
His neck pain resolved (went away) within 45 days or so after the accident.
Tip: The full value of your case is lower if your neck pain goes away.
However, if the bodily injury ("BI") liability limits are limit, your settlement may be less than the case's settlement value.
This case is an example of that.  The case was worth more, but there was only $100,000 in insurance coverage.
I settled this case for $100,000 with GEICO in March 2014.
Driver Gets $39,000 from GEICO and Other Insurer for Neck and Other Injuries
A 37-year-old man was driving his pickup truck in Pinecrest, Florida.  A car ran a stop sign and hit him.
He claimed that this accident caused or worsened his herniated discs. He had steroid injections.
Before this crash, he had pain in his back and neck.  He had received a lot of treatment for that pain before the wreck.
GEICO paid $20,000 of the personal injury settlement.  Star and Shield (NARS) paid $19,000.  The total settlement was for $39,000.
GEICO pays $20,000 for Neck and Other Injuries
A lady was driving her car.  A driver crashed into her in Palmetto Bay, Miami-Dade County, Florida.
She went to Baptist Medical Plaza at Palmetto Bay.  She complained of injuries to her neck and hand.
A CT scan showed a C5-C6 small broad disc bulge more focal centrally where there may be a superimposed small central herniation entering the ventral aspect of the thecal with resulting mild impression upon the ventral surface of the cord.
She had some numbness of her hand mostly in the radial nerve distribution.  She claimed that this was a new injury.
The impact was on the left driver side of the car.  A neurosurgeon said that she had a questionable fracture on her lower jawbone (mandible) on the CT scan film.
The same doctor noted that her lower back was tender.  She was diagnosed with cervical radiculopathy.
She was given a neck collar to wear.  She was told to not work for three days.  She was prescribed medication (Vicodin) for her pain.
GEICO settled for its $20,000 BI policy limits.  Our client was paid over $100,000 in workers compensation benefits with Liberty Mutual.

The Liberty Mutual workers comp adjuster told me that they should be entitled to most of the settlement.  My client had an attorney (us).
Florida's workers compensation statute (law) required Liberty Mutual to reduce its lien by our attorney fees and costs.
I also argued that Florida law required Liberty Mutual to reduce its lien significantly, because my client was not made whole.
Liberty Mutual agreed to waive its lien.
$539,850.00 Verdict against GEICO insureds for Neck Surgery from Car Wreck
This isn't my case.  GEICO offered $3,500, but increased its offer to $25,000 after her neck surgery.
A jury awarded the driver $539,850 after a DUI driver hit her.
Tip:  The full value of a case is higher if a drunk driver hit you.  This is because you may be able to get punitive damages.  Juries often get angry at drunk drivers and many verdicts are higher as a result.
Call Me Now!
Call me now at (888) 594-3577 to see for FREE if we can represent you. We answer calls 24 hours a day, 7 days a week, 365 days a year. 
No Fees or Costs if We Do Not Get You Money

We speak Spanish.  I invite you to learn more about us.