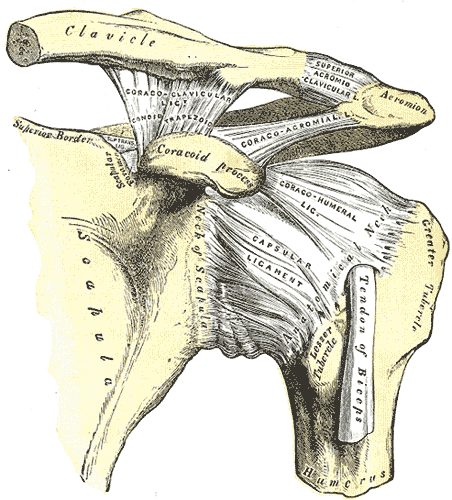 If someone caused your shoulder fracture or dislocation, you may be able to get compensation.
Some shoulder injuries that an accident can cause are a:
Anatomy
The shoulder consists of 3 bones:
Scapula (shoulder blade)
Clavicle (collarbone)
Humerus (upper arm bone)
The bones are connected by soft tissues (joint capsule, muscles, tendons and ligaments) to form a system for your arm to function.
The shoulder consists of 3 joints:
Glenohumeral joint
Acromioclavicular (AC) joint
Sternoclavicular joint
The shoulder's main joint is the glenohumeral joint.  This glenohumeral joint is made up of the humerus head (a ball) on a joint (the glenoid of the scapula).
Kinds of Shoulder Injuries
There are several kinds of shoulder injuries:
Below is an image of a proximal humerus fracture.
Dislocations
Another type of shoulder injury is a dislocation.  Dislocations happen when the bones on opposite side of the joint don't meet up.
Dislocations can happen with any of the 3 joints that I mentioned above.
A dislocation of the acromioclavicular joint (collar bone joint) is known as a separated shoulder.
A dislocation of the sternoclavicular joint disrupts the joining between the clavicle and the sternum (breastbone).
The glenohumeral joint (the ball and socket join of the shoulder) may be dislocated in the front or toward the back.
Soft tissue injuries are tears of the muscles, tendons, ligaments and joint capsule.  These include rotator cuff tears and labral tears.
Causes of Shoulder Fractures and Dislocations
Fractures
You can fracture your proximal humerus or clavicle by a head on impact to that area from a car accident, collision or fall.
The scapula isn't broken that often because the chest and nearby muscles protect it.  However, a bad car accident can break the scapula.
Shoulder Dislocations
Shoulder dislocations may happen from several different accidents, including falling or a head on impact to the shoulder.
Shoulder Separations
You can dislocate your acromioclavicular joint from falling on your shoulder.
Symptoms of Fractures
Although it is usually not hard to prove that an accident caused a shoulder fracture, you should still take photos of any swelling and bruising.
This can be used to defeat the insurance company's argument that your fracture wasn't caused by the accident that you're making a claim for.
Going to the Doctor
If you think that you have a shoulder fracture, you should go to the doctor immediately.  He or she will use an X-ray of your shoulder and examine you.  He or she may use a CT scan if appropriate.
If you have a shoulder fracture, request a copy of the x-ray from the doctor.  You should quickly send it to the insurance company for the responsible party.
This will help the claims adjuster visualize your fracture.  It will also get the adjuster to review your case.
Medical Treatment
Clavicle Fractures
Most broken clavicles get better without surgery.  If you don't have surgery, the full value of your case for settlement purposes is generally lower.
I settled a car accident case for the $10,000 insurance policy limits where my client had a clavicle fracture.
If your clavicle went through the skin or the bone is really out of alignment, you'll need surgery.  Surgery increases the full value of the case.
I settled a case for $87,500 where a motorcyclist was in an accident in Miami.  He had surgery on a fractured clavicle.
The surgery will typically entail repairing the broken parts with pins, plates or screws.  It could also involve a shoulder replacement.
If you have either of these surgeries, get a copy of the x-rays.  You should quickly send them to the insurance company.
Call Me Now!
Call me now at (888) 594-3577 to find out for FREE if we can represent you. We answer calls 24 hours a day, 7 days a week, 365 days a year. 
No Fees or Costs if I Do Not Get You Money

We speak Spanish. Learn more about us.  Check out my law firm reviews.