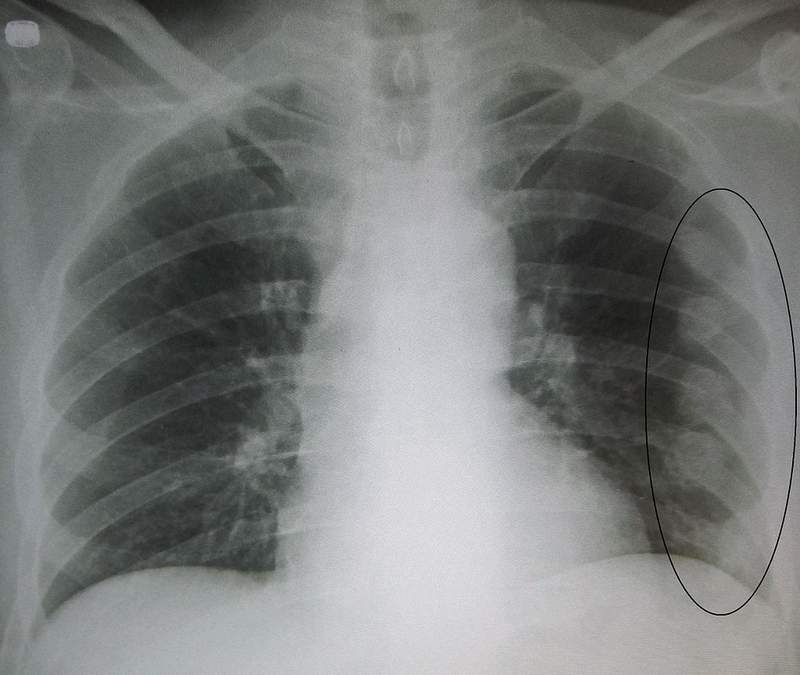 If someone's negligence caused your rib fracture in a car accident or other accident, you may have a case.  
About Rib Fractures
The most likely injury that you will suffer from a blunt chest trauma is a simple rib fracture.
Are Rib Fractures Considered a Serious Injury in a Personal Injury Case?
Rib fractures rarely result in death.  However, rib fractures may be a sign of more serious trauma inside the chest and abdomen.
If, in addition to a rib fracture, you also have serious injury inside your chest and abdomen, it adds to the full value to the pain and suffering component of your case.
What Accident Causes Most Rib Fractures?
For older people, falling from a height or from standing is the most common mechanism of injury for a rib fracture.  In adults, car accidents are the most common cause of rib fractures.
Are All Rib Fractures Caused by Accidents?
No.  Rib fractures may also be caused by disease.  Cancer may metastasize to the bone and show up in the rib.
Ribs are thin as opposed to big long bones like the femur, tibia and fibula and humerus.  Thus, there is a higher chance that a rib fractures when cancer metastasizes to the bone and is seen in the rib.
How Much is Pain and Suffering from a Rib Fracture Worth?
In order to get maximum value for a rib fracture case, you should explain, in writing, to the insurance company how the fracture has affected your life.
The last time I did a jury verdict search, the full value the pain and suffering component of a rib fracture was between $10,000 to $15,000, and no more than $20,000.  This assumes that there are no complications from the rib fracture.
Rib fractures may make breathing more difficult.  Pain from a rib fracture may result in respiratory splinting.  This can result in pneumonia and atelectasis.
Collapse of a lung
Atelectasis — a complete or partial collapse of a lung or lobe of a lung — develops when the tiny air sacs (alveoli) within the lung become deflated.
Rib Fracture May Result in Pneumonia
If you fracture a rib, and it results in pneumonia and atelectasis, the full value of the pain and suffering component of your damages increases.
You may have several adjacent rib fractures (e.g. flail chest).  If so, they potentially can cause the inability to breathe.
The full value of the pain and suffering component of a personal injury case increases as the number of rib fractures increases.
Blood Between Chest Wall and Lung; Collapsed Lung
Parts of broken ribs can also penetrate and form a pneumothorax or hemothorax.  A pneumothorax is a collapsed lung.
Hemothorax is a collection of blood in the space between the chest wall and the lung (the pleural cavity).
If you get either of these conditions, the full value of your pain and suffering component in your case increases.
Children's Rib Fractures
Due to the greater flexibility of children's ribs, more force is required to produce a fracture.
If a child has an accompanying neck or back injury, you can argue that the accident caused this injury.  A greater force is required to break a child's rib.
Thus, this strong force can cause the child's neck and/or back pain.
Driver Gets $10,000 for Broken Ribs and Spleen Injury
My client was a passenger in a car.  Another car crashed into him.  The accident occurred near Kendall, Florida.
He broke some ribs and damaged his spleen. He spent several days in the hospital.
The careless driver's bodily injury ("BI") liability insurance limits were only $10,000.
My client did not have uninsured motorist (UM) insurance.  He didn't live with any resident relatives whose UM insurance may have covered him.
Thus, we couldn't make a claim for any amount above $10,000.
Lady Gets $225,000 for 3 Broken Ribs and Leg Fracture
This isn't my case.  A jury awarded a 56 year old woman $225,000 for her pain and suffering.  She had a tibial plateau fracture and 3 broken ribs.
She was a passenger in a car in Tampa.  A concrete truck, owned by the Defendant, hit the car that she was in.
She was awarded $100,000 for past pain and suffering, and $125,000 for future pain and suffering.
The future pain and suffering was intended to give compensation for the remainder of her life expectancy which is 25 years (at $5,000 per year.)  The verdict was in 1989.
Did someone's carelessness cause your injury in an accident in Florida, or on a cruise or boat? 
Call Me Now!
Call me now at (888) 594-3577 to find out for FREE if we can represent you. We answer calls 24 hours a day, 7 days a week, 365 days a year. 
No Fees or Costs if I Do Not Get You Money

We speak Spanish. Learn more about us.  Check out my law firm reviews.